Writing and editing a manuscript is only one part of the publication journey at SAP PRESS.
For technical topics, words on the page can only guide you so far—you need screenshots to map your system, diagrams to unpack complex topics, and a physical (or electronic) package binding it all together. These tasks, and many others, fill up the calendars of the SAP PRESS production department.
In my last blog post, I listed the numerous tools that I use as an SAP PRESS editor. However, if I have a drawer-full of tools, then the production world comes with a desk-full. In addition to basics such as pens, notepads, and Microsoft Office, production editors use an arsenal of Adobe software depending on the task at hand. Keeping track of a heap of image files? Bridge. Have a batch of new images to edit? Photoshop. Need to design covers and catalogs? InDesign. Creating an e-book? Oxygen. And that's only the remote-work version—missing in action at the home office is the heavy machinery like printers and scanners.
The only typical part of a day in the production department is the beginning. As computers boot up, checklists are consulted to determine the stage of each SAP PRESS book and E-Bite project, from receiving the image files at the start of the production process to receiving the finished books at the warehouse near the end. Depending on the week, there may be sample images to review from author teams, e-books to create, or batches of images to assess, edit, and optimize. With an average of 300 – 500 images per book at SAP PRESS, work can turn into a marathon. Whether it's fine-tuning over 100 system screenshots in one day, or editing a dozen diagrams and charts into our standard style, it's necessary to step away from the screen once in a while and refill on coffee.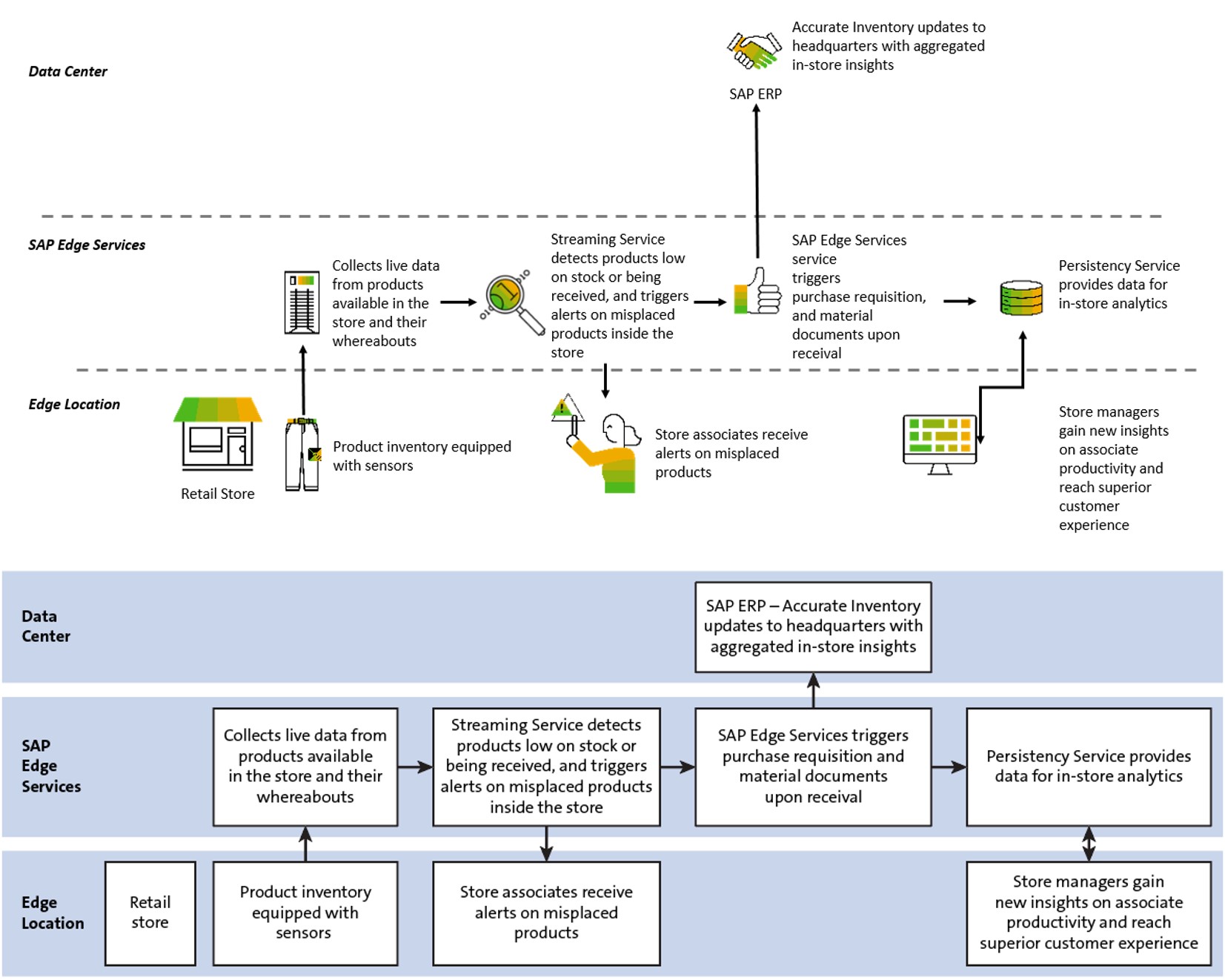 An original diagram versus a "productionized" diagram.
In the realm of images, the sheer number of files to work with is daunting in itself, but it's the process of checking each image's quality and format that requires time, persistence, and close collaboration with the editorial department. In tandem with a book's editor, the production department works with authors to troubleshoot screen capturing issues that can mean the difference between clear images and something more akin to abstract art. With careful attention paid to image size and cropping, production editors also ensure that readers are provided with legible images that don't require a companion magnifying glass.
Luckily, an avalanche of images doesn't fall every week; each day brings something different, depending on each project's stage, and challenges vary across the department. For the production editor/graphic designer at SAP PRESS, a day's work often crosses into the marketing sphere, including designing covers for our books and creating hundreds of graphics for use on our website and in marketing campaigns.
From SAPPHIRE booth backdrops to website banners to catalogs, production ensures that every image is striking. When it comes to covers, simplicity and creativity are key to conveying technical topics in a single image. For example, what do peacocks have to do with SAP S/4HANA? When presented with a book topic, the main task is to brainstorm: What does an SAP S/4HANA introduction make you think of? New features, an upgraded interface, a "birds-eye view," perhaps? Much like the dazzling colors that unfurl in a peacock's feathers, our SAP S/4HANA introduction showcases everything SAP S/4HANA has to offer. Catching a reader's eye while communicating the topic is a key balancing act that the production and marketing departments collaborate to achieve.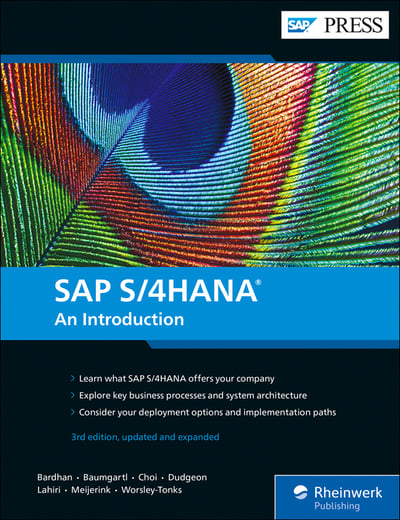 The aforementioned cover for SAP S/4HANA: An Introduction, featuring a peacock feather!
Beyond the cover, the physical book itself also falls under the domain of the production department. For readers who enjoy flipping through pages and a well-stocked library, the production manager works with our printers to ensure that our books are high quality, produced on time, and reader-ready. When it comes to trim sizes, paper weight, durability, and even industry-wide paper shortages (true story!), our production department constantly works to improve workflows, optimize presentation, and deliver exceptional print books.
For readers who prefer swiping on their tablet (or who are fed up with lugging around a heavy book bag), our production department has worked over the past decade to develop a streamlined e-book creation process. What used to take several days per book can now be done in as little as one hour thanks to close collaboration with our typesetter colleagues in Germany, who lay out the manuscript into the final form for both the printed and digital space. Via automated processes, our production editors then transform the typeset manuscript files into an online format (accessible via BooksOnline), interactive PDFs, and EPUBs.
But how do you get to that print (or e)-ready book? Once a manuscript is complete, production editors work with the typesetter team to create the pre-publication version of the finished book, which is known as a proof. Once the proof is realized as a printed, intimidating stack of paper, the review process flows smoothly between the editorial and production departments (aside from the rare, unfortunate beverage spill). Margins are filled with red scribbles, image layouts are optimized, and everything is checked and double-checked. Typically, this is where the printer and scanner come into the picture; however, neither are as easily carried home as a work laptop. At the beginning of our current home office climate, solutions were discussed to transport printed proofs, from office run-ins to carrier pigeons. Ultimately, quick trips in and out of the office, combined with increased use of digital editing via Adobe Acrobat, have prevented any pigeons from being unduly burdened.
During this work-from-home transition, the strains of unorthodox offices and living spaces that feel smaller by the day are ever present. Thankfully, a largely digitized workflow means that the production day-to-day is able to continue. Images are tirelessly perfected, new designs are created, and quality books are produced for SAP PRESS readers. Whether you'll shelve them in your home or your e-library, is up to you.