In this blog post I am going to talk about the design and development of a digital thread for complex manufacturing processes. I hope this post will work like an SOS to help and accelerate the work of building a digital thread.
In my current assignment, we are working on different use cases using all of the latest SAP technology offerings. I especially take care of various complex manufacturing scenarios using SAP Production Engineering and Operations (PEO) along with related SAP Business Technology Platform (BTP) components. When I started exploring SAP PEO, I found it looked like the successor to one of SAP's earlier offerings called SAP Complex Assembly Manufacturing Solution (CAMS). That, too, was for complex manufacturing. (Back in 2013, I used SAP CAMS for one of our defense implementations to integrate their top floor systems to the shop floor systems using SAP CAMS-INT as a middle framework.)
But this time the requirement was quite different. Concept wise, I didn't find anything new, but when I was asked to build a digital thread for the end-to-end engineer-to-order (ETO) process, I was looking for some new information. This is because the main objective of the digital thread was to connect all the dots which complete the steps done by SAP PEO in complex manufacturing. I found so much information over the internet. But no interlink was defined between them.
So before going into the technical details of my project, let's quickly define the digital thread concept and its need.
What is a Digital Thread in Today's World?
In my view, a digital thread is an integrated and modern way of bringing transparency to the process of ETO for equipment. If we incorporate aftermarket servicing, we can also call it a closed loop to integrate manufacturing processes with aftermarket service of equipment.
A digital thread helps to monitor business processes, utilizing the digital capabilities of producing process events, data, and insight throughout the process.
What Are the Benefits of a Digital Thread?
Let's discuss five benefits of having a digital thread:
Transparency
A digital thread makes the process transparent, so process data is accessible to everyone from top management to the shop floor, allowing the organization to be better informed about the process.
Speed
This transparency easily provides process insights for speedy delivery of the product, along with better and proactive maintenance of equipment.
Details
A digital thread provides a detailed overview of how each task gets executed, which makes the entire ETO process more optimized and streamlined.
Real-Time Events
A real-time eventing mechanism brings automation to all actions, and tasks get executed to ensure that initial issues like deviation in product delivery and manufacturing cost are handled quickly and effectively, with minimal disruption for the customer.
Change Tracking
From a product design point of view, a digital thread makes the job easy for the product engineer to track the changes in the engineering design of a product.
Rethink Processes Using Digital Transformation
Industries like defense, industrial machinery, and components are increasingly moving from product-based to service-based; this newly reimagined service model is driven by the union of digitally connected equipment and business data. This includes equipment-as-a-service, value-added software and mobile apps, and digital system orchestration of the entire value network.
Strategic Imperatives of a Digital Thread
The current market trends are fascinating for industries as they need to reimagine every aspect of their business processes and create new models to cope with things like the current pandemic. This provides resilience as well as new and upcoming opportunities.
Furthermore, digital transformation of business processes is happening rapidly to shape the future of the intelligent and cognitive enterprise using hyperconnectivity, automation, cloud computing, intelligent workflows, computing on the edge, machine learning, the Internet of Things, and cybersecurity.
The new normal of the post-covid world taught industries an important lesson about cost-effectiveness and how globally connected plants and assets make supply chains run smoothly. In today's world, digital transformation is essential to meet 100% customer satisfaction. Digitization is the new norm, and digitization of products, processes, and services is a way to react to customer demand and offer an "Amazon-like" buying experience.
Lastly, the requirements of the closed loop idea I presented further connect the manufacturer to the service provider, which supports a new, redefined customer engagement model that provides equipment-as-a-service bundled as an aftermarket service.
Digital Threads in the Real World
With digital thread basics defined, let's look at the technology components we needed to build the digital thread for our client. As there is no guideline for developing this kind of solution (involving multiple new SAP components fitting with traditional SAP processes) the following are the challenges we faced.
From a process re-definition point of view, we used SAP PEO, SAP Workflow Management, and SAP Event Mesh. But by selecting these SAP components based on their features, limitations and compatibility with each other, as well as keeping the alignment between the tasks and a scope of the automation, was quite challenging. It required an enriched technical and functional industry experience and a good amount of time and effort to define the architecture involving the intelligent workflow in place.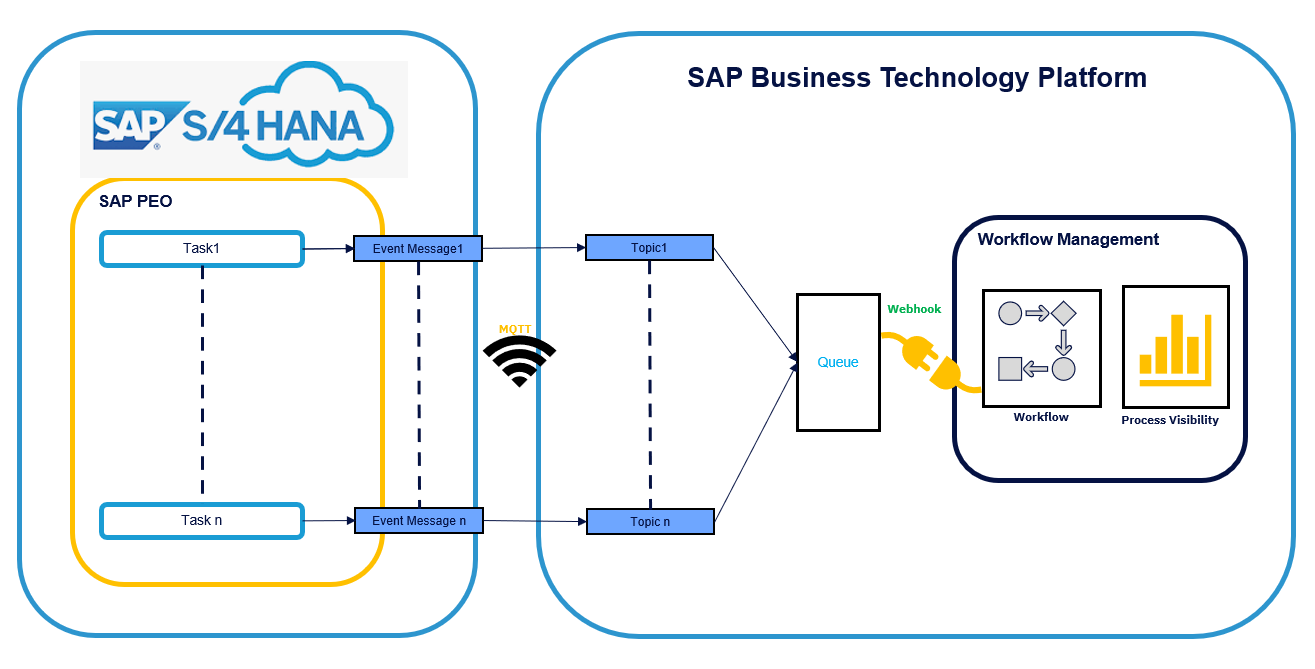 To identify the people who would be involved in the processes we were connecting, we needed a few brainstorming sessions. This was so we could find the scope to ease, automate, and minimize the tasks they perform at a granular level, as well as come up with a risk and escalation plan.
In the area of complex manufacturing, process visibility plays a crucial role because of the long duration for the design-to-delivery process. So, real-time eventing was very much essential to make the ETO process transparent. The main challenging factor was that although SAP PEO is required for complex manufacturing, it does not produce any business events. For each step we had to identify the business events, and in some cases we customized around the standard business events.
Once all these things were in place, we started configuring SAP Event Mesh and developing the intelligent workflow. We realized from a technical point of view there were some limitations which we had to take care of, considering that there is no linkage between the events which get generated by the SAP PEO task execution. But at the end when the intelligent workflow was built, we got the entire digital thread up and running using the process visibility service of SAP Workflow Management.
The design-to-deliver process for this gets started with a sales inquiry creation for a product, and ends up clearing the billing of the product after installation at a client site. This entire process has many sub steps involved. But as we have talked about, with the data point pre-requisites for the digital thread (defining the process phases, KPIs, risks, and mitigation plan using the SAP BTP workflow itself, and process visibility which offers low-code/no-code functionality) it becomes almost effortless work to get the transparency we desired about the process, as well as a huge scope to optimize the process.

Conclusion
Let's finish by seeing what we have achieved as a solution offering with this digital thread. This will help our clients expedite their digital transformation process and meet their goals.
Using the process visibility of SAP Workflow Management, this digital thread offers a quick, configurable, and analytical view for real-time processing KPIs which, in turn, helps the process owner identify bottlenecks for a particular customer(s) plant or product.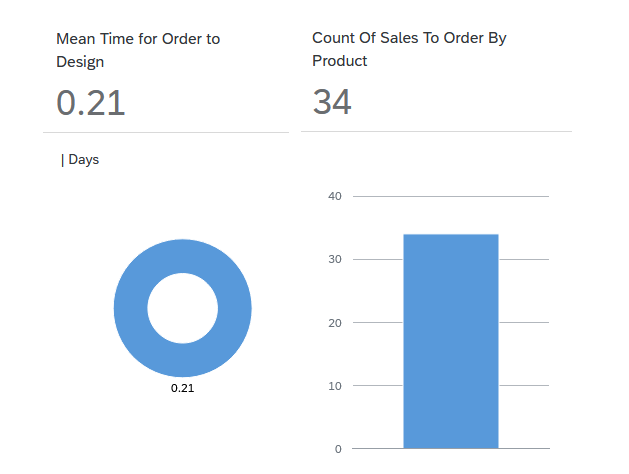 Digital threads provide a quick view of the complete complex manufacturing process and answer the relevant questions listed below. This transparency easily helps the process owner to take care of any deviation which may affect the delivery of a product:
How many sales order are open for a product, and what are their status?

What is price variation for the product based on the design?

What is the duration spent on each step of the end-to-end manufacturing process?

When will the product be ready to deliver?

What is project's cost deviation?

What is deviation for product delivery?
Lastly, digital threads regularly help to analyze and improve the work processes from sales to delivery, or the complex manufacturing process, by showing the duration spent for each of the steps in such a way that the efficiency of the process execution is continuously increasing, becoming streamlined, and being optimized .