When it comes to application design, a lot of thought must be put into the layout and user interface. SAP Build helps developers prototype these different ideas. In this blog, learn how to create a new project from scratch.
Creating a New Project in the SAP Build Desktop Client
To create a new project, follow these steps:
1. Click NEW PROJECT in the upper-right corner of the Projects section of the landing page as shown below. A new user will not see existing projects in their workspace.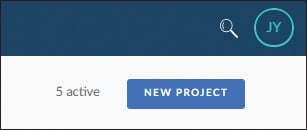 2. Specify that you want to CREATE NEW PROJECT from scratch. (You can click on SEE FULL GALLERY if you want to browse the gallery instead of creating a new project from scratch.)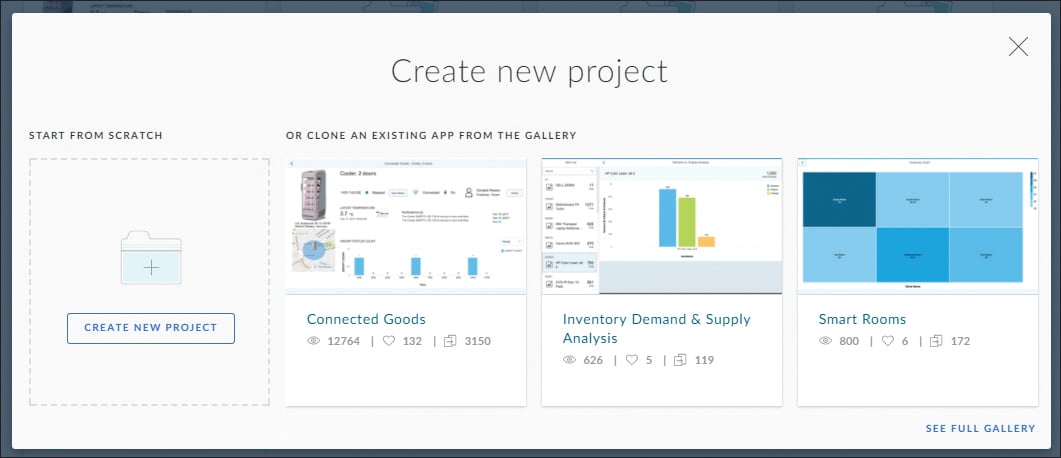 3. Selecting CREATE NEW PROJECT will bring you to a screen where you'll need to enter a name for your project, as well as a description of the project.
4. After you enter a name and description for your new project and click CREATE PROJECT, you'll be given the following set of options on how to begin the prototyping process:
CREATE A PERSONA: This option allows you to create multiple personas to represent your end-user group as a single entity to help you throughout all of your design decisions.
START PROTOTYPING: This option allows you to move forward with your prototype canvas.
CREATE A STUDY: This option creates a new feedback study that enables your users to interact with your prototype.
UPLOAD FILES: This option enables you to upload files, such as images, data files, and icons, to your prototype to be used throughout your design.
INVITE TEAM: This option lets you invite team members to collaborate with you on your new prototype.
5. Selecting CREATE A PERSONA enables you to create the profile of the individual or group of users who will be consuming the application.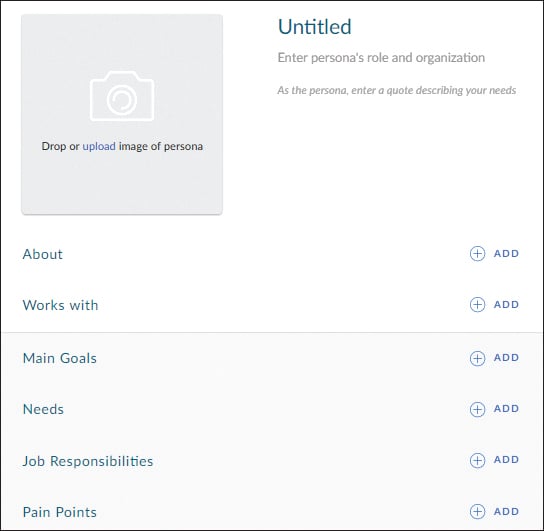 A completed persona looks like this: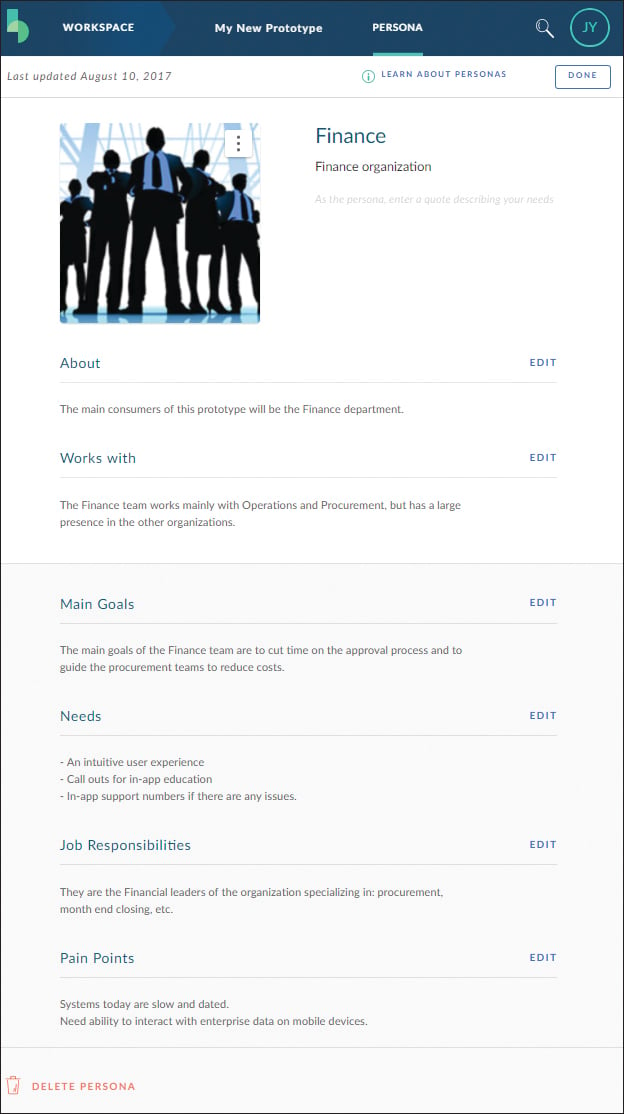 6. Selecting START PROTOTYPING will bring you to a list of page templates to choose from. These pages are specifically designed with an end goal in mind. Choose from the following page templates:
Freestyle: This page type gives you full access to freely modify a prototype on an empty canvas. However, this page type only supports one device.
Responsive: Similar to the Freestyle page, this page template gives you an empty canvas to prototype on. However, this page supports multiple devices and uses auto-arranged controls.
Object Page: This page type is used to create, display, and edit simple or complex objects. It also enables you to create anchor and tab navigation.
Worklist: This page is used when a list of items is displayed for processing, approval, and so on. The end user can then navigate in and around these items to create prioritizations.
SAP Screen Personas Template: This page type enables you to import the project into SAP Screen Personas 3.0.
Master Detail: This pages type enables you to design with a master page and detail page type interaction. It limits navigation between detail pages and master pages.
Smart Template List Report: This page type enables you to use multifilter mechanisms with large item lists and allows the end user to take action on selected items.
Smart Template Overview Page: This page type enables you to create one-page prototypes such as scorecards using filters for your content and data.
List Report (Sneak preview of new features): This page type allows for dialog triggers or popovers in tables, custom columns, and new object pages with additional features.
Launchpad (Sneak preview of new features): This page type enables you to create prototypes on a simulated SAP Fiori launchpad while linking prototypes to tiles. These tiles are automatically arranged and positioned.
Note: Click on the LEARN MORE icon within each page tile to learn more about when to use each page type along with examples of how they are used.
7. Clicking the SELECT button on the Freestyle page adds a new page to the project that is ready for editing as shown below.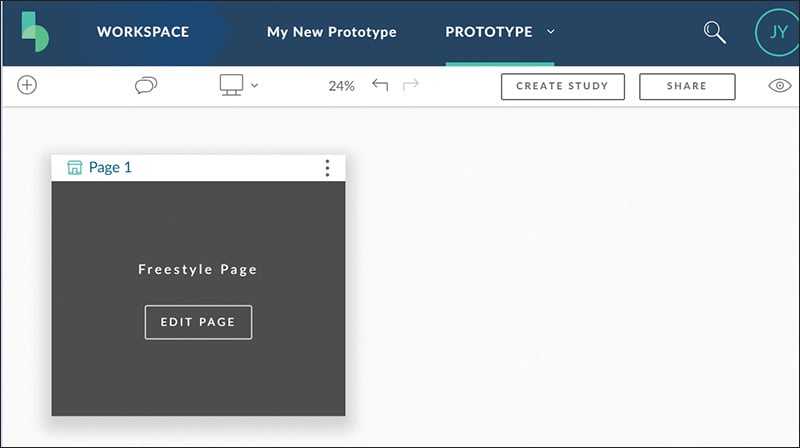 8. Clicking on the EDIT PAGE button brings you into the editor.
9. Selecting Create a study will enable you to create a feedback study to send to the stakeholders of this prototype as shown below. They will be able to interact with your prototype, provide feedback, and ask questions.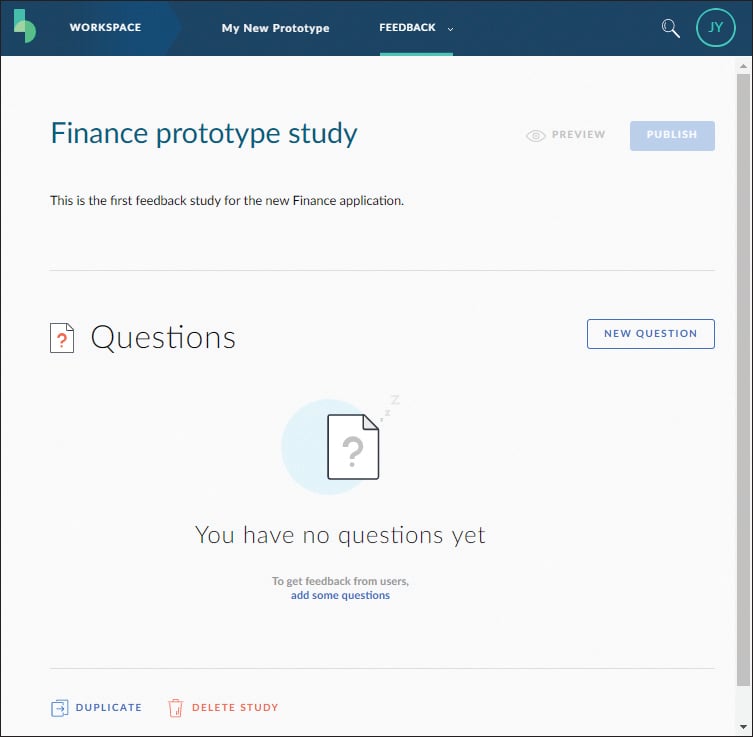 10. Selecting Upload Files allows you to upload images, buttons, and data files to your prototype project as shown in the next figure. An example of an image is a picture taken of a whiteboarding session between the development teams and business users.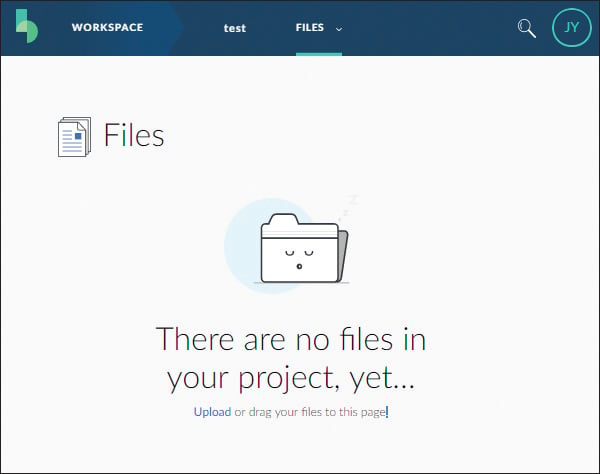 11. Selecting Invite Team provides you with a window to enter in email addresses of the key team members and stakeholders with whom you want to share your project.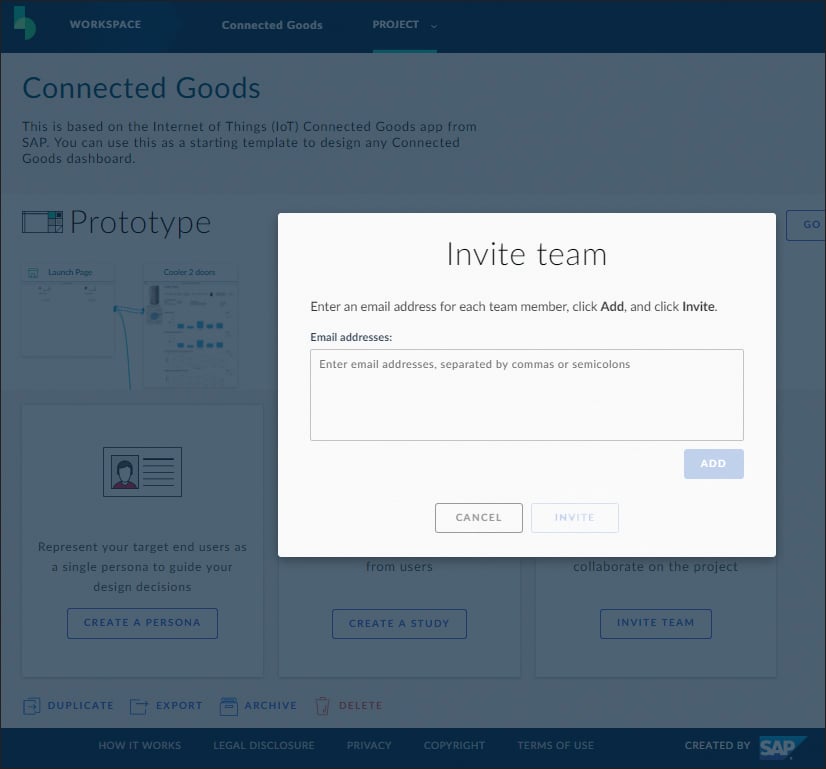 Creating a Project from a Mobile Device
In addition to creating a new project using the SAP Build desktop client, you can use your mobile device to create a new project and upload images using your smartphone's image library or camera.
To create a new project from your mobile device, log in to your SAP Build account.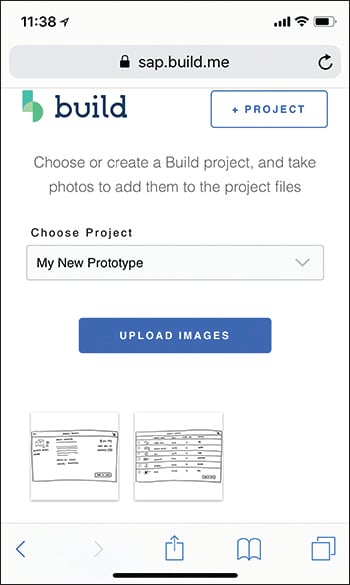 Tap the + PROJECT button, or select an existing prototype from the dropdown menu. To upload new images, tap the UPLOAD IMAGES button, and your smartphone options will appear as shown below. When you log in to SAP Build on a computer, you'll be able to see your new project with the images you uploaded via your smartphone.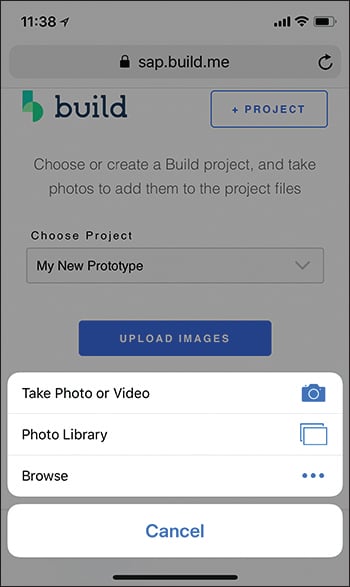 Conclusion
Prototyping is a great way to involve multiple perspectives and integrate programming design principles before doing the in-depth coding of an application. In this blog, we provided an overview on how to set up projects in SAP Build to perform this prototyping.
Editor's note: This post has been adapted from a section of the book SAP Build: Prototyping and Design by Dwayne DeSylvia and Jonathan Yagos.