After a book has been written, edited, revised, edited more, revised more (as an editor, I could go on), typeset, printed, and published, you may wonder: what's next? The answer to that is marketing!
Think of a book's publication date as its birthday—it's a big day you want to share and celebrate with everyone you know (and even those you don't). It's our marketing team's primary responsibility to do that for every book we publish, and to design campaigns to get these books into readers' hands. To do so, they must perform a triple-threat act as planners, promoters, and analysts.
I thought I could tell you about a day in the life of marketing, but after speaking with the marketing team, I realized that there really is no such thing as a typical day in their department. One moment they are collaborating with authors on their book's marketing plans and the next they are packing up for the next big SAP conference. Even though every day looks different, they thrive on the daily challenges they face as the SAP PRESS brand ambassadors. So, I thought I could share a few of the different tools and campaigns they utilize to bring our books to you, the SAP community.
Social Media
Social media is, essentially, the Times Square of the internet, and our marketing team works tirelessly to give each book and E-Bite an eye-catching billboard, whether that's on Twitter, Facebook, LinkedIn, or Instagram. (You can even find us on YouTube, where you'll see some friendly faces from our SAP PRESS author community!) In addition to book announcements and blog posts, the marketing department uses our social media platforms as a space to engage with readers and the SAP community at large. This is the best place to connect with us directly—if you have a question, concern, or interesting anecdote, we want to hear it!

Content Marketing
If you've ever searched for SAP information online, you've likely run across hundreds of blog posts and other free written materials like white papers. This falls under the purview of content marketing, and our marketing team has been curating its own collection of materials that live on the SAP PRESS Blog and the SAP PRESS Learning Center. This includes in-depth topic overviews developed from the information found across all of our books, as well as specific how-tos pulled from subsections—all developed with you, the end user, in mind. Authors occasionally write posts for the blog, too, and every once in a while you'll find an SAP PRESS employee like me jump in and write a post like the one you're currently reading.
Advertising
Ever wonder why you see SAP PRESS on some of your favorite websites? Well, that's marketing. Their repertoire includes pay-per-click (PPC) campaigns that are seen on other websites as well as at the top of your Google search results or your Amazon webpage. Our marketing team also creates dozens of emails that go out each month, including pre-order announcements, discount and sale reminders, blog broadcasts, new releases announcements, topic newsletters, and that's just the tip of the iceberg. I don't want to overwhelm you with the complete list. Just know that it's a lot.
Sales Planning
As part of marketing's planning process, the end of the year is dedicated to coordinating exciting events for the upcoming year. If you're looking for a deal, our marketing team's got your back, and not only on Cyber Monday. Past sales have celebrated everything from Pi Day to SAP HANA's birthday, and even a season or two, like the recently held Fall Sale. In addition, our marketing team schedules Markdown Monday newsletters, which provide a 40% discount on a different e-book each week (and hopefully helps brighten the fact that it is, unfortunately, a Monday).
Events
We know there's nothing like opening a good book, but that's difficult to do when you have to purchase your books online. Marketing has found a way around that-conferences! If you attend major conferences like SAPPHIRE NOW or SAP TechEd (and occasionally more specialized events, as well), you've likely seen our SAP PRESS booth on the show floor. The team has made the trek to Orlando, Las Vegas, Barcelona, and soon Austin, for many years, bringing several hundred of our most popular and relevant titles with them (in a separate shipment, not their suitcases thankfully).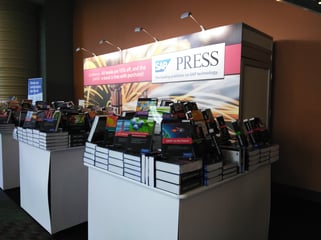 A day spent at the booth is a balancing act between facilitating book sales, answering queries, shooting the breeze with authors, and maintaining the book displays. Conferences also provide a unique opportunity to chat with readers in person, show off physical copies of our books, and tap into the excitement of the SAP world. Our marketing team also runs a contest for a free e-book giveaway at each event they attend (a great way to engage with new readers, and also keep with the spirit of free conference goodies!).
In addition to physically attending conferences, marketing performs other outreach initiatives by sponsoring events such as SAP Inside Track get-togethers around the globe, providing resources to various user groups such as ASUG, and encouraging authors to blog about their areas of expertise on platforms such as the SAP Community. All of these are done with the goal of reaching more readers and providing helpful, free information for those that need it to meet their goals.
Analysis
Marketing doesn't just consist of writing tweets and designing emails. A great deal of analysis and research goes into every word, every design, and every new marketing idea. They utilize tools such as HubSpot, Google Ads, Google Search Console, and many others to determine which emails you would like receive from us, how to appear on the first page of your Google results, and even which blog posts you are most likely to read.
After each campaign, marketing then sorts through mountains of data to determine which ones were successful and which ones were not, and why. By reviewing all of this information it helps them to make better decisions about future initiatives. You might imagine that it would take a village to manage all of these platforms and activities, but thankfully our marketing team is equipped with a marketing automation system, which helps schedule and automate many of their processes.
Conclusion
The marketing department, like their editorial and production colleagues, is constantly busy and always looking for that next big project to help connect readers with the books they need. While the pandemic has altered some of their daily tasks—for example, with no in-person conferences they don't need to compile and send a stack of books to the show floor—the drive that matters most for marketing at SAP PRESS is going strong. If you want to connect with us, the team looks forward to hearing from you on Twitter, Facebook, Instagram, or LinkedIn!