SAP Concur is a travel and expense management solution meant to help businesses and their employees streamline the reimbursement process. If you've ever had to submit a copy of a receipt to your accounting department, you know just how time-consuming this can be.
Taking a look at the expensing process can help you understand what goes on from submission to deposit, and taking a look at SAP Concur can help you understand how SAP performs this process.
The Expense Cycle
As shown in the figure below, the process begins with the purchase of something that an individual has paid for on behalf of a company or during the execution of work, and the process ends with the company in question paying back the individual.
The process is common to all types of organizations, regardless of size, location, or sector and frequently includes expenses related to hotels, meals, trains, books, mileage, and other common (and less common) examples.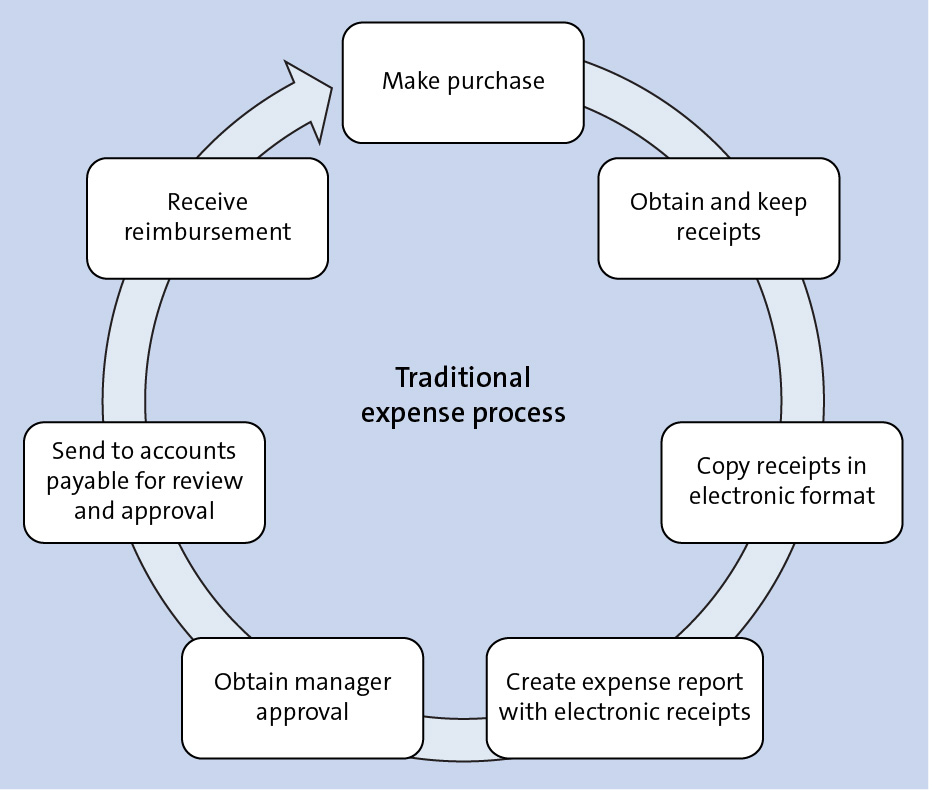 Set against this process, organizations will generally also have an expense policy that outlines rules and guidance on what the organization considers to be "reasonable" expenses and under what criteria reimbursement will take place. For example, a company may dictate that a hotel should cost less than a certain rate per night or that an evening meal is reimbursable up to a set amount. Part of the back-office process is to ensure that the expense claim is compliant with the company policy and that the expense matches the corresponding submitted receipt.
In the following sections, we'll walk through the major steps of the expense process and discuss how each is facilitated by SAP Concur Expense.
Making a Claim
If you've ever incurred a significant number of work-related expenses, you'll have had at least one situation where your wallet or purse was cramped with paper receipts. The receipt is the de facto proof that the worker actually incurred an expense—evidence that is needed both by the reimbursing organization and also government bodies who are looking to ensure compliance with taxation arrangements.
However, in recent years, both organizations and many governments have changed their stance on paper-based receipts, allowing for photographs instead of physical copies. This together with the proliferation of mobile phones with cameras means that, for many, the process of capturing receipts can now be significantly simplified. In addition, by taking photos of receipts at the point in time they are obtained means that the chance of them being lost or destroyed is also greatly diminished.
SAP Concur Expense is available both as an app that users can download from Google Play and the Apple App Store and as a desktop version that can be accessed via URL. In the app, the user can record an expense by photographing the receipt and adding the specific detail, such as the supplier, amount, and any other information dictated by the organization's expense policy.
Together with the ability to capture individual receipts and converting these into expenses, SAP Concur Expense also allows for these individual expenses to be grouped together easily into one or more expense reports. This, together with integration with corporate credit cards, allows for expenses and expense reports to be quickly created and then electronically submitted to the relevant approver, greatly reducing the overall time taken to submit reports.
Along with being a benefit to the individual who has incurred the expense, it also decreases the likelihood of clustered or late expense claims, which can provide a tangible benefit to finance and financial processes, such as the period close.
Approving a Claim and Reimbursement
Together with SAP Concur Expense digitizing the experience for the submitter, it also streamlines the process for the approver and the person who subsequently processes and pays the claim. With a paper-based system, small things such as being away from the office can delay the approval process, and the effort needed to administer a paper-based claim means that often more time is spent entering the submission into the expense system than the value-added activity of validating the claim from a compliance perspective.
This approach also means that when approving a claim, there is a reliance on the approver to know, understand, and apply the correct company expense policy prior to approval. In reality, this often leads to managers approving what looks reasonable rather than what strictly adheres to company policy. In turn, claims that deviate from company policy are erroneously approved, or the error is pushed farther down the process, where rectification requires a greater degree of effort.
SAP Concur Expense, however, applies and monitors adherence to company policy at the time the expense is captured. The application notifies the employee that there has been a policy infraction and requires the entry of a justification. This justification is passed to the approver upon submission to be used as mitigation when considering whether to accept the claim.
SAP states that by highlighting when claims are non-compliant and providing mitigation justifications, approvers query far fewer claims, and the subsequent approved claims are far more compliant with policy that those submitted through paper-based systems.
As we've already seen, a traditional paper-based expense process involves a significant degree of nonvalue-added time and effort, from the authoring of the claim through to its approval. However, it's also estimated that once approved, paper submissions take on average nine days for the reimbursement monies to reach the bank account of the submitter.
The somewhat counterintuitive rule also seems to suggest that the larger the organization, the longer the reimbursement payment takes. SAP Concur automates payments, and it's claimed that companies that use SAP Concur Expense take on average four days to perform the corresponding reimbursement. Part of the reason for this includes the expedition of error processing whereby errors, such as incorrect bank details, are sent directly to the relevant employee for rectification.
Additional Functionality for Concur Expense
The following section outlines some additional functionality and services that can be procured and provide additional functionality to SAP Concur Expense users, as follows:
ExpenseIT
This standalone application available to SAP Concur Expense users provides the functionality to automatically turn captured photographs of receipts into expense items in SAP Concur. Using optical character recognition (OCR), the application prepopulates the SAP Concur expense item from the captured image. ExpenseIt also provides OCR functionality for electronic documents that are emailed to a specific SAP Concur email addresses.
Concur Detect
Concur Detect uses artificial intelligence (AI) and machine learning techniques to validate that receipt information, credit card statements, and bookings are compliant and within the policies of the organization. SAP Concur Detect can also validate expense information against public and private databases to confirm if transactions are valid or fraudulent. Due to the nature of the solution, this means that organizations now audit 100% of their employee receipts.
Concur Drive
SAP Concur Drive enables users to automatically record and track business mileage along with automatically turning these into expense items.
Budget
Budget from SAP Concur is designed to give budget owners an insight into the past and what is coming up in the future.
Receipt Audit
Receipt Audit provides a governance layer over SAP Concur Expense to ensure that captured data is compliant with the policies and provisions of the organization. Receipt Audit both facilitates the identification of incorrect data entry and also can be used to detect fraud.
Expense Pay Global
Expense Pay Global provides some organizations in some countries the ability to trigger reimbursements without the need to integrate to a financial solution.
Conclusion
The expensing process is a necessary but sometimes time-consuming task that allows employees to be reimbursed for business expenditures paid for by personal means. While this process can take up to nine days to be completed, with SAP Concur, businesses have been able to cut this by more than half. For companies and employees, this efficiency makes the expensing process less of a hassle and allow for more time to be spent on business activities.
See how to integrate SAP Concur with third-party apps.
Editor's note: This post has been adapted from a section of the book SAP: An Introduction—Next-Generation Business Processes and Solutions by Matthew Riches, Ben Robinson, Gareth Ryan, and Ian Vincent.