Within SAP Concur, integrations with third-party apps are managed in the SAP Concur App Center menu.
As shown in the figure below, you'll find an overview of apps for individual users under Popular Connections and apps and services for the company to be managed by back-office teams under Enterprise Applications.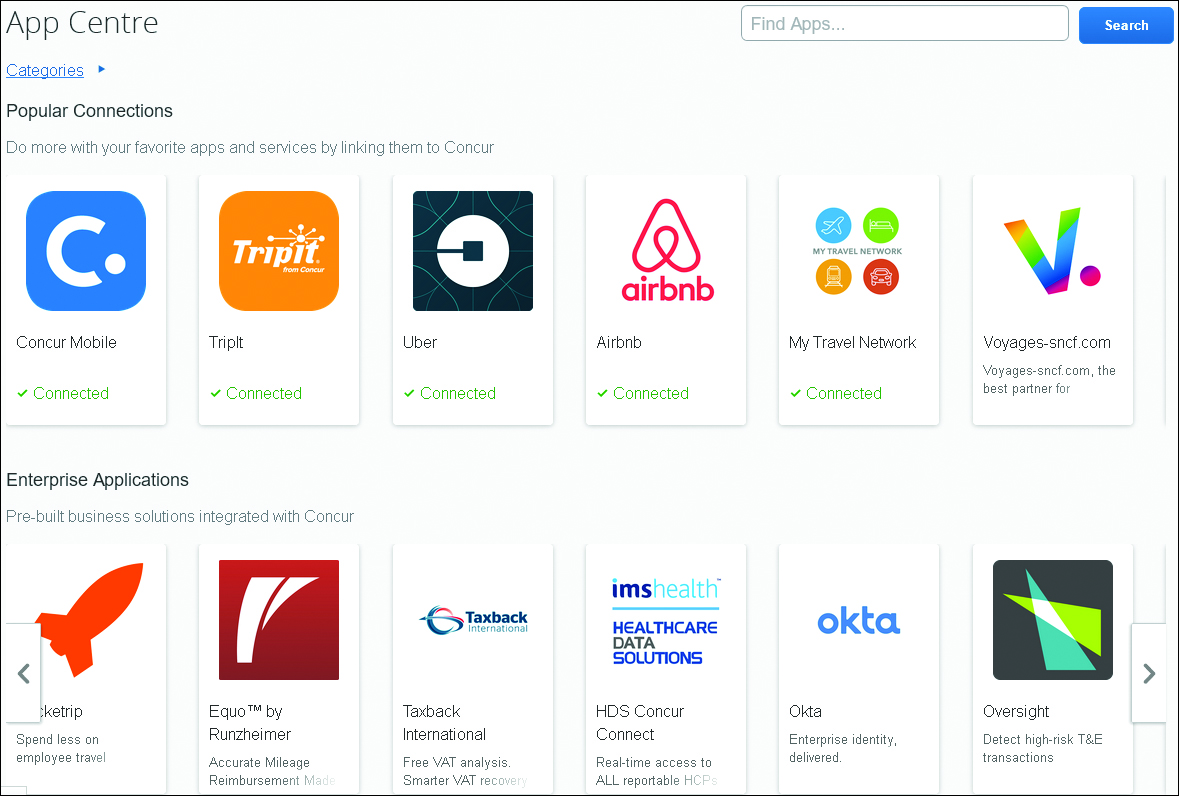 In some cases, one vendor will have a connection in both categories; for example, the cab service Uber has an app for individual users to receive e-receipts in their personal Uber app but also allows the corporate travel team to connect to their Uber business account. SAP Concur App Center also includes a search field and allows users to search by category, making it faster to find connections.
Adding Apps
Selecting one of the connections for users provides further information about its features, how to use it, and an option to Connect via the button in the upper-right corner, as shown in the figure below. Alternately, you can use the Connect to Apps option in the SAP Concur mobile app menu to connect to apps, though not all apps are available there.
The description usually explains how to connect the app with a user's SAP Concur account. In many cases, it's as easy as providing the user name for the vendor account (e.g., your Uber user name) and then logging in upon request to authorize the connection once. In other cases, it can be more complicated, particularly for enterprise apps. If it isn't possible to connect directly, the Connect button is replaced by a Request Information button. Enterprise applications often require communication with a vendor.
Although connecting to an individual app is still easy compared to similar connections in traditional systems, it can help to get some advice to develop an app strategy for SAP Concur and to manage the setup. Not all apps work for all countries or policies, and the ever-growing number of apps also can be confusing for users.
For example, you often have apps that SAP Concur indicates are available globally, but the respective vendor might not offer any services in your region. You may also not want to encourage users to connect to certain services when your policy prescribes a different preferred vendor in that field. Can you stop users from connecting to apps that you don't want them to use? Let's discuss that topic next.
Managing Apps
Connections in SAP Concur App Center are managed through the web services configuration via Administration > Company > Web Services. Here, you can change the behavior of connections and even create new ones, though this functionality is rarely used. We want to focus here on how to activate or deactivate apps.
Before you can do this, you need to make sure you have Web Services Administrator rights. To do so, add the corresponding permission to your user account as indicated in the following figure, if it isn't already assigned. Being able to access the Web Services menu item and being able to open some items doesn't necessarily indicate that you have the correct permissions.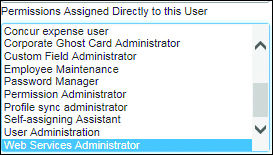 To deactivate user apps, perform the following steps:
Go to Administration > Company > Web Services.
Click on Manage User Applications. This doesn't work with all browser versions. If you see a blank screen, try a different browser. We found issues when using the web services options in Internet Explorer; Firefox has often been the most reliable browser to use.
Click on Prevent Users from Connecting (as shown in the next figure) for the apps you want to block. This automatically sets Hide Listing Details.

To hide the listing, click Hide Listing Details. However, this didn't work at the time of writing (February 2017). The connections were still available for users to see, which can create unnecessary confusion.
There is no Save button; all changes are saved immediately.
Now, users will no longer see the Connect button. Instead, they'll see a note like that shown in the figure below.

In the Connect to Apps menu of the SAP Concur mobile app, this deactivation has almost the same effect: The Connect button is eliminated. However, there is no explanatory note like there is in SAP Concur App Center to indicate that the app deliberately is not authorized.
If a user is connected to the app already when the integration is switched off, the integration stops working once the change has been made. However, although we have tested this with several apps, we recommend checking in every case if you need to be sure. Unfortunately, even apps with switched-off integration are still listed as Connected for the user. This can be confusing and requires good communication to clear up.
Enterprise apps are also configured in the Web Services menu, using the Enable Partner Applications link. Pick the application from the list as shown in the final figure, then click on the Enable or Disable button.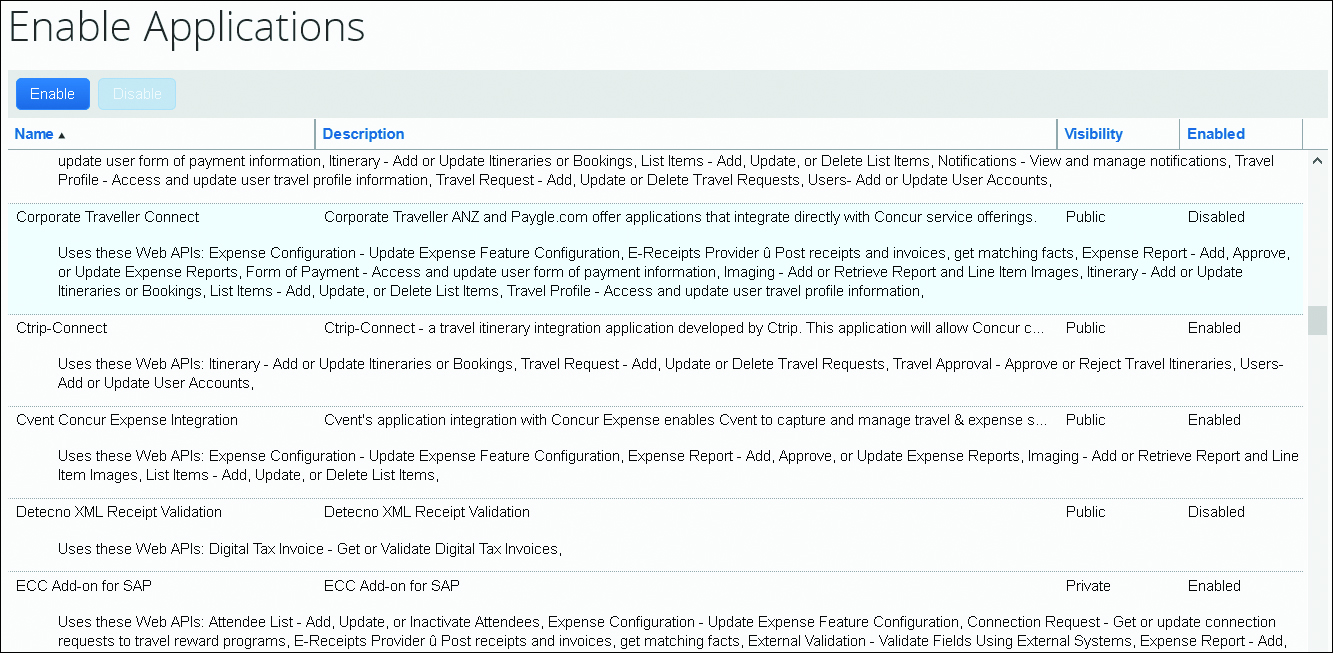 Conclusion
Adding and managing allowable apps and services to your SAP Concur solution is pretty easy, isn't it! With this information at hand, you'll be able to set up the programs you want employees to use and keep other apps from connecting to your system. Which integrations will you perform with this information?
Editor's note: This post has been adapted from a section of the book Concur: Travel and Expense Management with SAP by Sven Ringling, Hannah Smith, and Andy Wittmann.