As you know, we live in an increasingly unprecedented world where extreme events can cause major disruptions to the enterprise world.
The pace of business disruption has only increased over the last few months, warranting a new way of doing business. Not too long ago, enterprise resource planning (ERP) systems were leveraged mostly for digitizing the different activities or steps required to execute a customer or internal requirement, but that's not the case anymore. The improvements in ERP technology created increased expectations that go beyond just the digitization of processes.
So what are those improvements? With the new-age ERPs such as SAP S/4HANA, digitizing the processes is just a table stake. SAP S/4HANA intelligently combines technology improvements with business processes to make them faster, better, and most importantly "intelligent." SAP S/4HANA leverages new advancements in the area of machine learning, predictive analytics, robotic process automation, and conversational AI to provide alternative and more intelligent ways of meeting your requirements. This is done by providing real-time information at the fingertip of a business user to make necessary decisions with the help of embedded analytics and system proposed recommendations.
Considering the Best SAP S/4HANA Architecture
Reaching the full potential of an SAP S/4HANA investment is not an easy task, as an ERP system implementation requires a multitude of considerations, and those considerations should act like a symphony. One bad design decision might have a cascading impact on your business process or decision making—eventually impacting the customer experience. As an example, during the recent pandemic event many retail organizations could not handle the sudden increase of e-commerce volume on their websites, as they were not designed to scale in a short time, which resulted in the loss of customers and revenue!
Acquired features from SAP S/4HANA are directly proportional to the orchestration of an optimal end-to-end design which covers aspects such as business processes, analytics, security, user experience, integrations, infrastructure, and intelligent technologies. A key thing to note here is all of these considerations should be thought through with the sole purpose of providing the best possible experience to your external and internal customers. An ERP system should be designed while keeping an enterprise's vision, mission, and objectives in mind. So there should be a thread which connects an enterprise's strategy to an enterprise's policies and business processes, and eventually to the IT strategy and IT Implementation.
The business-driven approach is a key driver for designing an optimal and intelligent architecture for ERP transformations. Thereby, an architecture should be business-driven, responsive, agile, and scalable to face any uncertain scenario successfully and be resilient enough to support critical business processes of your organization.
So if you are planning your SAP S/4HANA transformation or in the middle of implementing SAP S/4HANA and other SAP cloud solutions, you can simplify your architecture by understanding the overall framework as well as understand some of the unique features of the SAP S/4HANA technical stack.
SAP S/4HANA Architecture Framework
Now the question is: what is the framework that can help you design a simple architecture which meets all the above conditions? Let's discuss the simple framework as given in the figure below, which displays the building blocks of the framework.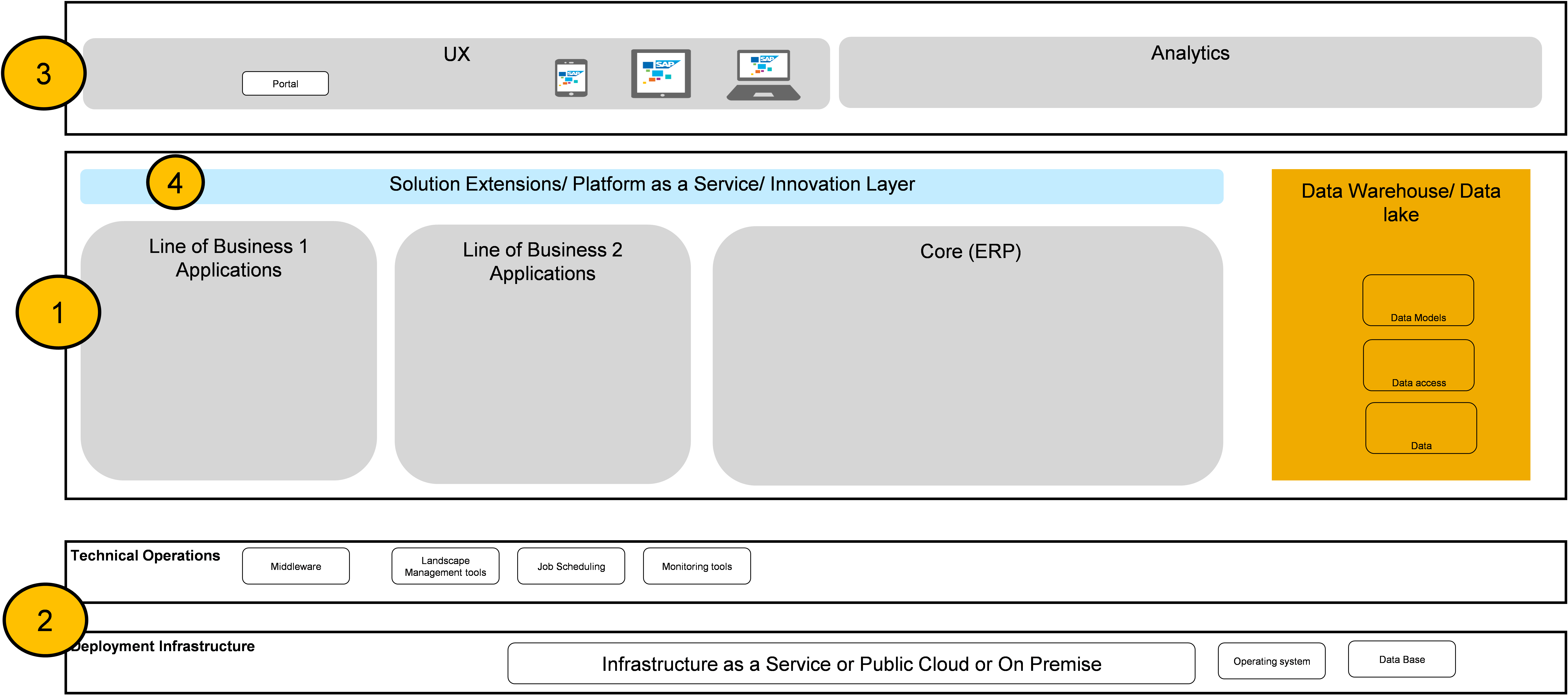 These building blocks constitute the key considerations, while defining the architecture for your SAP S/4HANA transformation project. The building block marked as 1 covers all aspects of your business requirements. Please see the figure below to understand how you can leverage a business capability map to identify the right SAP S/4HANA module or other applications which can meet those requirements. To identify the right IT applications for your organization, a business capability map can be leveraged to identify critical requirements, which can then be mapped to the appropriate IT applications and, in turn, can then be an input for your building block 1 of architecture framework.

Similarly, the building block marked as 2 covers all aspects of the technology infrastructure while building block 3 covers all aspects of user experience requirements as well as analytics (visualization of reports).
Lastly, building block 4 covers all aspects of innovations and integrations, so this framework provides a good way to start designing your architecture. A framework like this can simplify the complexities associated with a large SAP S/4HANA transformation project and help you stay focused on key aspects.