SAP provides a number of tools that help you explore your current business process and landscape and see if redesigning your existing business process is required (or not). In this post, we'll walk through four of them:
SAP Process Mining

Spotlight by SAP

SAP API Business Hub

Ruum by SAP
Let's now jump into evaluating how SAP Business Technology Platform (SAP BTP) provides tools to drive business process improvements and insights for enterprises.
SAP Process Mining by Celonis
SAP Process Mining uses process mining technology to help you visualize and understand the operative processes running within your SAP solutions and third-party applications.
Process mining is a field used to extract knowledge from the event logs stored and recorded by an information system like SAP ERP and SAP S/4HANA. The information stored in these event logs is used to analyze the underlying processes and their variants to visualize how a business is running currently and then identify potential areas of improvement.
SAP Process Mining extracts all the data about business process execution from systems and builds up intuitive graphical representations. This helps you to get a clear picture of when tasks are performed, their efficiency, and other aspects like the manual effort used to complete them. With this information, businesses can quickly understand how processes work and work on remediation of inefficient and cost-intensive processes.
By identifying process weaknesses, process owners can focus on potential areas of improvement by utilizing various SAP BTP tools for process automation and visibility, leading to better outcomes and optimized processes.
In the following sections, we'll look at some of the key tools available as part of SAP Process
Mining. We'll also describe the next steps after using SAP Process Mining.
Process Explorer
The process explorer is the core element of SAP Process Mining, which makes it possible to visualize and analyze processes. In the figure below, you can see an example of the process explorer and its different features, which will be explained throughout the following sections.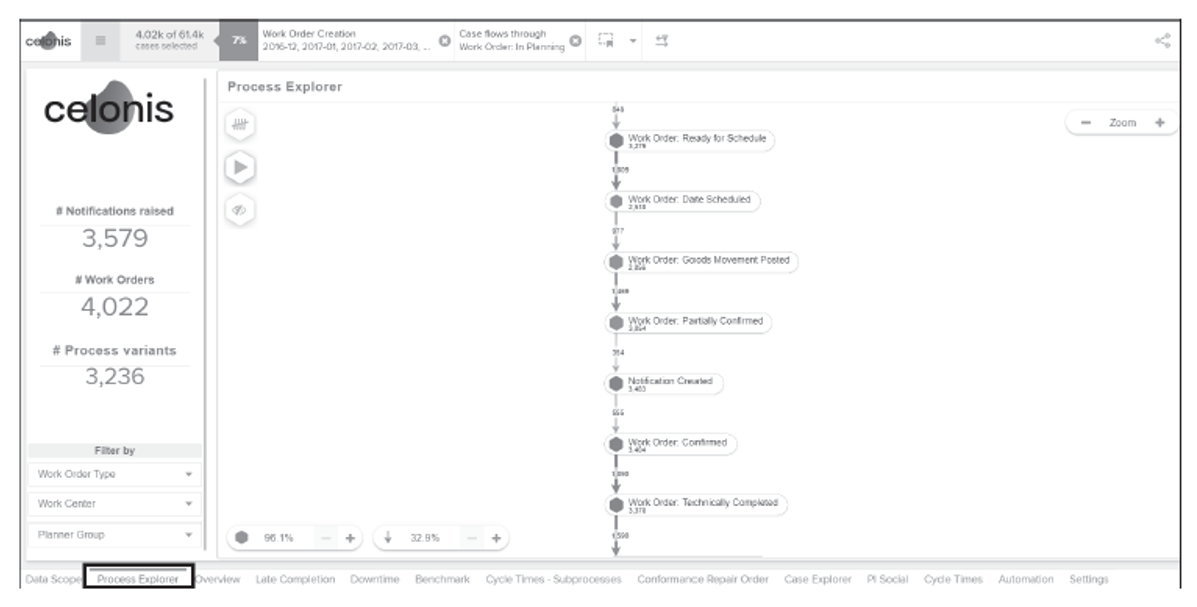 Case Explorer
The case explorer is a tool for examining single cases and their associated activities. Cases are specific scenarios within business process that you want to highlight and work on. The case details show all activities that are passed by this case, in the right order. Below shows an example of a case and its details.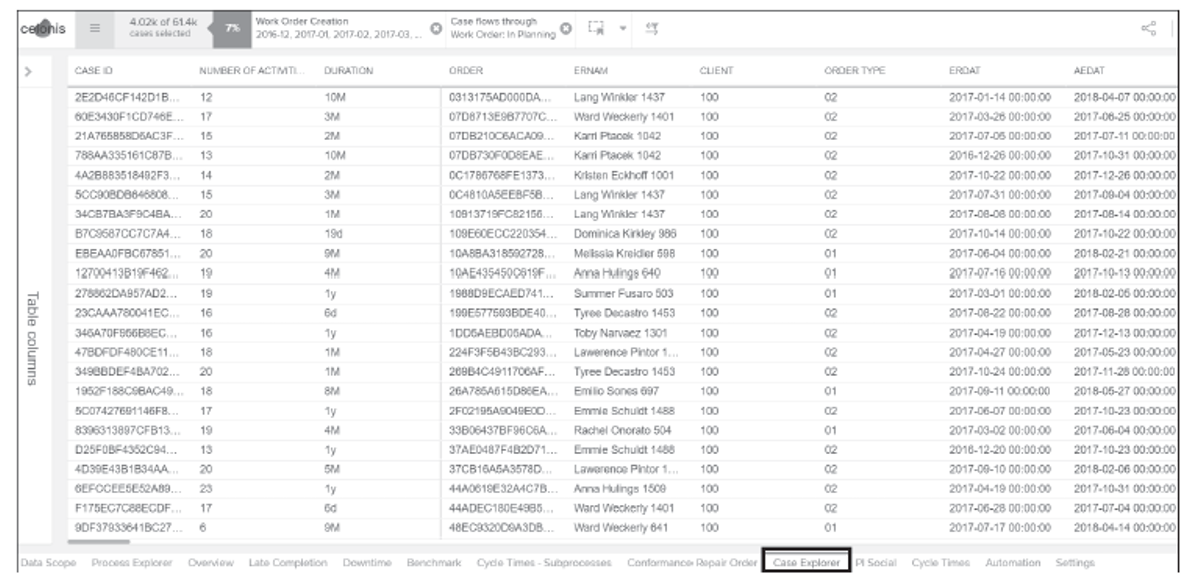 Case details can also be accessed with a flow of events that have happened to understand the specific instance and related activities in detail, as shown in here.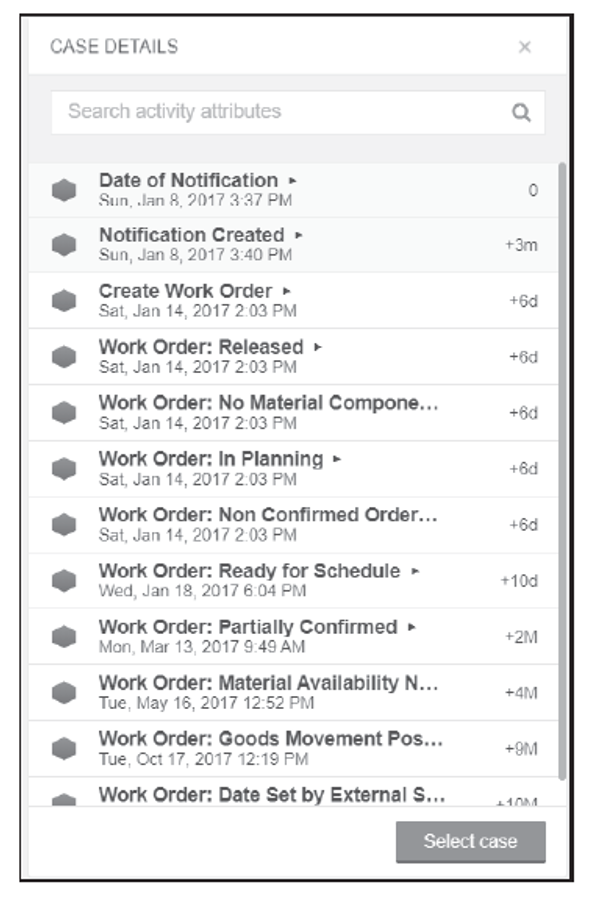 Analysis
In SAP Process Mining, process analysis is structured in projects, each of which can contain a near-endless number of analysis documents. Analysis documents always include at least one analysis sheet—but there is no maximum number of allowed analysis sheets. The following options are available:
Blank sheet

Process explorer

Benchmarking

Process conformance

Case explorer
Data models and proactive insights are some other tools worth mentioning to get insights from processes and recommendations from SAP Process Mining.
For any analysis, the Data Scope tab provides details of various transactions, time frames, types, groups, and so on, to filter the scope of analysis and analyze the process and cases in details.
For example, in the figure below, analysis of plant maintenance-related objects can be done with the filter criteria such as type, work center, planner group, and so on.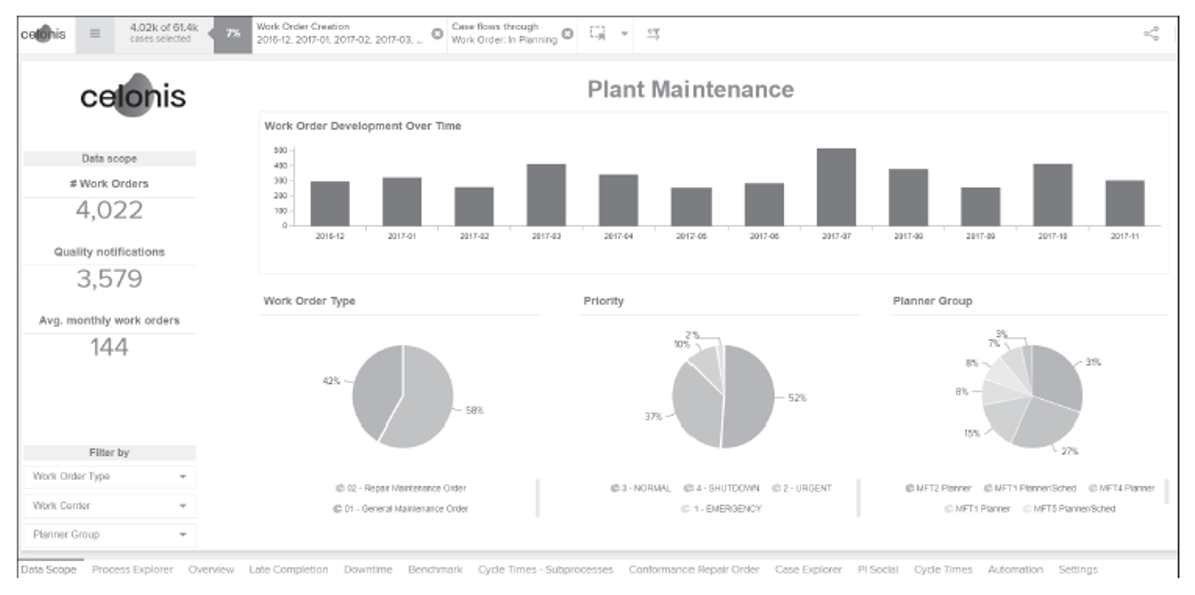 Next Steps
Process discovery is key aspect of future-ready enterprise preparedness and transparency to ensure that large organizations understand how they operate at a detailed level, what variations exist in system, and which areas are key laggards and to analyze them in detail. This paves a path for process optimization and a plan for improvement based on the analysis outcome.
As shown in the next figure, you can use SAP Process Mining to visualize the actual processes and optimize the business processes by getting business data from multiple SAP and non-SAP system processes, and even user interaction data stored in spreadsheets and web apps, to provide optimized outcomes.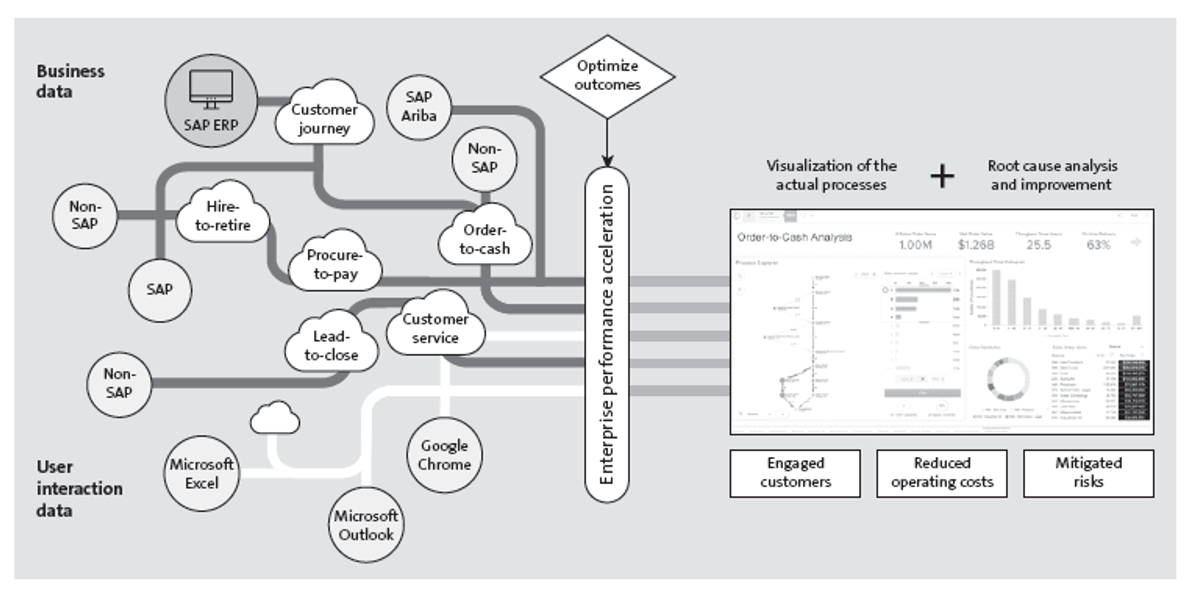 Spotlight by SAP
Spotlight by SAP provides transparency for data-driven actions. It helps to integrate and annotate operation data from SAP and non-SAP systems to understand usage, key performance indicators (KPIs), process performance indicators (PPIs), and user behavior, and then maps this data to process taxonomy. Other features include the following:
Compare operations performance across units, geographies, and systems

Leverage SAP's data to benchmark yourself against your peers

Understand your process performance and view recommendations, helping you prioritize what to fix first

Get actionable insights for your transformation projects

Get help getting started with preconfigured transformation scenarios

Define your own scenarios where necessary
Spotlight by SAP is in beta (https://www.getspotlight.io/) for the enterprise version. It currently provides a one-time report and provides different levels of view than SAP Process Mining.
Spotlight by SAP helps you define your own transformation journey to a future-ready enterprise by providing insights into current process performance and recommendations for how to fix them, as well as relevant automation opportunities for your enterprise. Spotlight by SAP also allows you to do the following:
Identify technologies as enablers for LoB processes

Prioritize and map intelligent capabilities in and beyond SAP S/4HANA

Ascertain how to start your path to the intelligent enterprise
SAP API Business Hub
SAP provides end-to-end (E2E) process blueprints. These E2E blueprints are now published and available on SAP API Business Hub (api.sap.com). With them, SAP shares a reference architecture of which solutions are required to become an intelligent enterprise and the target state of enterprise architecture. Organizations can now explore how E2E processes can be broken down into applications, modules, business services, technologies, and integrations. All integration content is linked, such as APIs for integration. Based on this information, companies can plan their roadmaps to adopt the solution and to transition from their current solution landscapes to their target landscapes.
Four business process (see below ) already exist on SAP API Business Hub, as follows:
Lead to cash

provides an end-to-end scenario that manages all aspects of your experience, from the initial interaction to order fulfillment and service delivery.

Source to pay

covers strategic and operational procurement, from finding the source of supply to procuring as well as receiving goods and services.

Hire to retire

is a subprocess of the

recruit to retire

scenario, covering the lifecycle of an internal employee.

Travel to reimburse

simplifies the travel process, from trip planning to reimbursement, while ensuring compliance for employers and employees in various roles.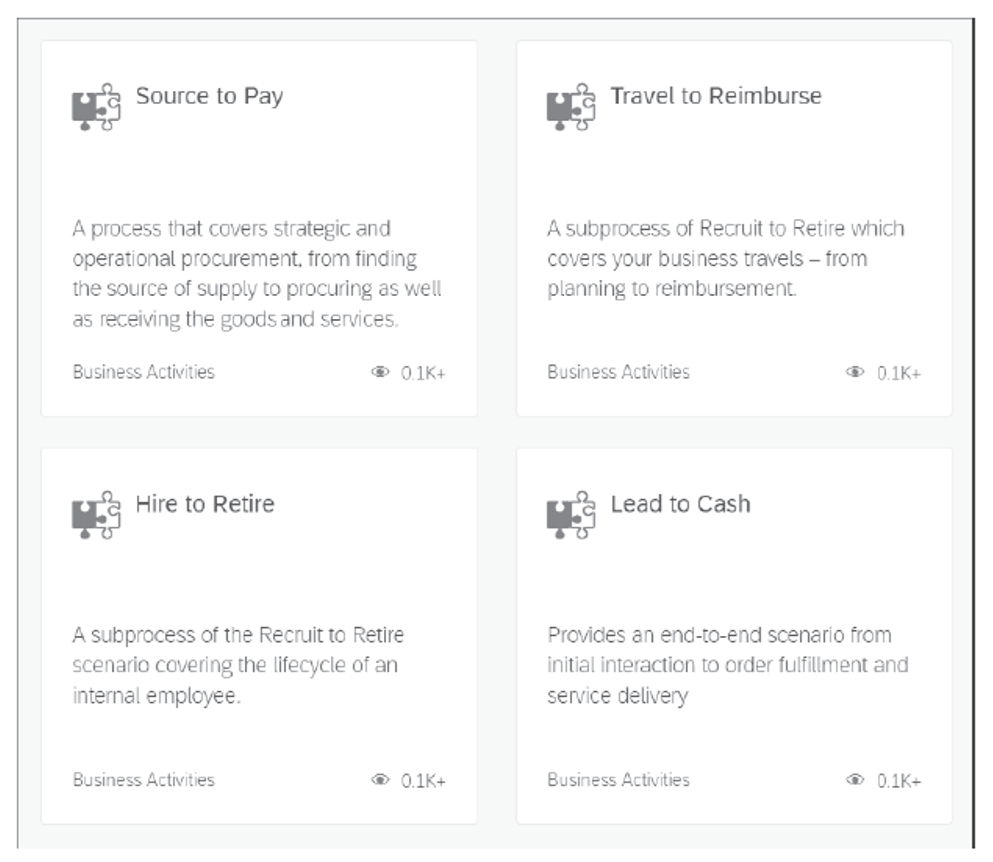 For more information on SAP API Business Hub, see https://api.sap.com/themes/BusinessProcesses.
Looking at the details of each process, an enterprise can look to optimize its existing processes to suit its future transformation journey with SAP S/4HANA and further evaluate its extension and integration requirements.
For example, the lead to cash business process provides an end-to-end scenario from initial interaction to order fulfillment and service delivery. It provides a process template based on best practices, as well as common scenarios, and it can be adapted or extended based on your specific requirements. The process may vary depending on the industry type, the type of customers, and the sales channel used, whether e-commerce or direct sales. The next figure shows an example of the lead to cash process.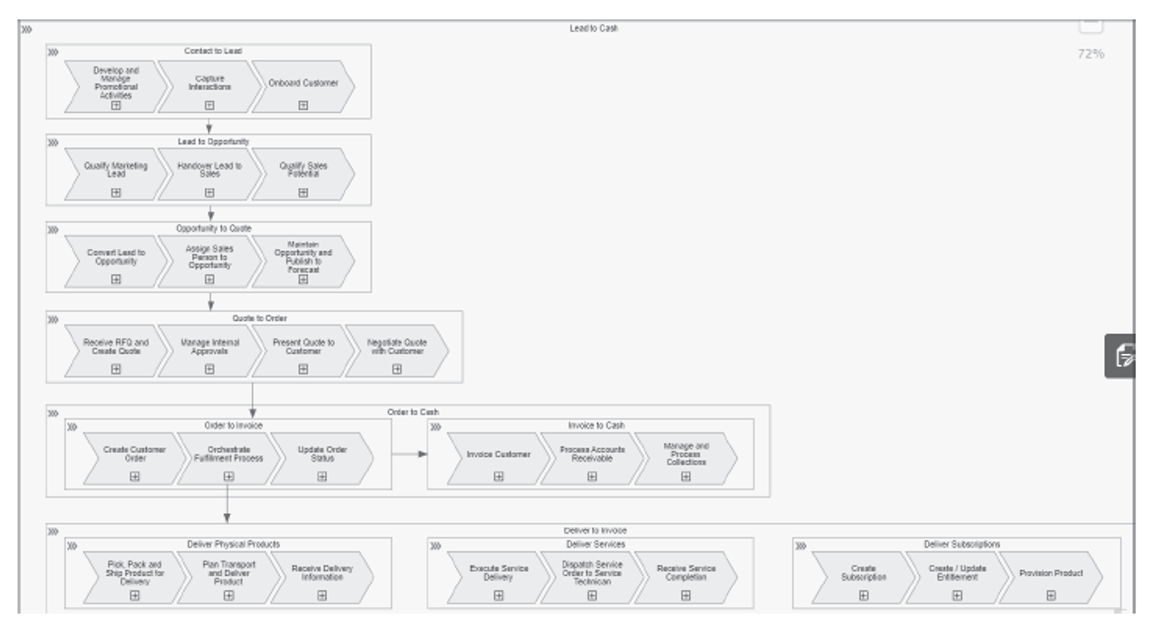 Ruum by SAP
Ruum by SAP is a work-management platform that allows organizations to build, automate, and execute processes on top of their existing architecture without the need to invest in coding. It provides the following functionalities:
Allows anyone to model, automate, and run new processes without the need to change existing architecture

Extensively integrated with SAP digital core, yet agile and adaptive at all times

Includes enhanced collaboration, task tracking, project management, and file management features

Is combined with SAP Intelligent Robotic Process Automation for automation capabilities
Ruum by SAP can help in bring people and data together and automate day-to-day tasks and approval processes to help business scale, as follows:
Collaborate: Bring the right people and data together

Manage: Set deadlines and monitor progress

Automation: Empower business users with templates and project management AI

Report: Get an executive view of your business to take decision at scale
Developers can build intelligent processes across connected applications, add tasks and approvals, collect inputs, and manage files on a shared canvas. Workflows can be enhanced with self-service automation, replacing manual, repetitive tasks with integrated bots; processes are live within minutes. Ruum by SAP provides a secure environment while giving a business the ability to solve 90% of its process-related problems itself.
2
Ruum by SAP provides full visibility across all open items. Extended features also allow team members to communicate, manage projects, and track open tasks. Administrators can monitor and review licenses, active users, and live usage analytics with their own dedicated Ruum by SAP dashboards.
Ruum by SAP provides templates, as shown below, to quickly get you started in creating a lightweight process.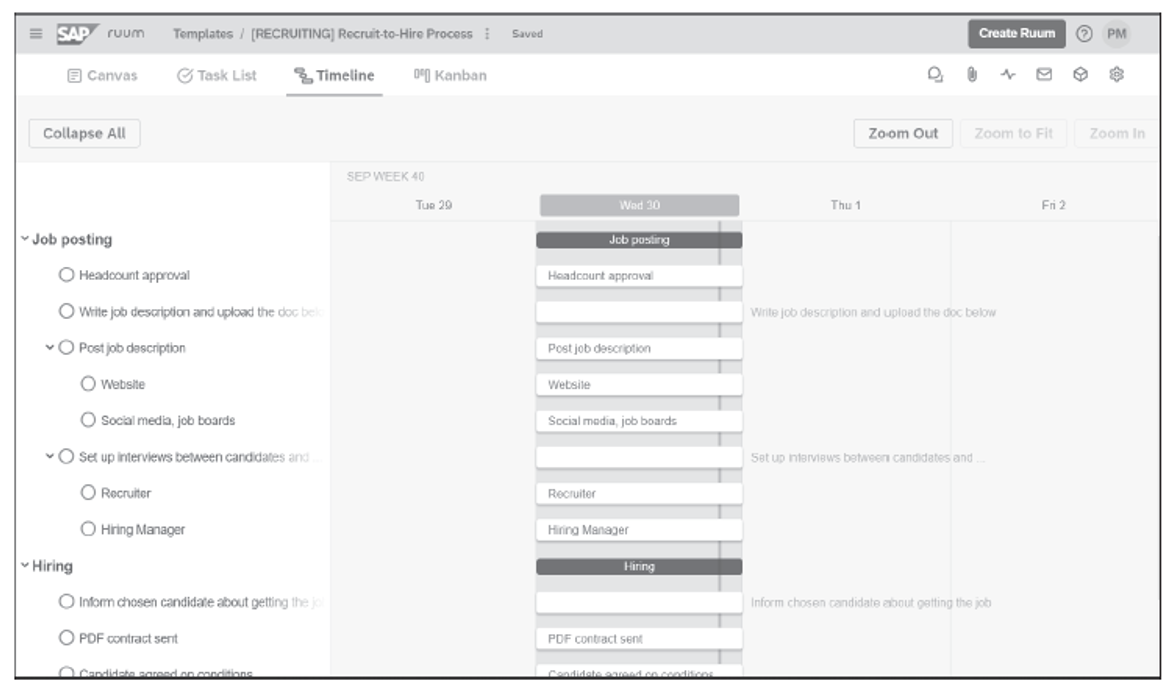 For example, below, we've chosen an existing template to manage renewal opportunities.

Once within the canvas, an end user can customize the sections, invite other users, assign task lists by priority and due date, add subtasks, add attachments and variables, and more, as shown next. This helps you quickly create a customizable workflow for the new business process that has been created.
Similarly, you can use additional templates for employee onboarding or create new custom templates from scratch. As you'll see below, you can copy the existing template into your workspace and publish and then customize it for your own needs.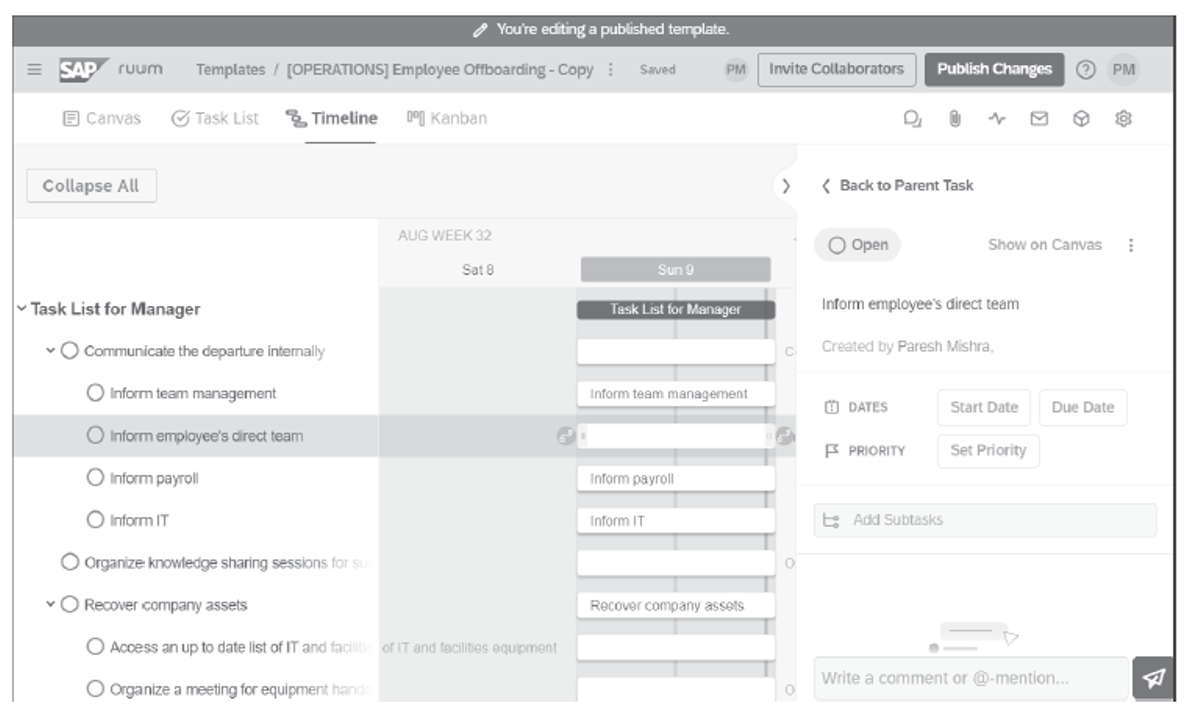 2
Considering the current climate, we need IT to enable businesses to automate processes themselves. The market needs a better, faster, and cheaper solution for process automation, and this is where Ruum by SAP provides its value. Most enterprises want continuous improvement, and their business units are in constant need of new and better processes. Ruum by SAP can help significantly speed up and improve enterprise process delivery.
As shown in the final figure, Ruum by SAP complements the SAP BTP portfolio, compliments SAP Business Workflow, and responds to an unattended market need: the need to allow developers to build quick business processes without IT involvement.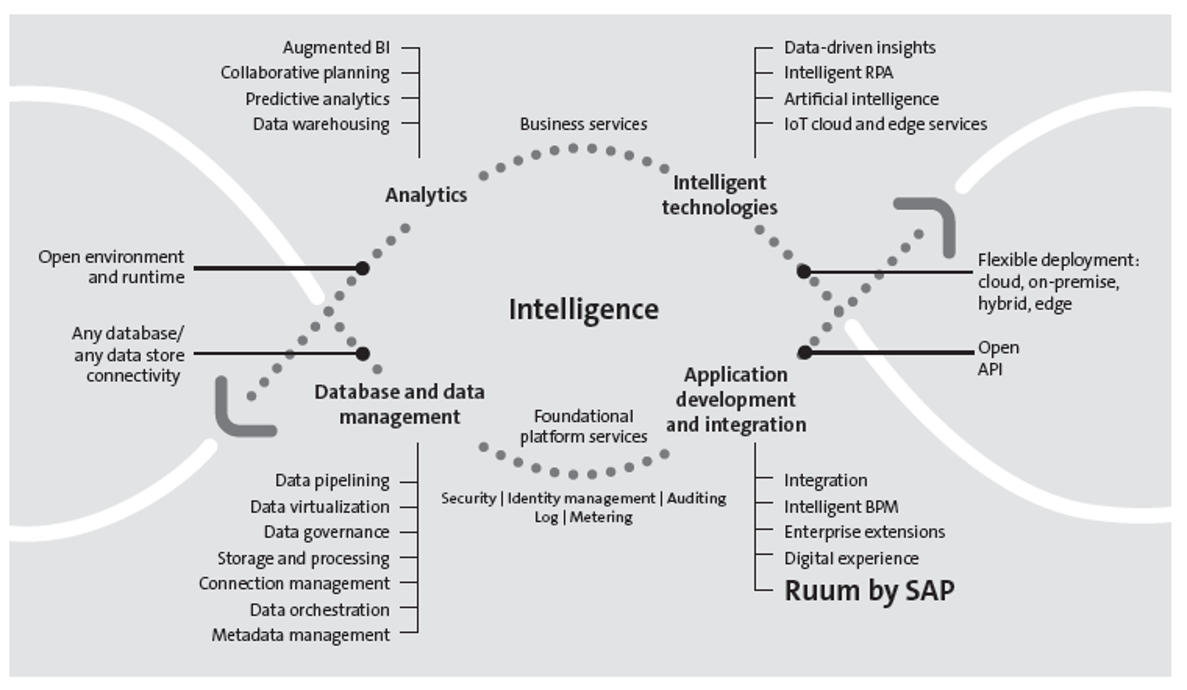 Ruum by SAP provides business users with a process self-service and taps into the potential of automating all those processes that are today far from being digitized, documented and automated.
This further creates a new level of transparency, and an enterprise still has full visibility into the number of open requests for a process that was never digitized. This will allow enterprises to have full ownership of their process landscapes and be able to gear up for being future ready.
Conclusion
With the help of SAP BTP tools such as SAP Process Mining by Celonis, Spotlight by SAP, and Ruum by SAP, you can understand the impact of systems, understand and optimize processes, and gear up for the journey to the digital core with SAP S/4HANA.
Editor's note: This post has been adapted from a section of the book Customizing SAP S/4HANA with SAP Cloud Platform: Designing a Future-Ready Enterprise Architecture by Paresh Mishra and Vipin Varappurath.