The need for a harmonized user experience is being redefined quite rapidly. Customers and employees of organizations are expecting a consumer-like experience with business systems as well.
Users not only expect to have relevant business information and data from the systems presented in one place, but also expect the ability to further engage with that information through contextual recommendations and collaborate with other users through groups and chats around that information. This results in driving more end user productivity, efficiency, and satisfaction.
SAP Work Zone is a set of tools to provide such a user experience to your end users. SAP Work Zone aims to provide a simple, modern, and consistent user experience to your end users with data from enterprise systems.
From a technical standpoint, SAP Work Zone integrates a number of different business services available on SAP Business Technology Platform, as follows:
SAP Cloud Portal service

SAP Mobile Services

SAP Workflow Management

SAP One Inbox
It provides a harmonized user experience and design, all while making sure that your data is secure and follows your enterprise's security practices, as shown in the following figure.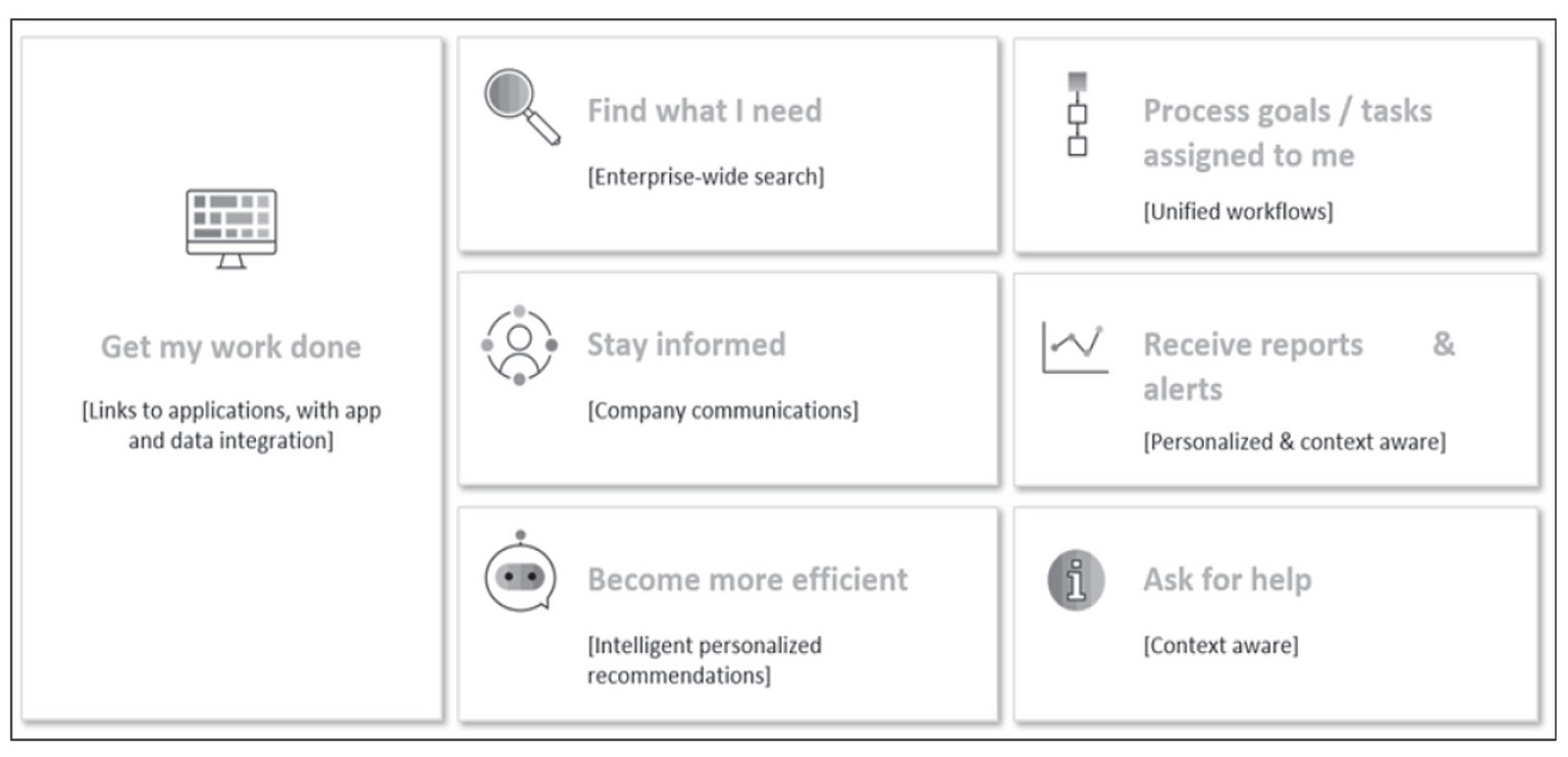 Broadly speaking, there are three different user personas who will use SAP Work Zone.
End Users
End users are those to whom data is presented. These could be your employees, who are presented with modern user interface and collaboration capabilities, or your external users, like vendors, partners, and suppliers, who are provided with a modern and efficient way to integrate with your business system. End users can also be presented with mobile apps for a more engaging experience.
End users have the ability to personalize and customize the experience to their unique needs and are presented data based on role-based authorizations.
Administrators
Administrators in an organization are responsible for design and manage SAP Work Zone for their organizations to make the user experience more seamless and harmonized for end users.
An area administrator will have access to only those pages and workspaces for their particular area. A company administrator will have access to individual area administrator profiles. As an administrator, you can see information on user activities within SAP Work Zone.
Developers
Developers are responsible for creating content and deploying the content for use in SAP Work Zone's pages and workspaces. Developers use SAP Business Application Studio to develop their contents.
SAP Work Zone for HR is available and is a more employee-centered product. It brings different HR-related apps and services together in one place and provides the ability to collaborate on top of them, mobilize the data, and drive workflows, all in the same place.
UI5 Flexibility for Key Users
Another UX tool worth mentioning is UI5 flexibility for key users, which allows business users to adapt the UI to, for example, only show the fields most used by them. Using this tool, end users can change the UI without having to modify the underlying code. For more information, see http://s-prs.co/v515755.
Editor's note: This post has been adapted from a section of the book Customizing SAP S/4HANA with SAP Cloud Platform: Designing a Future-Ready Enterprise Architecture by Paresh Mishra and Vipin Varappurath.