All follow-up processes from sales orders, such as delivery, shipping, and billing, are executed outside SAP Cloud for Customer in an order fulfillment system.
If you're running SAP ERP for your order fulfillment processes, then you must include SAP ERP integration with SAP Cloud for Customer (part of SAP Customer Experience) in the scope to enable the transfer of sales orders to SAP ERP for further processing.
Benefits of Cloud for Customer Integration with SAP ERP
Integration with SAP ERP allows simulate, transfer, and finish actions in sales orders. The Simulate option is used when sales reps capture an order and want accurate pricing before finalizing the order with the net price (discounts and net value), product availability (delivery dates, available to promise [ATP] quantities, and ATP types), and statuses (Credit and Rejection).
The Transfer option of an order entails creating the order in SAP ERP, which triggers any follow-up processes configured in SAP ERP such as fulfillment and billing. The Finish option can be used to combine all the actions (i.e., save, simulate, and transfer), as well as submit for approval if approval is set up, of the order to SAP ERP in a single click.
You can configure the use of internal pricing or external pricing by document type. With SAP ERP integration, you can influence five areas of SAP Cloud for Customer.
Free Goods Determination
Simulation or transfer of an order returns free goods from SAP ERP if they are set up for the products entered in the sales order. The free goods are only for display, and edits can't be made to such products in the sales order. Free goods are displayed after the external pricing call to SAP ERP, as shown the first figure. Free goods determination supports both exclusive (e.g., buy 10 and get 1 free) and inclusive (e.g., buy 10 and pay for only 9) procedures.
Product Availability Check
Simulation or transfer of an order also returns an ATP result from SAP ERP. Confirmation is nonbinding based on the requested date (header date copied to items). A simulated delivery schedule appears in the sales order, as shown in the second figure.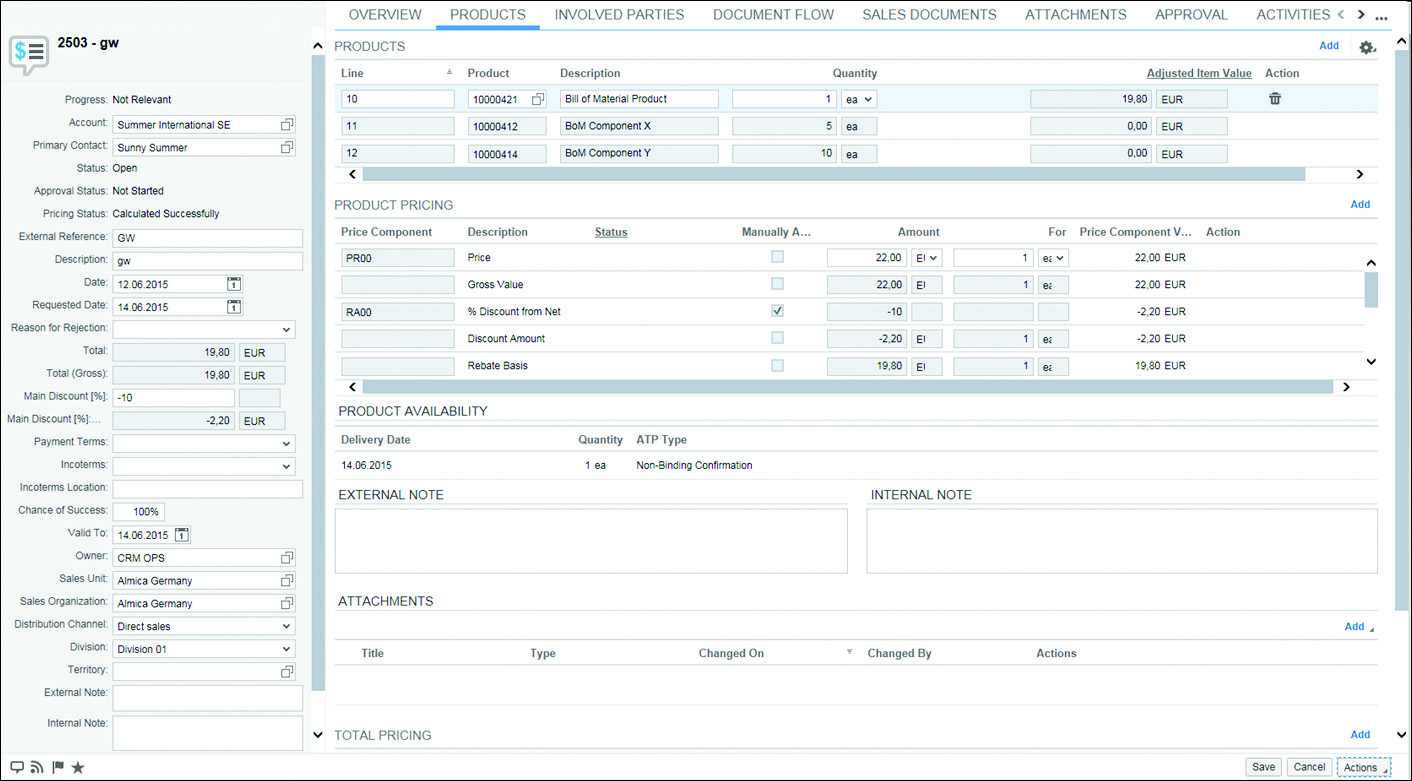 Credit Limit Check
The simulation or transfer of an order returns Credit Status, Credit Limit, and Credit Exposure information from the SAP ERP system, including a warning message if the amount exceeds the limit as set up under credit management for the customer in SAP ERP (see the figure below). Credit Status is part of approval conditions and is determined when an order is simulated or transferred.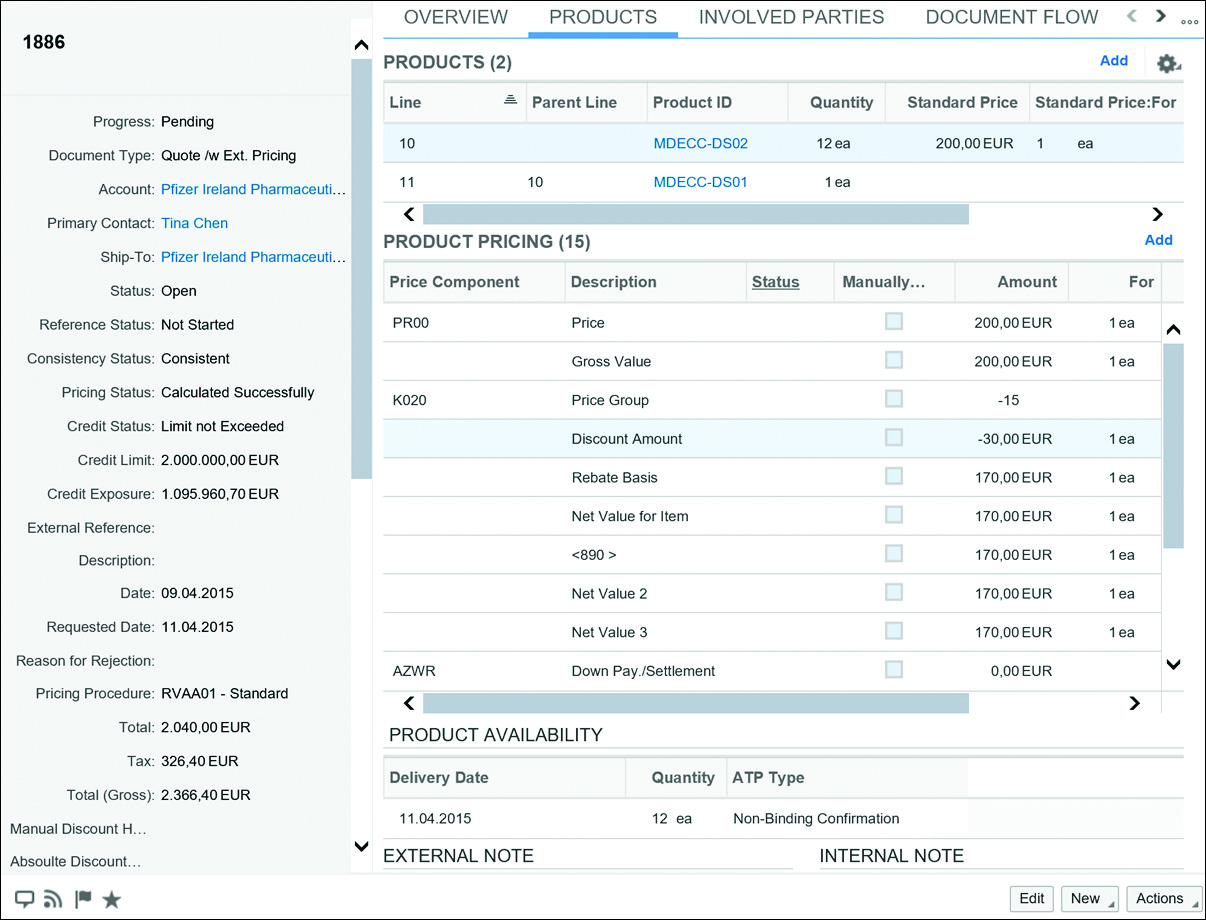 BOM Explosion
If an order is created for a material set up as a bill of materials (BOM) in the SAP ERP system, simulation or transfer of an order also "explodes" multilevel BOMs from SAP ERP, as shown in the following figure. Price or quantity adjustments for a BOM are only supported on the header item.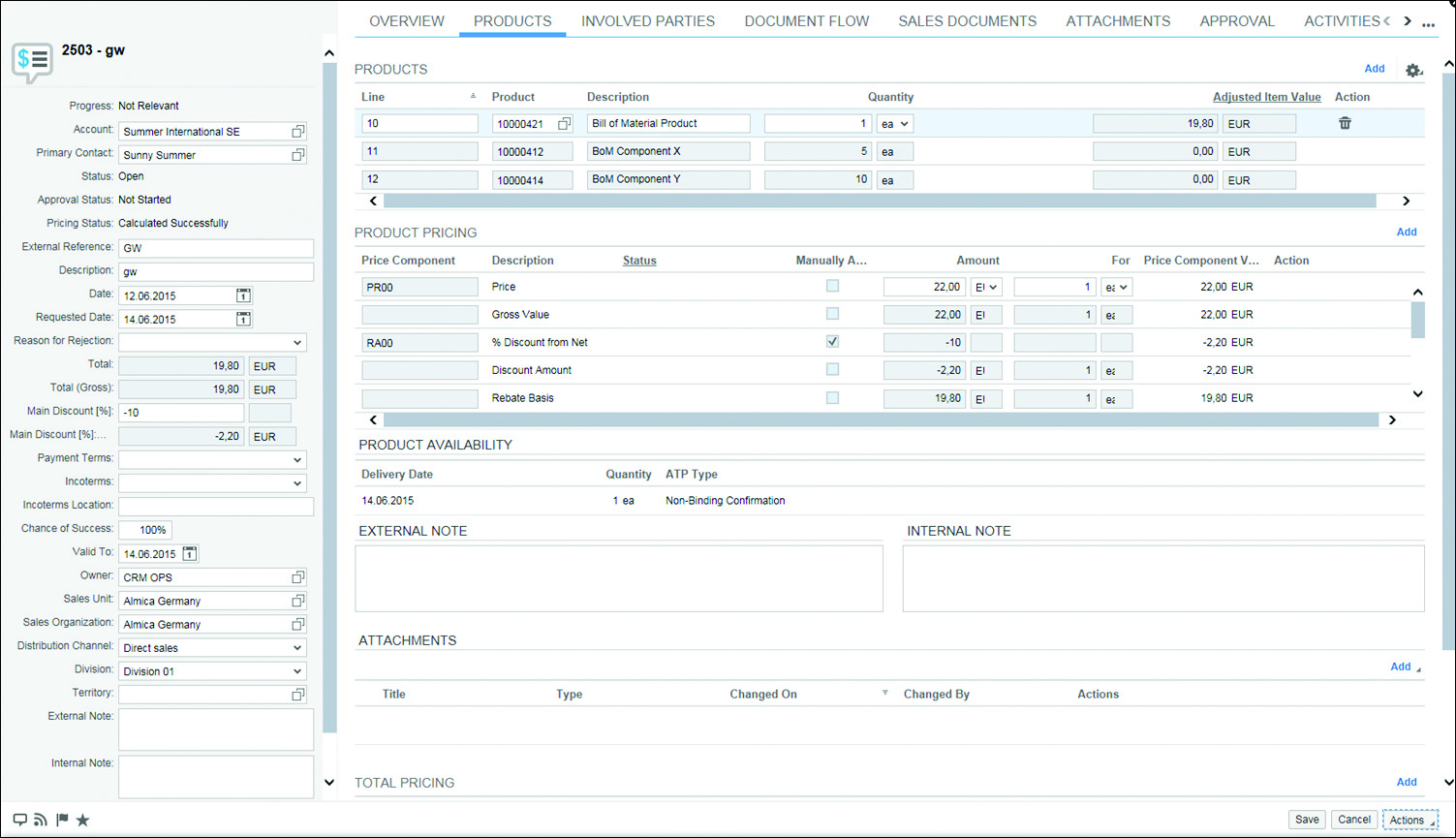 Product Substitutions
If a product substitution has been configured in SAP ERP, then the original product entered in the sales order will be replaced by a substituted product as part of the external pricing call. The next figure shows the Original Product field with a substituted product. Via external pricing calls, products will be replaced if the condition—such as the entered product is out of stock or has been discontinued—is met.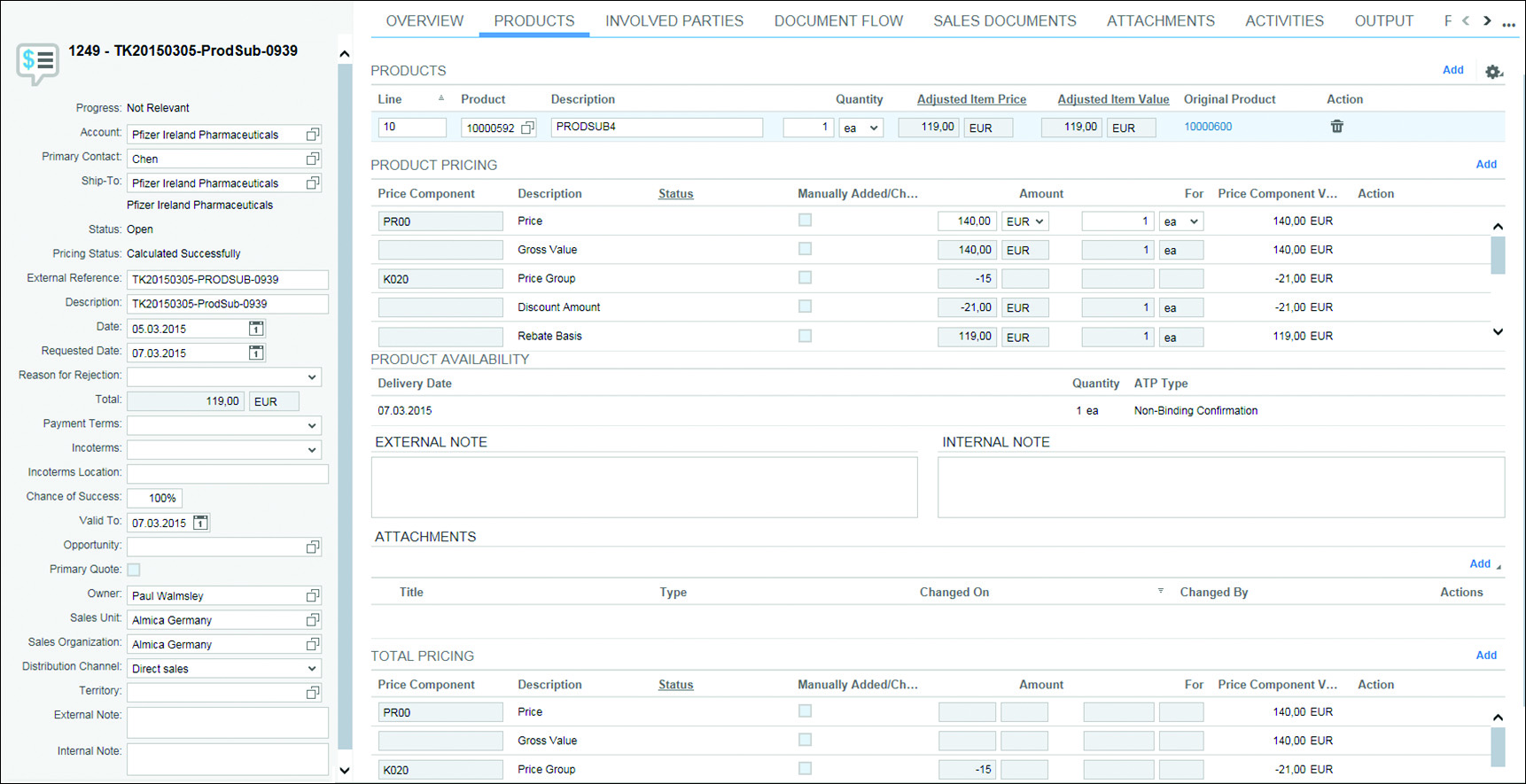 Product substitutions need to be configured in the SAP ERP system. With bidirectional integration between SAP Cloud for Customer and SAP ERP, sales orders in SAP Cloud for Customer can be replicated to SAP ERP and vice versa. For this bidirectional integration, multiple statuses are available in the sales order to show the progress of sales order replication: Transfer Status, Pricing Status, and Cancellation Status (see figure below).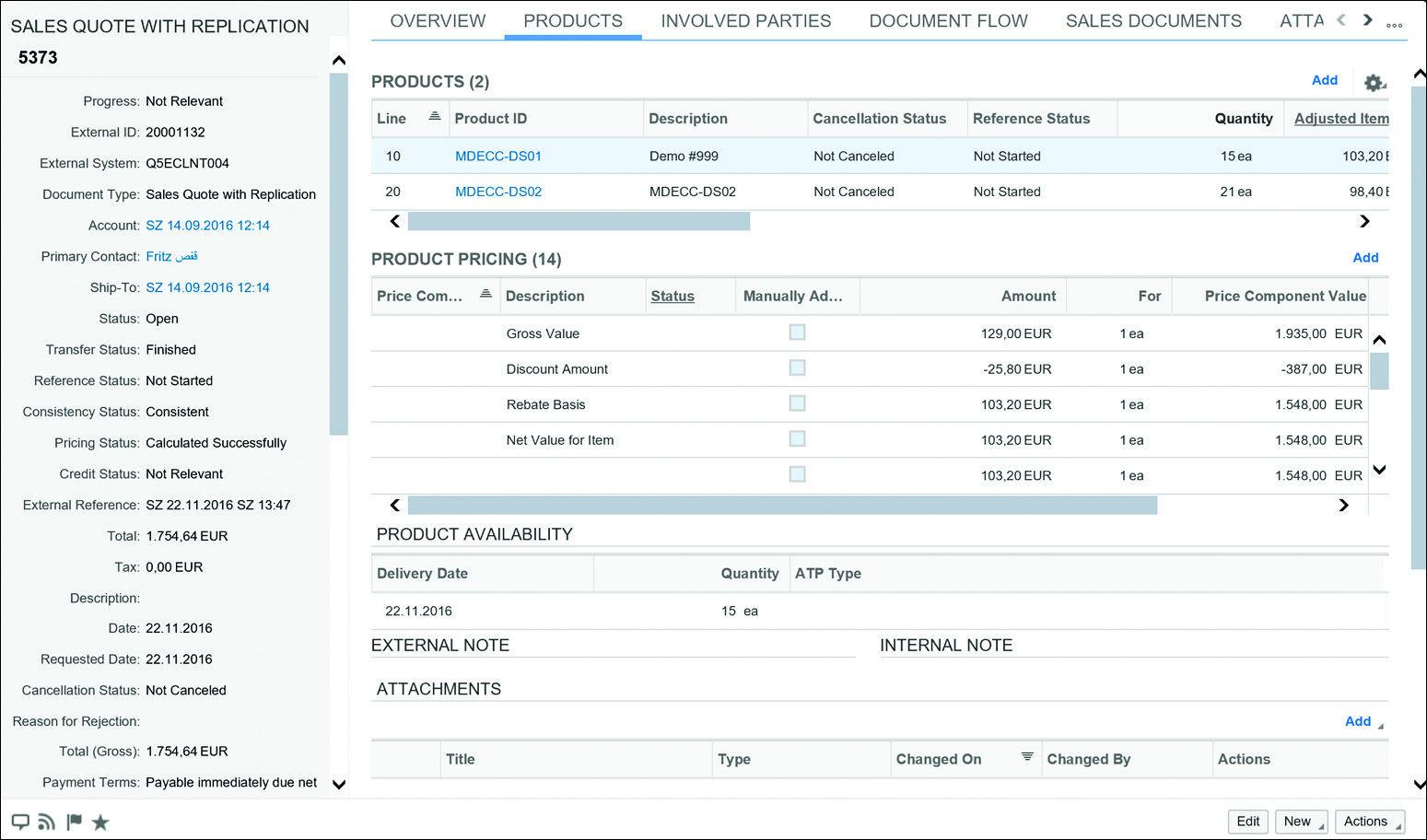 If the transfer status is interrupted, the TRANSFER LOGS table provides the details of the error, as shown in the final figure. In this case, saving the sales order will trigger a new replication.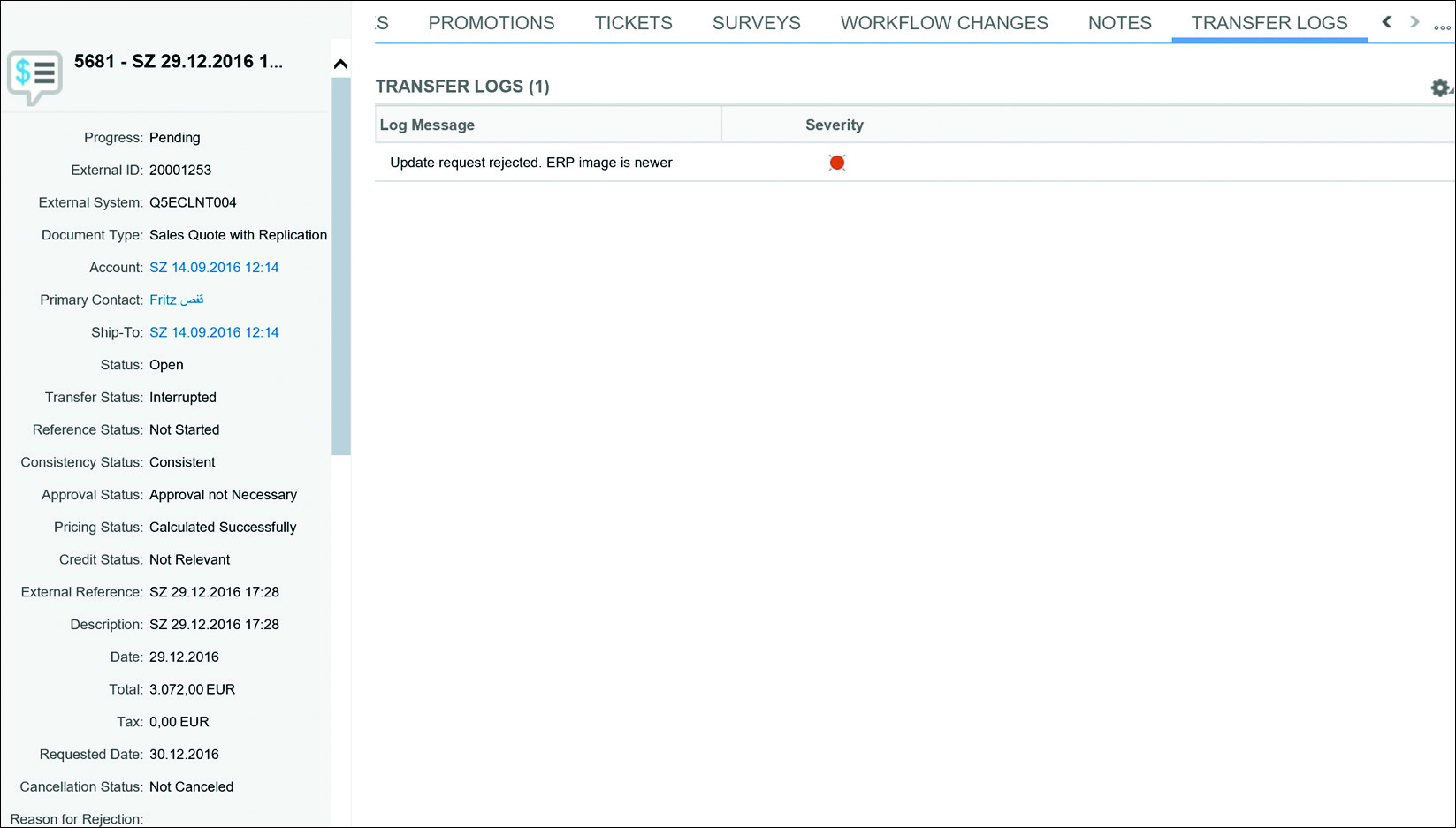 Conclusion
When you initially hear you must integrate SAP Cloud for Customer with SAP ERP to enable further order processing, you may balk. After all, integrations take time and things can go wrong. But you're receiving just more than basic order processing. You're actually gaining five powerful SAP Cloud for Customer features that can make your processing activities easier. It's definitely worth the time for anyone working with solutions such as SAP Sales Cloud.
Editor's note: This post has been adapted from a section of the book SAP Sales Cloud: Sales Force Automation with SAP C/4HANA by Sanjjeev K. Singh and Karan Sood.