Recently, we asked you for your pressing SAP logistics questions so that Jawad Akhtar, logistics expert and author of numerous SAP PRESS books, could answer them. Here's what he had to say.
Q: What has been "simplified" in SAP S/4HANA logistics with respect to SAP ECC? Many consultants say instead of being simplified that processes have become more complicated.
A: A lot of processes and functionalities has indeed simplified and continue to simplify in SAP S/4HANA than they were in in SAP ECC. For example, the standard analyses in SAP ECC are no longer in the future development roadmap of SAP S/4HANA.
Instead, a large number of embedded analytics in the form of SAP Fiori apps are available in SAP S/4HANA. Similarly, various independent, redundant, and standalone transactions, such as vendor master, customer master, FI vendor, and FI customer are all merged (simplified) in a single transaction known as the Business Partner. My E-Bite Business Partners and Customer-Vendor Integration (CVI) in SAP S/4HANA explains it in detail, and not just for the vendors/suppliers, but also customer's integration with the FI vendors and the FI customers respectively.
It's very important to add that SAP has been introducing innovations at a breakneck speed. Hence, it's always best for functional and technical consultants to upskill themselves on an ongoing and regular basis to stay ahead of the learning and growth curves, and be able to provide the best and most relevant solutions to their clients.
Q: Other than the user interface, what are the main changes when you compare the logistics processes in SAP ECC 6 and SAP S/4HANA?
A: The SAP Fiori-themed and SAP Fiori apps, including many embedded analytics apps, are certainly one of the key innovations from SAP ECC to SAP S/4HANA. Each year SAP releases a 'simplification list' for on-premise SAP S/4HANA; each quarter, SAP also releases innovations to cloud versions of their solutions in each area, including logistics and supply chain. Simplifications like business partners and user-defined vendor evaluation in SAP S/4HANA are some of them.
Q: I am using SAP ECC long term planning in the existing classic, SAP ERP system. What will be the future state of this solution post SAP S/4HANA conversion, even after 2027? Is it part of the compatibility scope?
A: Long-term planning (LTP) is still available in SAP S/4HANA as of now but is not planned in the future development roadmap. An even more robust functionality known as pMRP (Predictive Material Requirements Planning) is already offered in SAP S/4HANA, and has even more features and functionality than LTP in SAP ECC. pMRP can not only be useful in simulating the materials and capacity requirements but also helpful in converting simulated results into operative planning, so as to ensure timely procurement and production, as well as a smoother logistics and supply chain.
Q: Is there any plan to introduce a materials management (MM) cockpit in SAP S/4HANA, which will integrate with the new functionality of SAP S/4HANA Finance, project systems, and revenue accounting (to name some)?
A: While there's no single 'materials management cockpit' available in SAP S/4HANA yet, there are two relevant cockpits already available for the two sub-components of SAP MM. These cockpits are in the form of SAP Fiori apps. These two cockpits are the Procurement Overview app and, Overview Inventory Management app. Each of these two cockpits have several 'cards' that not only provide a summarized view of the important information pertaining to ether procurement or inventory management, but the business users can also navigate to the detailed screens of each card. Here are the available cards of each of these two cockpits:
Procurement Overview
Purchasing Spend
Non-Managed Spend
Off-Contract Spend
Supplier Performance Monitoring
Purchase Requisition Touch Rate
Purchase Requisition Item Types
Monitor Open Activities
Monitor Purchase Contracts
Monitor Purchase Requisition Items
Monitor Purchase Order Items
Monitor RFQs
Overview Inventory Management
Recent Material Documents
Overdue Materials - GR Blocked Stock
Stock Value by Stock Type
Stock Value by Special Stock Type
Warehouse Throughput History
Monitor Purchase Order Items
Overdue Materials – Stock in Transit
Q: Please elaborate upon the inventory management system in materials management. How can we maintain inventory of assets and non-asset materials?
A: Yes, it is possible to perform all business functions of inventory management for assets as long as the assets are managed as inventory items. For example, an asset master is created in financial accounting (FI) component of SAP S/4HANA and it may also possibly be linked in the plant maintenance (PM) component, and yet this asset is not an inventory item. As this asset is still not an inventory item, therefore, inventory related functions, such as, goods issuance, transfer posting, scrapping, or goods receipt aren't possible.
In my book Materials Management with SAP S/4HANA: Business Processes and Configuration, this process of treating asset as an inventory item is covered in detail.
Q: What will be the relevance of the traditional production planning (PP) module within SAP S/4HANA considering the offerings of SAP Integrated Business Planning (SAP IBP) and detailed scheduling (PP-DS)? Will production planning still be given preference in traditional manufacturing scenarios? Also, as demand driven replenishment (DDMRP) is a new concept, do you believe planners will rely on this method to reduce bullwhip effects?
A: As there are four different production planning tools being discussed in the above question, let's simplify and break them down individually for a better understanding, and then connect or integrate some or all of them together.
Production Planning (PP)
A company that produces or manufactures products or goods, be it shoes, beverages, medicines, steel pipes, fertilizer, cement, clothes, or airplanes needs to implement the PP component so as to not only effectively manage the planning aspects of a product being produced, but also the operations side too (shop or production floor). The product costing (CO-PC) component of SAP S/4HANA completely integrates with PP; therefore, PP implementation is required if the company wants to know the costs it is incurring in producing a product (among other benefits). The PP component will need to be implemented before any or some of the following three other production planning functionality can be implemented.
Production Planning and Detailed Scheduling (PP-DS)
Previously, SAP PP-DS was one of the components of the SAP Advanced Planning and Optimization (APO) solution. But with the advent of SAP S/4HANA, PP-DS was embedded within the new solution. PP-DS is built or implemented on top of the PP component. The PP-DS component is more relevant for those materials that are critical for the growth and profitability of the company. Not all materials of a company are planned using PP-DS, as for such components only the PP component is sufficient.
PP-DS offers advanced planning functionalities like heuristics, alerts, and constraints-based planning that PP doesn't offer. Similarly, PP-DS has the 'Optimizer' tool that suggests to the planner which products should get the priority for production. It also offers the cost-benefit analysis for doing or not doing so.
Additionally, PP-DS is a materials planning tool only, while the actual execution still takes place in SAP S/4HANA components such as PP, MM or sales and distribution (SD). Now, with embedded PP-DS in SAP S/4HANA and the enormous data processing prowess of SAP HANA, the PP-DS processes are generally simplified. It is important to note the implementing and using PP-DS requires buying additional SAP licenses.
Demand-Driven Materials Requirements Planning (DDMRP)
DDMRP is not an SAP product. Rather, it's a concept of ensuring an uninterrupted material 'flow' in the logistics and supply chain. DDMRP is promoted by the Demand Driven Institute (DDI), and is led by Carol Ptak and Chad Smith.
SAP has adopted the DDMRP concept into its product portfolios. It is not only available in SAP S/4HANA, but also in SAP ECC and in SAP IBP too. DDMRP reduces the bullwhip effect by decoupling (or disconnecting) the entire logistics and supply chain through strategically placed 'buffers' at critical bottlenecks. These buffers can be stock, capacity or time buffers, and are shown as tri-colors icons in this figure.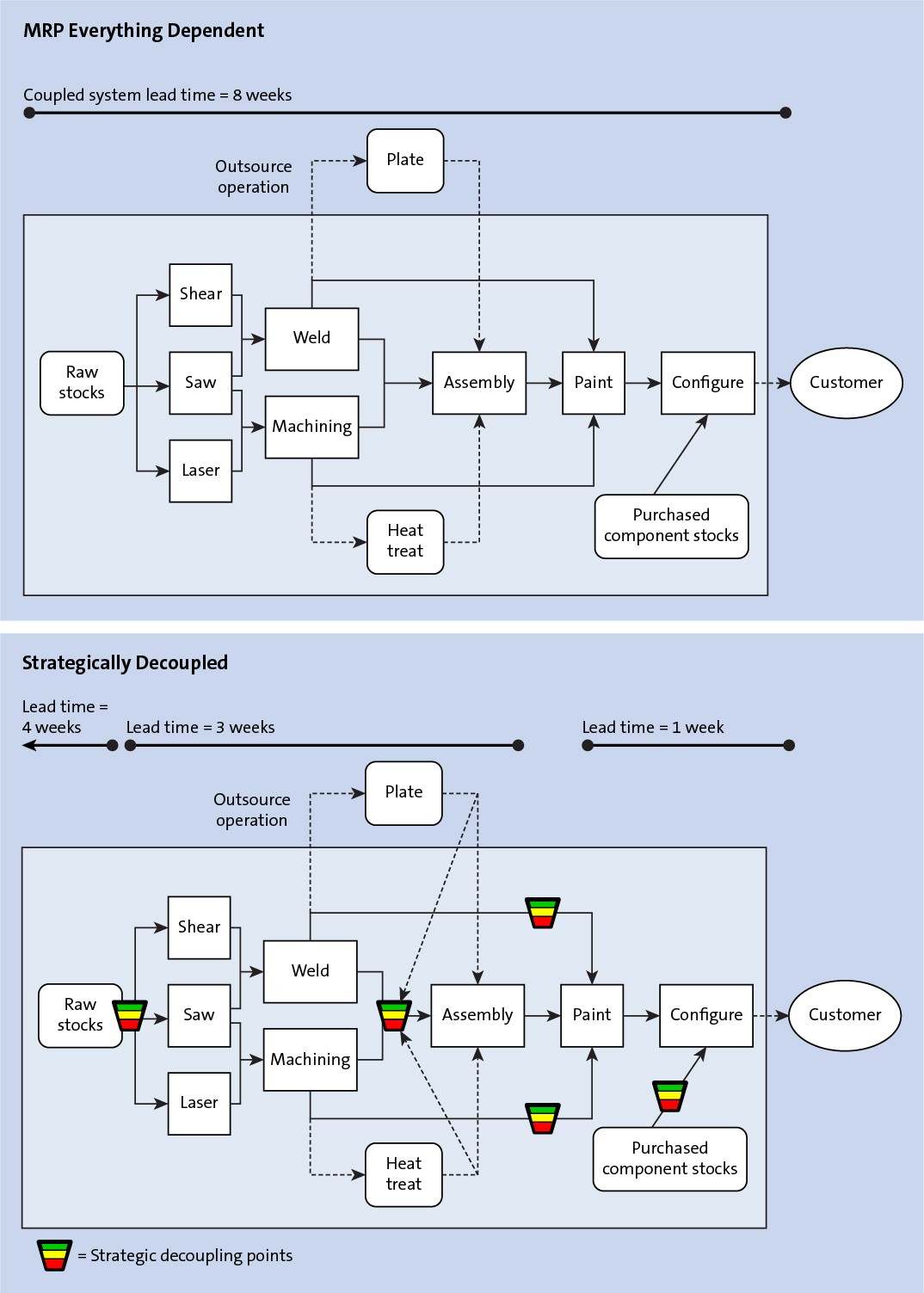 (© Demand Driven Institute—used with permission)
My E-Bite Introducing Demand-Driven Replenishment (DDMRP) in SAP S/4HANA explains DDMRP in detail. DDMRP can be implemented in combination with PP only, with PP-DS, or both. Implementing DDMRP depends on how a company is currently handling its logistics and supply chain management in the volatile, uncertain, complex and ambiguous (VUCA) world. It is important to note the implementing and using DDMRP requires buying additional SAP licenses.
SAP Integrated Business Planning (IBP)
SAP IBP is a complete, SAP HANA and cloud-based solution made up of six components. These are: SAP IBP for sales and operations planning, SAP IBP for demand, SAP IBP for inventory, SAP IBP for response and supply planning, SAP IBP for DDMRP, and Supply Chain Control Tower (SCCT). Each component of SAP IBP caters to a specific set of business processes such as planning, procurement, inventory and demand, and work in conjunction with other components.
SAP IBP can not only be integrated with SAP applications such as SAP S/4HANA, SAP ECC, and SAP Ariba, but also other, non-SAP systems. Companies can start out by implementing one or more of the relevant SAP IBP components and integrate them with their SAP system. It is important to note that implementing SAP IBP requires buying relevant SAP licenses.
Q: Can you help with the standard scrap cycle for raw material during the production process? Our scrap is not planned; currently, we use a byproduct cycle to collect scrapped materials and issue extra raw materials to finish an order. If there is a standard scrap cycle for unplanned scrap please let me know.
A: I believe you are talking about "scrap" as production wastages (by-products) that still have some financial value, and they are also stock items. So, currently, these by-products may have been managed by the movement type 531. If so, then I recommend looking back at the historical values of by-products produced for each material during the last one year (for example) and average them out, and add this number into the bill of materials (BOM). Doing so will still ensure better production planning at all levels than not maintaining any values at all.
And in case you are referring to "scrap" as product that is totally wasted during the production process and aren't inventory-managed at all, then there are five types of such scrap handling available in SAP S/4HANA.
Q: When evaluating materials, I am stuck. Transaction MM02 gives me the possibility to change the price of material (it also changes the inventory prices), and Transaction MR21 allows me to change the material price (only for the new materials). Why, then, in this case should I use Transaction CK11N (+CK24), which seems to be suggested everywhere?
A: Once the price control of a material is set to S (standard) or V (moving average) in the material master, the price in Transaction MM02 can only be changed as long as there's no inventory. Once the material has an inventory, no further manual price change is possible. For the moving average price control, the system automatically updates the price each time a goods receipt takes place. For standard price control, the price in the Transaction MM02 doesn't change and the price difference is reflected in the 'price difference' account.
Transactions MR21/MR22 should only be used in exceptional circumstances when there's a business need to change the inventory value of a material.
Transactions CK11N/CK24 are used when first creating and then releasing a product cost estimate (PCE) so as to get the planned cost of producing a product. The system then compares the planned costs with actual costs of production from the production process and reflects the differences as 'variances' that need to be eventually settled.
Chapter 21 of Materials Management with SAP S/4HANA: Business Processes and Configuration discusses this topic in detail.
Q: Can we set a dynamic modification rule (DMR) at the purchase order document type level? For example, "create inspection lots if PO document type is NB1" and "don't create inspection lot if PO document type is NB2."
A: The standard DMR functionality in SAP Quality Management (QM) component works at the inspection type, inspection lot, and at the inspection characteristics levels of a material.
Q: What are the business benefits of implementing SAP Document Management System (DMS) in SAP S/4HANA, or even in SAP ECC?
A: Almost every organization contends with a huge amount of information that comes in both soft and hard copies. That information must be managed and instantly available when needed. Much of it is scattered, which results in wasted time and resources and failed efforts when a business user is trying to locate the right document. Making matters more difficult is the fact that a large number of documents and other references are not integrated with many of the business processes and transactions that users conduct in SAP S/4HANA on a daily basis.
Ironically and unfortunately, SAP DMS has never gained the traction and the appreciation it rightfully deserved, as implementing it could address many of the above business pains of managing a vast tome of documents in a central repository for instant accessibility. That fact that using SAP DMS doesn't entail buying any additional licenses makes it a worthwhile effort to use in as many business processes as possible. The will help ensure a greater return on investment of an SAP system.
Q: What are the simplification steps of implementing Production Planning - Process Industries (PP-PI) PI sheet-based projects in SAP S/4HANA? In SAP ECC, both browser-based and web-based PI sheets needed a lot of customization. Will it be easier now?
A: The process instructions (PI) sheet functionality in SAP PP-PI subcomponent has already and greatly been simplified in SAP S/4HANA. This functionality is known as Execution Step (X-Steps). With X-Steps, PI sheets can not only be implemented in the process industries (PP-PI) but also in the discrete industries (SFC) so as to capture the important data in the SAP system.
Q: How do you suggest integrating materials management with other SAP modules (like FI, CO, SD, HCM, and EAM/PM) for better business harmony?
A: Due to the highly integrated nature of SAP S/4HANA, in which the information and data flows among various SAP components, the importance of integration cannot be emphasized enough. In fact, hardly any business process owner will work in an SAP system without coordinating and collaborating with other SAP components. These other components reflect different business functions or processes of the company. Due to highly integrated nature of SAP, which while saving time and effort in data entry and other redundant activities, also demands that SAP users, SAP consultants, and business process owners must extensively check and verify the completeness and the correctness of their end-to-end processes.
Here are some tips to follow during your SAP S/4HANA implementation project to manage the integration aspects better:
Prepare a list of all the important business processes in which end-to-end testing is required. For example, order-to-cash, procure-to-pay, produce-to-sell, engineer-to-order, etc. This list should be prepared on the basis of identifying two or more SAP components (and, correspondingly, different departments of the company) involved in the business process.
Create a process flow chart of each and every step of how the business is practically performing these steps. For example, does the planning process starts with sales forecast? How often and who runs the MRP? How often are changes to MRP results made? Are quality checks only performed on the finished goods or also during the production process, etc?
List out the relevant departments/users involved in each process step.
List out the SAP components in which the relevant process steps are covered. This should also include the exact process steps along with the relevant transaction code. For example, create production order with Transaction CO01, create sales order with Transaction VA01, post goods issue with Transaction MIGO etc. It is best to prepare a test script with each step listed in sequential order.
Ensure that the relevant master data needed to test the processes is already is in place and in the SAP system as well as in the test scripts too.
Assemble all the business process owners and SAP consultants at the same location (if possible) and conduct the steps in the same sequence as listed in the script. Record the results and note any deviations, descripencies or other errors, and have the SAP consultants attend to them.
Separately, list out all the issues and errors, resolve them, and conduct another dry run to ensure completeness and correctness.
Attend to any missing or overlooked process steps based on the feedback and input from the business process owners.
Finally, improve upon these steps and replicate the same in dry-run exercises on smaller and more focused levels.
Q: Can you explain how to guide clients on selecting the right scope of SAP S/4HANA logistics modules from the huge and complex SAP portfolio when implementing SAP S/4HANA?
A: Before being able to guide clients on the right and relevant scope, it is very important for a presales advisor or a solution architect to have a good understanding of the important business functions of various SAP S/4HANA components. Next, try to understand the key business pains of a company and how SAP components can address them. For example, is the company able to see the actual cost of manufacturing a product, or is it basing it on guesstimates or estimates? If not, then that's their business pain, and the solution is to implement PP and CO-PC components, in addition to the core/basic components such as FI, CO, MM, and SD.
If a company's current business pain is that it isn't able to timely maintain all the critical equipment and machinery in an optimal condition that ensures uninterrupted production, then recommend that they implement the SAP plant maintenance (PM) component. If an engineering company dealing with turnkey projects has a massive tome of documents that it is unable to manage centrally and make available to business users when they need them the most, then suggest that they implement SAP Document Management System. Similarly, companies implementing the SAP project system (PS) component would do so as they handle large and complex projects and need complete visibility of all projects.
In other words, solution design largely depends on the type of industry and the understanding of key business processes, all the while ensuring to address the key business pains and offering a greater return from the SAP investment.
Q: As it's said SAP S/4HANA can be implemented business case wise, it is possible to implement logistics modules business case wise in an SAP S/4HANA conversion or new implementation project. What is the best implementation strategy for implementing SAP as a greenfield project for a greenfield company in this challenging times of COVID-19?
A: A brownfield or a greenfield project each has its pros and cons. A brownfield project entails transitioning from SAP ECC to SAP S/4HANA and is prone to fewer business disruptions. But it also means carrying forward all the outdated or even customized processes into SAP S/4HANA that were previously and already used in SAP ECC. This provides fewer opportunities to benefits from the latest SAP S/4HANA innovations.
In a greenfield project, the SAP S/4HANA implementation starts afresh. If the company had been using SAP ECC, it may find that existing processes can still be used to serve its business needs. It will also find that the new suite addresses gaps and shortcomings of the legacy system. Further, newer SAP S/4HANA functionalities can also be implemented.
Selecting the migration of SAP objects and process from SAP ECC to SAP S/4HANA entails directly involving SAP consulting. For more on SAP S/4HANA migration, see "7 Things to Consider Before an SAP S/4HANA Migration."
Q: I want to switch my focus from technical to functional. Do you suggest that I focus on MM or SD? Which module has more scope?
A: MM and SD always have a good scope because these are the core or basic components that any company implements when they implement SAP S/4HANA. That being said, there's also intense competition in these areas as the availability of SAP MM- or SAP SD-certified consultants are always greater than the demand for them. Assuming that you are already in the SAP space but currently on the technical side, here are some tips to break into the functional domain:
Get more involved in requirements gathering, business blueprints, training, and other workshops that enhance your knowledge and understanding of the SAP component of interest (either MM or SD).
Ask your project manager to assign more MM- or SD-related development work to you so that you can gain a better understanding from the functional perspective—all the while managing the technical aspects of development.
Attempt and pass MM or SD certification at the earliest possible chance, and position yourself as a techno-functional consultant in the company and on new SAP S/4HANA implementation projects.
Read relevant books and blogs, and watch training videos.
Practice the business processes in the SAP training system and resolve or address the issues faced.
Engage a mentor or advisor who can advise you on topics/areas that you can't or don't find easily on the internet or online. In other words, ask smart, intelligent questions from the mentor.
Volunteer to work as an 'assistant/junior' functional consultant to a senior SAP consultant, and go out of the way to support and assist not just the senior but also the business users. Doing and taking practical these steps will lead to enormous learning and building the necessary self-confidence to tackle functional topics independently.
Be part of the teams and workshops where 'integration' of SD or MM is discussed in detail.
Last but not the least, try to solve/resolve as many functional problems/issues independently for the business users so that they add to your knowledge and experience.
Q: Is the SAP S/4HANA logistics certification worth more than the sourcing and procurement certification?
A: The sourcing and procurement certification has a greater scope as it is generally being promoted by SAP, and more sourcing and procurement implementation projects are coming up lately.
Q: You have written books almost for all core modules. How did you build that expertise? We refer to your books in the consulting space. What do you refer to when you are in doubt?
A: When I started my SAP career, and SAP consulting career in particular, I wasn't able to find decent or relevant resources that I could refer to for end-to-end and integrated business processes. I wanted to understand the configuration in a step-by-step manner and how the configuration setup connects with master data, which in turn connects to business processes—they all end connecting with reporting or output. So all my books are based on my real-time and actual projects' experiences (and associated frustrations I faced back then).
The fact that I work in the SAP consulting space also helps a lot in my learning and growth as I am able to meet clients from different industries and be able to offer them solutions by first ensuring I know enough. I also invest enormous amount of time, efforts, and resources on self-learning, as I strongly believe that constant and ongoing learning is the only key to survive and thrive in the SAP space. Fortunately, in today's highly connected world, we have a very large number of excellent resources available; some cost a decent amount, others are cheap or even free!
While learning and exploring new areas, I've failed and fallen more times than most people have even tried. Lastly, I never, ever hesitate to admit that I still don't know much and reach out and ask for help, guidance, and advice from the experts. I have been very fortunate that they have always extended the needed support, and I try to pay it forward to the SAP community.
If you'd like to learn more about Jawad and the books he's written for SAP PRESS, you can visit his author page here.