Enterprise organizations today that run SAP S/4HANA need to be more competitive than ever.

By leveraging SAPs latest and greatest functionality through SAP S/4HANA, they are already at an advantage as it is the best and most-widely used enterprise resource planning solution available on the market today. With that being said, they also need to choose the right technologies that enable them to collaborate with their business partners such as suppliers, vendors, banks, and so on. This is where electronic data interchanges (EDIs) come into play.

EDI integration with SAP S/4HANA should be at the backbone of any enterprise organization. At the core, ERP provides business and departmental process functions, while middleware such as SAP Process Integration, SAP Process Orchestration, and SAP Cloud Integration (found under SAP Business Technology Platform, or SAP BTP) provides native EDI capabilities without the need for third-party EDI bolt-ons.

What Is EDI Integration with SAP S/4HANA?
First and foremost, EDI is a multitude of standards for electronic communication between organizations that enable them to not only integrate, but automate, their business processes through the use of various EDI transactions. These transactions include electronic purchase orders (850), purchase order acknowledgments (855), purchase order change (860), advanced shipped notices (856), invoices (810), and so on.

Today, there are a plethora of EDI standards and transactions that can help you integrate with partners like customers, vendors, banks, and warehouses. Furthermore, depending on your industry, you'll be able to leverage certain transactions that apply to you and your industry. These EDI transactions are then integrated in and out of SAP S/4HANA to automate business processes that were once manual, time-consuming, and costly to an organization due to inefficient and antiquated processes.

Common Paths to Integrating with EDI Business Partners within SAP S/4HANA
The most common path to integrating SAP S/4HANA is using SAP's proprietary IDocs (intermediary documents). In the figure below, the IDocs reside within the SAP S/4HANA system and are passed to SAP Cloud Integration solution, which then transforms the IDocs into the business partner's preferred format.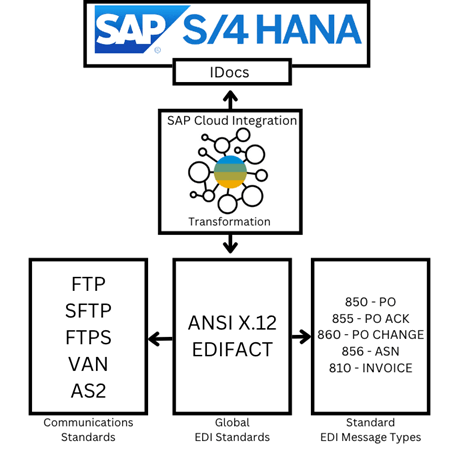 Most often in the EDI world, the two primary global EDI standards are ANSI (American National Standards Institute) X.12 and EDIFACT (United Nations Electronic Data Interchange for Administration, Commerce and Transport). Furthermore, there are also options to integrate through the use of APIs directly from SAP S/4HANA, but this option isn't as effective and does not perform as well when we look at it in terms of transactional volume.

Understand Your Business Partner's EDI Requirements
To set up a connection with your business partner, you must first engage with your partner to understand three main things. The first is how you will connect to their organization. This is the connectivity aspect where many leverage secure FTP, FTP, FTPS, VAN, or a direct encrypted connection using AS2. All have their pros and cons and have some kind of cost associated with the one you or your partner decide on. In some instances, you'll only have one option, and other partners will have a few available options.

Secondly, you need to understand the EDI standard that your business partners require or would like to exchange. Common EDI standards include X.12, which is very common in North America, while in Europe they heavily focus on EDIFACT. To make it easy to understand, just picture these as languages in the EDI world: whereas X.12 could be compared to English, EDIFACT could be like Spanish. At the end of the day, it all depends on what your firm is more comfortable with, and in many cases, global multinational firms are multilingual and support both EDI standards.

Lastly, you need to understand and agree to the EDI message types, also known as EDI transactions, with your partner. The key is understanding which partner dictates what EDI transactions, protocols, and standards to use. In some cases, it can be mutually agreed upon if there is flexibility between EDI business partners.

Conclusion
For this reason, EDI remains a prevalent, but integral technology, especially for enterprise customers who run SAP S/4HANA. Each year, trillions of dollars are sent and received globally via EDI, from multinational organizations who transact billions of dollars, right down to your small mom-and-pop manufacturer who is just getting their feet wet selling on Amazon. Whatever way you look at it, EDI remains crucial. SAP S/4HANA provides that backbone for automating key business processes while enabling customers to collaborate more effectively with their business partners.