SAP is a multinational German corporation founded in 1972. Today, it has a global revenue of over €27 billion and more than 240 million cloud subscribers.
SAP specializes in enterprise resource planning (ERP) software. ERP software enhances efficiency and improves customer experience in areas like finance, inventory and asset management, sales, HR, marketing, and product development.
In 2015, SAP launched SAP S/4HANA, a new, flagship ERP software. But many businesses are still using its predecessor, SAP ECC. By 2027, SAP will no longer maintain SAP ECC, so companies will need to migrate to SAP S/4HANA. In this article, we'll explore the key differences you need to be aware of before you make the move.
What is SAP ECC?
SAP ECC stands for SAP ERP Central Component. SAP ECC is modular in design, which makes it highly customizable. You can configure SAP ECC to suit your needs in all areas of your business, from finance to HR to logistics. Plus, SAP ECC works with third-party or custom applications, like business messaging apps.
SAP ECC has many interactions between components, which makes it flexible but also more complicated. If you change one area, it affects the function in other areas. You need to carefully plan changes like upgrades and add-ons so you don't disrupt important business functions. This also applies to migrating your systems to SAP S/4HANA.
What is SAP S/4HANA?
SAP S/4HANA is SAP's newest generation of ERP software that works on on-premise and in the cloud. It uses technologies like AI, machine learning, and automation to improve business efficiency and speed. With SAP S/4HANA, you can analyze large amounts of data in real-time. You'll also enjoy features like:

Personalized insights
Integrated processes
Embedded cybersecurity
The main downside is that SAP S/4HANA is only compatible with the SAP HANA database. This is bad news if you currently run a third-party database like Oracle in your SAP ECC system. If you convert to SAP S/4HANA, you'll need to remove unsupported add-ons during the move.
Before learning how SAP S/4HANA is different from SAP ECC, check out our video that introduces SAP S/4HANA.
How is SAP S/4HANA Different From SAP ECC?
SAP S/4HANA streamlines features and processes from SAP ECC to reduce costs and boost business efficiency. This means some features have changed, while others have been replaced or combined into new features.
Some of the key changes in SAP S/4HANA are listed below.
Default Account-Based CO-PA
In SAP ECC, costing-based CO-PA (CO-Profitability Analysis) is the default option. But in SAP S/4HANA, the default option is account-based CO-PA, though you can run both options together.
FI and CO Merger
Businesses manage their financial data in SAP ECC with both FI (Finance) and CO (Controlling). In SAP S/4HANA, FI and CO are part of a single table in ACDOCA, the Universal Journal. This means you no longer have to reconcile them with the General Ledger at each period-end. ACDOCA reconciles them automatically in real-time, so period-end closings are simpler in SAP S/4HANA.
Material Number Extension
SAP S/4HANA gives you the option of extending the material number from 18 characters to 40 characters. Bear in mind, though, if you turn on the extension you will have to adjust your custom code to the new material length of CHAR40.
Integrated Business Partners
In SAP ECC, customers and vendors are separate data objects. SAP S/4HANA integrates customers and vendors into a unified master data object called business partners. Customer-vendor integration has several benefits, such as:
One business partner can have multiple roles and addresses
General data is shared across roles, which reduces your database footprint

There's less redundancy since unused data is deleted after a certain time-period
Real-time MRP
To process material requirements planning (MRP) in SAP ECC, you must wait until non-peak hours and run a batch job. In SAP S/4HANA, you can run MRP in real-time. SAP has also simplified subcontracting in SAP S/4HANA. The downside? You can no longer run MRP at the storage level like in SAP ECC, but only at plant and area level.
Integrated SAP APO
For SAP S/4HANA, SAP integrated the main SAP Advanced Planning Optimizer (APO) submodules into two new configurations:
Demand planning and supply network planning are now integrated in the new SAP Integrated Business Planning (SAP IBP) module.
Production planning and detail scheduling, and global ATP have partly merged in the SAP S/4HANA digital core.
These changes mean you can't automatically migrate from SAP APO to the new configurations.
Mandatory Material Ledger
The Material Ledger (ML) is another feature that's optional in SAP ECC but mandatory in SAP S/4HANA. Most companies don't activate the ML in SAP ECC due to frustration with the many aggregate and index tables. But in SAP S/4HANA, the ML is part of ACDOCA, so this frustration is now a thing of the past.
New Features in SAP S/4HANA
SAP S/4HANA includes a ton of new features to help you manage your data more effectively. Key features include the following.
ACDOCA: The Universal Journal
As mentioned before, SAP S/4HANA combines several data modules into a single table called ACDOCA (the Universal Journal). This includes asset accounting (AA), GL, ML, management accounting (MA), FI, and CO-PA. ACDOCA removes many aggregate and index tables, which greatly reduces your data footprint. It's also a much more efficient system.
MATDOC Inventory Management
SAP S/4HANA introduces MATDOC, a new inventory management system that eliminates over 26 tables present in SAP ECC. Now, material documents are stored in MATDOC instead of MKPF or MSEG tables. This removes redundancy and improves stock reporting efficiency.
The SAP HANA Database
As we discussed earlier, SAP S/4HANA can only run on the SAP HANA database. But, thanks to the SAP HANA Cloud database, SAP S/4HANA is faster and more efficient than SAP ECC. Why? There are several reasons. Firstly, SAP S/4HANA reads data from the main memory instead of the hard disk, so there are fewer data movements. Next, the tables in SAP S/4HANA are column-based instead of row-based, so it only reads the relevant column in a query. It can also process different columns in parallel. There are no aggregate, index, or history tables since applications can access the original data. Lastly, SAP S/4HANA combines the online transactional processing (OLTP) and online analytical processing (OLAP) tables. You no longer need to reconcile them.
Advanced ATP
In SAP ECC, you can check product availability, product allocation, and backorders with available-to-promise (ATP). With SAP S/4HANA, you can do all this and more with advanced ATP (aATP). aATP uses automation for functions like:
Releasing items for delivery
Checking stock availability in alternative plants
Performing mass availability checks
Global Trade Services
SAP S/4HANA has global trade services (GTS), which replaces the foreign trade functions in SAP ECC. SAP GTS uses automation to speed up processes that were manual in SAP ECC. This includes embargo checking, license checks, and import and export declarations.
FSCM Credit Management
FI-AR-CR was the credit management system in SAP ECC. In SAP S/4HANA, credit management falls under financial supply chain management (FSCM). Automated workflows in FSCM-CR remove manual processes for tasks like credit limit approval and risk scoring. Also, its distributed architecture means it can interface with external credit agencies directly.
Extended Warehouse Management
In SAP ECC, warehouse management takes place in the Warehouse Management (WM) module. But this is replaced by the extended warehouse management (EWM) module in SAP S/4HANA. SAP EWM helps you manage complex warehouse processes such as labor management and goods distribution with ease.
Revenue Accounting and Reporting (RAR)
The SAP S/4HANA Revenue Accounting and Reporting (RAR) module replaces SAP ECC's SD Revenue Recognition module. RAR is an add-on that's based on the new, five-step revenue recognition model found in International Financial Reporting Standard 15 (IFRS 15). RAR comes with new optimized contract management capabilities to comply with IFRS 15. At the same time, it simplifies revenue recognition.
SAP Fiori User Interface
SAP S/4HANA introduces a new user interface, SAP Fiori. SAP Fiori gives users a consistent, intuitive, and integrated experience. With SAP Fiori, you can get work done faster and more accurately. This speeds up onboarding and training, and provides a better user experience. You can also create custom enterprise apps that work consistently across devices.
Benefits of Moving to SAP S/4HANA
In 2021, 72% of businesses said the biggest benefit of SAP S/4HANA was improved efficiency, followed by greater satisfaction (61%). Other benefits of moving to SAP S/4HANA include:

Better integration with other SAP products
Lower costs, such as lower operational and ownership costs
A smaller database footprint due to simplified data models
Automated processes improving productivity and performance
Faster, more intelligent decision-making
Higher overall profits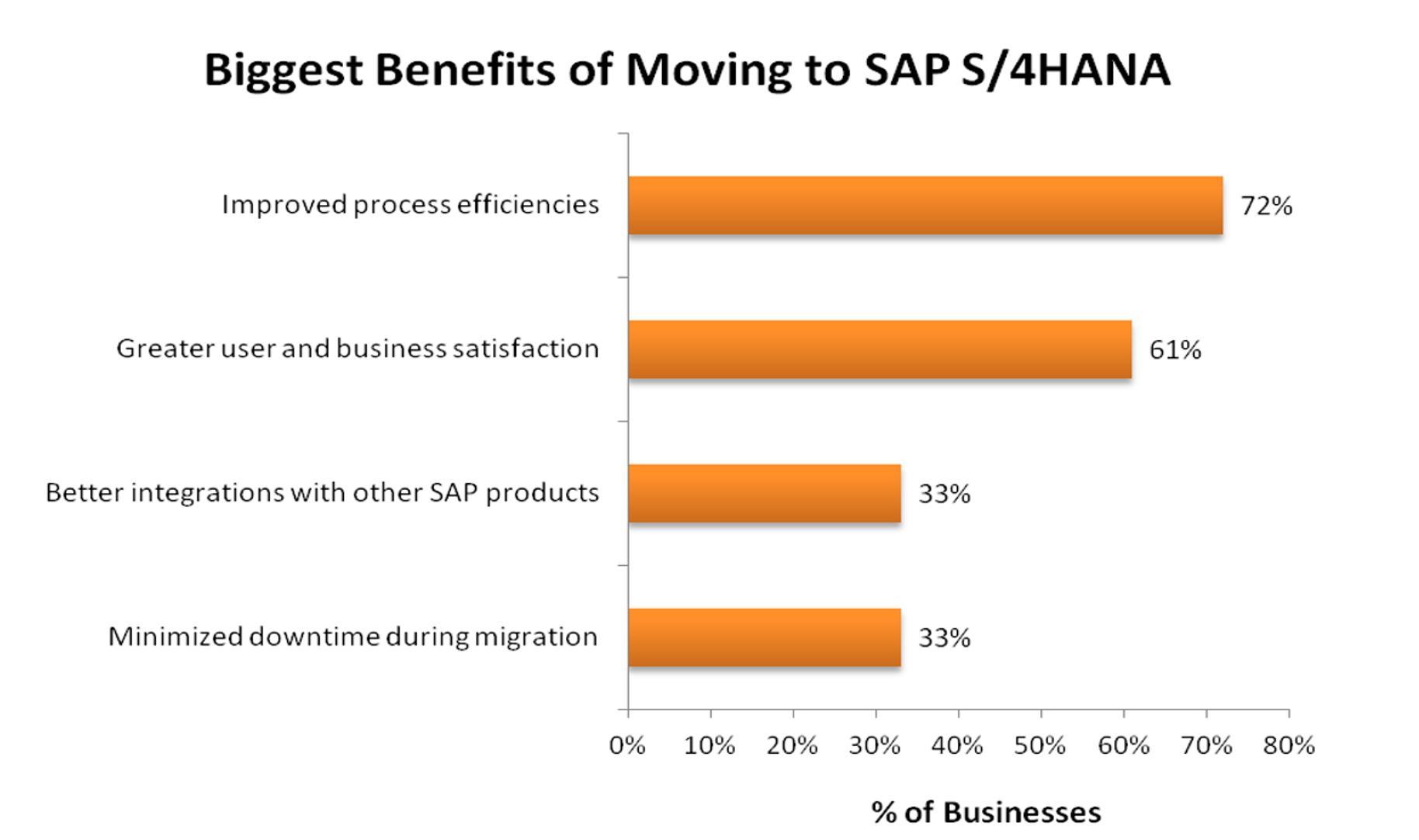 Why Wait?
There are many differences between SAP ECC and SAP S/4HANA. This can make migrating from one to the other a daunting prospect. But there's a strong business case for migrating to SAP S/4HANA - not least the 2027 maintenance deadline for SAP ECC.
Thanks to automation and AI, SAP S/4HANA streamlines many business processes. This improves efficiency, reduces redundancy, and provides a better customer experience. All of this can reduce your business costs and boost revenue.