The world is changing for businesses and businesses are having to react to this change to keep up with market and customer demands.
The pace at which this change is happening is also very fast, forcing companies to respond quickly. The COVID-19 pandemic has tested some organizations and companies, and it's become very apparent that agility and adaptability are crucial. In the digital world, it's not enough for the business to decide to make rapid changes to business processes or to transform completely. Businesses are dependent on technology, especially if they want to create differentiators in the market using machine learning or robotic processing. You need a platform that provides all the necessary products and services to quickly join forces with the business to make necessary decisions focusing on innovation and transformation. SAP Business Technology Platform (SAP BTP) is one such platform that provides the technical foundation for businesses to change and adapt quickly. It's the foundation for an intelligent enterprise.
Let's look at what SAP BTP really is. Simply put, it's a portfolio of SAP products, services, and solutions that are brought under one umbrella. It's not a product and, as of now, can't be found on any price list. It's a collection of on-premise and cloud products and solutions grouped under four integrated technology pillars: database and data management, analytics, application development and integration, and intelligent technologies.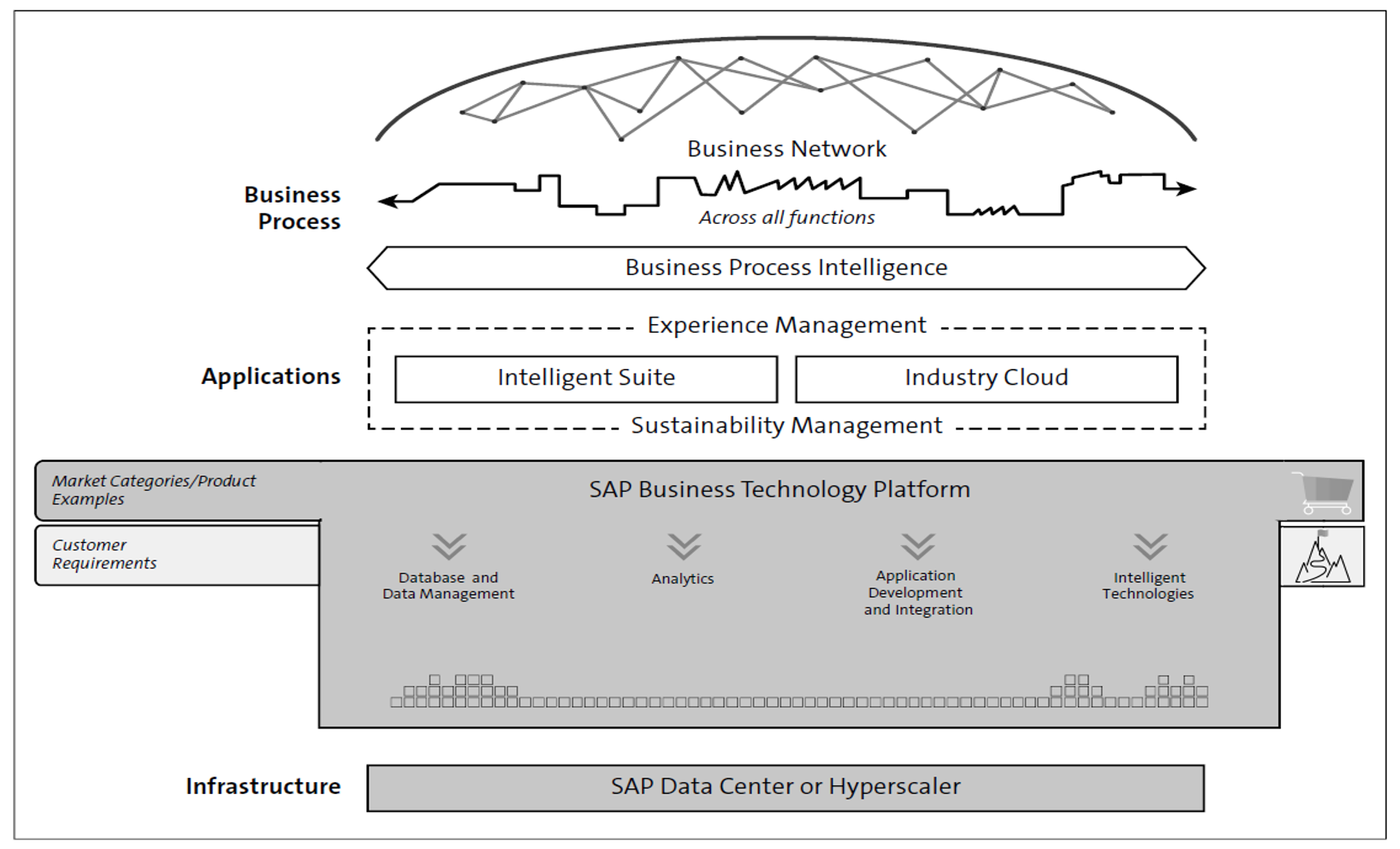 Let's take a closer look at each pillar:
Database and Data Management
This pillar consists of everything you need to store, access, process, integrate, and interpret all relevant data in your landscape. The different services and products categorized under this pillar let you manage and use data in a flexible and efficient manner at the speed your business demands. Below shows the key features and some products that are part of this pillar.
SAP HANA and SAP HANA Cloud provide powerful and flexible data management through an in-memory database on-premise and in the cloud. It's the foundation of everything in SAP. Additionally, SAP Data Warehouse Cloud enables you to get a single view of data across every aspect of the organization without having to physically move it into a single place. Data is brought together on the fly as and when it's needed for insights and decision-making. There are also products such as SAP Data Intelligence, SAP Data Services, SAP Master Data Governance (SAP MDG), and others.
Analytics
Using the products under analytics, you can plan and forecast, make rapid decisions, and truly become insight-driven. The next figure shows the key features and some products that are part of this pillar. For example, SAP Analytics Cloud allows you to quickly bring data from your operations systems, data warehouses, and data lakes and easily combine it with external market data or even third-party spreadsheets using machine learning technologies. You can ask questions using everyday language. The system helps you automatically spot anomalies and identify key drivers behind your performance indicators. You can forecast what's going to happen and create intelligent scenario planning options. You'll also find products such as SAP Data Warehouse Cloud, SAP BW/4HANA, SAP Analytics Cloud for planning, and others.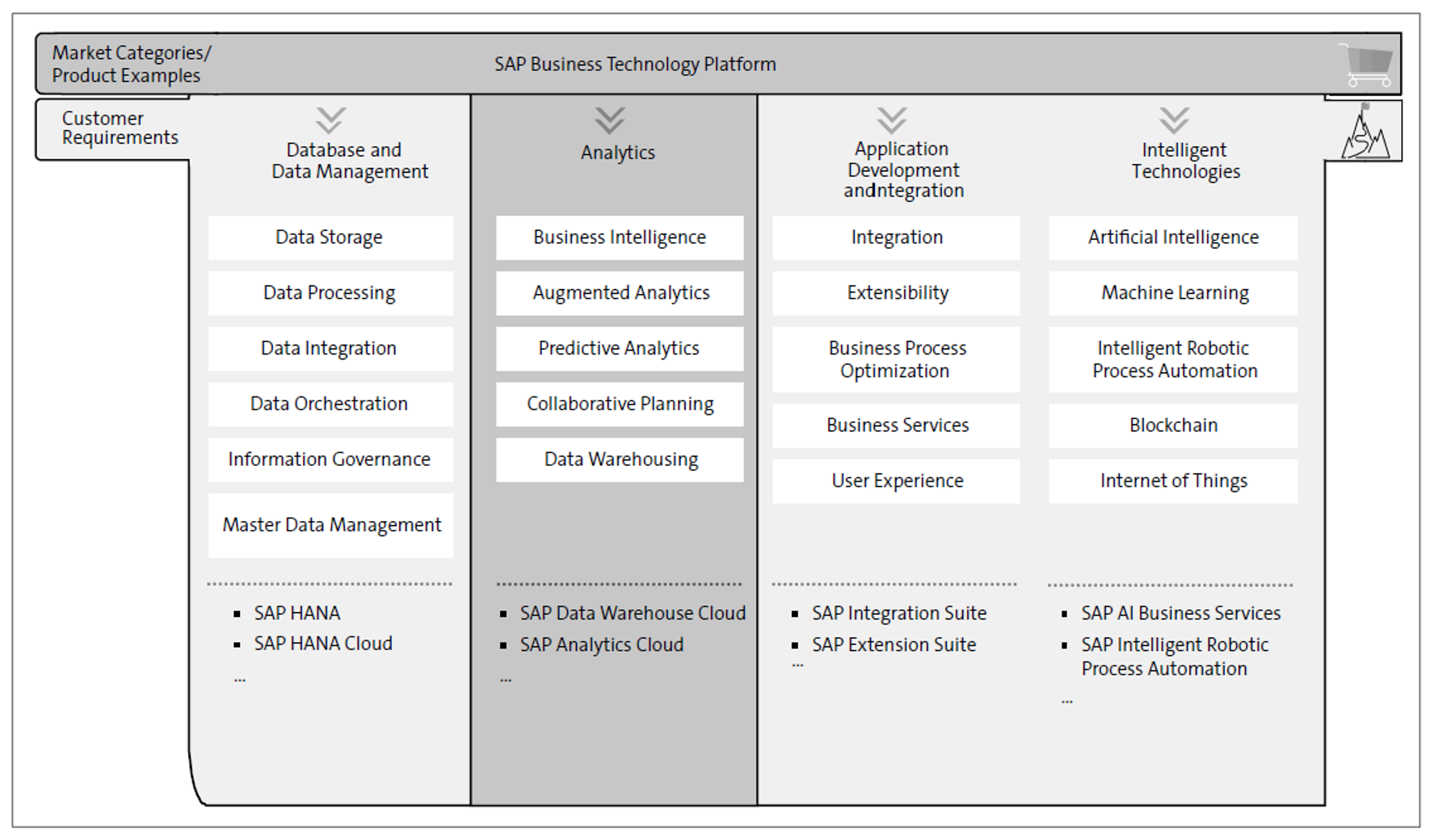 Application Development and Integration
SAP BTP is designed for business transformation and not just technology transformation or optimization. The application development and integration pillar gives you everything you need for agile business process innovation, extension, and integration in the cloud and across hybrid scenarios. The following figure shows the key features and some products that are part of this pillar.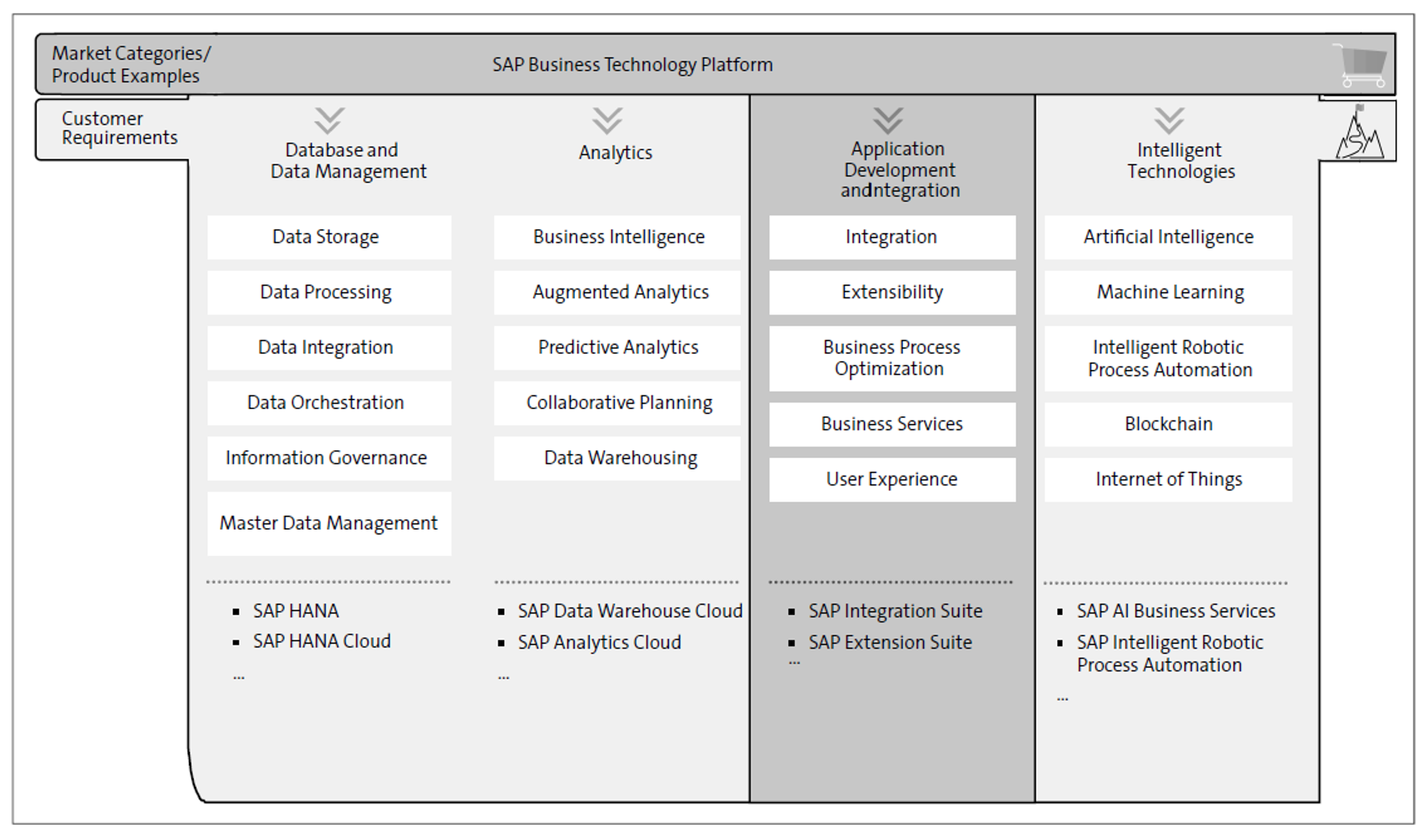 You can easily integrate different systems, extend your current application, or create new point solutions for urgent needs. Using design thinking approaches, you can iterate and experiment to revive the ideal user experience using the intuitive SAP Fiori interface. SAP Extension Suite is part of this pillar and provides various services that can be leveraged to build and extend SAP solutions. Partners can also build extensions that they can sell on the SAP Store as extensions to SAP solutions. SAP Integration Suite, on the other hand, lets you seamlessly integrate SAP and non-SAP solutions both on-premise and in the cloud.
Intelligent Technologies
AI, machine learning, and IoT are getting embedded into everything—both simple and complex business processes. Below shows the key features and some products that are part of this pillar. SAP solutions such as SAP Intelligent Robotic Process Automation (SAP Intelligent RPA) and machine learning let you automate the kind of complex repetitive decisions that make up a significant portion of business processes. This frees up your most valuable resource of all, people, who can now focus on innovation.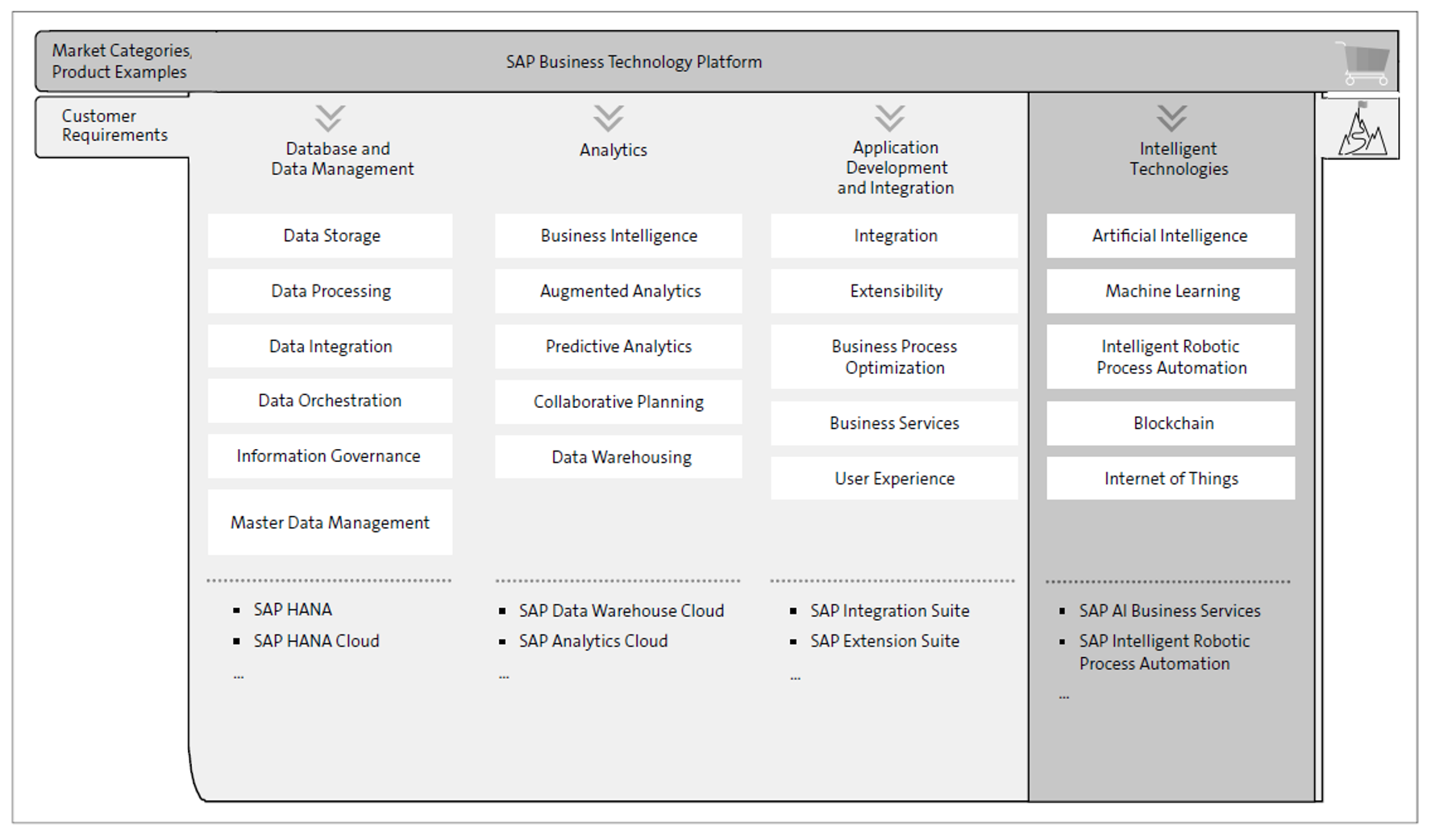 If you aren't new to SAP and already have SAP in your landscape, then you most likely are already familiar with solutions that are part of one or more of the four SAP BTP technology pillars. So, what's new? The solutions within each of the technology pillars provide value by themselves, and you must have already implemented some of them. But what you won't have likely done is used them together or integrated them to extend reach and functionality. SAP BTP gives you the flexibility to implement one or several of the solutions as you need them today and add to the landscape as your needs grow in the future. This is typically how products and solutions have been implemented until now. It's important to understand that while it's true that these technologies and solutions can be implemented in silos, the real power of SAP BTP is when they are combined together to build new solutions, extend existing solutions, or integrate cloud and on-premise SAP and non-SAP solutions. SAP BTP gives you the flexibility of implementing products and solutions independent of one another, but once you start integrating them, you create a "better together" scenario to quickly solve some of your most challenging business problems that you might not have imagined could be solved in the past, especially when looking at one stack of the technology pillar. You'll soon realize that combining your existing investments with new technologies will give you the power to innovate and uncover endless opportunities.
As SAP's strategy evolves, it's possible that the technology pillars of SAP BTP may be rearranged or changed, and products may be added or deleted from the portfolio. However, this shouldn't impact the value you get from SAP BTP. The categorization of products does not significantly alter how you architect and build solutions using SAP BTP services. This is because solutions can be built using SAP BTP services and technologies in any combination.
You can refer to https://www.sap.com/products/business-technology-platform.html for the latest information on the market categorization of products.
SAP BTP empowers SAP developers, partners, and customers alike.
Developers
For SAP developers, it provides a strong product portfolio and a central platform for accelerating development and integration.
Partners
SAP partners can leverage the tools and services that help accelerate development and integration in a more efficient way, reducing time to value and reducing implementation costs. They can build extensions to existing SAP solutions that can be made available to customers to buy in the SAP Store. The common architecture and open framework help to reduce time to market.
Customers
SAP customers can start with implementing one product and then add more to the landscape, building on their core processes, leveraging their existing long-term investments, or plugging in new business and technology innovations. They can rapidly build, integrate, and extend applications or consume content made available by partners.
Companies are operating in a complex hybrid landscape of on-premise and cloud systems. They are interacting with suppliers, vendors, partners, and customers, while running their own unique business logic, processes, and data models. Connecting all these business applications, processes, and data is important for companies to do business seamlessly and efficiently. SAP BTP lets you integrate, create value from data, and extend the SAP landscapes, as depicted in this figure.

Let's dive deeper into these capabilities.
Integration: Connect Applications, Data, and Processes
Most companies have diverse landscapes with systems, applications, and users spanning cloud and on-premise environments. They are interacting with external entities as well. It's natural for companies to want to look for efficient and cost-effective ways to connect these systems and landscapes across their environments, improve operational efficiencies, and grow their business. SAP BTP is useful in connecting applications, data, and processes by providing ways to deliver a unified user experience. The platform enables real-time data exchange across multiple cloud and on-premise systems, integrating applications across vendors, legacy systems, hyperscaler platforms, and open-source technologies. It provides prebuilt integration content and connectors to integrate to various SAP and non-SAP systems and processes.
Data-to-Value: Drive Confident Data-Driven Decisions
Data in the 21st century is like oil in the 18th century: it's the most valuable resource of the digital economy. Companies have started collecting data from various sources such as sensor data, customer data, experience data, and more. As the data volumes are growing year after year, companies are struggling to make use of data and create significant business value. Companies need to not only process, harmonize, manage, protect, and access all the new data but also relate it to traditional operational data. They need to be able to consolidate data in ways that doesn't impact existing operations while still gaining real-time, reliable insights to aid in making critical business decisions. SAP BTP has products and services that support every data need of a company. It helps companies gain a consolidated view across all data assets, including on-premise/cloud and SAP/non-SAP, and achieve insights to make real-time decisions, especially during times of rapid change.
Extensibility: Build and Extend Applications and Processes
Businesses need to adapt quickly by adopting new technology and processes and by refining existing ones. With SAP BTP, you can build, extend, and enhance SAP applications based on business needs without disrupting the existing operations. You can build personalized applications to improve user productivity and meet customer, employee, or partner needs. Application lifecycle management (ALM) is managed through the framework, reducing operations costs. Low-code and no-code tools help automate some software development, and the flexibility to separate customizations from core software code helps in decreasing maintenance costs.
What Happened to SAP Cloud Platform?
A unified, business-centric, and open data, development, and integration platform was created with SAP BTP. SAP wanted to send the message to all its customers that SAP BTP is the platform for the intelligent enterprise. To avoid confusion in the market by having two platforms, SAP Cloud Platform was no longer required as a standalone brand. As a result, the SAP Cloud Platform brand has been sunset. All of its capabilities have been moved under one of the four technical pillars of SAP BTP and are available as products and services. Note that SAP BTP didn't replace SAP Cloud Platform. SAP BTP encompasses the capabilities of SAP Cloud Platform and more.
Editor's note: This post has been adapted from a section of the book SAP Business Technology Platform: An Introduction by Smitha Banda, Shibaji Chandra, and Chun Aun Gooi.