SAP Ariba offers a comprehensive array of tools and solutions to cover core procurement activities and challenges. In this blog post, we'll cover the basics.
SAP Ariba Overcomes These Procurement Challenges
As with any process, procurement's complexity arises in the steps and details. The main considerations and challenges for the procurement process include the following: the principal-agent problem, demand planning, suppliers, purchase agreements, consumption of goods, invoicing, and analysis.
In the following sections, we'll discuss the SAP Ariba tools that help businesses overcome these challenges.
SAP Ariba (Overcoming the Principal-agent Problem)
Also known as the agency problem, the principal-agent problem refers to a conflict of interest that can occur when an agent acts on behalf of an organization. Procurement transactions typically operate as zero-sum games, whereby a supplier either wins the deal and does business with the purchasing company or doesn't. Under this pressure to win, suppliers are tempted to create an "edge" wherever possible to win the bid. Thus, the purchasing agent in this interaction holds a powerful position, as the purchasing agent can influence or even decide the outcome of this situation in favor of a particular supplier. The purchasing agent's interests may not always align with the principal's in practice.
As a result, a conflict of interest scenario may arise, whereby the agent colludes with the supplier, accepting bribes or less overt forms of payment in kind to steer the deal to the favored supplier. To counter this conflict of interest, organizations can seek to establish systems of checks and balances in procurement operations and systems. SAP Ariba provides a rigorous set of controls, processes, and workflows in all the solution areas to avoid the principal-agent problem.
SAP Ariba Supply Chain Collaboration for Buyers (Overcoming Demand Planning)
Reacting to needs that have arisen and which the organization needs filled yesterday puts the organization in a tougher negotiating position vis-à-vis suppliers and creates inefficiencies because divisions and actors in the organization must wait for supplies and services to arrive. Some form of demand planning, based on known targets, goals, historical needs, and external factors, can help alleviate the last-minute, reactive nature of tactical procurement. SAP Ariba Supply Chain Collaboration for Buyers and the extensive reporting capabilities available in SAP Ariba in general allow buyers to proactively formulate an understanding of procurement needs and subsequently create procurement strategies to address these needs.
SAP Ariba Discovery (Overcoming Suppliers)
After a demand has been defined and/or raised, suitable suppliers need to be identified, and a procurement plan must be put in place. How do you define the group of eligible suppliers, create urgency and competition around your requirements, and arrive at the best price, product, and supplier? SAP Ariba Discovery allows you to identify new suppliers in Ariba Network's suppliers, which in turn enriches the sourcing events and activities provided in SAP Ariba Sourcing. Finally, using SAP Ariba Supplier Lifecycle and Performance, your organization can iteratively improve supplier interactions and management processes.
SAP Ariba Contracts (Overcoming Purchase Agreements)
After negotiating with potential suppliers and selecting the most suitable one, a contract or PO must be defined for the particular item/service being procured. This agreement must clearly define payment terms and other items, while being usable at an operations level to allow for the consumption of the contract. SAP Ariba Contracts provides a platform for creating and managing contracts, serving as a lynchpin connecting the various procurement solutions available in SAP Ariba and in the digital core of SAP S/4HANA.
SAP Ariba Buying and SAP Ariba Catalog (Overcoming Consumption of Goods)
With an order/contract in place, the item or service must be made ready for consumption/ deployment by your organization. How do employees find and consume this item within the proper approvals and processes? The key is to make the "finding" portion of the process intuitive for your employees, while still conforming to company approval processes and financial regulations. SAP Ariba Buying and SAP Ariba Catalog provide a platform for expert and casual users alike to find and consume the items and services vetted and negotiated by the organization's procurement department.
SAP Ariba Invoice Management and SAP Pay (Overcoming Invoicing)
As a company consumes items following the previous steps, the supplier begins to submit bills for the consumed items, unless the agreement required payment up front. Either way, a company requires an approach to process invoices: a process that matches invoices to actual requests, thus ensuring that payments made to suppliers reflect the agreement's terms and the amounts actually ordered and delivered by the supplier. SAP Ariba Invoice Management and SAP Pay provide a seamless solution for managing the entry and intake of invoices, ensuring correct invoices up front, and enabling you to obtain further discounts and payment efficiencies during the payment portion of the procurement process.
SAP Ariba Spend Analysis (Overcoming Analysis)
After payment is verified, this process can start again—ideally smarter the next time, leveraging the knowledge gleaned from the preceding procurement cycle. In this area, organized data and analytics, as well as the processing power to perform timely analysis on large swaths of transactions and other data, are needed. SAP Ariba Spend Analysis helps procurement and finance departments gain this enhanced understanding of their procurement operations to ensure that continuous improvements can be made.
SAP Ariba addresses these areas with a host of solutions and services, as shown in the following figure.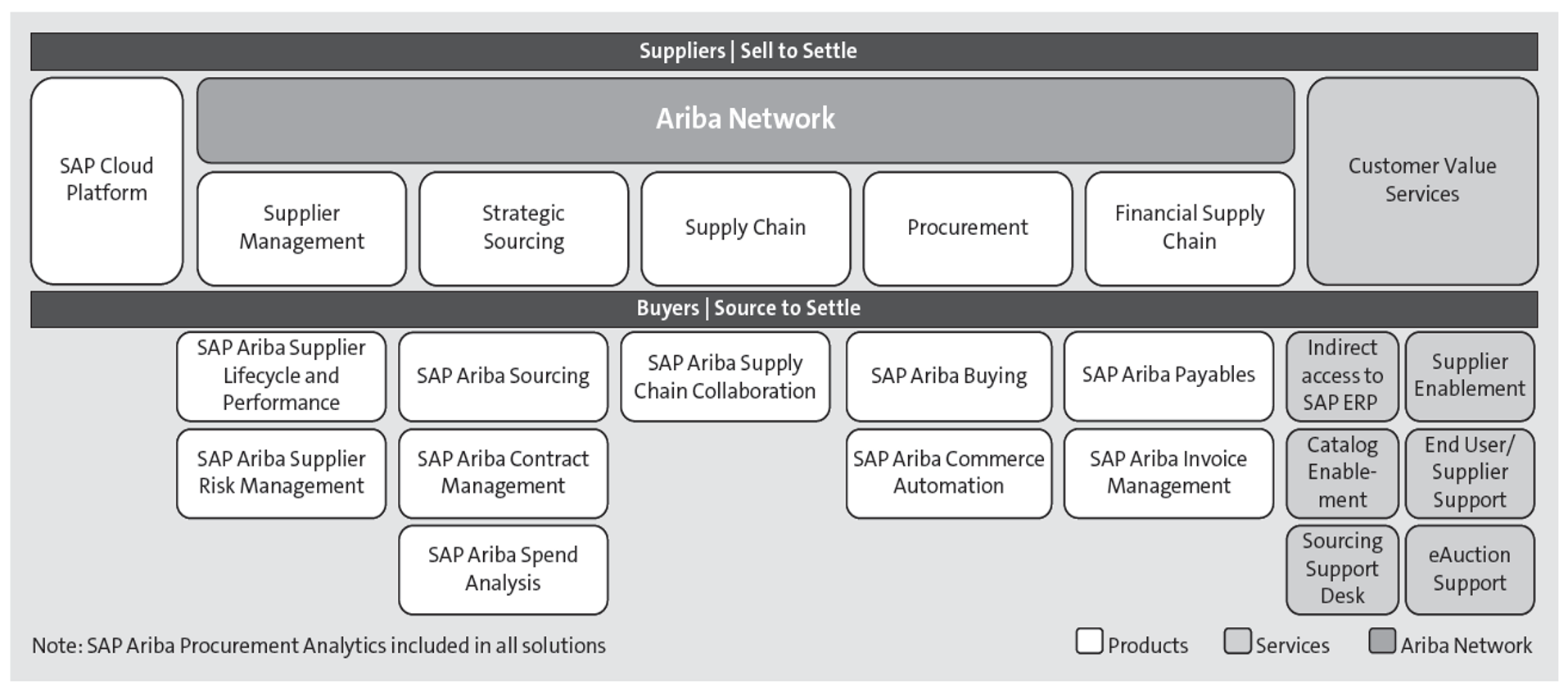 SAP Ariba Process Areas
The process areas in SAP Ariba span the full sourcing and procure-to-pay process. The main process areas include the following.
Sourcing (Finding a Deal)
SAP Ariba solutions for this include SAP Ariba Sourcing, SAP Ariba Discovery, SAP Ariba Spend Analysis, SAP Ariba Supplier Lifecycle and Performance, and SAP Ariba Supplier Risk.
Signing the Deal
SAP Ariba Contracts supports this area.
Broadcasting the Deal
SAP Ariba Catalog provides a content repository for users to search and select products and services curated by the procurement department.
Buying Items and Services
SAP Ariba Buying supports the procure-to-order and procure-to-pay processes for items and services.
Being Invoiced
SAP Ariba Buying and Invoicing and SAP Ariba Contract Invoicing manages interactions between suppliers and buying organizations as the supplier submits invoices, thus ensuring that the supplier submits an invoice in the form that is most easily processed by the receiving organization via extensive business rule options and workflows.
Paying Invoices
SAP Pay supports payments and additional discount negotiations after an invoice has been submitted.
Collaborating with Suppliers
Ariba Network comprises of more than four million customers and suppliers and manages more than $3.2 trillion in transactions annually. Ariba Network serves as a platform to underpin and augment all the other SAP Ariba solutions on offer, facilitating supplier/buyer collaboration at every step of the procurement process.
SAP Ariba Mobile App Features
Mobility and intuitive user interfaces (UIs) also deserve mention. Beginning in 2015, SAP has made access to SAP Ariba solutions via mobile devices a core component of the product's strategy. The first releases of mobile apps supported approvals and basic lookups in SAP Ariba. Now, the SAP Ariba mobile app supports requisition, approval, and tracking, as well as viewing previous approvals. These mobile apps run on a multitude of devices, such as phones and tablets.
1
In the SAP Ariba Supplier app, suppliers can do the following:
View POs and invoice activity.

Confirm POs.

Pin POs requiring further follow up.
Users of SAP Ariba Supply Chain Collaboration for Buyers can use the SAP Ariba Supply Chain mobile app. Users can monitor key supply chain procurement documents, such as scheduling agreement POs and other complex PO types supported in SAP Ariba Supply Chain Collaboration for Buyers, confirmations, and advanced shipping notifications (ASNs), as well as monitor the availability of supply and receive alerts for unconfirmed items. The app includes full item details, drilldown capabilities, and search capabilities as well as communication options to call or email suppliers to resolve identified issues in real time.
As of SAP Ariba 14s, the UI has been completely refreshed, beginning with SAP Ariba mobile 1.5 for iOS under an initiative called the Total User Experience. The SAP Ariba Total User Experience represents a complete paradigm shift in the meaning of user experience (UX)—not just for SAP Ariba customers but also for the industry as a whole. SAP is delivering that shift through three fundamental tenets:
Work anywhere

:

Users should be able to access SAP Ariba applications anytime and anywhere.

Learn in-context

:

Users can access in-context guides and community expertise from within the application.

Modern UX principles

:

Users can benefit from the adoption of SAP Fiori–based user interaction paradigms.
With this initiative, SAP Ariba incorporates modern UX principles utilizing SAP Fiori-based user interaction paradigms for a new and improved visual design for all SAP Ariba on-demand solutions.
Conclusion
SAP Ariba is a powerful cloud application that companies can use to streamline their procurement processes and overcome procurement challenges. This post introduced you to SAP Ariba, its key tools, and how it provides solutions for logistics practitioners.
Editor's note: This post has been adapted from a section of the book SAP Ariba by Rachith Srinivas and Matthew Cauthen.