After you process an invoice, the next step is payment. Traditionally, paying suppliers has been challenging to automate.
This is because suppliers can't check on pending payments or receive status updates about the payment process and thus begin calling for updates. SAP Pay leverages the power of the Ariba Network to extend back-office systems to transmit ACH payments to suppliers. For suppliers, having SAP Pay integrated Receipt and with the Ariba Network provides updated information on the status of payments and allows them to update their account details directly.
SAP Ariba invoicing, payment, financing, and discount solutions support a general, overarching process for accounts payable. After an invoice is reconciled, payment is scheduled through a payment request.
The capabilities in SAP Pay can completely automate your payment processes, including electronic payments, detailed remittance statements, a supplier portal, and supplier bank-routing information verification. Using these tools, you can accelerate supplier participation rates (in-house ACH programs often struggle with onboarding suppliers), increase accounts payable productivity and capability, and reduce fraud cases and late-payment fees.
Combining SAP Ariba Invoice Management with SAP Pay delivers a one-two punch to inefficiency and waste in accounts payable. Using the rules and tools of electronic invoicing, your accounts payable team can quickly return invoices with missing or erroneous information to the supplier for correction. With SAP Pay, you further avoid late-payment fees and inefficiencies caused by paper checks. A summary is provided in this table.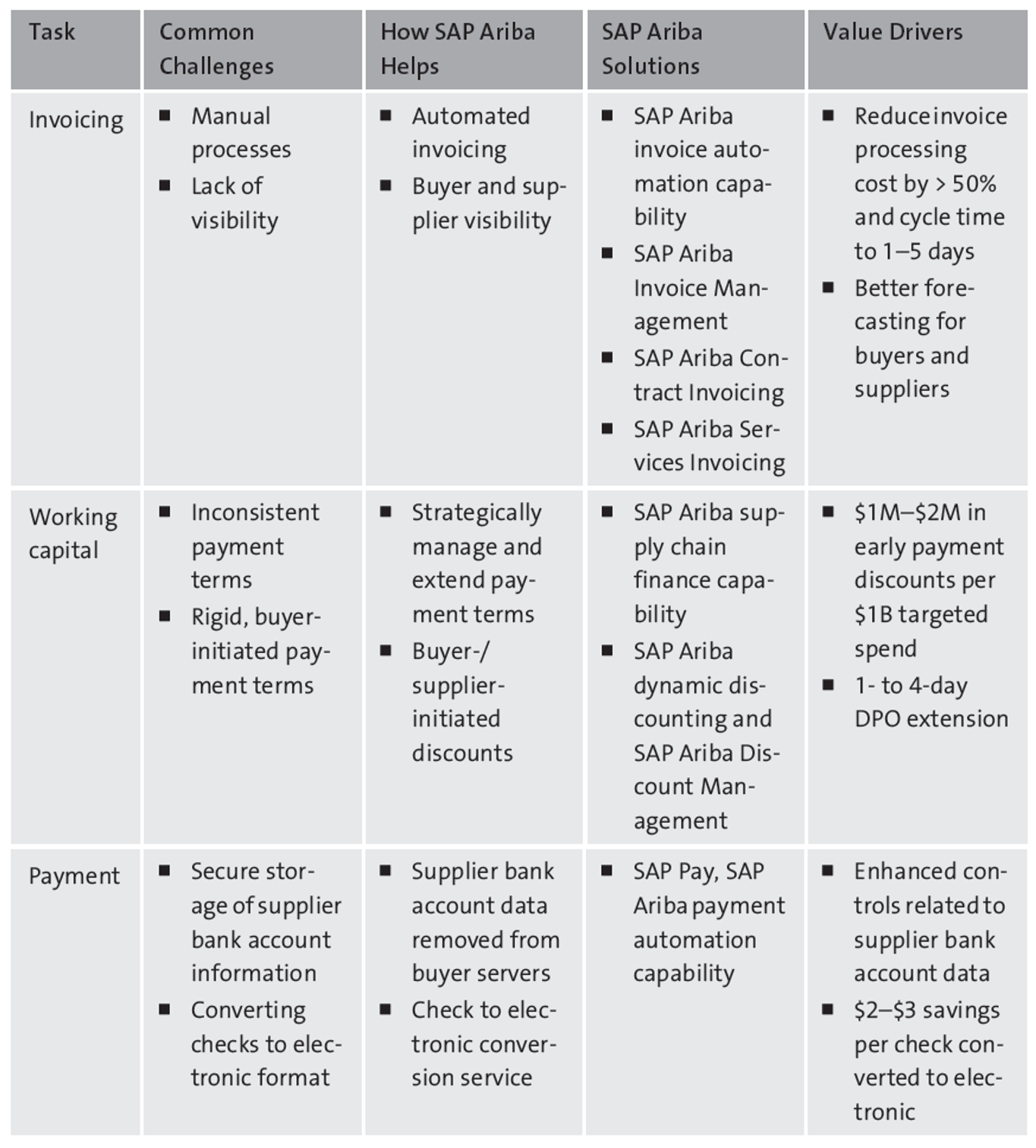 In this post, we'll begin with an overview of how the available SAP Pay solutions support the invoicing process. Next, we'll delve into the specifics for the core functionality areas in SAP Pay, including payment, discounting, and supply chain finance.
SAP Ariba Payment Management
Let's focus on the payment aspect of the invoicing process and the applicable SAP Ariba solutions you can use after an invoice has been submitted. This functionality manages payment aspects at the end of a P2P process in SAP Ariba. Many SAP ERP customers revert to SAP ERP for accounts payable from their SAP Ariba solutions. SAP Pay offers the option of managing payments in SAP Ariba, further consolidating the processes in SAP Ariba and circumventing the often-cumbersome ACH process used in most payment scenarios, including SAP ERP.
SAP Ariba Payment Capability
After the initial invoice has been validated and reconciled, the payment portion of the process must be addressed. SAP Pay provides an array of payment capabilities via the Ariba Network–based payment solution, facilitating payments from buyers to suppliers. Buyers can create individual payment requests or batch payment requests in their individual SAP ERP systems, which are then transferred via the Ariba Network to a payment service provider, and then on to the originating and receiving financial institutions. During this process, SAP Ariba provides visibility into payments via a track-and-trace functionality, facilitates faster reconciliation, and confirms expected invoice and payment amounts.
As shown in the figure below, SAP Ariba enables you to pay your suppliers in Canada, Germany, United Kingdom, and the United States over the Ariba Network, providing improved visibility, cash flow controls (when payment is to be made), dual user verification, simple UIs facilitating self-service, and, ultimately, reduced costs and greater efficiencies when compared to traditional ACH processes.

A similar process is also available for the virtual card, which is a customer credit card intended only for charges by a single supplier or group of suppliers and check payments, as shown in these figures.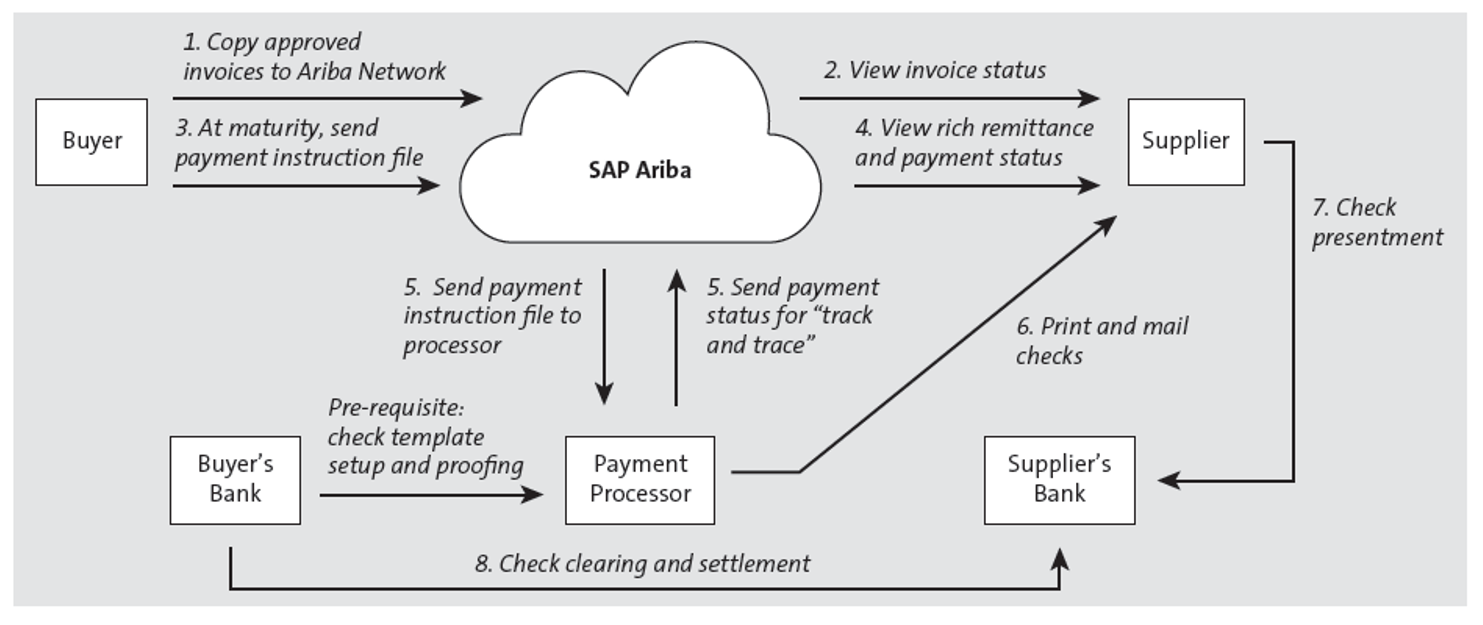 In these scenarios, instead of an ACH payment, the payment is made directly with a virtual card or a check.
In these process flows, the process for all three types of payment shares the following steps:
The invoice is either entered directly in the Ariba Network by the supplier, or a copy is uploaded by the accounts payable user or directly from the ERP system on the customer side.

The supplier can then view the status of the invoice via the Ariba Network.

At maturity, a payment instruction file can be sent.

The payment status is further updated in Ariba Network for the supplier, which reduces calls to the customer's help desk and accounts payable department.

The actual payment is then processed via ACH, virtual card, or check payment.
For each transaction, traditional ACH processes must reestablish information that already is static and available in the Ariba Network in secure areas. With ACH, determining the status of a payment can be difficult, and surcharges on payments typically run 3% of the total payment amount.
With SAP Ariba, leveraging the Ariba Network allows for a more efficient payment process than ACH. The differences are outlined below.
Combining the power of the Ariba Network for supplier information and transaction support with focused accounts payable solutions on the payment side makes SAP Pay an offering that extends well beyond traditional ACH approaches to processing payments.
SAP Ariba Payment Automation
The SAP Ariba payment automation capability requires SAP Ariba's invoice automation capability or SAP Ariba Buying and Invoicing. Customers can maintain existing payment (ACH) connections with their banks and use payment automation to deliver remittance information only to suppliers; provide status updates to buyers and suppliers; deliver remittances to suppliers (email, EDI, cXML, or directly via the Ariba Network); and support supplier self-service for maintaining remittance name, address, and bank account information.
You can choose to use the SAP Ariba payment functionality both for the delivery of remittance information to suppliers and the transmission of ACH payment instructions to your bank. Payment instructions are transmitted to your bank in accordance with the bank's transmission standards. Suppliers can view payment status updates through the Ariba Network. When exceptions occur, SAP Ariba processes ACH return information from the bank and updates payment status. You can configure SAP Pay to send ACH instructions in the following ways:
Using supplier-maintained information in SAP Ariba that identifies suppliers' bank accounts

Using bank account information from SAP ERP and passed along in the payment file

Issuing ACH only if bank account information in the payment proposal and SAP Pay Professional match exceptions that have been flagged using business controls

$0 pre-note validation of supplier bank accounts, which is a zero-dollar electronic funds transfer validation of the supplier's account
For any bank new to SAP Ariba, a bank integration project is required. SAP Pay delivers reports on supplier bank account changes for suppliers with trading relationships with a buyer.
SAP Ariba Supply Chain Finance Capability
The SAP Ariba supply chain finance capability is similar to other discount management capabilities in that you can extend cash flow management flexibility and terms to your suppliers. However, instead of paying early out of your own money, the supply chain finance capability allows you to extend early payment options via a third party to your suppliers for a small fee. Suppliers can get access to cash early without affecting your DPO, while improving the supplier's days sales outstanding (DSO).
Why is DSO important? Companies are valued in part on their cash flow, and the more positive the DSO, the higher a company's valuation. The supply chain finance capability applies to both untraded and traded invoices, as shown in the figure below, and a supplier can review the invoices and request early payment on applicable invoices via the SAP Ariba supply chain finance capability.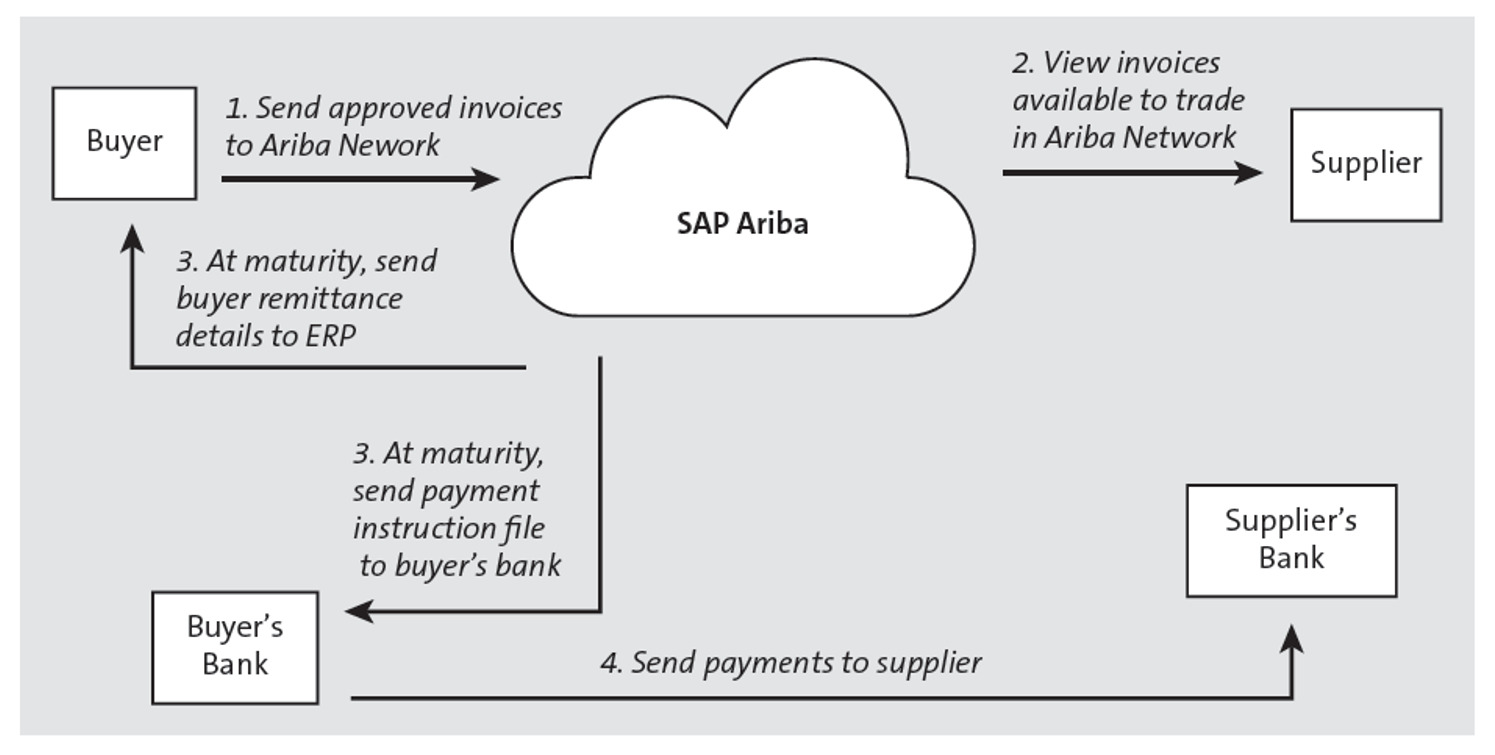 As shown in the next figure, when a supplier elects to have a particular invoice paid early via the service, the supply chain funding bank pays the supplier at that point, while the buyer pays as scheduled. The buyer's payment, however, now goes to the funding bank instead of the supplier's bank. The supplier in this case has already received payment from the funding bank. Essentially, the funding bank in SAP Ariba's supply chain finance functionality acts as a provider of the factoring service, paying the supplier early and collecting the customer payment for a smaller fee than offered by traditional factoring services.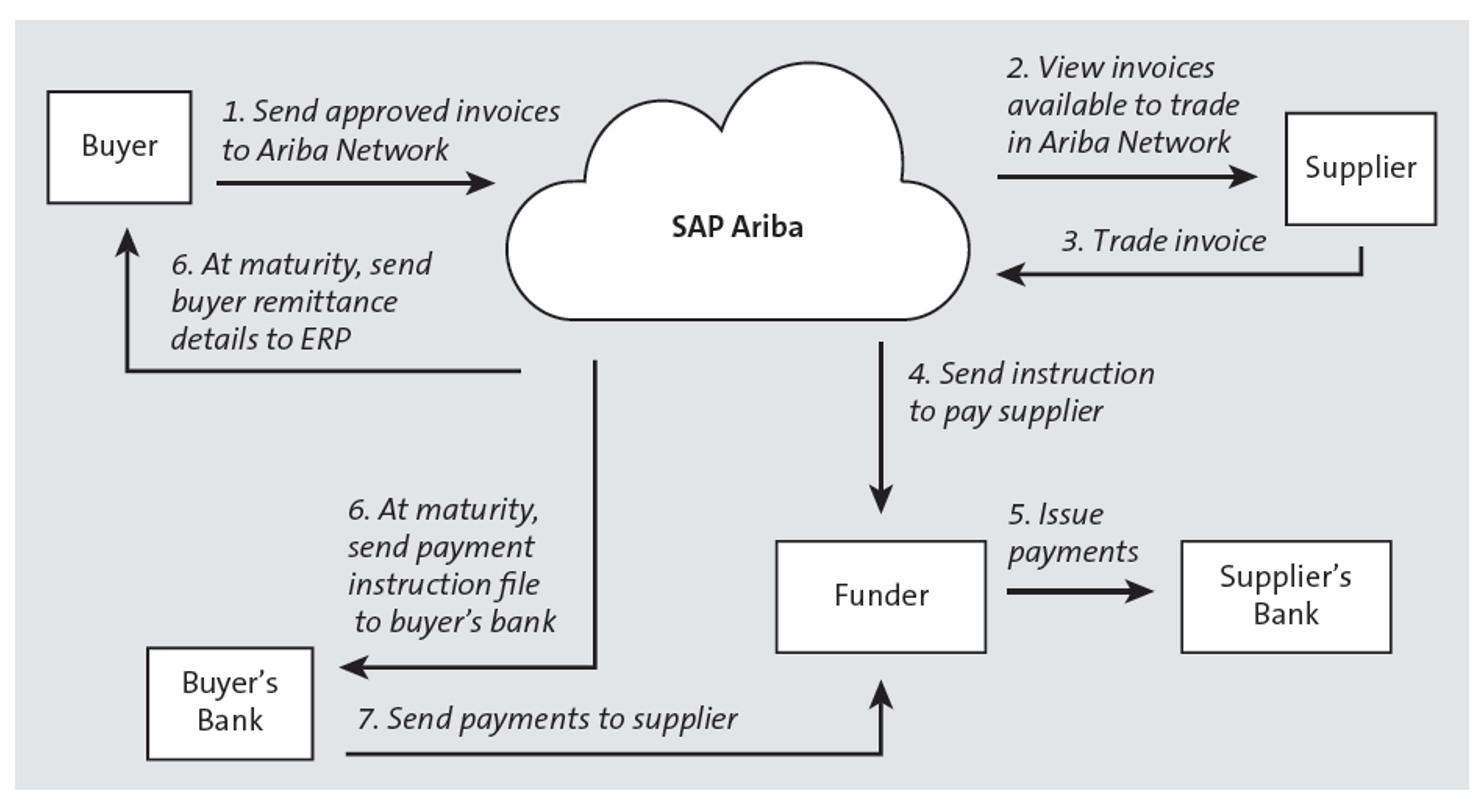 Editor's note: This post has been adapted from a section of the book SAP Ariba by Rachith Srinivas and Matthew Cauthen.