Business partners are external and internal parties with which you do business and that play a key role in the execution of business processes in embedded EWM.
Transaction BP is used to create a business partner; it can also be accessed from path SCM Extended Warehouse Manaagement > Extended Warehouse Management > Master Data > Maintain Business Partner. This transaction is a single point of entry to create, change, and display business partners (e.g., customers and vendors) in SAP S/4HANA.
Following are some of the business partners used in embedded EWM:
Customer

Supplier

Contact person

Carriers
The figure below shows the screen layout for Transaction BP. Near the upper-left corner of the screen is the Find option.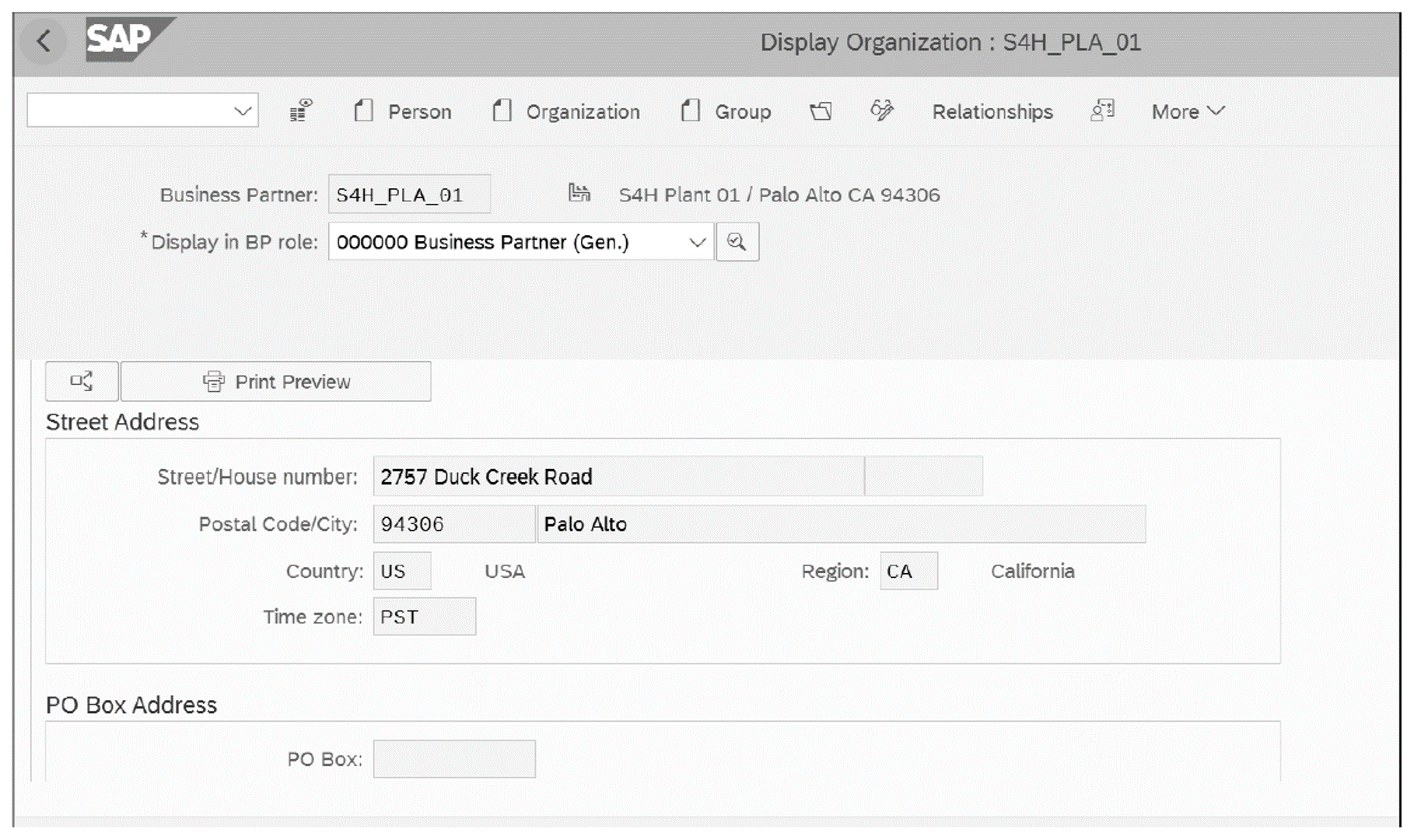 Various search options are available to look for a specific business partner or group of business partners. Some of these options include searching by number, address, name, and search term. After providing search criteria, click on Start; the system will display a list of business partners. You can double-click on any business partner to see its details on the right-hand side of the transaction screen. At the top of the screen, there is an option to select the business partner's role via the Display in BP role dropdown, which displays the data maintained in the business partner for the role selected.
You can create business partners in embedded EWM for a Person, Organization, or Group (see the menu bar). A business partner can have multiple roles depending on business requirements. For example, the same business partner can act as a customer and supplier. The number of data tabs presented in the business partner details screen varies depending on the role selected. You can extend business partner roles for a business partner by opening the business partner in change mode and selecting the appropriate role from the Display in BP role dropdown.
There are various business roles available in SAP S/4HANA depending on business requirements. Some of these roles are shown here.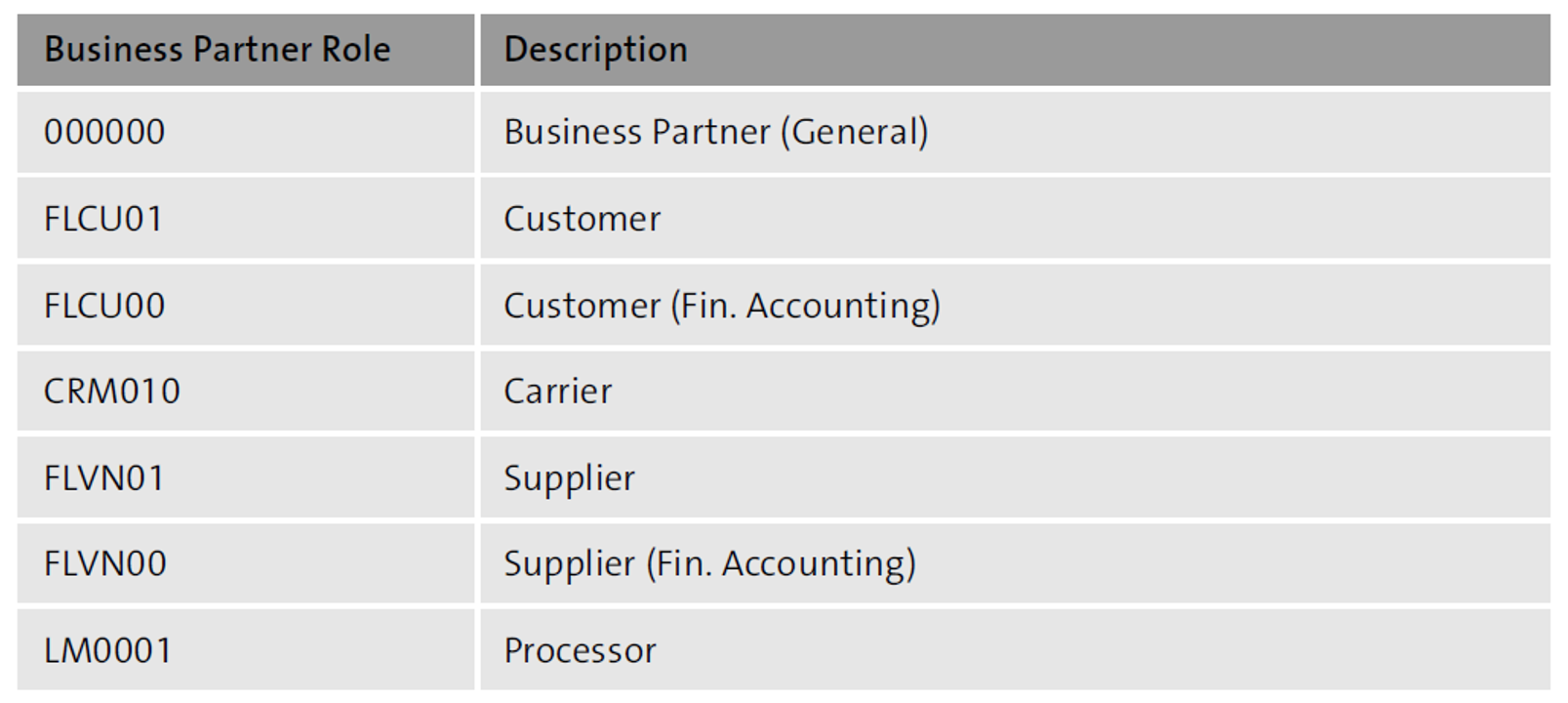 A business partner is created in SAP using the default business partner role 000000 (Business Partner [General]). The two most important business partners used in embedded EWM and the data fields that can be maintained for creating them are as follows:
Customer
Customers are created in SAP S/4HANA from Transaction BP with business role FLCU01 (Customer). You can also extend or create customers for other business partner roles, such as TR0818 (Cust. Bill-to Party), FLCU00 (Customer [Fin. Accounting]), and so on. There are three views available for creating customer business partners:
General:

This view holds general customer-specific data, such as address information, tax information, legal data, tax data, and text fields.

Sales and Distribution

: This view holds data specific to sales areas, including shipping, billing, partner functions, and status.

ETM Data

: This view is used for storing industry-specific data for customers.
Supplier
Supplier business partners are created with partner role FLVN01 (Supplier). The two views available for a supplier are as follows:
General Data

: This tab holds general data about the vendor, such as address, identification, control, payment transactions, status, legal data, vendor general data, and vendor tax data.

Purchasing

: This tab holds data specific to the purchasing organization regarding the vendor, such as purchasing data, partner functions, additional purchasing data, and so on.
You can archive a business partner by first marking the business partner for archiving (To Be Archived) using Transaction BUPA_PRE_DA, then selecting the business partner to be deleted (Business Partner field), and finally clicking on Execute, as shown in this figure.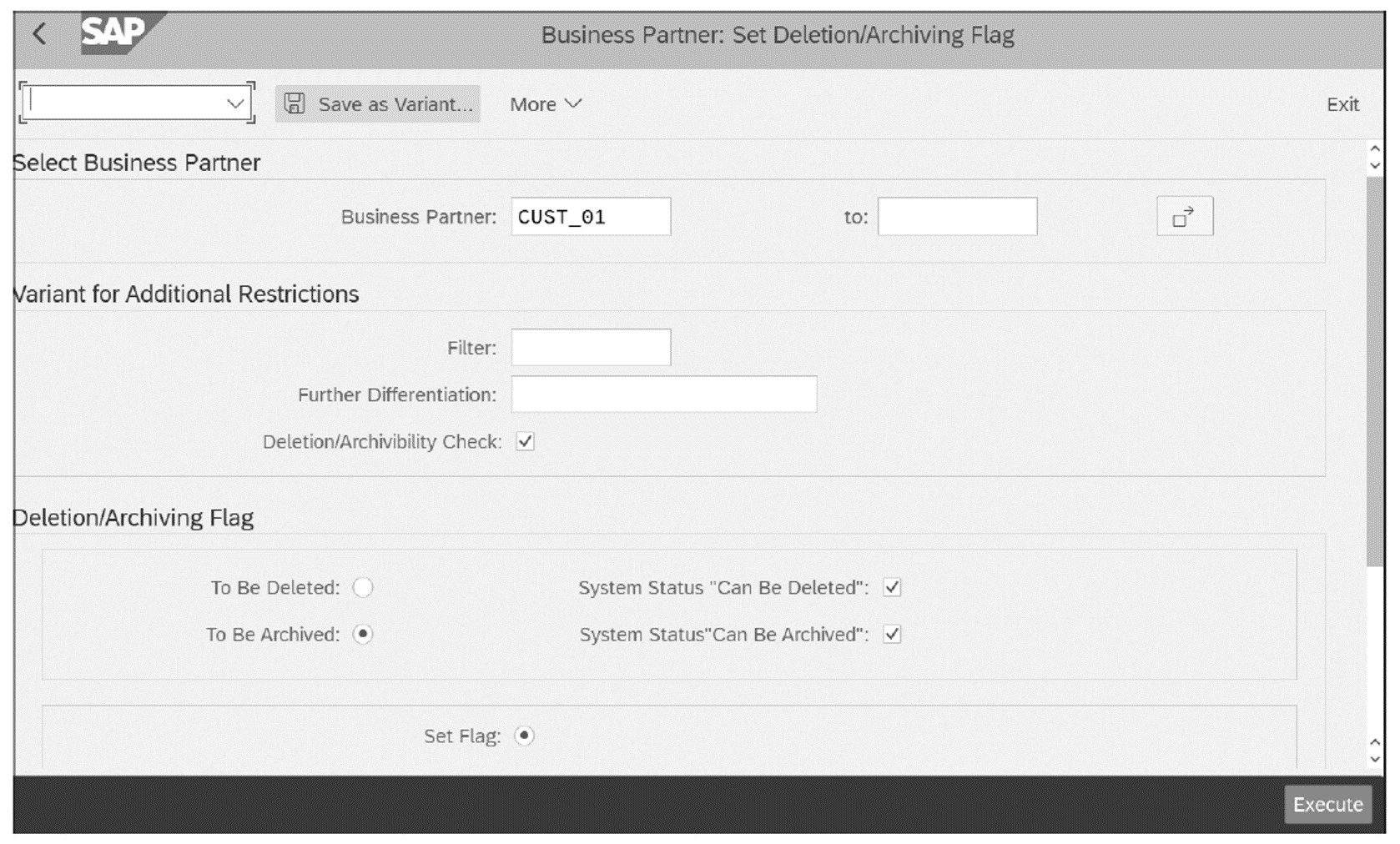 After the business partner is marked for archiving, you can archive it using Transaction SARA against the business object CA_CUPA
Note: In embedded EWM in SAP S/4HANA, the deletion of business partners has been made obsolete as it leads to inconsistencies. Therefore, it's now mandatory to reduce the business partner master data by archiving it, rather than deleting the business partners.
Editor's note: This post has been adapted from a section of the book Warehouse Management with SAP S/4HANA by Namita Sachan and Aman Jain.