The cash management in SAP S/4HANA functionality for cash positioning is simply called cash operations. Its main focus is the daily procedures and tasks that you, as a cash manager or cash operator, must perform to position cash.
This process starts with monitoring bank statements, which are then included in the daily cash position. After you've determined the initial opening position for your bank accounts, you can make the required bank transfers or manual payments, which will be automatically reflected in your cash position.
You can also analyze the disbursements and collections forecasted for today, including intraday bank statements into your forecasted cash position for the day. You can make investment, borrowing, and foreign exchange (FX) decisions and act upon them. Once executed, the financial transactions are automatically reflected in your cash position again. A few final updates and adjustments, and you can close today's cash position. An automatic snapshot functionality makes sure that if you need to go back to the cash position and look at the exact balances you had when you made your investment or borrowing decision at some point during the day, you can do so without the need to download a report or to print and file a report. The cash operations functionality also allows you to monitor bank risk based on your bank balances and helps you manage the approval process for bank payments.
These functionalities are available to you through the same user interface (UI) as in bank relationship management (BRM). All SAP Fiori apps can be accessed from the SAP Fiori launchpad (see below). You can set up the layout of the SAP Fiori launchpad according to your role and activities.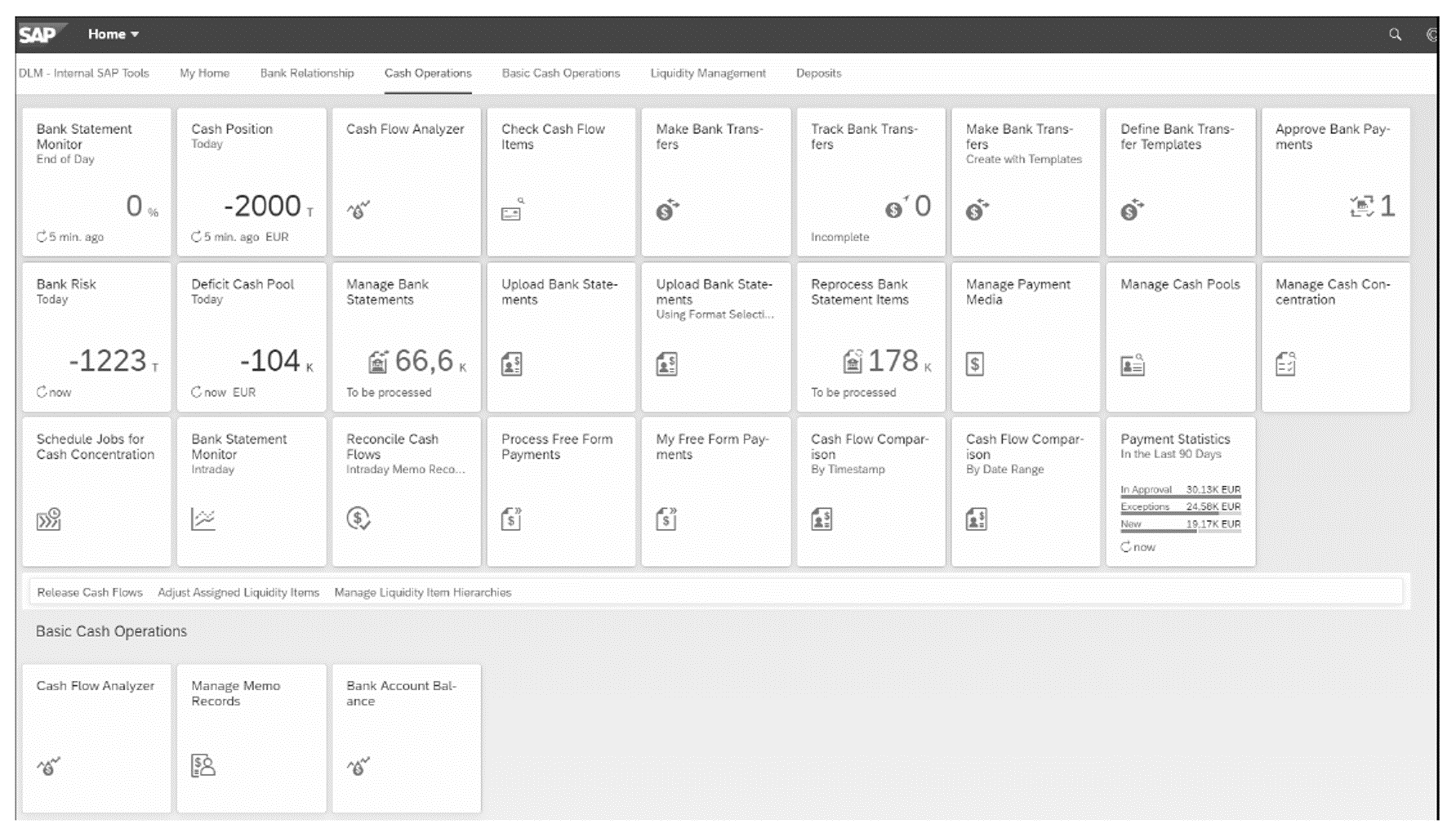 Common Challenges
From the outside, cash positioning seems to be a rather simple activity. After all, you only need to look at your bank accounts, make a few bank transfers, see what's left in your accounts, and you're done. In practice, however, this activity can be quite daunting. With bank accounts in many different banks, across countries, and in a variety of currencies, determining the accurate opening balance for the current day or the closing balance for the previous day can be challenging.
Next, you'll need an idea of what will happen during the day. How much cash will flow into your accounts, where, in which currency, and at what time? What disbursements will you have to make and from where? The answers to all these questions must take into account time zones and continents to ensure payments are made on time and to interact in the market for funding and investments during the times of greatest liquidity. To master these challenges, you'll need to deploy state-of-the-art technology and agile processes to bring together all the cash-relevant information from inside and outside your organization.
With limited visibility on your cash position, you'll only have limited options to fulfill your main responsibility as a cash manager, which is to provision liquidity to your company. Without the support of technology, achieving visibility into your liquidity in a timely manner and at varying degrees of granularity is almost impossible, and navigating from a global cash position view to a bank balance and account balance view can be difficult.
You'll also face complex challenges fulfilling your other responsibilities as a cash manager, from compliance to fraud protection. Without the support of a comprehensive solution, you'll be bogged down in the nitty-gritty of manual procedures and controls. Although a valid first step in the right direction, even the classic SAP solution for cash management didn't address these challenges in a comprehensive manner. Siloed applications, semi-integrated processes and data models, and the fact that classic cash management was built in the early days of SAP ERP means you can no longer rely solely on classic cash management for your daily operations.
Business Benefits with SAP S/4HANA
SAP has answered the call for a more modern cash management solution with cash management in SAP S/4HANA. The cash operations functionality of the new cash management in SAP S/4HANA provides you with real-time cash position reporting capabilities. As soon as bank statements are imported, you can immediately check on your cash position, without any dependence on accounting. The cash position is updated whether you posted the bank statement or not.
You'll also get powerful tools for cash position analysis, with navigation from high-level to detail-level analysis, drilling down to (or navigating to—as we prefer to say in the SAP Fiori world) the line item report and even further down to the original business transactions.
The SAP Fiori apps for cash management in SAP S/4HANA provide seamless integration from insight to action, that is, from the analytical view to the transactional level. For example, you'll be able to initiate bank transfers or cash trade requests directly from the Cash Position (Today) app.
All apps are built based on the SAP Fiori user experience (UX). As a result, cash management in SAP S/4HANA offers user-friendly tools that simplify your processes and tasks, such as the payment approval process, which you now can execute platform-independently from your computer's browser or a mobile device.
All cash-relevant transactions are stored in a single repository, One Exposure from Operations, making generating reports and using analytical apps much easier. Because the data is stored within the SAP HANA database, it's accessible to the SAP Fiori apps and allows you to create new reporting analytical functions, such as reports comparing actual versus planned or forecasted cash flows.
Using SAP's new data model, SAP Smart Business provides key performance indicator (KPI)-based reports and analytical apps to help you gain better insights into your cash operations.
Conclusion
This post introduced the concept of cash positioning and how SAP S/4HANA Finance can help modernize this process.
Editor's note: This post has been adapted from a section of the book Cash Management with SAP S/4HANA by Dirk Neumann and Lawrence Liang.