The traditional rebate solution available in the SAP ERP 6.0 system was not flexible and suffered from major blockages every time the table containing rebate entries (table VBOX) had to be rebuilt due to changes in a customer's scenario.
For this reason, with the release of SAP S/4HANA, a new central and standardized solution, called condition contract management, was introduced to create and settle all types of conditions for both suppliers and customers. The new condition contract management functionality in SAP S/4HANA has numerous advantages over traditional rebate agreements in SAP ERP 6.0, such as a single transaction code (or SAP Fiori app) to create and maintain condition contracts for customers and suppliers and real-time access to actual business volume data directly from transactional documents (e.g., billing document header and item tables VBRK and VBRP). Therefore, running a program periodically to update the sales volume to be settled in the rebate agreement is no longer required.
For the SAP S/4HANA Sales certification exams, you must have a high-level understanding of condition contracts with a customer as the contract partner.
Condition contracts allow you to work with the following two types of conditions:
Conditions Accompanying an Invoice
These conditions are all the condition types that are valid with immediate effect, which can alter the value of a sales order item. Prices, discounts, and surcharges are examples of conditions that accompany an invoice. You can store and edit these conditions in the condition contract, which acts as the central object where you can define validity periods, mark specific conditions as active, and add notes in the available text elements.
Conditions Requiring Subsequent Settlement
These conditions are settled at a later date. When creating a condition contract with condition types that require subsequent settlement, you must provide settlement dates, the information needed to calculate the business volume, which determines the settlement amount and validity dates. Accruals can be posted when invoices are created. Alternatively, if you don't want to impact the billing process, you can configure the creation of accruals for customer rebates to be carried out separately. For example, accruals can be calculated on a daily or monthly basis. You can settle condition contracts manually or automatically, and you can create condition contracts with a start date in the past. This feature is a nice addition in the SAP S/4HANA solution since the condition contract can be created after the transactional documents used to calculate business volume are posted.
In terms of configuration, the customizing settings related to condition contract management can be found in the IMG menu path Logistics - General > Settlement Management > Condition Contract Management.
The main three configuration areas are as follows:
Configure Pricing Including Condition Contract Conditions
This configuration step concerns two areas: general settings for sales-related pricing and specific settings for contract conditions related to condition contracts with a customer as contract partner.
First, as in pricing for sales orders, you must define condition tables, access sequences, condition types, and pricing procedures.
The next step is to define sales condition types and activate them for condition contract management. In the standard system, the following condition types are available:
RES1: Rebate
REA1: Rebate Accruals
Then, you'll need to define sales condition type groups and assign sales condition types to a sales condition type group.
Configure Condition Contract Maintenance
In this second configuration step, you must define and configure parameters for condition contract types, such as number ranges, condition contract categories, field status groups, status profiles, action profiles, and text determination procedures.
Then, you'll define condition contract types with the configured parameters to determine how a condition contract will be processed. When defining condition contract types, the Type of Contract Partner field is mandatory since this field controls whether the contract partner is a customer or a supplier. The Type of Eligible Partners field is also mandatory and specifies whether or not eligible partners play a role for the condition contract type.
Configure Condition Contract Settlement
Finally, you must maintain the following settings to allow the system to process the condition contract settlement and calculate the settlement amount for a given period:
Configure business volume determination: This value is usually based on the total amount of customer invoices.
Specify settlement calendar: You must define the factory calendars to be used as settlement calendars and assign them to the relevant condition contract types. The calendar allocated to the condition contract type will be the default calendar, but you can overwrite this value in the actual condition contract if needed.
Configure the settlement document creation and settlement amount calculation: In this step, you'll maintain settings for the settlement document creation, such as specifying the condition contract settlement type, the settlement type customer, and the settlement process type. You'll also define the pricing procedure used for the settlement amount calculation and maintain the pricing procedure determination, which depends on the settlement document type of the settlement document.
Specify posting and reversal of accruals: This configuration enables the system to reverse accrual postings and replace them with the actual amounts determined during the condition contract settlement.
Let's now review the processing of condition contracts and the settlement process. For condition contracts requiring subsequent settlement, you can perform the following business activities in SAP S/4HANA.
Create or Change a Condition Contract
The condition contract management solution revolves around the condition contract document. In this document, you can manage conditions, specify administrative data, define the criteria for business volume selection, specify eligible partners, and maintain settlement calendar information. To create or change a condition contract, use Transaction WCOCO or, from the SAP Fiori launchpad, use the Maintain Contract – Condition Contracts app. The figure below shows a condition contract as displayed in Transaction WCOCO.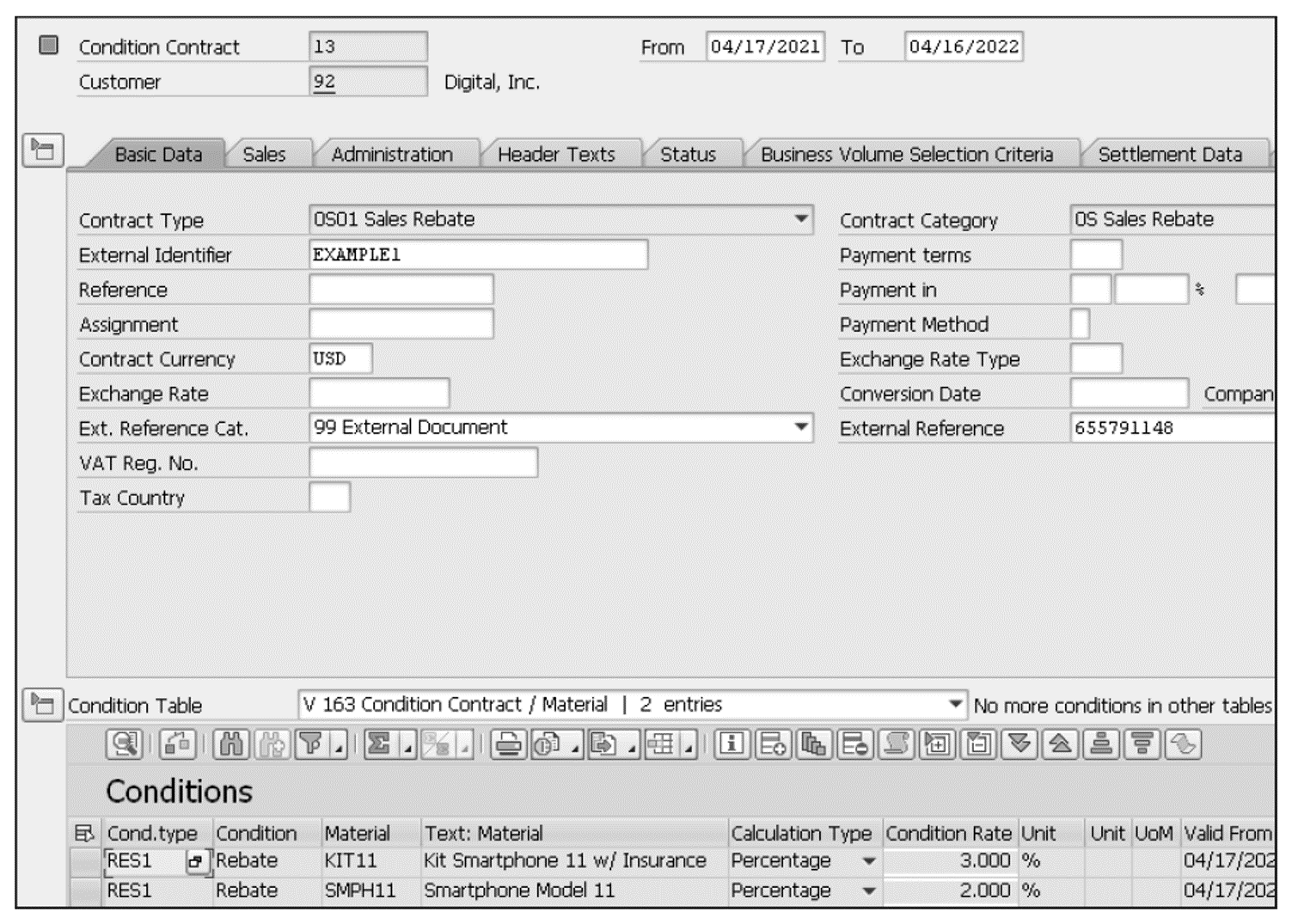 Once all the required fields have been maintained, you can save a condition contract.
Release a Condition Contract
When a condition contract is created, you'll see the status icon in the header line, which means the contract is inactive for operative use. To release a condition contract, switch to change mode by selecting the menu option Condition Contract > Change in Transaction WCOCO and click on the function from the toolbar. The status icon in the header changes to . You can also release (or lock) condition contracts in mass via the transaction codes and SAP Fiori apps shown in this table.
Perform Settlement of a Condition Contract
As mentioned earlier, by executing the settlement process, you create the corresponding amounts receivable and payable in financial accounting for a specific period and the relevant business partners.
You can carry out the settlement of a condition contract in SAP S/4HANA with a customer as the condition contract partner via Transaction WB2R_SC or the Settle Condition Contracts app. The key figure used for the settlement, also known as business volume base, is determined from the transactional document (e.g., billing document) and constitutes the basis for the settlement. For instance, you can use weight, quantity, volume, or monetary amount as the business volume base.
In the condition contract header, under the Settlement Calendar tab, you can also specify the settlement dates and which of the following four settlement types must be used when settlement is performed:
<blank>: Final Settlement: With this settlement type, the conditions of a condition contract are permanently settled for a specific time period. You can have several final settlements in a single condition contract. If necessary, final settlements can be corrected via a delta settlement.
1: Partial Settlement: With this settlement type, the conditions of a condition contract are provisionally settled for a specific time period. Typically, the final settlement is used to settle the partial settlements for a final time.
2: Delta Settlement: Delta settlements can be used to settle subsequent changes in the business volume base, for example, invoice cancellations or returns posted after a final settlement has been processed for a specific time period.
3: Delta Accruals: Delta accruals can be used to make corrections to accruals based on changes in the condition data.
Control the Condition Contract Management Process
In addition to Transaction WCOCOALL (Condition Contract List), the standard reports shown in this table are also available to review condition contract conditions and settlement-related data for condition contracts.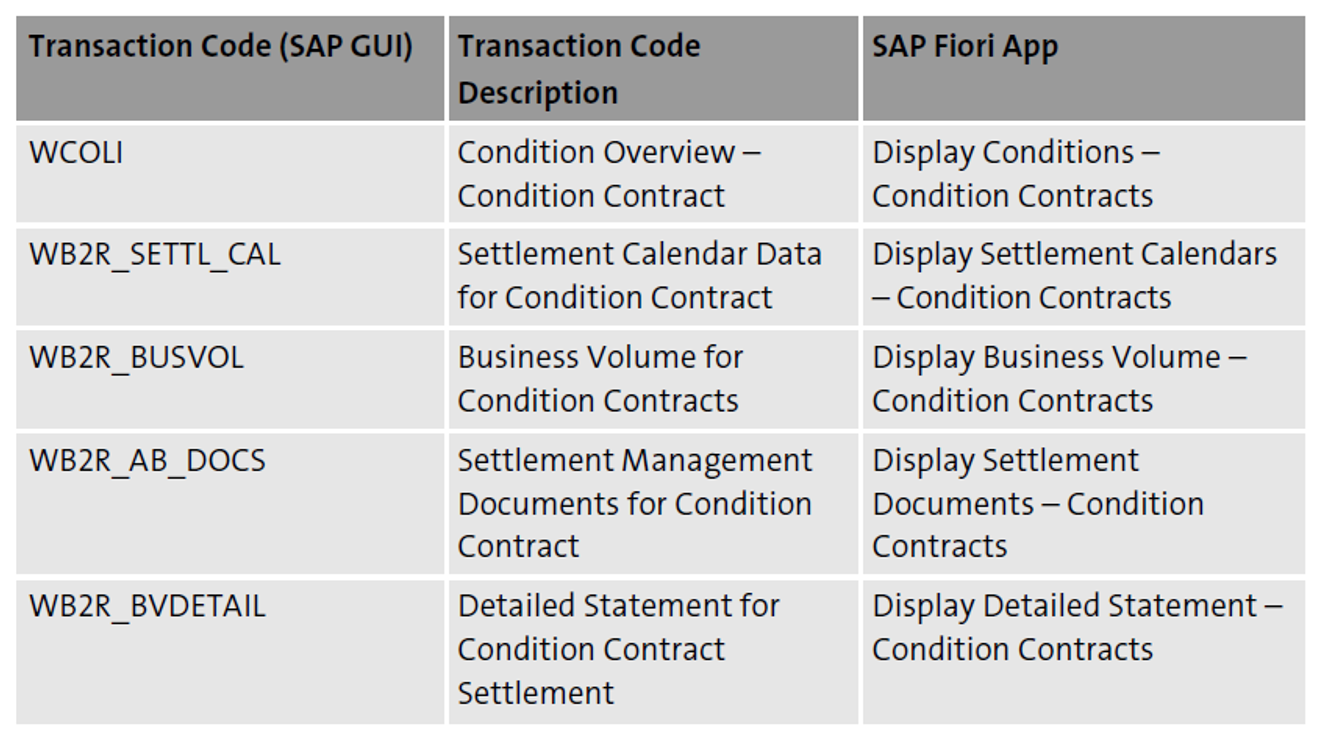 Editor's note: This post has been adapted from a section of the book SAP S/4HANA Sales Certification Guide: Application Associate Exam by Darío Franco and Jon Simmonds.