A lot of things are changing as we progress through the current pandemic.
While the world is learning to cope with the new normal of doing business, few enterprises found themselves ahead of the curve. In fact, many were not ready to adapt quickly or were overwhelmed by what they needed to do during these testing times. These companies have two challenges to overcome: they not only have to catch up to meet the business needs of a pandemic, but also have to continue normal innovation to better meet their goals.
On the flip side, however, are numerous companies that were able to pivot when the pandemic hit. How did these enterprises do it so well while others lagged behind?
You all know how important data is in regard to deriving insights, delivering results, or predicting outcomes! When utilizing data to make decisions, algorithms complete the puzzle to help solve any business problem or situation. These algorithms have become part and parcel of everything we do on a daily basis—whether shopping online, driving to a grocery store, managing your weekend calendar, or planning for the next big event.
But it isn't just private life that algorithms affect. Businesses, too, can use them to help cut bottom-line costs and increase top line sales—very important goals to work towards during these times.
SAP in particular has evolved a lot in the last 35–40 years in terms of building business processes that helps enterprises perform better. Its journey in the last 20 years has been focused on digital transformation and building intelligent technologies into its existing business solutions. SAP's journey building intelligent applications started way before the inception of its current business suite, SAP S/4HANA, and it is now getting even better by embedding intelligent technologies into SAP S/4HANA business processes. This includes the relentless effort of SAP moving towards a cloud-based product model, making huge strides leveraging the in-memory computing with SAP HANA technology.
Building Intelligence into SAP S/4HANA
SAP has demonstrated deep-rooted expertise across 25 industries and more than 10 lines of businesses, with more than 450,000 customers globally. While SAP S/4HANA helps customers and partners in their journeys, the beauty of implementation lies with the modular approach of starting anywhere and getting to the end state. You can start with the most relevant areas needed for each customer and show an immediate return on investment.
While there are different ways of building intelligence into SAP S/4HANA, let's look into some of the key aspects of how intelligent technology is incorporated into SAP S/4HANA. The following figure gives you an example of how various approaches are laid across to help the ecosystem benefit from intelligent business processes such as predictive analytics and machine learning.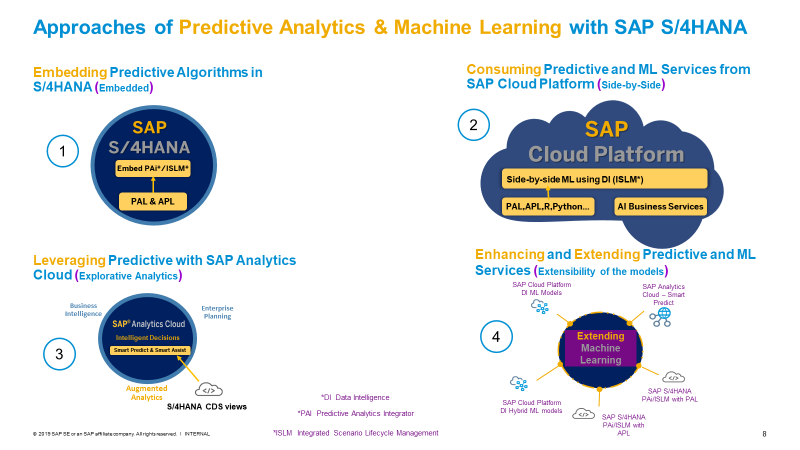 Embedding Machine Learning in SAP S/4HANA
While there are different ways of doing predictive analytics and machine learning within SAP S/4HANA, one of the core approaches is to embed machine learning techniques into the business processes themselves. In this approach, SAP HANA machine learning libraries such as Predictive Analysis Library (PAL) and Automated Predictive Library (APL) are used to build predictive models that are then embedded into SAP S/4HANA.
A framework was built to help embed and manage the lifecycles of machine learning models into SAP S/4HANA. The first version of the framework is called the Predictive Analytics Integrator (PAi). The second version is called the Integrated Scenario Lifecycle Management (ISLM), which is an updated version used for dealing with implementing machine learning into SAP S/4HANA. Typical operational users or transactional users such as a warehouse clerk, procurement specialist, or project consultant who accesses the SAP Fiori launchpad can quickly create and run these embedded machine learning scenarios.
Consuming Machine Learning Services from SAP Cloud Platform
While the regular scenarios and requirements are handled by building machine learning into SAP S/4HANA, there are complex requirements which would deal with large amounts of data and need the help of deep learning algorithms. This is where machine learning models can be built in a side-by-side mode, where the data and the algorithms stay on the SAP Cloud Platform. The machine learning services that are built using SAP Data Intelligence on SAP Cloud Platform are consumed by the SAP S/4HANA business processes.
In this approach, you could build hybrid models that leverage algorithms from different libraries such as SAP HANA, TensorFlow, Scikit learn, Python, and R programming. The ISLM framework is leveraged to manage these machine learning models and helps integrate with SAP S/4HANA business processes. An expert transactional user, seasoned SAP consultant, or data scientist with functional knowledge can typically implement and run these scenarios by doing minimum configuration between SAP S/4HANA and SAP Cloud Platform as needed.
Leveraging Explorative Predictive Analytics from SAP Analytics Cloud
There are situations where you don't need to embed machine learning into a business process but would still want to visualize predictions based on a few scenarios. This is where the approach of using explorative predictive analytics comes into play. In this approach, you could pick up whitelisted core data service (CDS) views and build custom CDS views in SAP S/4HANA. These custom CDS views could then be connected to SAP Analytics Cloud, and predictive models could be built with a live connection to SAP S/4HANA or by acquiring dataset views from SAP S/4HANA and loading it into SAP Analytics Cloud.
The ISLM framework again helps in utilizing the PAL or APL algorithms to build the predictive models and in visualizing the results on SAP Analytics Cloud dashboards using the Smart Predict functionality. This approach is predominantly used by business users who don't need to worry about the underlying algorithms, but rather need to create quick simulations of predictions or dashboards by working with local or acquired datasets.
The Road Ahead
While this gave you a helpful starting point in the journey of implementing machine learning on your SAP S/4HANA system, my book Implementing Machine Learning with SAP S/4HANA will be of further help by serving as a go-to guide in the complete machine learning implementation process. The book discusses the concepts of machine learning in the context of SAP's business processes and how it is implemented. There are detailed chapters that will help you understand the architecture, with both technical and business implementation information for all available use cases across the different lines of business and industries SAP serves.
Happy reading, implementing, and predicting the future!