The SAP Data Intelligence launchpad is a browser-based application that provides a single point of access to different applications covering the end-to-end portfolio of services.
The applications you can access include the Modeler, Connection Management, System Management, and more.
Users can personalize the SAP Data Intelligence launchpad through a persona-driven menu based on which SAP Data Intelligence as a tool displays different applications/options for different profiles. These profiles are linked to logon credentials, which are typically defined on user roles or personas, such as data engineer, data scientist, business analyst, IT user, data steward, and so on.
In the next section, we'll go through this personalization in detail, before moving on to take a high-level look at the available applications.
Persona-Based Application
Before we dive deeply into the different personas, how to customize applications, and how applications appear on the launchpad, it's critical to understand what the lifecycle for a data scientist looks like. The figure below shows the various stages and activities carried out in a data science project.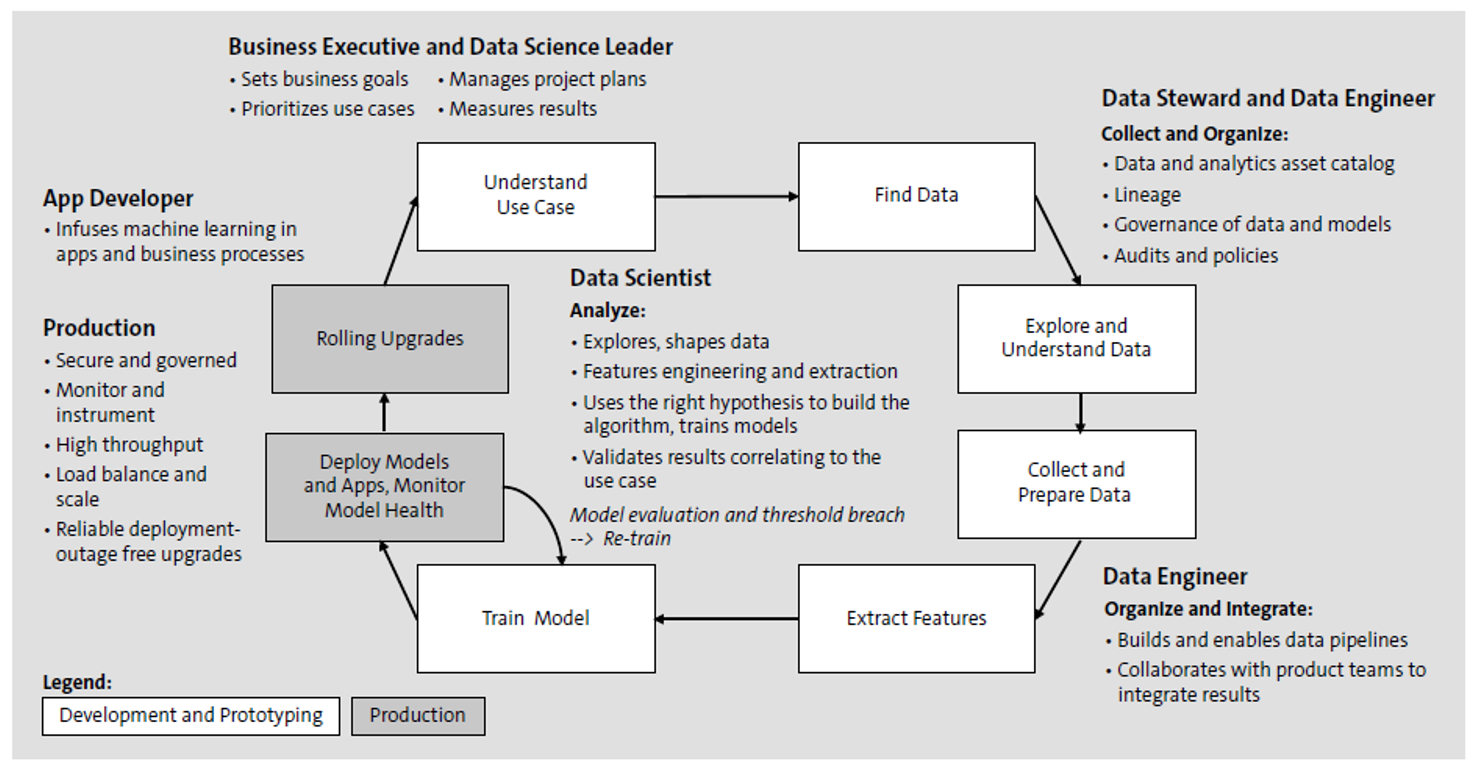 These stages include the initial requirements gathering process and the documentation of the use case, data identification and exploratory data analysis to better understand the type of data for model training, and deriving useful inferences once you've identified the required features and inputs of the final inference design. This ongoing process is not a one-time activity, and thus, reusable components for the different stages is important.
Based on these roles, let's look at how SAP Data Intelligence can help each type of user carry out their daily activities.
To support these use cases by persona, the SAP Data Intelligence launchpad enables you to personalize applications. Based on how these options are configured and the role assigned, a user can perform different actions within the homepage, as shown in this figure. The tool provides the following personalization options.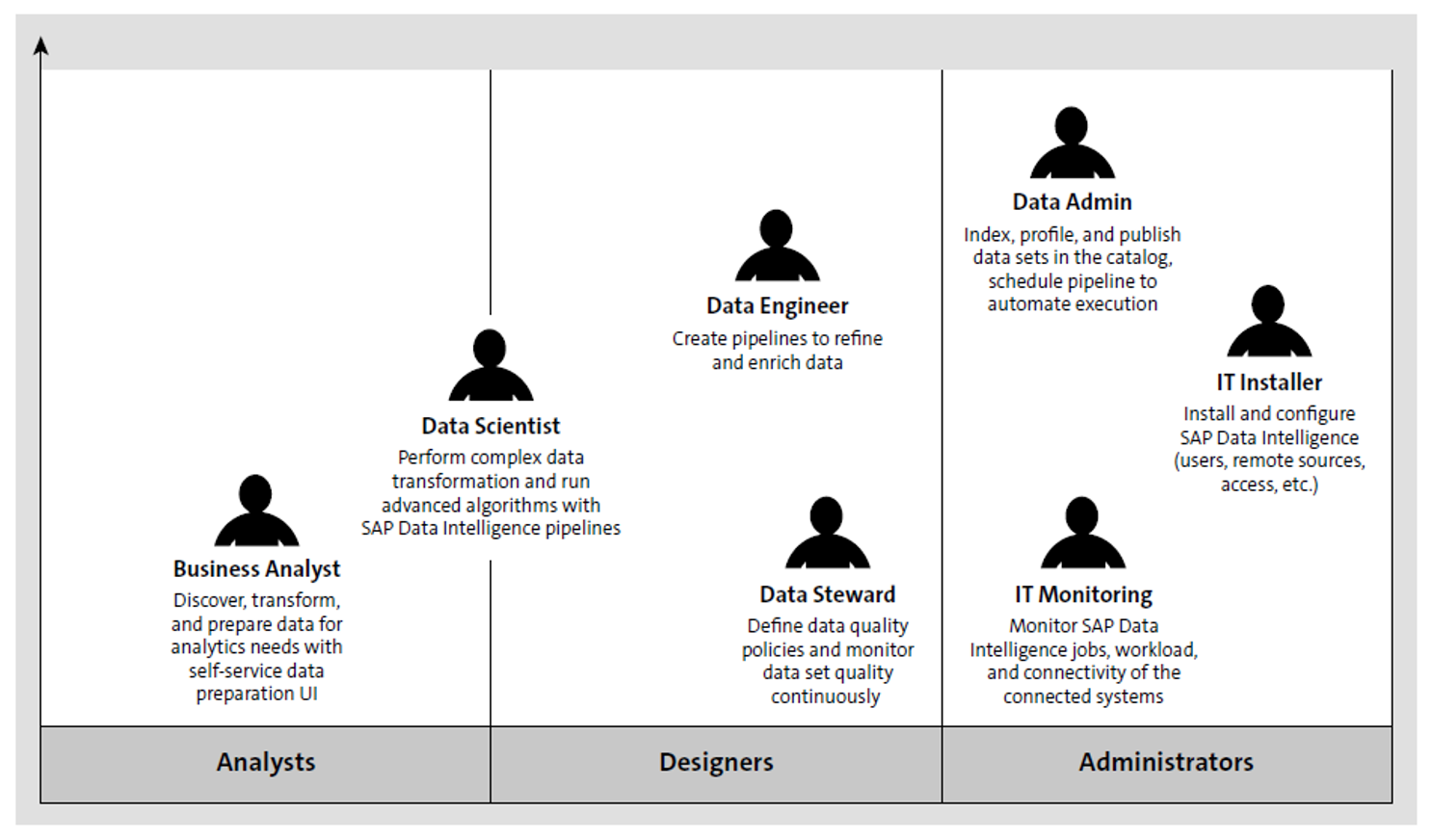 Option to Launch an Application
To launch an application within the launchpad, click the required application tile or select the application via the SAP Data Intelligence launchpad dropdown list in the header of the homepage.
Option to Group
You can create groups and move applications to and from these groups, so that the users don't get overwhelmed with applications not relevant for them.
Option for Quick Links
The SAP Data Intelligence launchpad allows you to create groups of links to tools that help you manage and work in SAP Data Intelligence.
Option to Reorder Applications
You can reorder applications within a group based on your requirements. To reorder applications, drag and drop the application to a desired position within the group or, through edit mode, drag and drop the application to a desired position within the group.
Option to Move Applications
You can move applications across groups to categorize applications to meet your requirements.
Overview of Applications
SAP Data Intelligence applications are a combination of tools and applications made available through the SAP Data Intelligence launchpad, personalized by persona to provide unique experiences to users while supporting the end-to-end data lifecycle.
Through the SAP Data Intelligence launchpad, you can access the following applications:
Connection Management
Allows different SAP and non-SAP system-based connections to be established for data extraction and consumption as necessary, as shown here.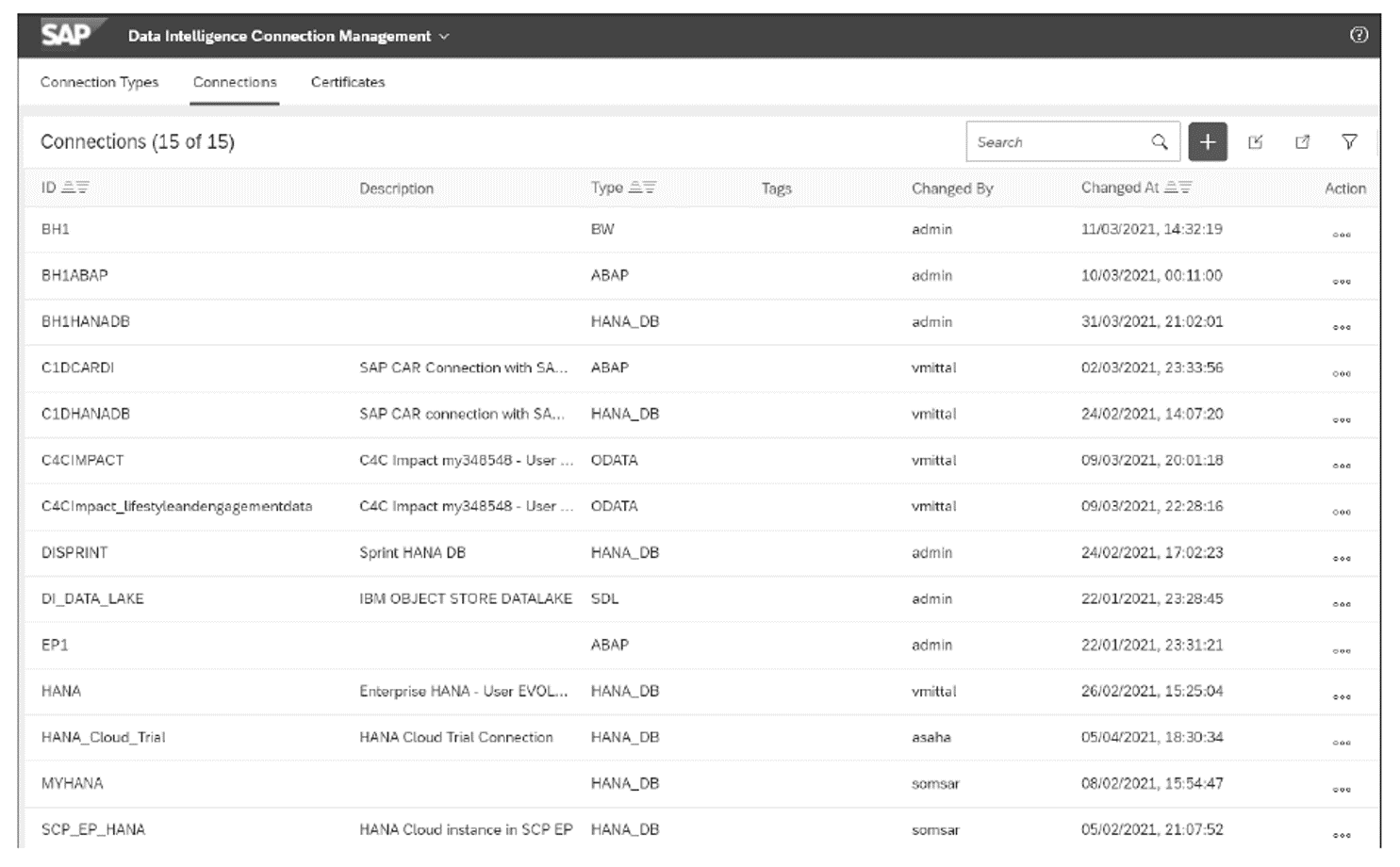 SAP Vora Tools
SAP Data Intelligence database tools for accessing SAP Vora-based applications underneath.
Diagnostics Kibana/Diagnostics Grafana
SAP Data Intelligence diagnostics for troubleshooting based on the logs and traces.
Metadata Explorer
Supports a self-service-based approach for data consumption by enabling the users to select, discover, profile, and enhance data as needed while also enabling data to be published in catalogs, as shown in this figure.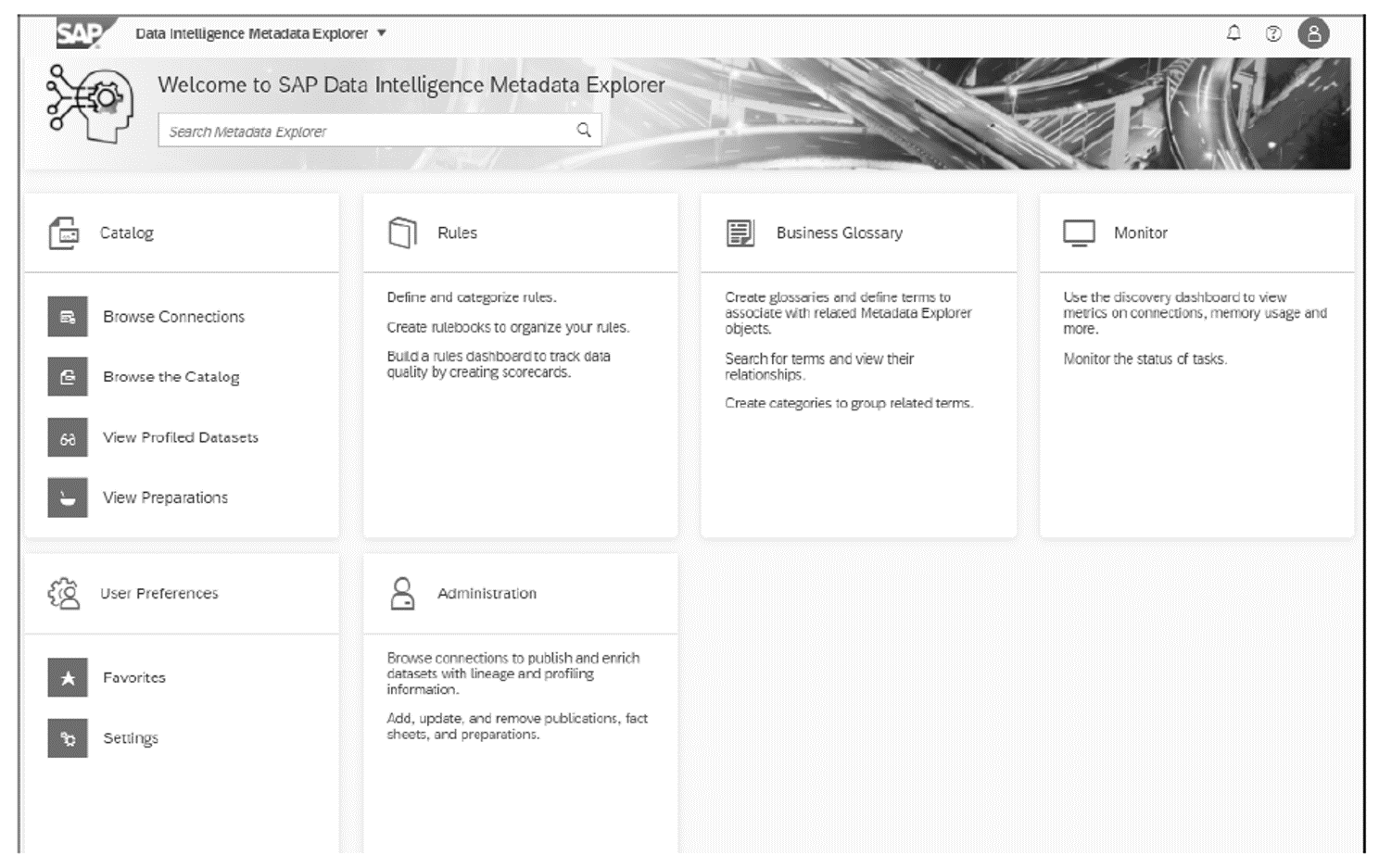 Modeler
Used for creating data pipelines through 250+ available operators to help you apply business rules to transform your data, as shown here.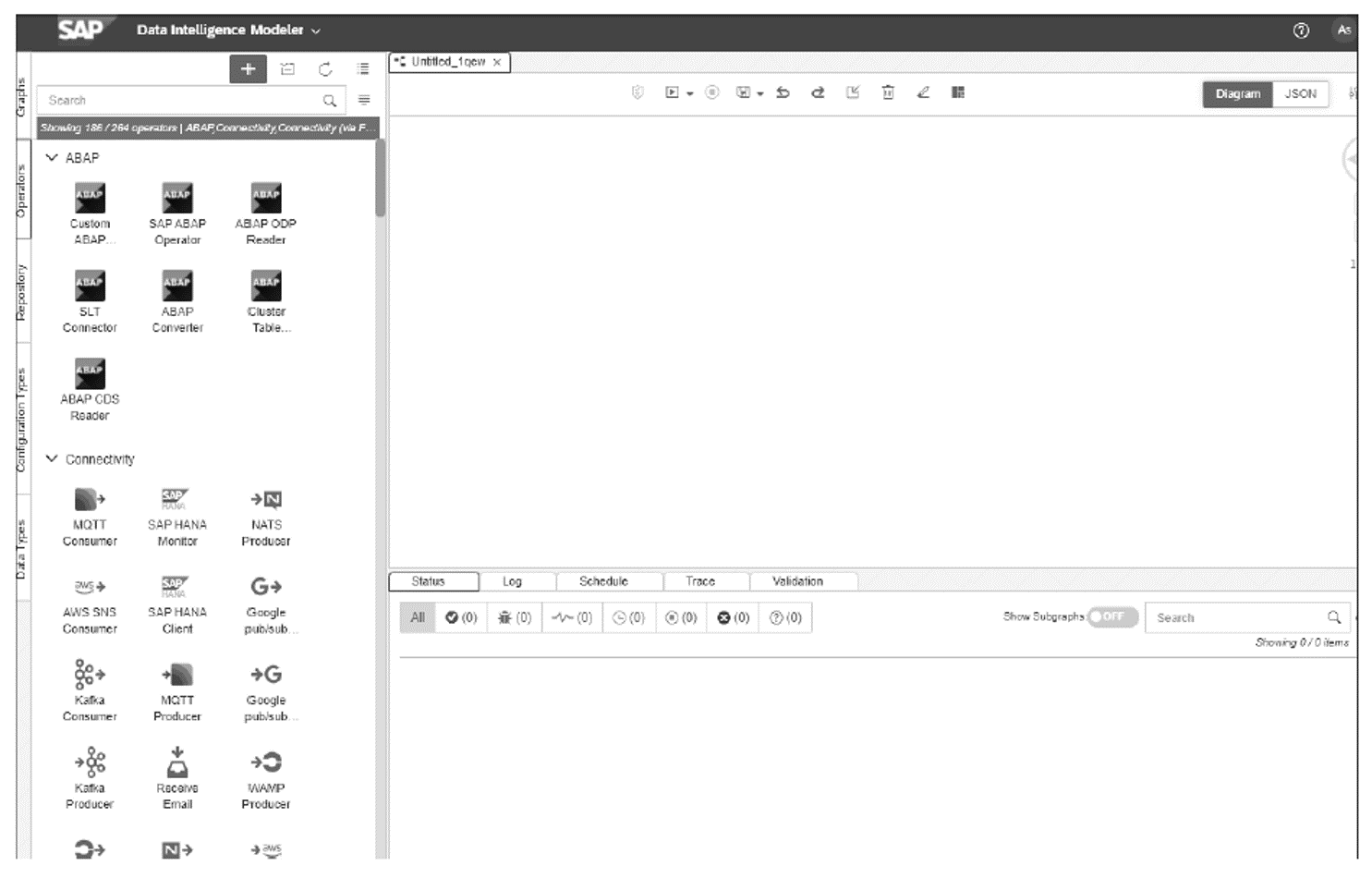 Monitoring
Supports the orchestration and monitoring of your pipelines, as shown below.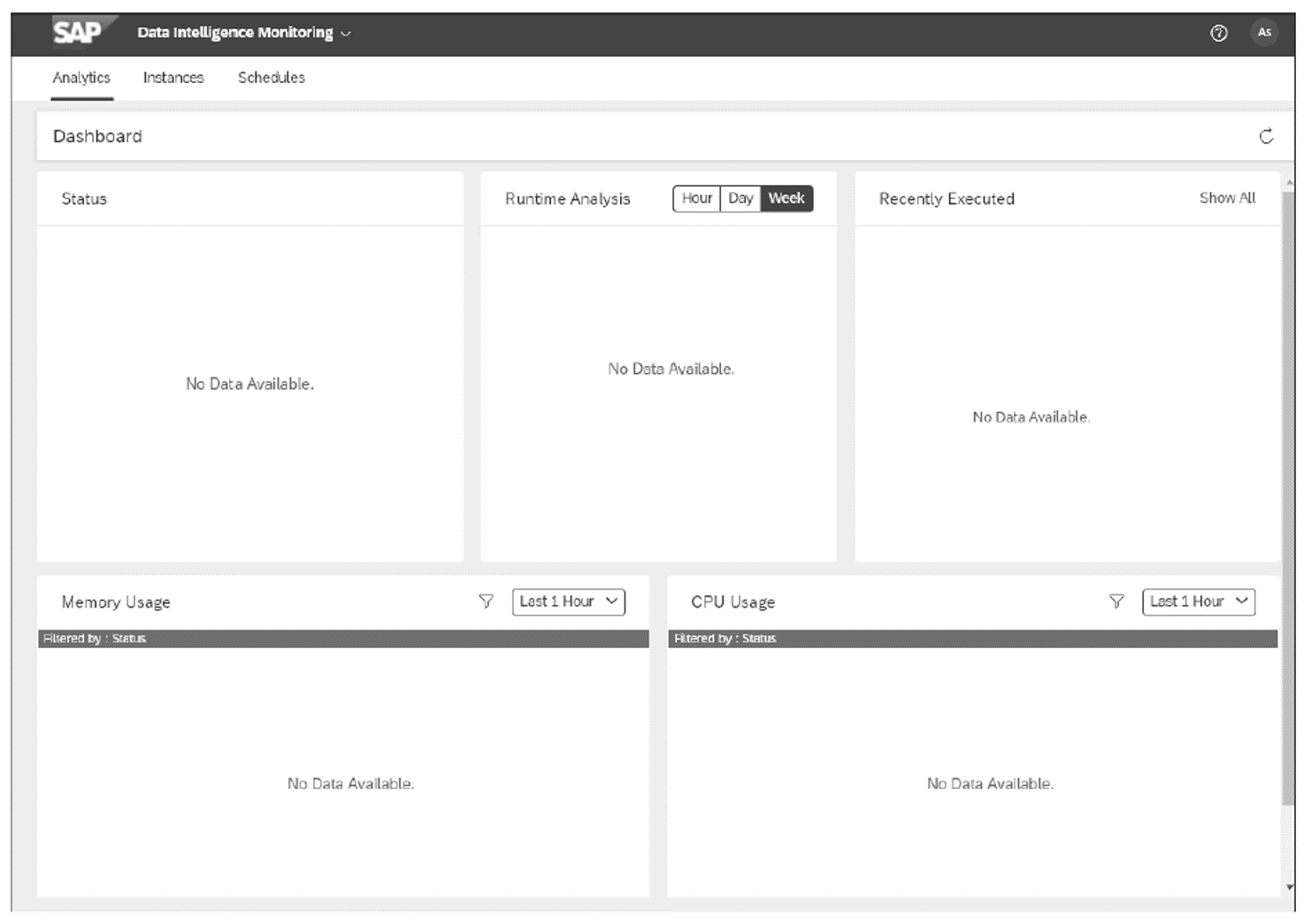 System Management
Used for the maintenance of the overall SAP Data Intelligence implementation, as shown in the final figure.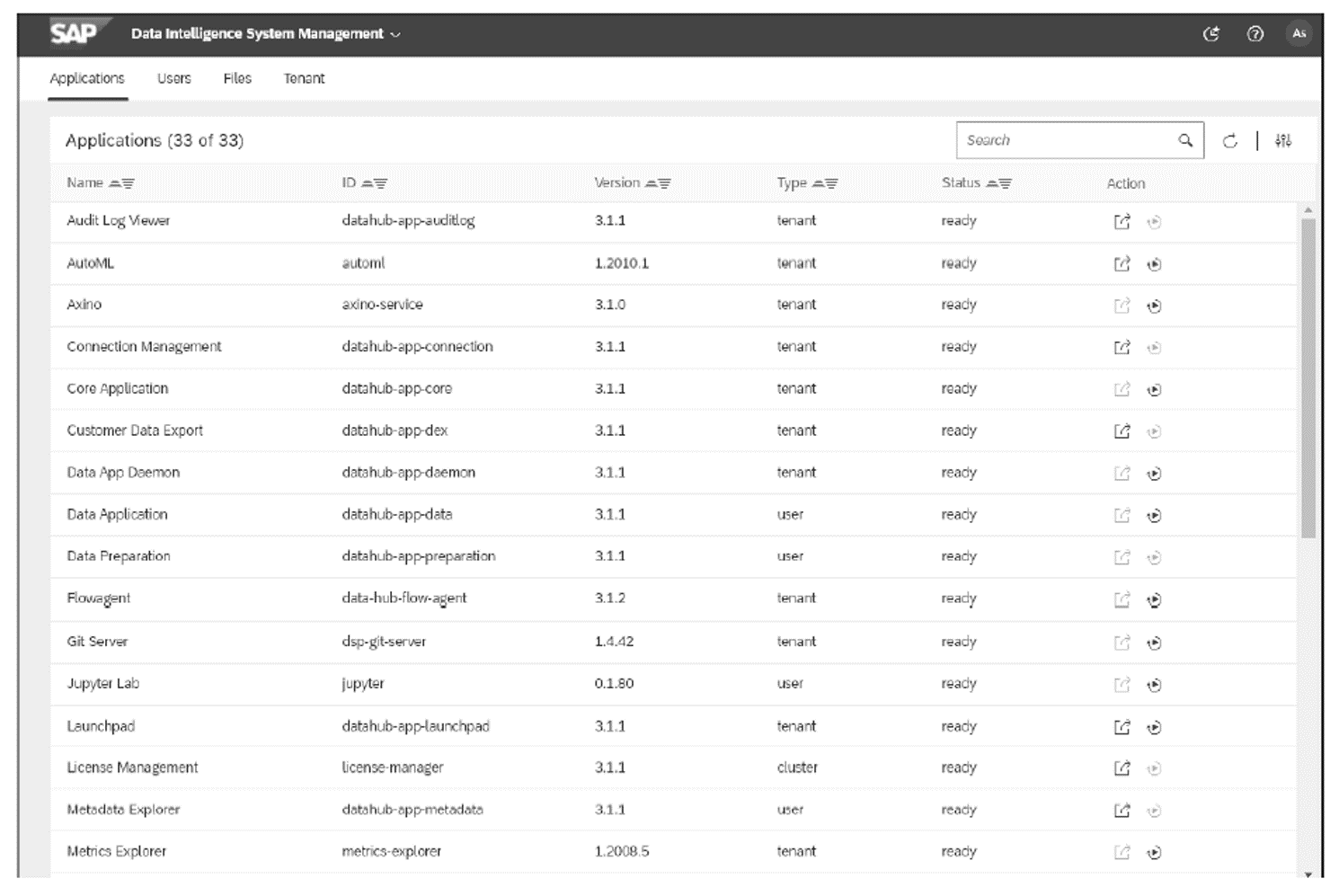 Editor's note: This post has been adapted from a section of the book SAP Data Intelligence: The Comprehensive Guide by Dharma Teja Atluri, Devraj Bardhan, Santanu Ghosh, Snehasish Ghosh, and Arindom Saha.