To get an overview of finance operations in accounts payable and accounts receivable in SAP S/4HANA Finance, let's start with these two SAP Fiori apps.
Accounts Payable Overview

Accounts Receivable Overview
These apps provide analytical overview pages and show different cards that can be used to get quick insights into finance operations, including payable and receivable reporting in the form of dashboards. Every card in this app provides data insights into important key performance indicators (KPIs) associated with the payables and receivables.
The figure below shows a list of different cards available in the Accounts Payable Overview app. We've saved a Payable Reporting Dashboard view to display the results in currency EUR for three company codes, but you can save as many different views as needed for quick insights for different combinations of company codes, currency, and other input parameters as needed to support different reporting views.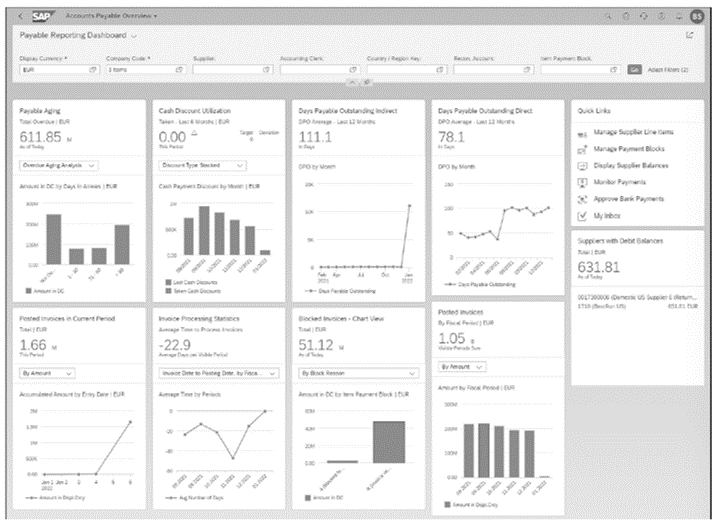 By using this app, you can get insights into the aspects discussed in this section without even going anywhere. This is possible with embedded analytics, which has been enabled by VDMs running in the form of CDS views on top of payables and receivables data in SAP S/4HANA.
Let's take a quick look at the Cash Discount Utilization card (see above) that displays the utilization ratio of cash discounts by taking into consideration discounts taken and lost discounts. You can also see the comparison between the current utilization ratio and target utilization ratio in this card to get quick insights. In addition, insights into month-on-month comparisons are also available here. You can click on any KPI area on this card to navigate to the Cash Discount Utilization app.
Let's take a deeper look into what is possible by using this analytical app. As shown in the figure below, cash discount utilization by company code is shown in the example.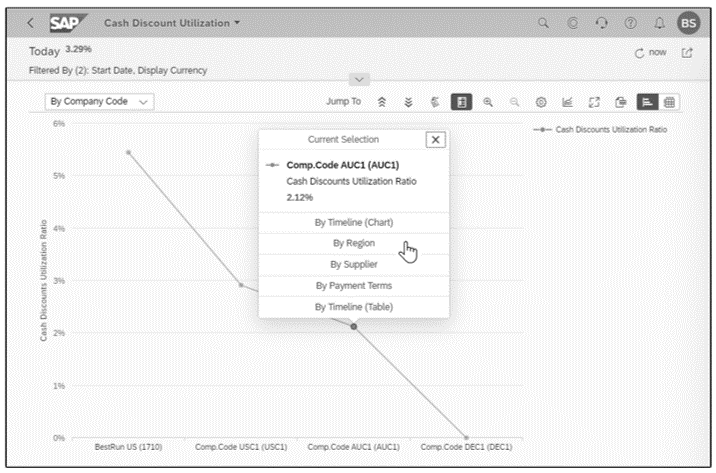 By keeping the company code selection blank, you can monitor cash discount utilization for all the company codes in real time. At any point in time, if you want to analyze the cash discounts utilization ratio by region or by timeline, you can analyze the results either by using the dropdown and selecting a specific view on the top-left corner or by clicking the dot on the line chart (see below). In addition, you can also analyze cash discount utilization by many other business dimensions such as supplier and payment terms.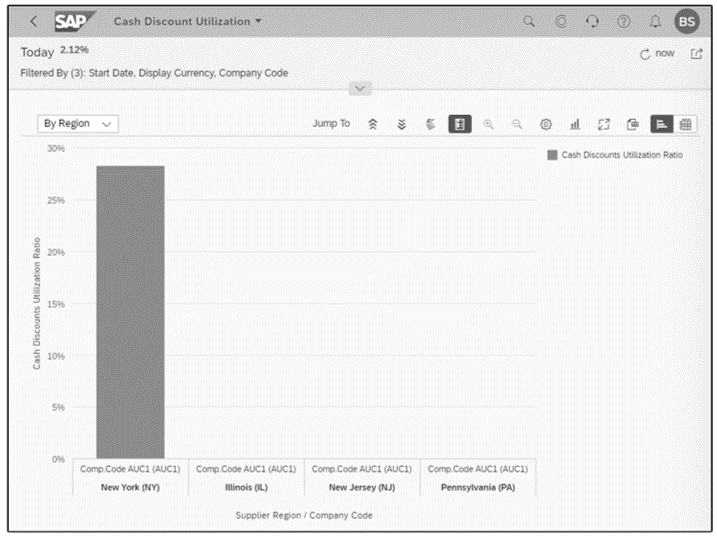 3
The following factors are considered when calculating the cash discount utilization ratio:
Start Date

entered on the screen as the input parameter until today is the time frame used

Sum of all the cash discounts taken from the invoices in this time frame

Sum of all the cash discounts offered for the invoices in this time frame

Utilization ratio calculated by dividing the cash discounts taken by the cash discounts offered
In addition, by using the Settings icon, you can include measures such as Taken Cash Discounts, Lost Cash Discounts, and Offered Discounts, along with Cash Discounts Utilization Ratio and get better cash discount utilization insights by region (see next figure). This way, you can quickly find out which company codes are doing better by region and which needs to take proactive measures to improve the cash discounts and increase the overall liquidity of your company.
As shown in the next figure, the cash discounts benefit has been taken by the supplier region New York, but other regions haven't used any such benefits. You can explore additional valuable insights from this analytical app by adding or removing additional parameters and filter conditions using different icons that are available on the screen.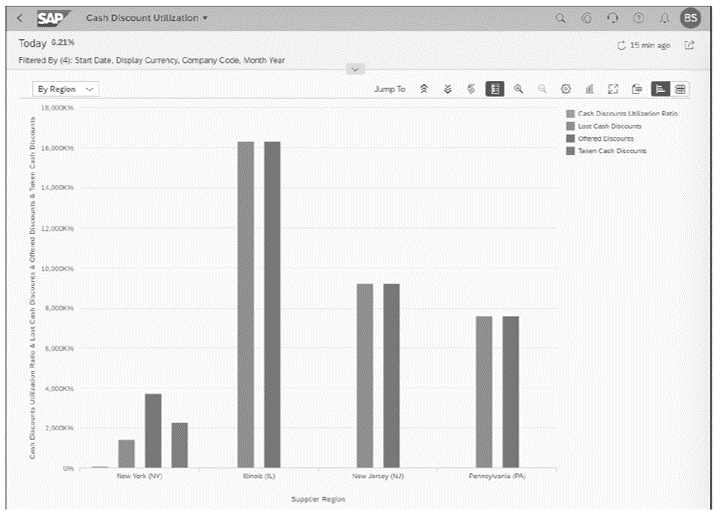 Different KPI-based cards that can be noticed in the Accounts Payable Overview app are as follows:
Payable Aging

Cash Discount Utilization

Days Payable Outstanding Indirect

Days Payable Outstanding Direct

Posted Invoices in Current Period

Invoice Processing Statistics

Blocked Invoices - Chart View

Posted Invoices

Suppliers with Debit Balances
Let's take a quick look at the different cards that are available on the Accounts Receivable Overview app. You can save a view such as Receivables Reporting Dashboard (see the final figure) to get receivable insights in a specified currency for as many company codes over a 30-60-90 net due days interval. With this analytical overview page, you can get insights into future receivables, overdue receivables, total receivables by top customers, DSO, and much more. With different input parameters and filters, you can limit the data behind the KPIs to the information most relevant for your reporting.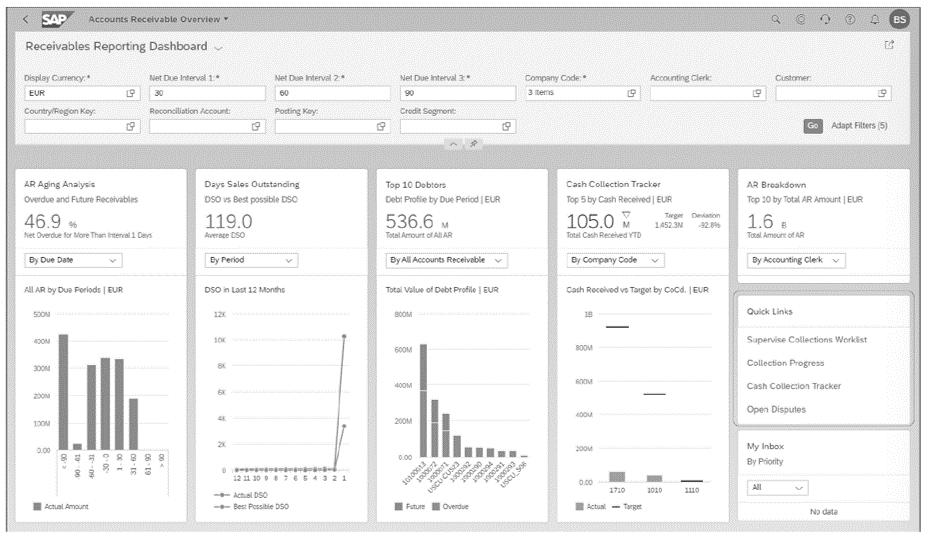 Different KPI-based cards in the Accounts Receivable Overview app are as follows:
AR Aging Analysis

Days Sales Outstanding

Top 10 Debtors

Cash Collection Tracker

AR Breakdown
Editor's note: This post has been adapted from a section of the book Reporting with SAP S/4HANA: Business User Guide by Brijesh Singh.