Group reporting is an integral part of SAP S/4HANA Finance, and similar to other financial modules, it needs to be set up as Customizing in the SAP Implementation Guide (IMG).
The figure below shows the group reporting Customizing menu in the overall IMG structure. The SAP S/4HANA for Group Reporting node consists of various subsections for configurations and master data for consolidations. Transaction CXE9N is used frequently to provide direct access and a cleaner view of group reporting-specific Customizing tasks without actually navigating the entire IMG menu.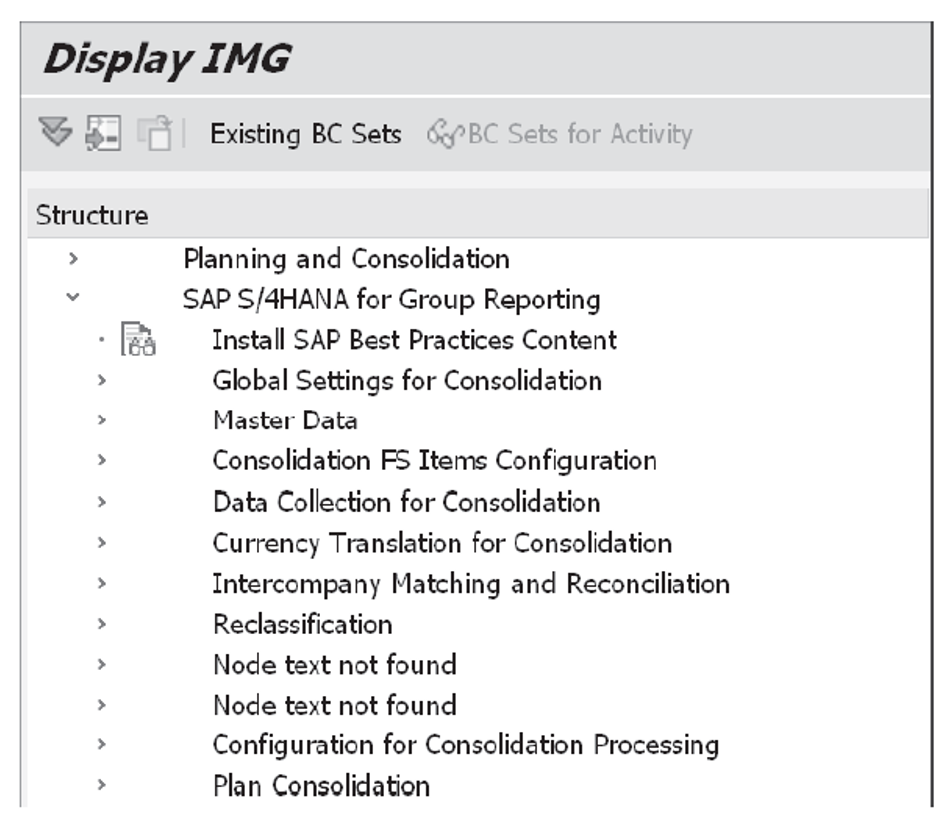 For the initial setup, going to SAP S/4HANA for Group Reporting > Global Settings for Consolidation > Initialize Settings generates standard settings that are mandatory for group reporting configuration when customers don't want to use the standard SAP Best Practices content delivered by SAP. As shown in the next figure, consolidation can be executed in two modes: select Test Run to simulate the execution in test mode, or deselect it to fill the tables with initial settings.

With new group reporting, even for setting up the initial configuration, global parameters have to be set. To do this, execute Transaction CXGP, or go to the SAP Fiori Set Global Parameters app. You can also navigate to SAP S/4HANA for Group Reporting > Global Settings for Consolidation > Check Global System Settings in the IMG. After you arrive, you can validate or update the following options:
Global Parameters
Parameters apply to all further steps of the consolidation process, setting the context or scope and have to be set as shown below.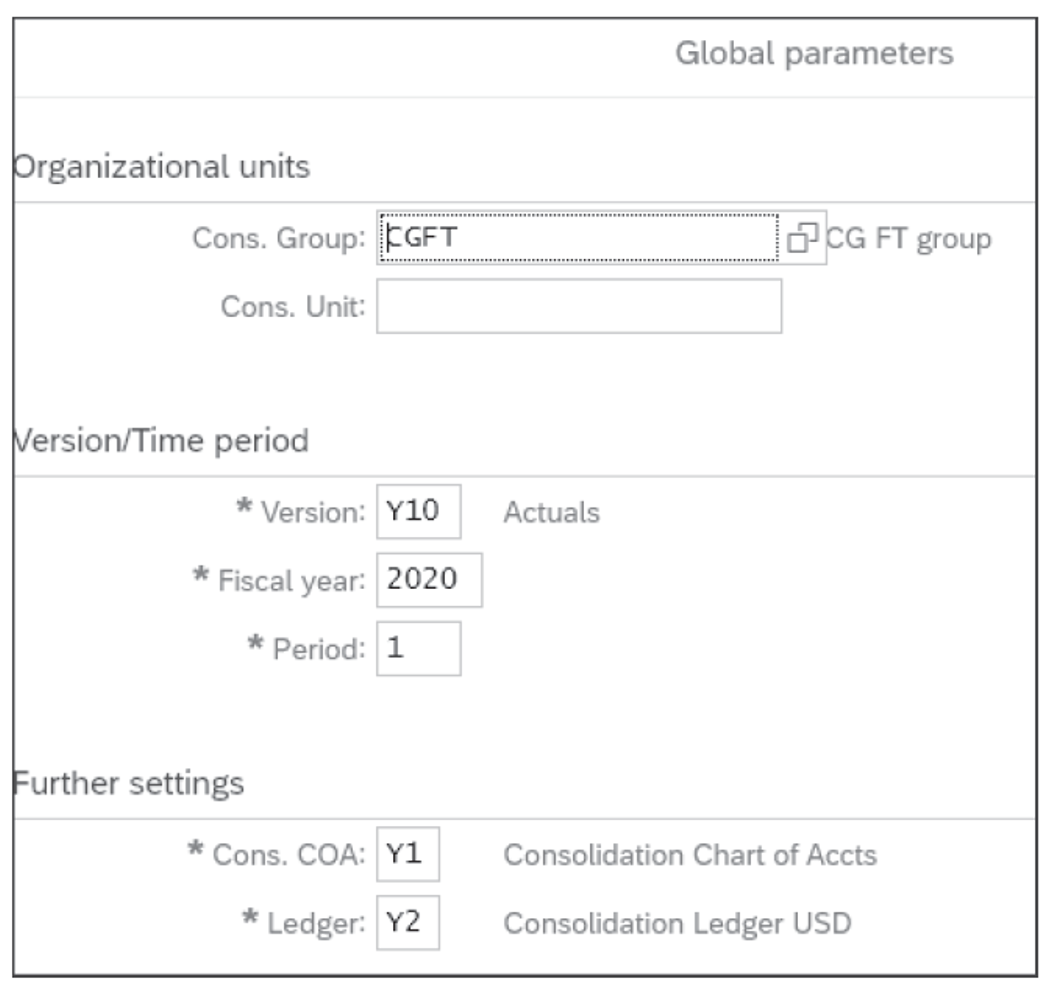 Cons Group/Cons Unit
Optional fields to set the consolidation group and unit.
Version
Sets of financial data undergoing consolidations such as actuals or budget.
Fiscal year/Period
Time period identifying the consolidation period.
Ledger
Used for storing alternate group currencies required for consolidations. Based on consolidation ledger reporting, the currencies might be the same or different from accounting ledgers at the source.
Cons. COA
Group reporting chart of accounts and superordinate characteristics of FS item in group reporting. As part of standard business content, SAP provides Y10 as the chart of accounts.
From Year for LIs in SAP S/4HANA
Sets the fiscal year starting when the group reporting table ACDOCU updates the data. It's an initial setting and can't be updated once saved.
From Year for New Group Report Logic
Provides a starting year for the new group reporting logic to be effective. The logic contains various delivered functions that support consolidations.
Reclassification: Selection Object in Trigger
If selected, allows the use of selection objects supporting complex combinations. If not selected, the trigger and/or percentage setting is specified in individual methods.
Validation in SAP S/4HANA Consolidation
Uses group reporting validation functions. If not selected, the system uses the conventional (Enterprise Controlling – Consolidation System [EC-CS]) validations.
Breakdown Category (Selection Object in Maximum Selection)
Provides the flexibility of using selection objects for complex criteria based on breakdown categories.
Currency Translation (Selection Object in Method)
Allows the use of a selection object for complex selection. If not selected, the source data region becomes specific to the method.
FS Role Attribute
Used during the configuration of automatic postings of items such as net income or deferred taxes.
Editor's note: This post has been adapted from a section of the book Group Reporting with SAP S/4HANA by Eric Ryan, Thiagu Bala, Satyendra Raghav, and Azharuddin Mohammed.