In this blog post, we'll discuss the potential SAP S/4HANA integration points of the source-to-pay business process. We'll touch on data assignments, transactions, and SAP Ariba.
Integration via Cross-Module Data Assignments
Data assignments can link other processes to procurement, such as in the following examples:
Vendors are master data in procurement. In the financial accounting vendor business partner role, you must assign a reconciliation account to the vendor. Through this reconciliation account, vendors are linked to the general ledger.
Bills of materials (BOMs) are master data in production, and they can include nonstock items linked to procurement.
Material types are assigned to the valuation classes. The valuation class is entered in the material master record and determines general ledger accounts updated during the receipt of materials.
Integration via Transactions
Integration between procurement and other business processes occurs during some transactions of purchasing at the following touchpoints.
Management Accounting (Controlling)
In a purchase requisition or a purchase order, the user must specify the account assignment for consumed items. The account assignment connects the purchase requisition line item to a cost center. Recall that a cost center is master data in controlling. A goods receipt posting transfers the cost of consumable items to cost centers.
An internal order is master data in controlling. If commitment management is active for an internal order type, commitments are created on purchase requisitions when defining that internal order as the account assignment object. Converting the purchase requisition to a purchase order transfers the commitments to purchase order. A goods receipt posting reduces the commitments on a purchase order and transfers the actual costs to the internal order.
Financial Accounting
General ledger accounts are master data in financial accounting. Depending on the item category and account assignment on the purchase order, a goods receipt posting (and invoice posting) will update several general ledger accounts, such as the GR/IR account, the general ledger expense account, and the inventory account. Invoice posting also updates the vendor accounts, which are part of accounts payable.
Inventory Management
Goods receipt is part of inventory management and is posted against the purchase order. When you post a goods receipt, quantities and values are updated in inventory management.
Warehouse Management
If warehouse management is active, a warehouse transfer request will be created when you post the goods receipt for a warehouse-managed item.
Quality Management
If quality management is active and quality management data is maintained in the material master record, quality management integration occurs during the goods receipt posting.
MRP, Production, SD, Plant Maintenance, Asset Accounting, and Project System
You can manually create purchase requisitions, and purchase orders, by using account assignments to cost objects such as a production order, project, maintenance order, sales order, or asset. Conversely, other system components can generate purchase requisitions automatically. For instance, the release of the operations in production/maintenance orders and of network activities in projects can generate purchase requisitions automatically when they are assigned a nonstock material. External processing activities in a project can also trigger an automatic purchase requisition. During the goods receipt posting, relevant cost objects are posted for actual costs.
This figure shows the touchpoints of integration in procurement.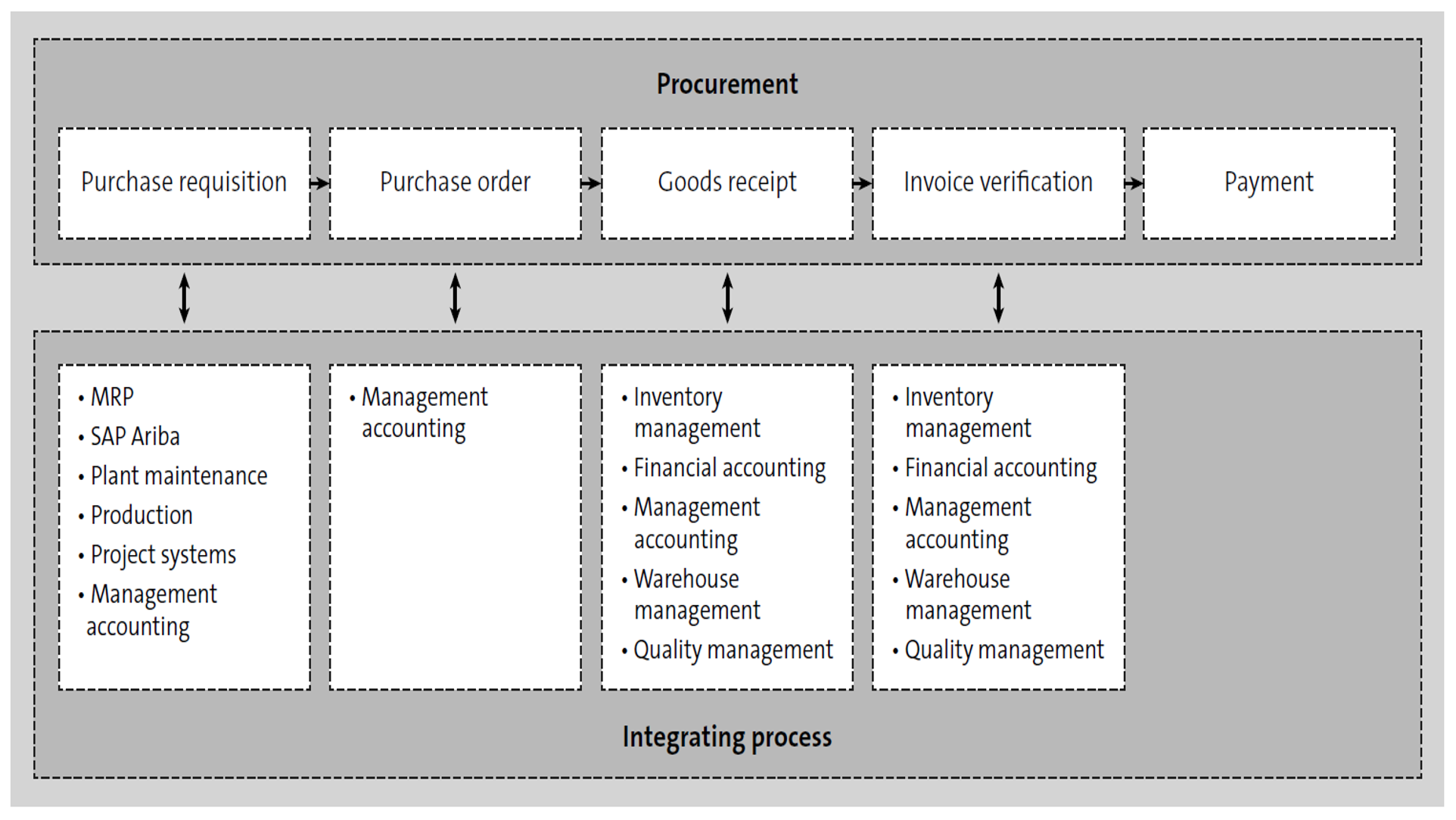 SAP Ariba Integration
SAP S/4HANA supports the operational transactions of procurement such as materials management, purchase order, and operational contract. Strategic collaboration is supported by cloud LoB solutions such as SAP Ariba, SAP Concur, and SAP Fieldglass. SAP Ariba is not a single product; it consists of several solutions including Ariba Network, SAP Ariba Sourcing, and SAP Ariba Procurement. Ariba Network is a cloud-based platform that connects purchasers with suppliers. By integrating SAP Ariba with SAP S/4HANA, companies can manage their procurement processes within SAP S/4HANA and benefit from procurement content and collaboration capabilities that Ariba Network provides.
SAP Ariba and SAP S/4HANA integration include the following capabilities:
Document acceptance automation for purchase orders and invoices
Identifying and avoiding potential errors in purchasing documents
Conversion services for paper-based documents
In a typical integration scenario, the process works in the following way:
Contract terms and pricing are determined in the SAP Ariba Catalog.
Authorized buying users use the SAP Ariba Catalog to search for purchasing items and to create purchase orders in SAP S/4HANA, which are sent to the suppliers on Ariba Network for processing.
On Ariba Network, vendors confirm orders, let their customers know items have shipped, and send purchase order invoices for payment.

Users receive invoices in SAP S/4HANA and prepare the system for payment.
Editor's note: This post has been adapted from a section of the book SAP S/4HANA Business Process Integration Certification Guide: Application Associate Exam by Murat Adivar.