Period-end closing in SAP S/4HANA Finance has gone through a number of changes compared to the ERP equivalent.
Things like the Universal Journal provide a single source of truth: journal entries across multiple applications are posted in a single table, reducing data redundancy and the system footprint.
This provides real-time access to data across all dimensions, easier extensibility of custom fields, and process optimization for an accelerated close. SAP S/4HANA Finance not only helps eliminate some of the closing tasks, such as SAP ERP Financials and Controlling reconciliation, but also accelerates some of the month-end tasks (e.g., providing a faster depreciation run because depreciation is now calculated in real time on individual assets during any asset transaction rather than during the period-end depreciation run).
So let's analyze the major changes SAP S/4HANA Finance has made in the architecture design, the business process transactions, and the configuration of the period-end closing process.
Architectural Impact
The architectural impacts that SAP S/4HANA Finance has on period-end closing include the following:
CO-relevant postings not only check the CO period close but also check the G/L open and close periods. At month end, you must assign the posting to the secondary costs account type in the G/L period close.
In the CO period lock, you must specify which transaction you need to lock for specific periods.
No separate balance carryforward is needed in new Asset Accounting (FI-AA). The general balance carryforward of FI also transfers the new Asset Accounting balance by default.
Current planned depreciation values are calculated automatically for the new year after performing the balance carryforward.
Period-end closing tasks for deriving market segment information have been eliminated, resulting in (a) no more settlement of sales order items and (b) no cost center allocations to profitability.
The bottlenecks for intercompany reconciliation are removed because it can be run anytime with immediate results.
The SAP Financial Closing cockpit integrates with SAP Fiori and facilitates users running/ scheduling tasks from the apps.
Overall, the architecture of SAP S/4HANA Finance allows for a significant performance improvement and acceleration of processes that will reduce the month-end processing time to create a soft close.
Functionality Impact
The tables below lists the transactions that have been replaced or have become obsolete in period-end closing with SAP S/4HANA Finance.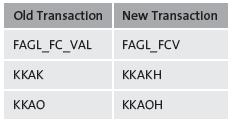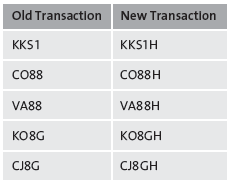 In addition, some functionality has been removed entirely, including the SAP Financial Closing Cockpit activity to roll up values (Rollup), as shown in the following figure.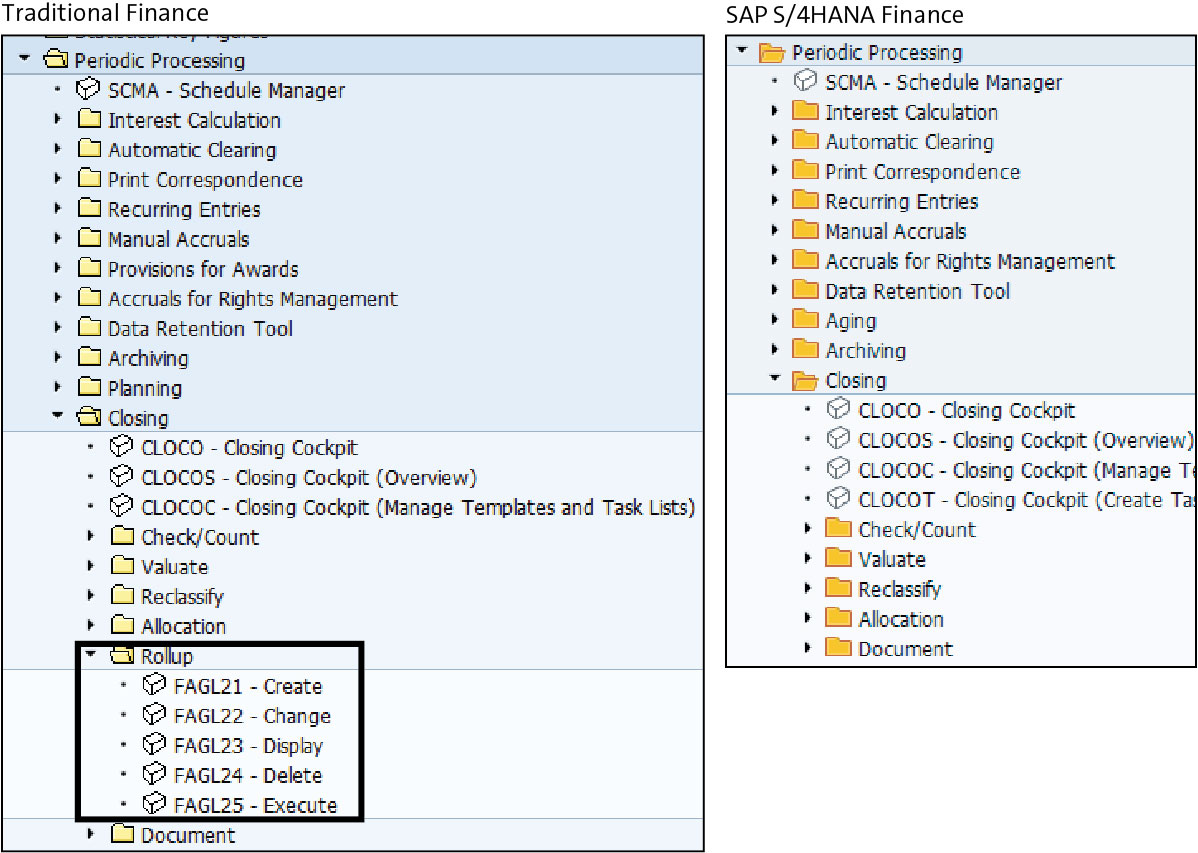 The Profit and Loss Adjustment activity and the Balance Sheet Adjustment activity transaction codes also are no longer available, as shown in the next figure. Prior to SAP S/4HANA Finance, there were three options under Reclassify: F.19—GR/IR Clearing, F.50—Profit and Loss Adjustment, and Balance Sheet Adjustment. Now, F.19—GR/IR Clearing is the only option that remains in SAP S/4HANA Finance.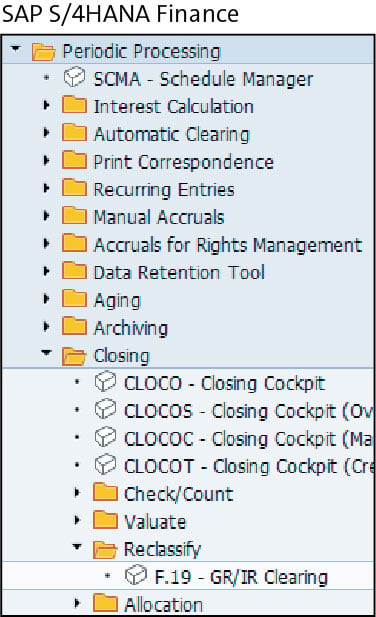 SAP S/4HANA Finance introduced one relevant new table in this area (table ACDOCA) and removed two obsolete tables (FAGLFLEXT and FAGLFLEXA), along with the index tables.
FI and CO are closed simultaneously with the implementation of SAP S/4HANA Finance. You can use the new SAP Financial Closing cockpit, which is available via Transaction FCLOCOC and Transaction FCLOCO.
SAP S/4HANA Finance provides better insight during the period, leverages the soft-closing process, and accelerates the month-end financial close by providing the following advantages:
Real-time profitability is provided by instant derivation of market segment information from various CO-PA characteristics. All these fields are now part of the Universal Journal line item. Complex derivation rules for getting this data are no longer required.
Real-time and correct asset acquisition values are provided without the wait for the periodic posting run during the closing process.
More than 35 new predefined SAP HANA Live views have also been added in SAP S/4HANA Finance. These views can help generate finance reports from multiple reporting tools, such as SAP BusinessObjects, SAP Lumira, SAP Fiori, and so on, which facilitate the month-end closing process.
With the release of SAP S/4HANA 1709, SAP relaunched the new SAP Financial Closing cockpit with the end goal of achieving faster close, complying with all governance issues, and providing transparency for all activities and tasks. It will now be part of the core SAP S/4HANA solution rather than an add-on feature.
The SAP Financial Closing cockpit enables automated tasks along with a user-friendly dashboard reflecting all the manual activities assigned to a particular user. It provides all notifications to users via workflows so that any lags can be avoided while maintaining the entire audit trail and documentation of all the tasks performed. It also provides the real-time status of the closing tasks and both the corporation and its subsidiaries can analyze the pending tasks with an action-oriented approach.
Security Impact
With SAP S/4HANA Finance, SAP delivered new end-user roles that can be used as templates for creating company-specific roles in the following areas:
General Ledger (G/L)

SAP_SFIN_ACC_ACTUALPOSTING
SAP_SFIN_ACC_CLOSING
SAP_SFIN_ACC_MASTERDATA
SAP_SFIN_ACC_REPORTING

Accounts Payable/Accounts Receivable (AP/AR)
Cost center planning
Controlling (CO)

SAP_SFIN_ACC_ACTUAL_COSTINGS
SAP_SFIN_ACC_ACTUAL_POSTINGS
SAP_SFIN_ACC_BUDGETING
SAP_SFIN_ACC_CLOSING
SAP_SFIN_ACC_EXTERNALREPORTING
SAP_SFIN_ACC_MASTERDATA
SAP_SFIN_ACC_PLANNING
SAP_SFIN_ACC_PRODUCT_COST
SAP_SFIN_ACC_REPORTING
SAP_SFIN_COST_CENTER_MD
SAP_SFIN_PROFT_CENTER_MD
Conclusion
You should now understand the essential changes to the period-end closing process, from the elimination of the need to reconcile FI and CO, to the numerous reports and SAP HANA views available to you. The ultimate result should be a smoother and quicker period-end process, with fewer pain points to overcome.
Also check out this blog you want to learn how to apply overhead rates to period-end close.
Editor's note: This post has been adapted from a section of the book Implementing SAP S/4HANA Finance: System Conversion Guide by Anup Maheshwari.