SAP S/4HANA brings about many innovations, including multiple upgrades to sales functionality over SAP ERP Sales and Distribution.
Most of today's pain points in this area relate to the lack of real-time analytics and visibility across the entire order fulfillment process. In this blog post, you'll learn how innovations such as the sales order fulfillment cockpit can help internal sales order representatives significantly in performing more efficient and effective work.
Other areas of innovations are related to the condition contract settlement, which will enable enterprises to be more flexible due to the more rule-based and flexible architecture of the solutions.
Data Model Simplification
In SAP S/4HANA, various existing status tables have been eliminated, and all fields under these tables have been moved to the corresponding header and item tables for sales documents, deliveries, and billing documents. The document flow table has been simplified as well. Redundant document and rebate index tables have also been eliminated.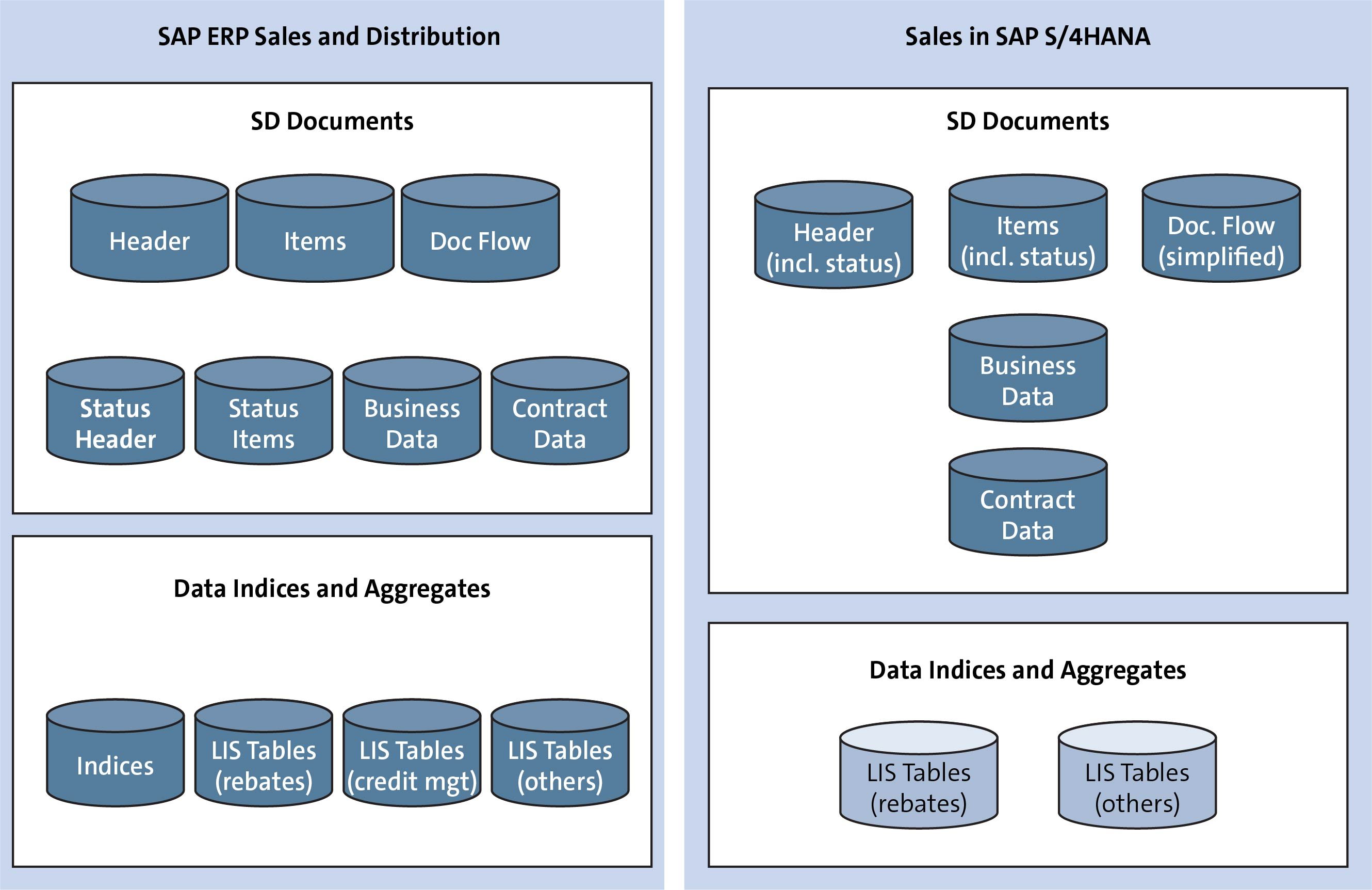 With the changes in the data model, SAP S/4HANA offers the following key benefits:
Lower total cost of ownership (TCO) due to data model simplification
Reduced memory footprint (e.g., simplified document flow, elimination of index tables, fewer aggregates)
Increased performance of SAP HANA queries and code pushdown (one SELECT statement instead of two SELECT statements; easier join for header/items, including status and business data)
Increased robustness of rebate processing (no redundancies due to aggregates)
Faster business outcomes with reduced operational cost
Increased competitiveness with integrated, fast, and flexible business processes
Higher employee productivity with focus on value-added tasks
Sales Order Fulfillment and Monitoring
SAP S/4HANA Sales enables the user to monitor, manage, and collaborate on sales orders due for shipping and invoicing, allowing customers and company agreements to be fulfilled easily, on time, and accurately. By using the SAP S/4HANA sales order fulfillment cockpit facilitated by the SAP Fiori frontend user experience (UX), the sales representative can filter sales orders with issues and gain insight into the process execution. They can visualize issues over the entire end-to-end sales process in a single dashboard.
Additionally, new innovations have been added to improve the overall sales order fulfillment analytics, enabling users to monitor order-to-delivery performance in a better way. In this section, we'll discuss the sales order fulfillment cockpit functionality and the additional key analytics for sales order monitoring.
Sales Order Fulfillment Cockpit
The sales order fulfillment cockpit in SAP S/4HANA Sales offers the following business benefits:
Enables visibility into order fulfillment
Provides internal sales representatives the ability to focus on critical issues/exceptional cases
Combines analytical insights with operational actions to allow internal sales representatives to run actions directly and track the progress at any point in time
Improves collaboration with internal and external contacts to resolve issues
With the sales order fulfillment cockpit, companies can reduce their order-to-cash cycle time, increase their service level, and reduce outstanding payments. In the traditional SAP ERP system, the internal sales rep must check multiple reports for a holistic view of all related processes. Multiple issues in one order can't be detected easily in one step, creating a higher risk of undetected exceptions. Problem-related communication and decisions can't be tracked in the system, and reports need to be run multiple times.
In the sales order fulfillment cockpit, the user can immediately view all the sales order fulfillment issues on one screen categorized by sales order issues, delivery issues, supply chain issues, or billing issues. The SAP Fiori UX enables the user to drill down into each type of issue and immediately make corrections through the sales order fulfillment cockpit.
The figure below shows the sales order fulfillment cockpit with the number of issues for each category and the sales documents details visible.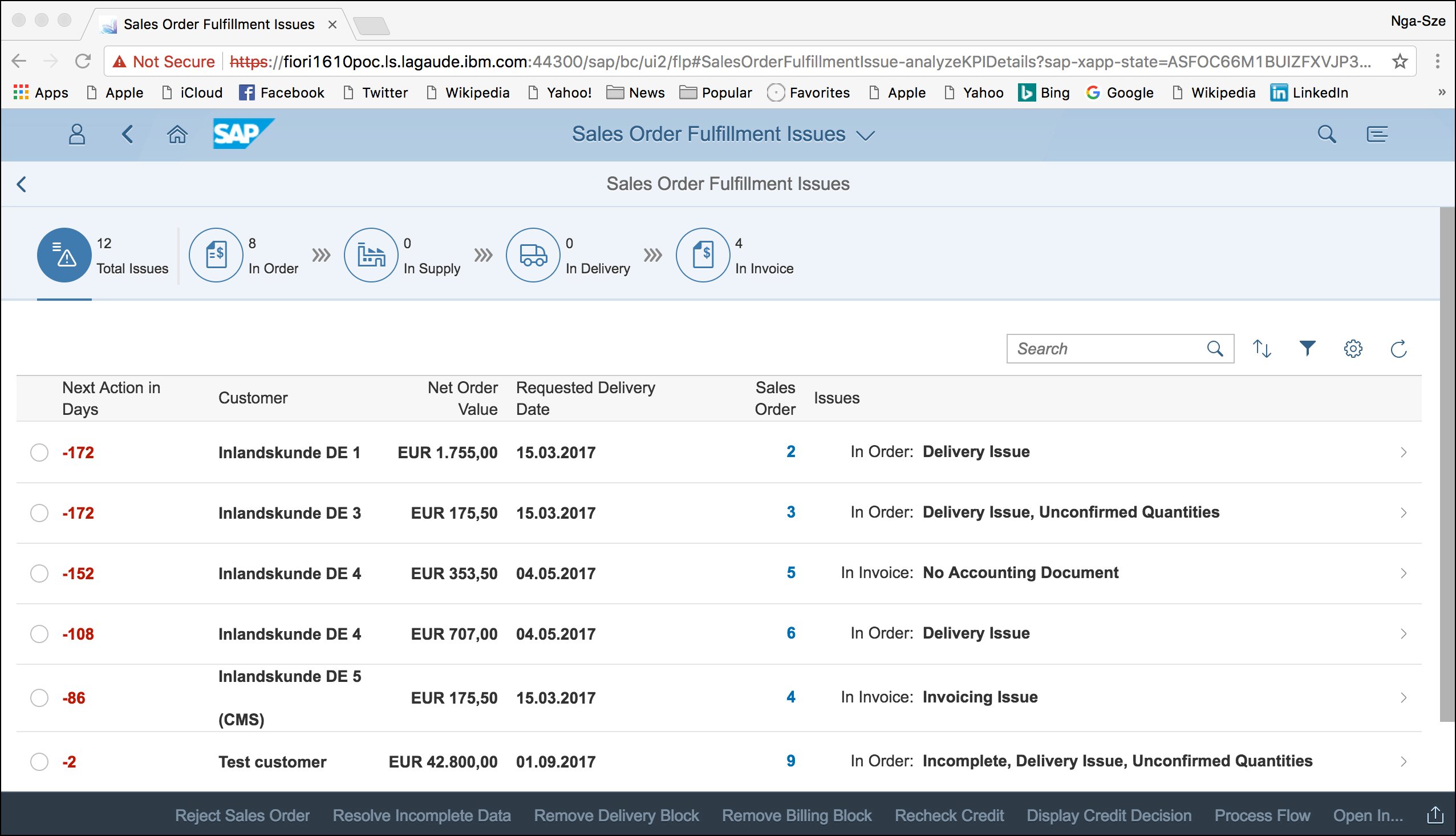 Sales Order Monitoring
With the 1809 release, SAP provided some key new features in the area of sales monitoring and analytics:
The first SAP CoPilot functionalities have been applied to use natural language either by voice or text to track and display sales orders, for example, "Show me all sales orders from client xx."
Natural language can be used to create a subsequent sales order from a quotation.
Predictive analytics and machine learning capabilities can do the following:
Determine the quotation conversion probability and gain reliable insight into order probability and expected sales volume based on insights.
Monitor and analyze delivery performance to check customer fulfillment based on the customer requested delivery date.
Sales Orders, Billing, and Returns Management
In addition to the improved sales analytics and monitoring, some new enhancements and innovations have been added in the area of sales orders, billing, and returns management:
New functionality has been added to the Track Sales Order app to enable users to do the following:
Execute mass transactions directly from the sales order list generated through the app.
Navigate from the "search result" list to the sales order details, where sales order fulfillment is graphically displayed.
View orders with issues and directly go to the sales order fulfillment cockpit to resolve the issues.
Reject sales orders and sales order items from the detailed view for the relevant sales order.
Workflow approval capabilities for credit memo requests are provided, allowing users to display and manage the approval workflow for credit memo requests with the Inbox Approval app.
Enhancements have been made to the Manage Sales Orders and Manage Sales Orders without Charge apps with new capabilities to perform mass changes at the header level.
A new SAP Fiori app is available for managing incomplete sales orders with price differences with the customer expected price, including blocking and releasing these incomplete sales orders.
Enhancements have been made to the Manage Customer Returns app, providing support to the users to do the following:
Return third-party products to the suppliers.
Conduct inspections at customer sites and have materials remain at the customer site.
New features have been added for advanced returns management, enabling the following:
Processing of service materials, bills of materials (BOMs), and full products in the returns order and material inspection.
Entry of additional inspection fields in the return order and material inspection.
Support of legal requirements related to the refund of services related to a physical product when products and services have been sold together.
Enhancements and new features for billing and invoicing include the following:
Upload functionality of billing document requests via Microsoft Excel for omnichannel convergent billing using the Manage Billing Document Request app.
Easier scheduling of recurring billing document creation and billing jobs release through the use of rule-based data selection.
Enabling users to set relative rules that specify the period for billing.
Enabling users to specify variable date rules, for example, to bill all the billing due list documents with a billing date before the first of the month on the fifth of the same month.
Enhancements to the Manage Billing Document app with new functionality to perform billing document split analysis or compare two billing documents and view what has caused the document split.
The My Sales Order Overview app provides users with information such as sales order data and performance figures to highlight the areas where actions are needed using actionable cards in a dashboard format.
Condition Contract Settlement
In SAP S/4HANA Sales, SD rebates are replaced by the condition contract settlement process, followed by the settlement management process. This means that all existing rebate agreements can only be processed up until the end of the validity date and then closed by a final agreement.
Customers with SAP CRM trade promotion management (TPM) who want to integrate their existing TPM scenarios with SAP S/4HANA will have to use SD rebate processing, which has been optimized for the database footprint. Consider the following key differences between condition contract settlement and the SD rebate agreement functionality:
With condition contract settlement, SAP provides a central solution for customer and vendor conditions. In the traditional solution, all customer rebate–relevant billing documents are stored in table VBOX. For changes that needed to be applied retrospectively, this table will need to be updated through a separate transaction (Transaction VBOF), and all billing documents in this table would be locked at the same time. The other issue is the size of the table; this table could contain millions of entries required for rebate calculation.
In condition contract settlement, there is no longer any table VBOF equivalent. Rebate settlement-related information doesn't need to be stored in a table; instead, rebate conditions will be applied instantly. In addition, condition contract settlement enables the user to use multiple data sources for rebate settlements. Traditionally, this can only be done based on the billing documents.
Below shows the traditional SD rebate agreement versus the condition contract settlement.
The key benefits of condition contract settlement are as follows:
A flexible and state-of-the-art solution for settlement scenarios in which users can determine business volume sources based on flexible and definable criteria that can be configured in Customizing
Designed for high performance (with SAP HANA)
Enables new and innovative rebate scenarios to be set up thanks to its open architecture
Foreign Trade
In SAP S/4HANA, SAP Global Trade Services (SAP GTS) replaces SD foreign trade/customs. The foreign trade/customs functionality won't be available any longer in SAP S/4HANA; SAP GTS is the successor of this requirement. SAP GTS (previously provided as an external service installed as an additional instance) can be natively integrated with SAP S/4HANA.
Letter of credit, legal control, export control, and preference management in foreign trade/customs aren't available any longer in the material master; instead, the SAP GTS-based functionalities are used. SAP GTS offers additional functionalities for import management and export management. For intrastat reporting, a customer can leverage the functionality within SAP S/4HANA.
Prior to conversion, careful analysis of all currently used foreign trade processes is needed. If the customer uses a third-party foreign trade system, it's possible that an adjustment will be needed from the respective third-party foreign trade system; alternatively, SAP GTS can be connected to SAP S/4HANA to run the respective foreign trade processes.
Credit Management and Revenue Accounting
SAP Credit Management (FIN-FSCM-CR) replaces SD credit management in SAP S/4HANA. SAP provides tools to migrate to SAP Credit Management, which contains several elements:
Configuration data
Master data
Credit exposure data
Credit decision data
On the revenue accounting side, SAP Revenue Accounting and Reporting replaces SD revenue recognition. SD revenue recognition isn't available in SAP S/4HANA. Instead, SAP S/4HANA functionality should be used that supports the new revenue accounting standard according to International Financial Reporting Standard 15 (IFRS 15) and adopted by local generally accepted accounting principles (GAAPs).
Conclusion
Similar to SAP S/4HANA Finance and the logistics capabilities of SAP S/4HANA, SAP S/4HANA Sales provides a plethora of functionality improvements over SAP ERP capabilities. In this blog post, you were exposed to some of the most important changes to know. With these in mind, what do you think will be the most helpful to you as you transition to a new SAP S/4HANA system?
Editor's note: This post has been adapted from a section of the book SAP S/4HANA: An Introduction by Devraj Bardhan, Axel Baumgartl, Nga-Sze Choi, Mark Dudgeon, Asidhara Lahiri, Bert Meijerink, and Andrew Worsley-Tonks.