If you're making the switch—or are thinking about making the switch—to SAP BW/4HANA, you may be wondering how modeling will work in regards to classic SAP Business Warehouse objects.
This is a valid question—and by looking at the modeling objects available in both solutions, you can find an answer.
For greenfield projects, this comparison may not be relevant, but for brownfield projects it can assist in determining objects to convert and those that need to be retired and replaced.
SAP BW/4HANA Modeling Objects
The main objects supporting data modeling in SAP BW/4HANA are InfoObjects, Open ODS views, Advanced DSOs, and CompositeProviders. The main purpose of each element is master data storage, virtualization, data persistency, and logical layer, respectively.
The following table lists each object and its main modeling purpose in SAP BW/4HANA.
SAP BW Modeling Objects
SAP BW applications have similar modeling requirements, achieved via classical objects such as InfoCubes, DSOs, InfoSets, MultiProviders, Virtual Cubes, Hybrid Providers, and Persistent Storage Areas (PSAs).
The following table lists the modeling objects available in SAP BW applications and their main modeling purposes.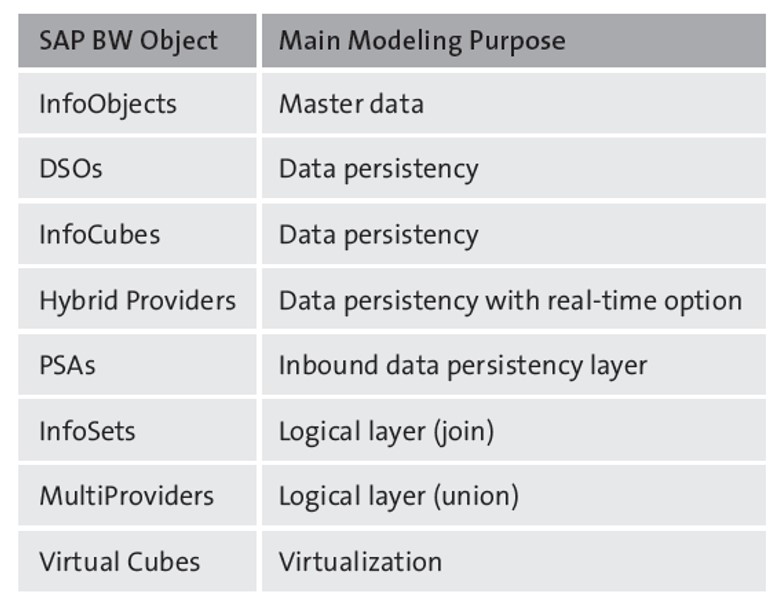 The larger number of modeling objects within SAP BW was a result of many years of development based on relational database technology concurrent with the evolution of the data warehouse concept itself.
How SAP BW/4HANA is Different
SAP BW/4HANA, on the other hand, represents a fresh start. In terms of modeling, this translates into major simplification by means of a reduced number of objects required to cover key aspects of data warehousing: master data, data persistency, logical layer, and virtual integration.
A simple way of demonstrating the simplification represented by SAP BW/4HANA is to align the modeling objects from SAP BW with the SAP BW/4HANA objects based on their modeling purposes (see below).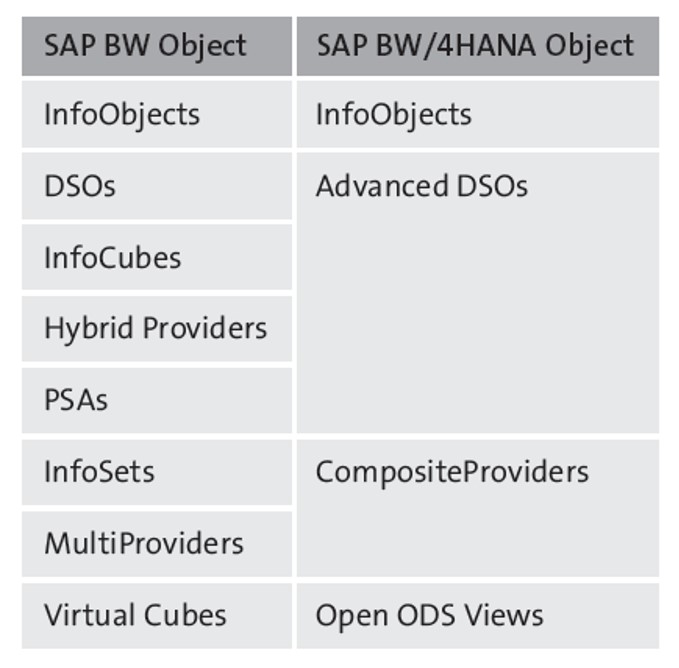 Conclusion
SAP BW/4HANA modeling objects were designed to pack together features that belonged to different SAP BW objects. For example, Advanced DSOs can act as InfoCubes or as DSOs, depending on the settings chosen during their definition.
There's a lot more to SAP BW/4HANA than simplified modeling, of course. We encourage you to continue exploring the business warehouse of the future so when the time comes to make the move, you'll be ready.
Editor's note: This post has been adapted from a section of the book SAP BW/4HANA: An Introduction by Jesper Christensen, Joe Darlak, Riley Harrington, Li Kong, Marcos Poles, and Christian Savelli.