SAP S/4HANA improves hard financial close with a number of new tools which increase efficiency, governance, and insight.
This blog post will focus on two key tools, beginning with the SAP Financial Closing cockpit.
SAP Financial Closing Cockpit for SAP S/4HANA
Organizations currently running SAP ERP might already be familiar with the SAP Financial Closing cockpit, a monitoring tool delivered as an add-on. The SAP Financial Closing cockpit lists the steps to be performed as part of the close as a template, creates a schedule of the tasks to be performed as part of a particular close (the task list), and then monitors the execution of the tasks in that close.
However, as of SAP S/4HANA 1709, this tool has been converted and integrated directly into the SAP S/4HANA environment. Because the cockpit sits directly on top of the Universal Journal, it leverages the single source of truth.
The SAP Financial Closing cockpit for SAP S/4HANA supports the planning, execution, monitoring, and analysis of financial closing tasks for the entities of your group that recur periodically (i.e., daily, monthly, and yearly), involve multiple agents, and have a fixed chronological sequence in the closing process.
It optimizes the financial close process by controlling each step of the close cycle, processing posting, and producing reports through five core capabilities:
Highly automated, standardized functionality to manage accounting and reconciliation activities (including event-driven and remote task execution)
Scheduling tools that help you sequence, monitor, and control workflows across your organization, so the entire close process moves along efficiently (including interpreting jobs from SAP Central Process Scheduling and other job schedulers)
Closing templates
Support for multiple factory calendars
Full monitoring of the entire closing process, including flexible notifications
As an illustration, let's look at how task lists work within the SAP Financial Closing cockpit.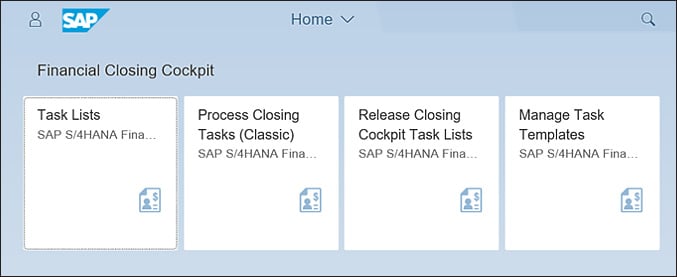 As you can see, financial close personnel can access their task lists and closing tasks directly through the SAP Fiori launchpad.
As shown in the figure below, drilling down into the Closing Cockpit Task List tile produces an overview of the different tasks, their statuses, and much more information. It can also display dependencies, notes and attachments, log information, and so on.
Elements like the central storage of logs and attachments, the ability to set authorizations (e.g., on task or organizational unit level), and comprehensive audit trails and internal controls help ensure compliance and proper governance of the closing process.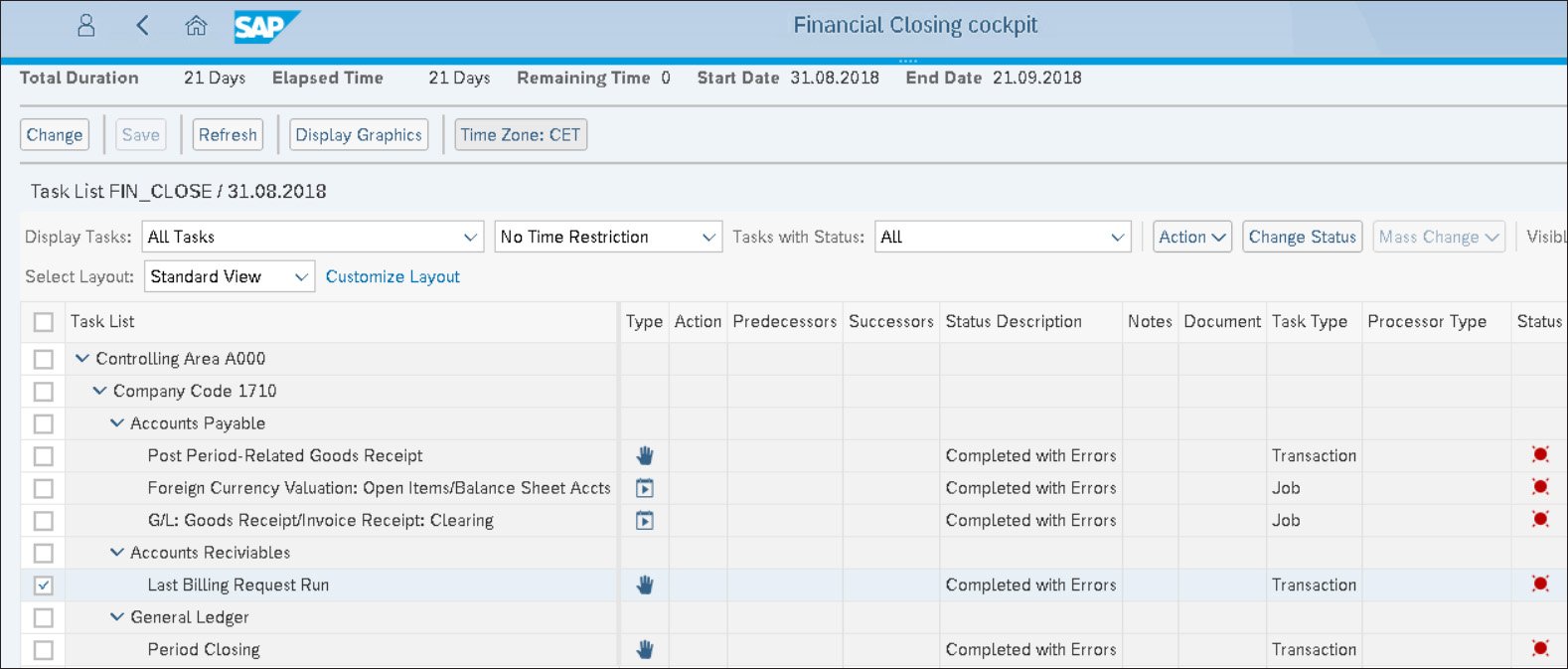 To deliver complete insights throughout the entire process, predelivered KPIs like the ones shown below and reports such as Gantt charts offer a clear view of closing activities across entities and close cycles.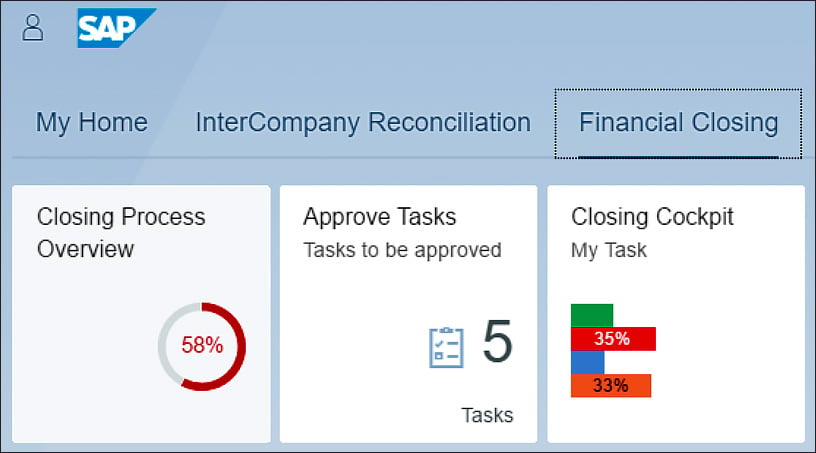 Taken together, the SAP Financial Closing cockpit for SAP S/4HANA supports planning, executing, monitoring, and analyzing financial closing tasks for the entities of your group. However, remember that delivering a faster close on the level of the individual entity alone is not enough. Financial information should be made available on the (sub)consolidated level as well. Another SAP S/4HANA closing tool is on the horizon to address this gap.
SAP S/4HANA Cloud for Advanced Financial Closing
As of spring 2019, an end-to-end closing monitor or "extended version" of the SAP Financial Closing cockpit for SAP S/4HANA is in the works at SAP.
SAP S/4HANA Cloud for advanced financial closing is a cloud-only solution that first became available with the SAP S/4HANA Cloud 1811 release. The first iteration that connects to SAP S/4HANA 1809 is available with SAP S/4HANA 1809 FSP 01, requiring SAP S/4HANA Cloud for advanced financial closing 1902.
This connection to on-premise SAP S/4HANA also means that this application can be used as a closing hub, which enables you to plan, process, and monitor your financial closing for multiple on-premise systems. This first release in FSP 01 focuses on entity and group close, with financial reporting on the roadmap.
With the first release, the following capabilities are planned to be delivered and are largely in line with the classic SAP Financial Closing cockpit for SAP S/4HANA, but with a further modernized and fully SAP Fiori–based user experience:
You can define templates to model and plan closing cycles in terms of manual and automated tasks.
Task lists can be generated from templates for specific key dates.
Task template sets comprise all standard closing applications and jobs with their respective sequences and interdependencies for accounts receivable, accounts payable, general ledger accounting, and cost accounting.
You can configure the system so that notifications are automatically triggered and sent upon certain events.
Closing tasks optionally can be subject to approval, which can be modeled in an approval workflow.
Financial close monitoring is enabled through an overview page and an analytical list page to monitor progress and completion of your closing activities. To clarify the content of these monitoring capabilities, a system example is shown in the following two figures.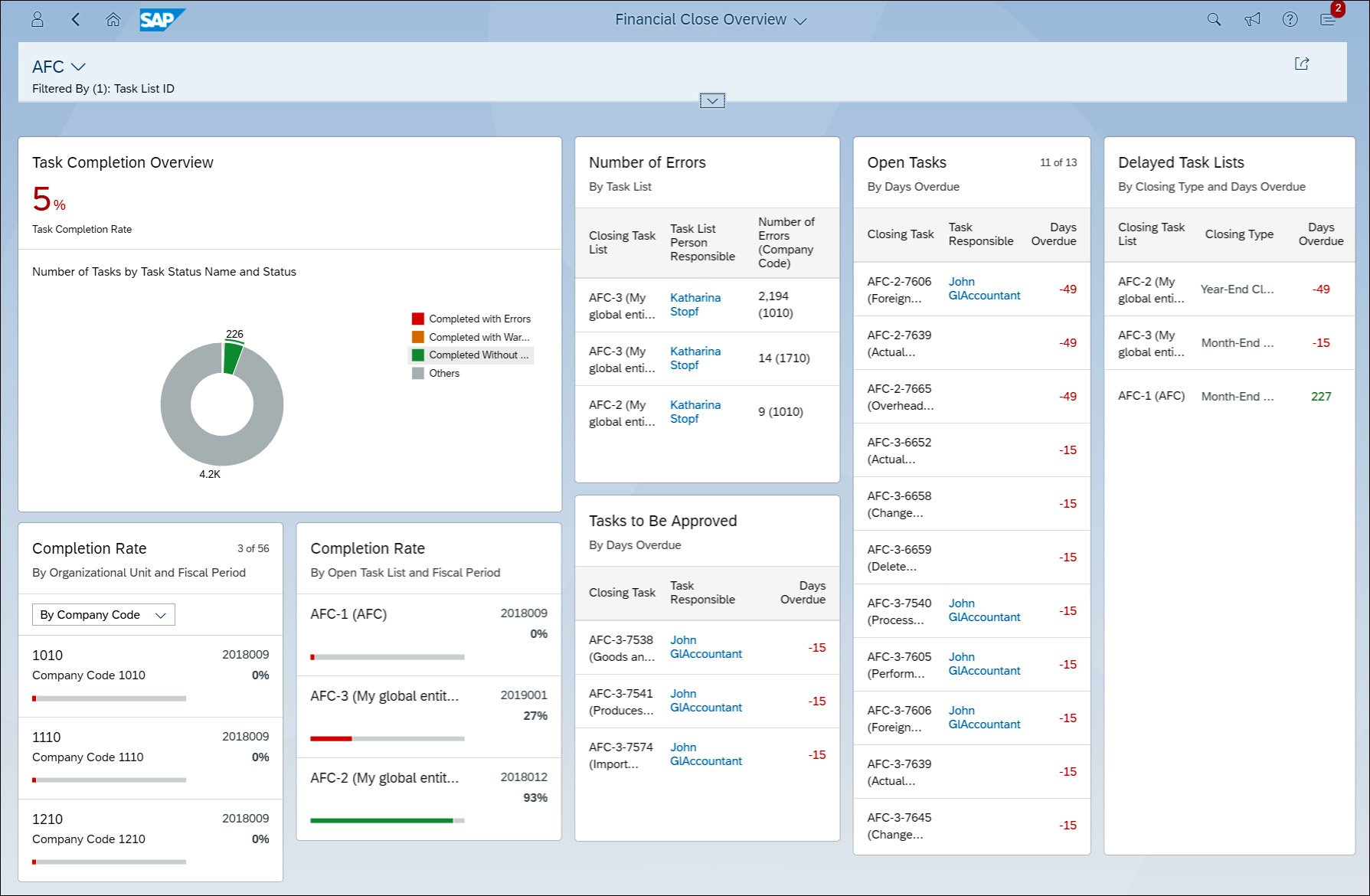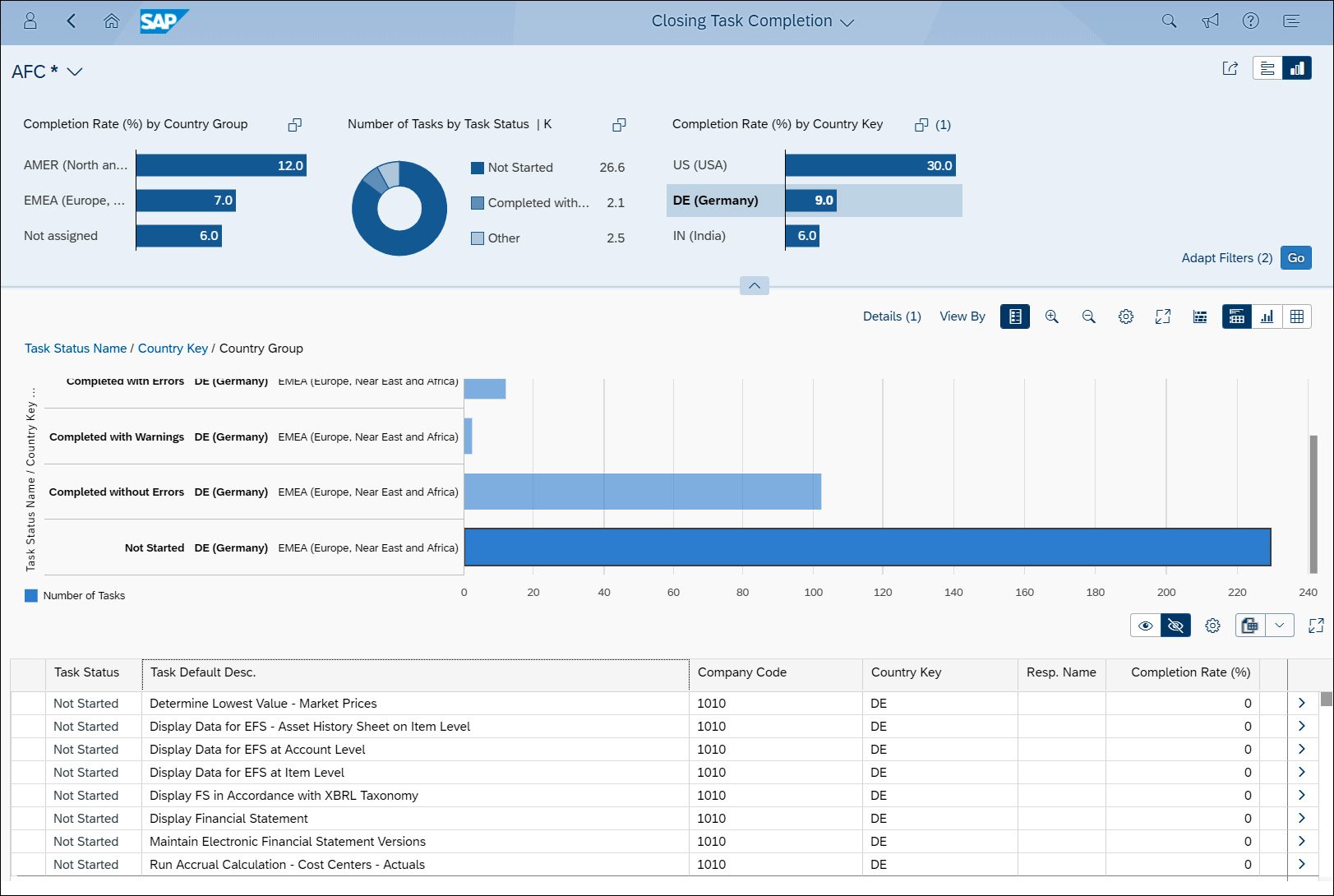 Country-specific closing tasks will be supported initially for the United States and Germany, but specific content for other countries is expected in the form of extending the task templates.
Conclusion
SAP S/4HANA Finance brings about many improvements over the financials capabilities of SAP ERP. In this blog series we've covered predictive accounting, consolidation with group reporting, the Universal Journal, and now how to perform an efficient hard financial close.
Editor's note: This post has been adapted from a section of the book SAP S/4HANA Finance: The Reference Guide to What's New by Janet Salmon and Michel Haesendonckx.