Demand planning can be done for both long-, mid-, and short-term durations to make sure you have enough product to fulfill orders.
Ultimately, you'll want a streamlined process to forecast demand across all three durations, typically by thinking in terms of telescoping time buckets—weekly in the near term, extending to monthly further out in the planning horizon.
But in the near term, you'll still have to deal with market volatility, which could be caused by any number of factors. For example, a new product or promotion you introduced in the market could have been wildly successful, and your products are flying off the retail shelves, resulting in demand outstripping the planned supply (from your consensus demand plan).
Alternatively, a competitors' product could be outselling yours due to raving customer reviews about it on social media, or unexpected weather conditions could negatively impact your planned sales in a particular region, thus resulting in your unsold products sitting at distribution centers and retail stores.
In such situations, you must quickly adjust inventory deployment across your regional distribution centers or, depending on the lead times, even adjust your production and packaging operations to ensure the right amount of stock in your channels.
Demand sensing using pattern recognition-based machine learning in SAP Integrated Business Planning (SAP IBP) for demand can help you address these situations by generating accurate, short-term forecasts for the next four to eight weeks, which you can use to adjust your inventory deployment plans, transportation plans, production and packaging sequences, and other purchasing and allocation decisions.
As shown in the figure below, demand sensing using pattern recognition-based machine learning augments the consensus demand planning process with short-term forecasts by considering various inputs.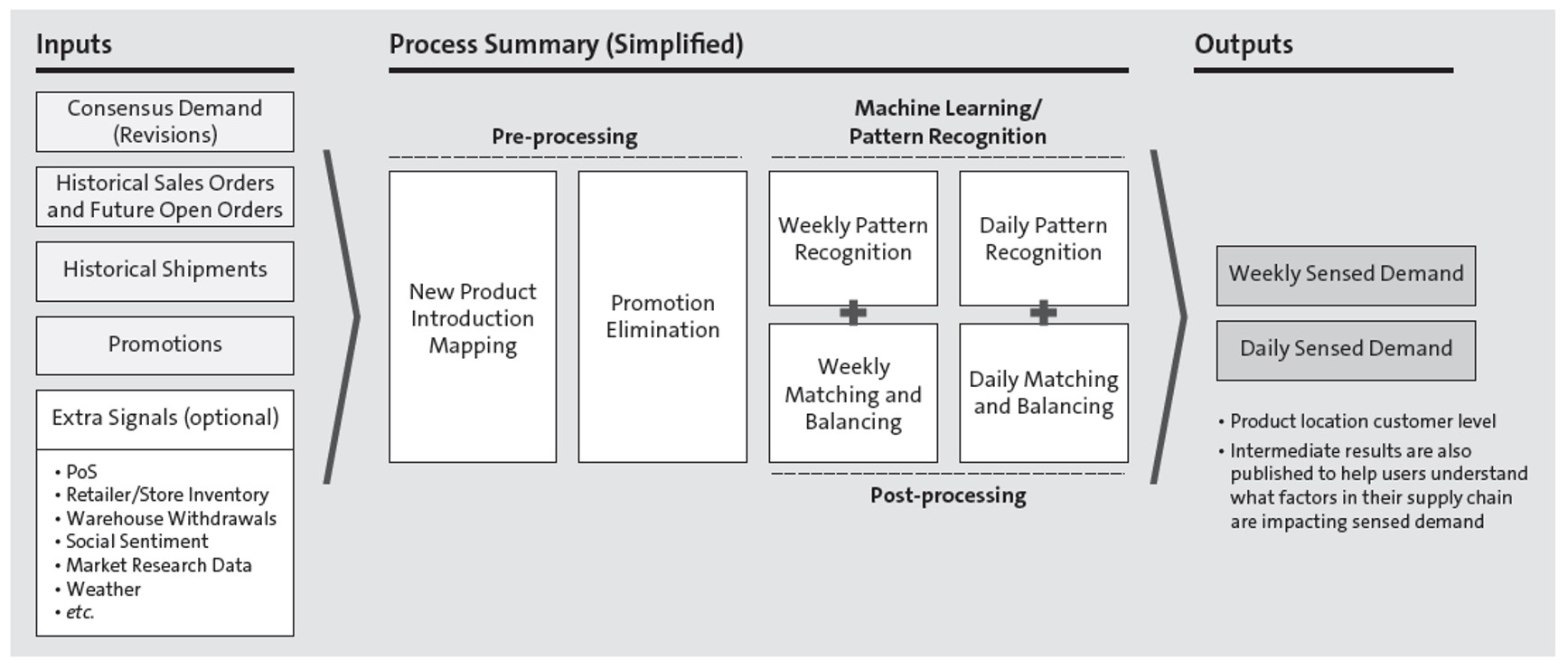 The optional extra demand signals that demand sensing can consider may be internal like warehouse withdrawals as well as external from downstream sources like retailer point of sale (POS) data, social media, and weather. The figure below shows the inclusion of two downstream demand signals—point of sales (customer store sales quantity) and social sentiment. The point of sales data feeds, which first needs to be cleansed and harmonized, would come from SAP Demand Signal Management.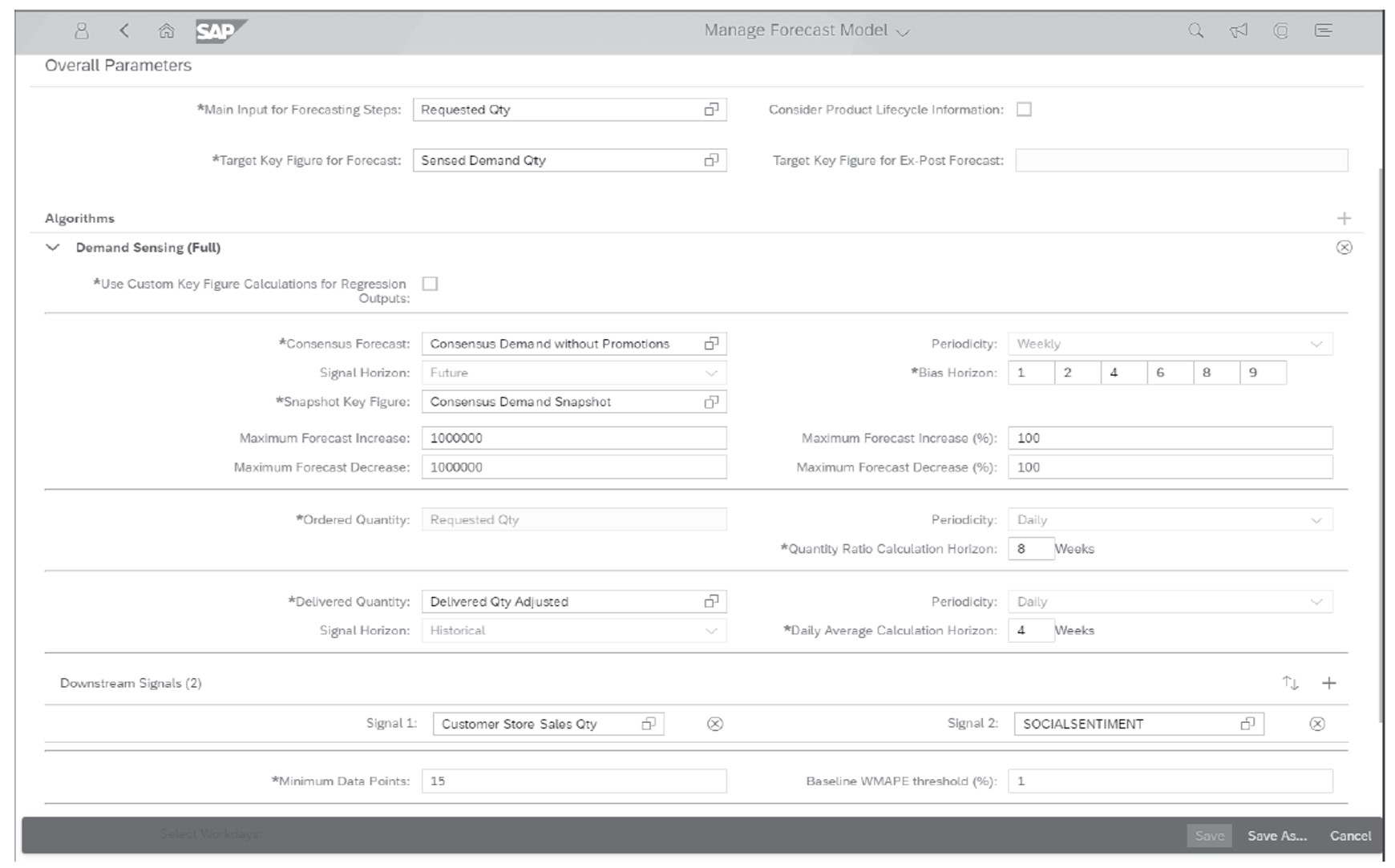 The next figure shows the results of demand sensing in the Microsoft Excel frontend of SAP IBP for demand. The left part of the screen shows the various demand signals, including point of sales data, considered in generating a sensed demand representing by the green bars.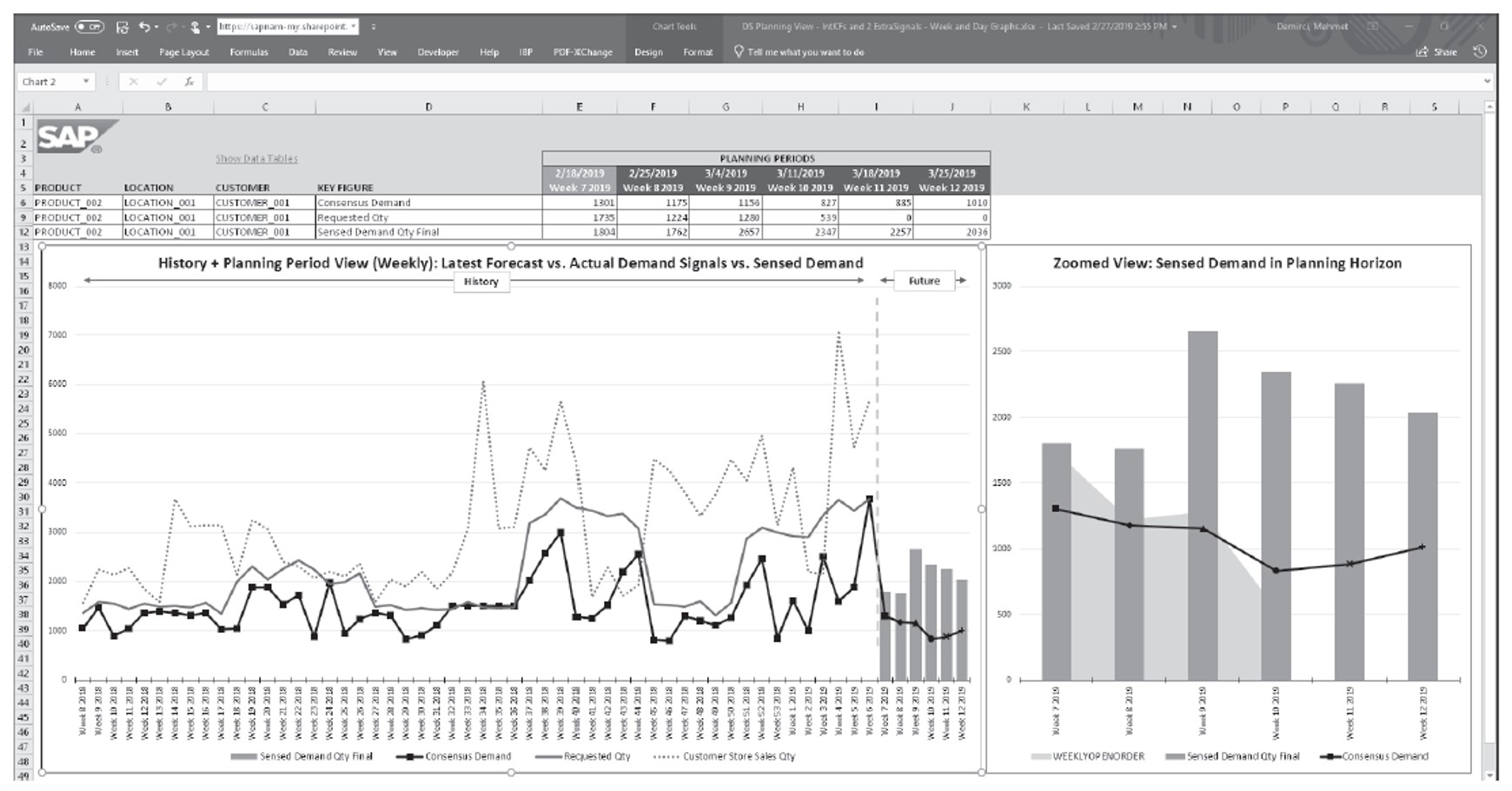 Notice that the consensus demand indicated by the black line is much lower. The zoomed view to the right shows that the machine learning algorithm in demand sensing recognizes the demand patterns whereas the consensus demand underestimates the demand (open orders and forecast).
Note that pattern recognition-based machine learning can also be a useful addition to traditional consensus demand planning processes even without considering downstream demand signals. For example, often, many products in your portfolio may be underforecasted for several periods in a row due to the use of equal split or fixed quota mechanisms, or you may have other products and customers having cyclical ordering patterns, resulting in undersell and oversell patterns. In these situations, demand sensing can understand the underlying patterns and adjust future forecasts accordingly.
Improved short-term forecasts with demand sensing for fast-moving items help you drive timely deployment and transportation decisions, resulting in fewer stockouts and expedited shipments. The higher forecast accuracy not only leads to improved planner productivity but also leads to lower safety stocks and higher customer service levels, which ultimately leads to building a competitive edge and garnering market share.
Learn more about SAP's intelligent technologies in this overview.
Editor's note: This post has been adapted from a section of the book SAP Leonardo: An Introduction to the Intelligent Enterprise by Pierre Erasmus, Vivek Vinayak Rao, Amit Sinha, and Ganesh Wadawadigi.