How ERP projects are deployed is largely influenced by the rollout type, the key milestones, and the scope—and Central Finance is no exception.
Once you've made the decision to utilize Central Finance and explored what is needed for a smooth implementation, it's time to choose the actual rollout method. For SAP projects, this means that after the initial setup, also known as a template, the system is replicated. In this blog post, we'll discuss various Central Finance rollout strategies.
Iterative Rollout Versus Big Bang
Whether you decide to implement Central Finance as a single large project or as a sequence of smaller projects is mostly influenced by your source systems, which are defined by certain characteristics, such as:
Source Types
A large portion of the implementation time is spent connecting, mapping, and reconciling your local source systems to the Central Finance system. If your organization is leveraging a mix of SAP and non-SAP source ERP systems and versions as the source systems, we recommend phasing the implementation of these source systems by software vendor and version.
Source Systems
Should all source systems be implemented at once or one after the other? How you answer this question usually depends on how much of your business is contained in each source system. For instance, a company that has historically grown through mergers and acquisitions might end up with one ERP system supporting 80% of the revenue, while the remaining 20% is shared across a handful of other ERP systems. In this case, you might choose to start with the larger and more complex system, expecting more value when the system is live, or you might start with a smaller system as a pilot, expecting a shorter implementation period for the system to go live.
Source Company Codes
The most granular organizational structure in Central Finance is the company code. Once you've selected and prioritized your key source systems, you can include all company codes or restrict the implementation to only certain company codes. Be aware that merging a few company codes from different source systems is much more complex than merging many company codes from the same source system. This consideration stems from the integrated nature of SAP ERP systems: A single source system has more similar organizational structures, such as controlling areas, company codes, charts of accounts, and so on.
Level of Granularity
Something to keep in mind when integrating non-SAP systems is that not all ERP systems work on the same level of granularity. For instance, simpler software packages might not have objects corresponding to sales orders or internal orders. Thus, when performing sales, you might not be able to extract some information, such as volumes, unit prices, or cost components. In addition, some basic configurations might differ, such as units of measure, fiscal periods, or currency conversions. These aspects must be taken into account when you're considering the integration of non-SAP source systems.
9
An iterative rollout starts from a core template, usually centered on headquarters (more value) or a small country (less risk) before being extended to additional countries, with variations for localization. This approach is preferred for large and/or complex implementations.
On the other hand, a big bang approach implements the ERP system for the whole organization, including all countries and subsidiaries at once. However, this approach is more suitable for smaller organizations.
Milestone-Based Rollout
Central Finance can be used for different scenarios. When implemented as the underlying platform for real-time consolidation, planning with embedded SAP Business Planning and Consolidation (SAP BPC), or machine learning, key milestones must be deployed and validated before the next layer of applications can be addressed. A typical strategy starts with setting up Central Finance as a foundation layer running in parallel to the source ERP system until the data in Central Finance is considered reliable. Only then can project teams build upon the platform and use Central Finance itself as a source for additional applications.
Examples of milestones are:
Creating a foundation layer with a new information model

Using Central Finance for reporting

Replacing integration between local systems and the data warehouse and connecting with the central system

Expanding the scope to budgeting/forecasting or consolidation on Central Finance

Improved reporting with SAP Analytics Cloud connected to the source system

Activating accounts payables (AP), accounts receivables (AR), or treasury functionality on top of the central system

Activating applications like SAP In-House Cash
By adopting a milestone-based approach, as opposed to the big bang approach, project teams can deliver value to your business and justify the budget for additional scope.
Process Selection
When implementing Central Finance, you must understand the interdependency among some Central Finance processes. As shown in the figures below, processes are built on top of other processes, starting with the reporting hub at the bottom and leading up to more complex processes like treasury or consolidation. These core finance processes must be up and running before logistics processes can be implemented.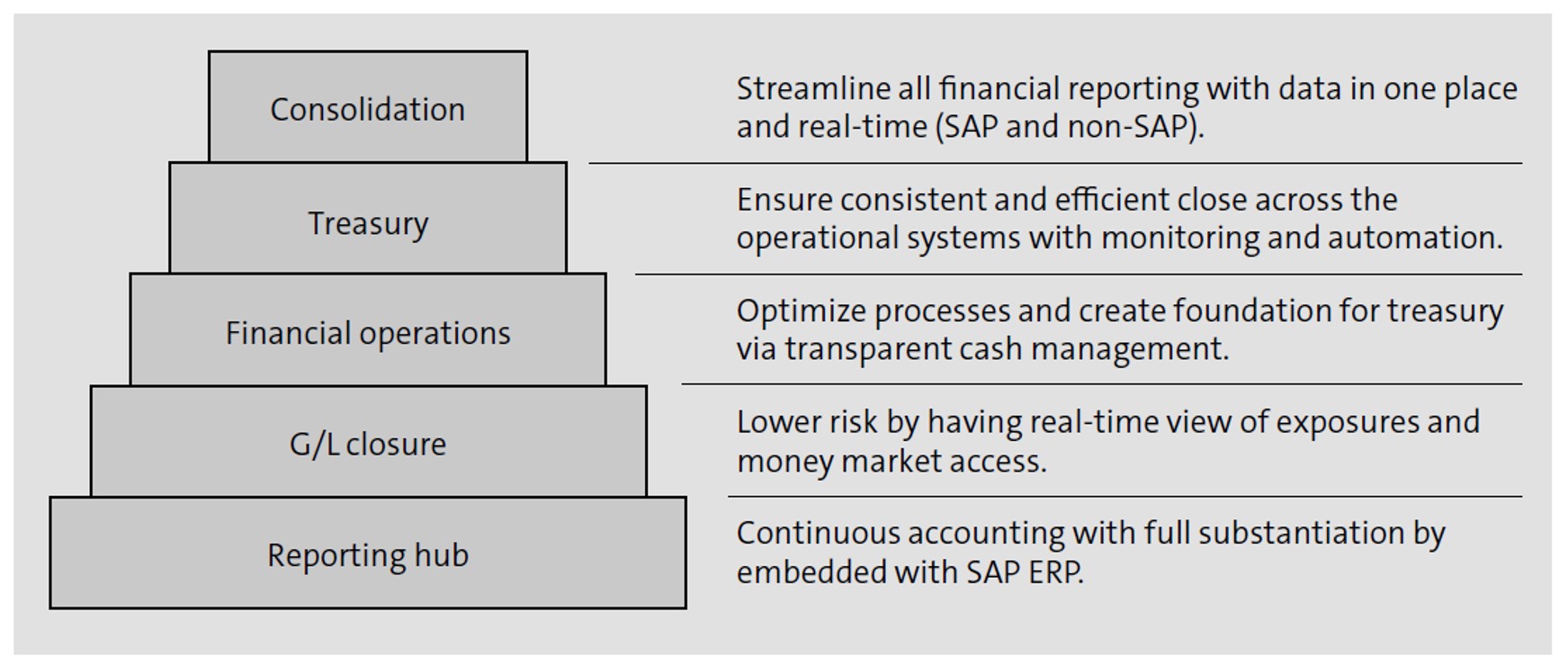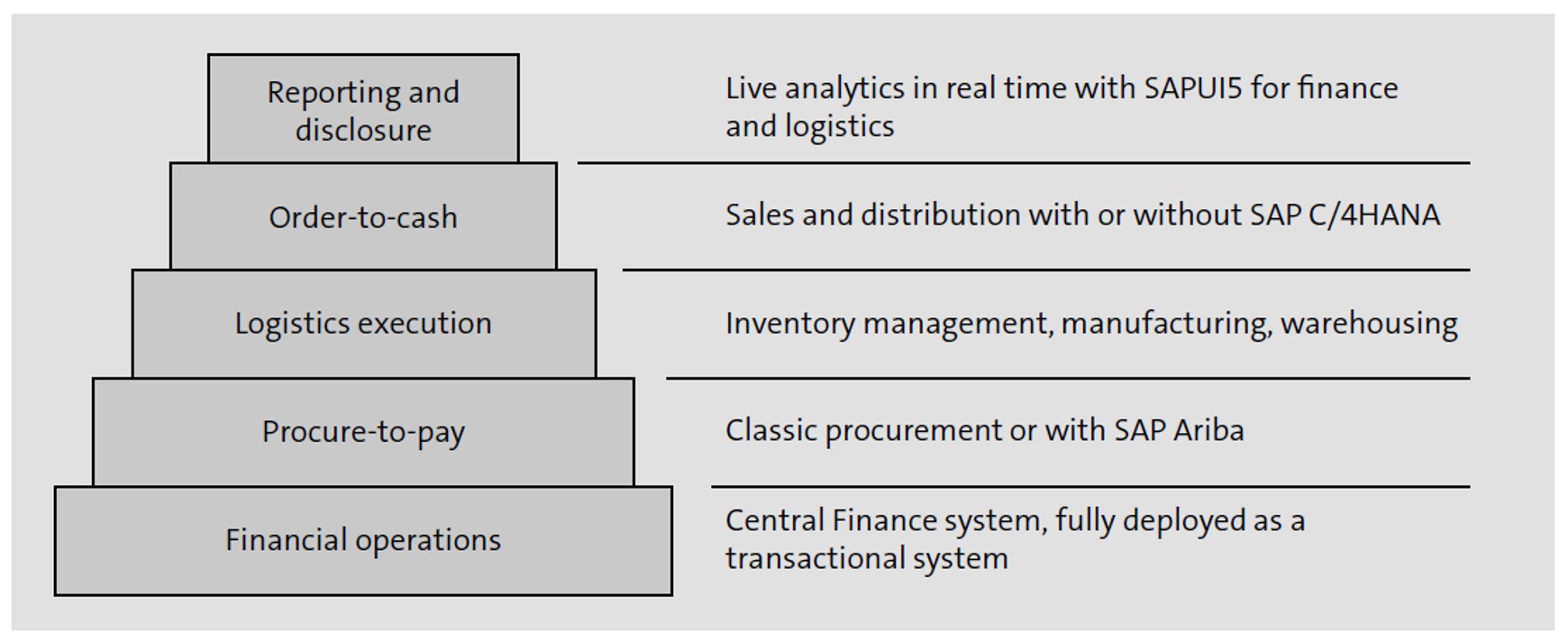 Conclusion
Central Finance is a great way to get the benefits of SAP S/4HANA Finance to your organization quickly. In order to take full advantage of the solution's capabilities, however, you need to choose a rollout option that works best for your organization. This blog post described the options available to you: iterative rollout versus big bang, milestone-based rollout, and lastly, what process considerations you should plan and design for as you set out on your implementation initiative. Best of luck on your implementation!
Editor's note: This post has been adapted from a section of the book Central Finance and SAP S/4HANA by Carsten Hilker, Javaid Awan, David Dixon, and Marc Six.