Central Finance represents a new approach to finance and is based on a new set of technologies in a central SAP ERP system.
Expensive custom integration and traditional legacy system technologies create barriers that prevent the provision of central reporting and transaction processing.
Central Finance is a more easily deployable central system for finance, enabling consolidated transaction execution, business planning, group consolidation, and reporting and analytics—all out of a single system without the need for further data duplication.
Central Finance also provides a path to simplifying your system landscape; the first figure below shows a representation of a traditional legacy system and the complicated, often messy, movement of data and integrations necessary.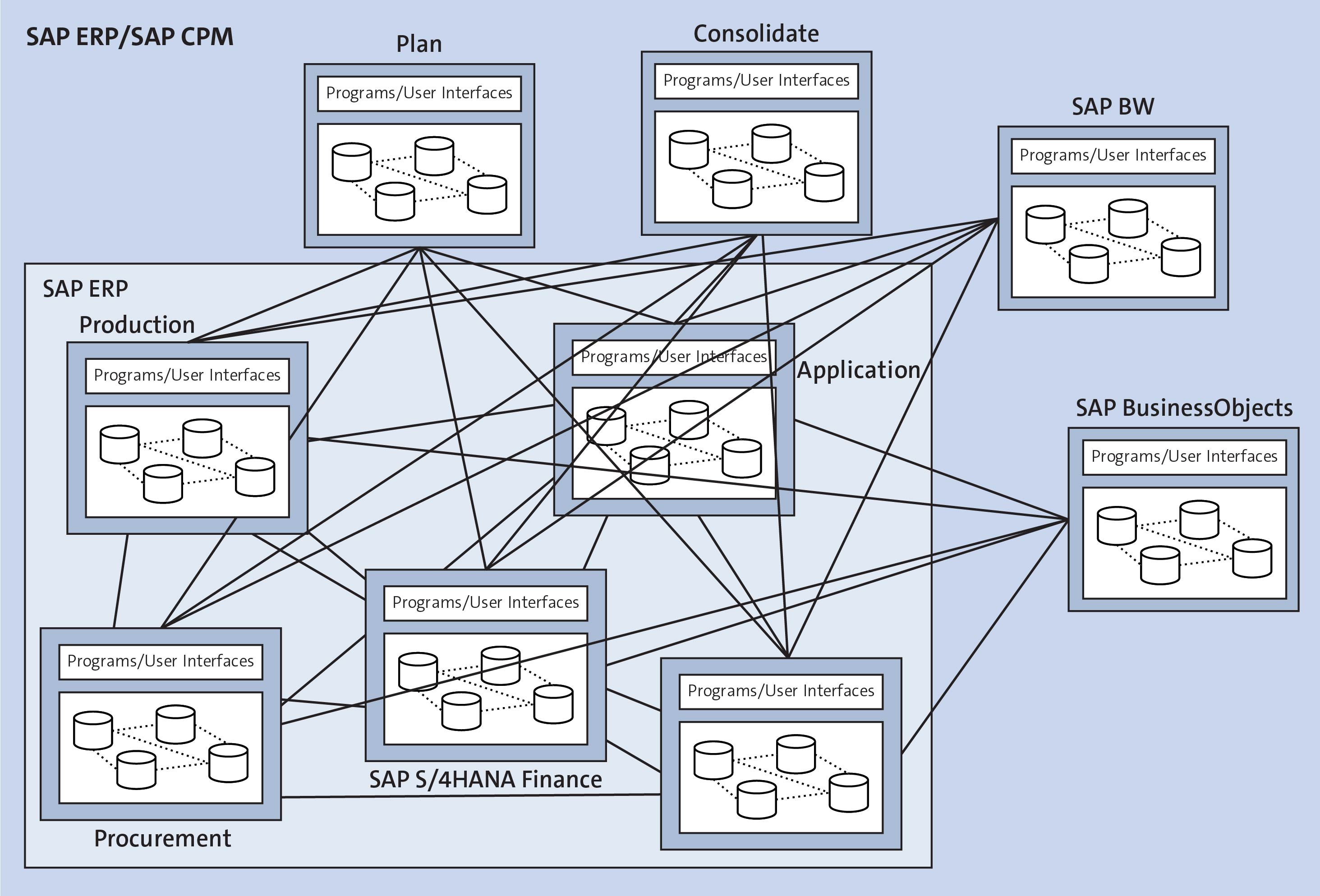 The next figure, on the other hand, shows a representation of a Central Finance system, with a much smoother flow of information.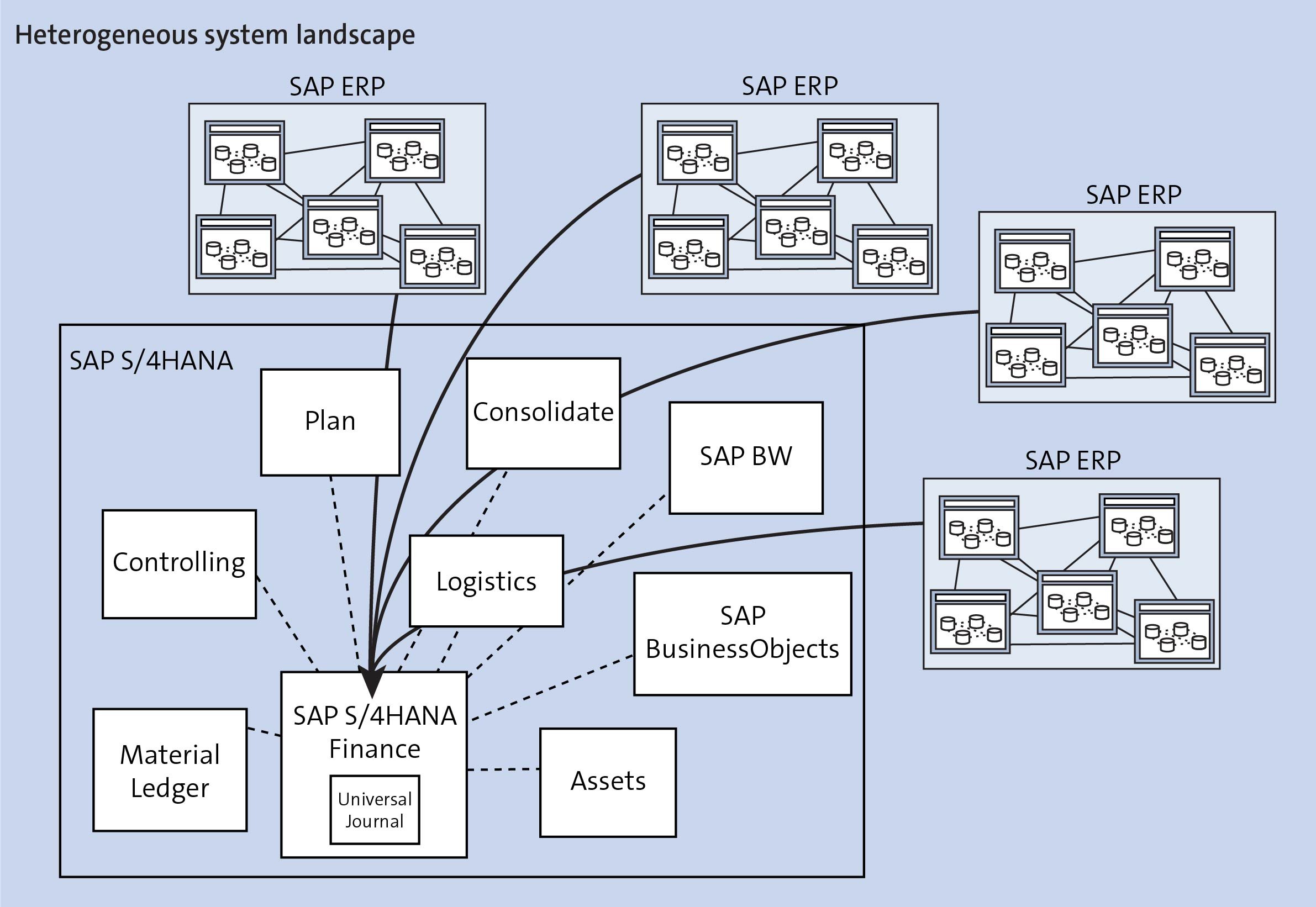 Adding a new entity or system or changing your business model, including reorganizations, is much easier to deal with when you only have a single Central Finance system. With traditional legacy systems that have been used for years, organizations know what to do and what can be done but may require expensive investments, and IT and financial resources could be locked in for extended times.
Central Finance is a Silver Bullet
However, this "more of the same" approach generally does not remove complexity but instead increases it. Every additional application or system requires even more interfaces and even more redundant transformations. A new report added requires another data extract, perhaps another data model, and still may not provide information across the entire enterprise or may not use all the dimensions captured in the financial transaction.
By definition, a silver bullet refers to something that cuts through complexity and provides an immediate solution to a problem. Central Finance is a silver bullet for many finance issues, as shown in the figure below.

Key innovations that make Central Finance a silver-bullet solution include the following:
SAP HANA as a High-Performance Database
The arrival of the SAP HANA database, a high-performance database, has removed the barriers stemming from relational database design principles. Data no longer needs to be parsed and moved around to applications in redundant pieces and portions.

End users can consume financial data directly via their frontend applications using the Universal Journal of Central Finance, rather than having to extract and transform datasets as prerequisites to consuming the data.
SAP S/4HANA Finance Data Model
The SAP HANA database has resulted in a new architecture for the SAP S/4HANA Finance data model and has introduced the Universal Journal, a single table that captures all financial data, rather than the data being spread out to different tables for the general ledger (G/L), subledgers, or management accounting.
The customizable Universal Journal can capture additional dimensionality like the color of a product, the age of a customer, the time of the day, and even the temperature at the time of a posting for microsegment profitability analysis.
SAP S/4HANA Finance Embedded Applications
With SAP S/4HANA, you can post financial transactions in the same system as you would your business planning, group consolidation, and shared services. Your users will share the same set of transaction data and master data and benefit from real-time reporting without further data duplication.
Central Reporting with Central Finance
Central Finance also provides central reporting and process execution capabilities enterprise-wide.
Coverage Across All Legal Entities and Lines of Business in an Organization
Financial transactions from any ERP source system in the organization, no matter the ERP source system the data resides in or how many ERP source systems or ERP vendors are involved—or how old they are—can be brought together into one central system. Because transactions are reposted as standard SAP financial transactions into Central Finance, a complete audit trail, with drilldown capability to source transactions, is available.
Business Model-Agnostic Data Harmonization
Financial transactions replicated into Central Finance can be mapped from the local customizing and design choices for master data and past business processes—intended to accommodate the business model at the time—to a common, central information model. No changes are required to the ERP source systems, and the data is immediately ready for analysis in Central Finance from the new business model perspective.
A Single Source of Truth for Financial Data
All the financial transactions of the organization are stored in one and only one table, the Universal Journal, which is updated in real time every time a new transaction is added anywhere in the organizations. This information is easily consumable for all users directly from the various SAP and non-SAP frontends, including Microsoft Excel. No additional extract, transform, and load (ETL) tools, data provisioning, or data extraction is required; information is directly accessible by samestack SAP S/4HANA applications like SAP Business Planning and Consolidation (SAP BPC).
Central and Scalable Process Execution
Unlike past data warehouse approaches, financial transactions can be used for enterprise-wide reporting, including integrated group reporting, in Central Finance. If desired, shared services can execute processes in the same system, increasing quality and performance and leveraging economies of scale across the organization.
Cross-System Reporting
Central Finance provides cross-system reporting and centralized process execution capabilities. It accommodates replication from multiple systems, outlined below.
SAP Source Systems
Integration of SAP ERP source systems today is supported by standard technical mapping content, which allows financial transactions from ERP systems to be brought in no matter the release of the source system. In a worst-case scenario, where the source system is too old to integrate through the standard capabilities, use the Central Finance third-party staging area.
Non-SAP Source Systems
The integration of non-SAP ERP source systems can be accommodated through the standard Central Finance third-party staging area. Data provisioning to that staging area can be custom-built or can use predefined templates like Magnitude's SourceConnect accelerator, which has predefined technical mapping templates and years of quality improvements built in for fast, cheap, high-quality integration.
Using predefined templates accelerates your non-SAP ERP integration, allowing the technical mapping of a source system in as little as 15 to 20 days. Mapping financial data from non-SAP ERP systems is not a big deal!
Subsidiary Instances Such as SAP S/4HANA Cloud in a Public Cloud
Integration of SAP S/4HANA Cloud instances, used to move selected businesses or regional systems into the cloud, is supported today by the standard technical mapping content in Central Finance.
Financial Data on Spreadsheets
Smaller businesses or entities in selected regions, and sometimes systems with offline, batch submissions, can be integrated today with the standard Central Finance third-party staging area. To increase adoption, even in this case, we recommend using predefined templates as accelerators.
Future ERP Systems
Integration of future ERP systems follows the routes mentioned earlier in this list, whether for an SAP source system or a non-SAP ERP source system. The advantage of Central Finance is that it serves as a platform, with the underlying replication and error correction infrastructure, built-out central process execution, and a playbook of project plans from previous ERP system integration activities that can be reused and scaled for the onboarding of additional entities and systems.
Conclusion
While a full-blown SAP S/4HANA migration provides a lot of financial functionality for businesses, they also take a lot of work to set up. Companies looking for the financial benefits of SAP S/4HANA while maintaining an existing ERP setup will find Central Finance a lucrative option.
As you've read above, there are multiple advantages to upgrading from SAP ERP to Central Finance—but ultimately the choice of where to go lies with you. Read up on all of your options and make the decision that is the best fit for your business!
Editor's note: This post has been adapted from a section of the book Central Finance and SAP S/4HANA by Carsten Hilker, Javaid Awan, David Dixon, and Marc Six.