Handling units (HUs) in a warehouse can be in the form of pallets, wire baskets, containers, trucks, and so on. An HU in embedded EWM can be simple or nested.
Products packed inside a single layer of packaging material is a simple HU. You can pack multiple simple HUs inside another packaging material to create a new HU, called a nested HU. The figure below shows an example of simple and nested HUs.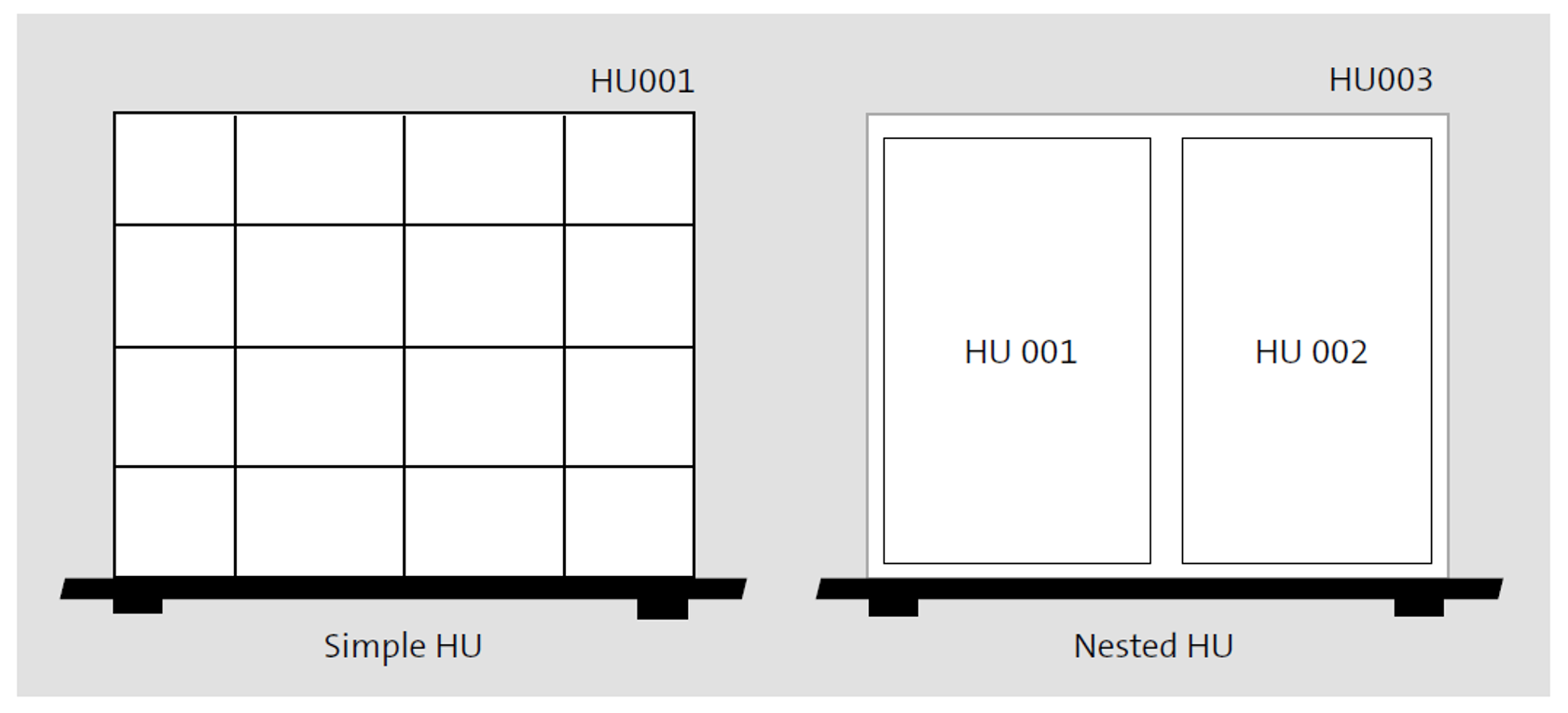 A nested HU can have several layers of packed goods inside it. Consider the next figure, which shows a truck carrying products from a distribution center to a customer store with products packed in multiple boxes. Each box in this case can be created as a separate HU in embedded EWM in SAP S/4HANA. In the figure, products are packed in two separate boxes and labeled as HU 310 and HU 320. A set of these boxes can be packed in a third box using the same or different packaging material, thereby creating a new HU.

In the above figure, HU 310 and HU 320 are packed into Box 3, thereby creating HU 300. That is, HU 310 and HU 320 are nested within HU 300. In the final step, nested HU 300 is loaded onto a truck, thereby creating another HU for the truck—HU 400.
In the following sections, we explain the HU-related documents with which warehouse request documents are executed and products and HUs are packed.
Business Process
American company Alpha Medicals receives an order from one of its customers based in Mexico. The order sent by the customer requires Alpha Medicals to provide the products in time packed in cases and pallets for delivery. Stock that will be delivered to the customer is to be picked from source bins of the supplying warehouse by the warehouse workers, packed in the required packaging material, and staged in the goods issue area.
As a regular Alpha Medicals practice, the warehouse workers perform activities on packed materials or materials that are loose and packed in proper packaging material, creating an HU. To ensure that all stock movement activities of warehouse workers are performed using products packed in a proper manner, the company uses HUs in embedded EWM.
System Process
The following covers basic system flow, including the documents and data required to execute an outbound business process using HUs in embedded EWM and decentralized EWM:
An outbound delivery order is created as a warehouse request in embedded EWM and contains information about the products Alpha Medicals will deliver to the external customer.

Initial picking warehouse tasks are created based on the warehouse request and assigned to the warehouse workers. This request directs the warehouse workers to carry the product from source bin to staging area.

The warehouse orders are allocated to the warehouse workers. After picking the product from the source bin, the products are taken to a work center and packed in packaging materials to create HUs.

The HUs are then assembled together to create a carton of HUs and staged onto the staging area from where the pallets are loaded onto the truck docked to the door.
Note: We've explained the system process using the outbound process only. It's equally applicable to inbound and internal stock movement processes.
An HU in embedded EWM consists of a header and an item. The figure below shows an HU in a work center with header and item level sections highlighted.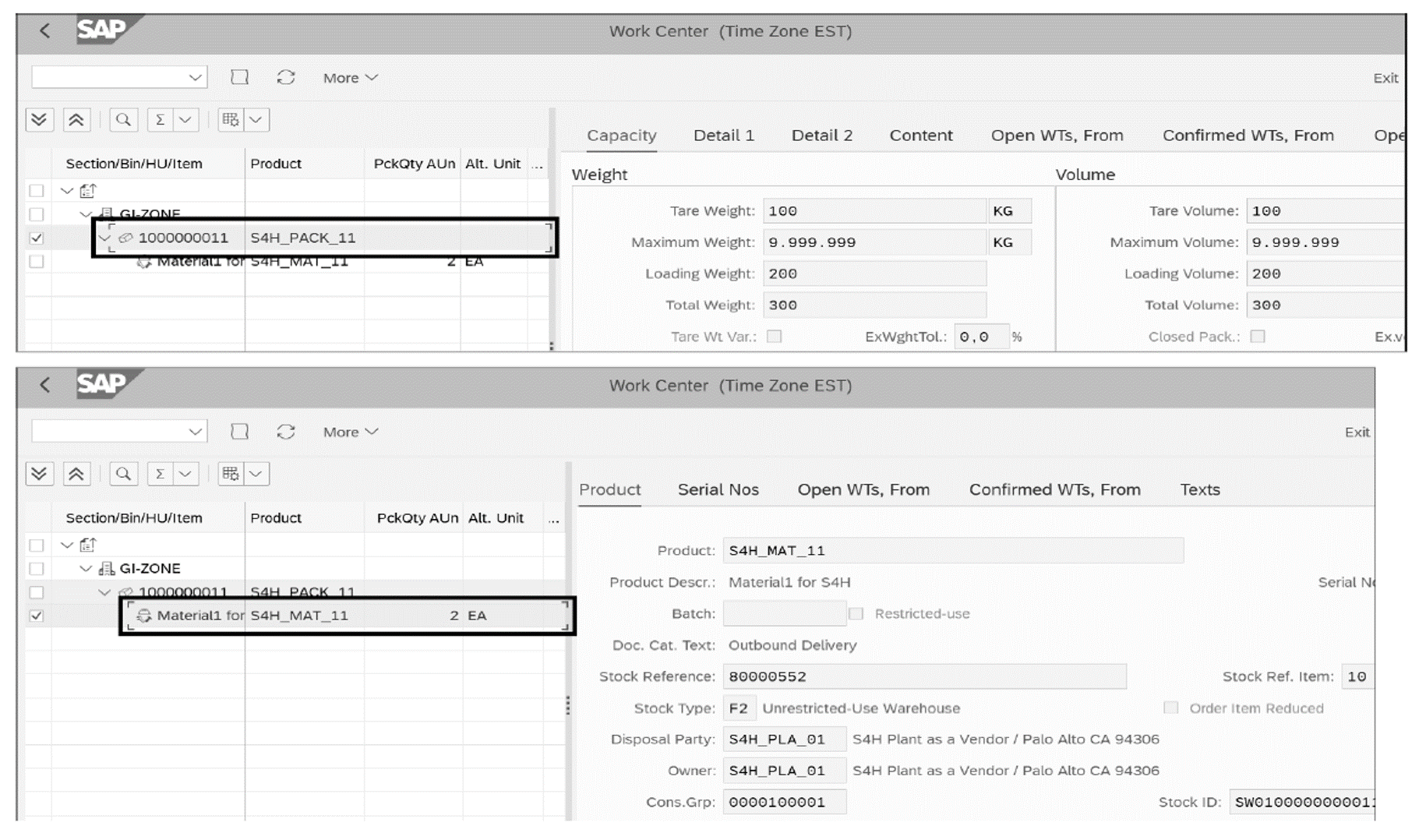 The header data of the HU includes the following:
Weight/volume and other capacity-related data

General data such as created by, changed by, packaging material, packaging material type, HU type, and so on

Storage data applicable to all the products packed in the HU
The HU item includes the following data:
Product data, such as product name, batch, stock type, quantity, goods receipt date, and so on

Serial number data

Text data for delivery text and hazardous substances
You define a packaging specification in embedded EWM to specify packaging instructions for packing a product into an HU. A packaging specification is created as master data in embedded EWM and is used to provide specific details such as the packaging material that should be used to create the HU and the quantity of the packaging material required. Create and maintain packaging specifications using Transaction /SCWM/PACKSPEC. You can also use packaging specifications to create nested HUs in embedded EWM by selecting the Create HU checkbox on the transaction screen.
Editor's note: This post has been adapted from a section of the book Warehouse Management with SAP S/4HANA by Namita Sachan and Aman Jain.