The order and contract management functionality in SAP S/4HANA is based on a set of connected documents that reflect the full order-to-cash process with information copied from one document to the next at key stages in the process.
What's Right for You?
Order and contract management is a capability that SAP offers through both the SAP Customer Experience (formerly SAP C/4HANA) and SAP S/4HANA product sets, leading to questions about which is best. This will depend on the unique requirements of your project.
In SAP Customer Experience
Order and contract management in SAP Customer Experience couldn't operate as a standalone solution for most firms. The downstream processing that takes place after an order is created includes finance, production, logistics, and credit processes, and none of these exist natively in SAP Customer Experience. For this reason, the order will typically need to be replicated back to an ERP system (SAP provides standard integration to SAP ERP and SAP S/4HANA for this reason).
Firms that choose to deploy order and contract management through the SAP Customer Experience suite often do so for the following reasons:
They are deploying the solution to a field sales force who need the ability to capture and price orders when the device is in a disconnected state.
They need a solution that focuses on the extended presales process in areas such as opportunity management and lead management.
They are deploying a B2C e-commerce solution and need the latest features and functions associated with that domain.
They operate a high-volume contact center that provides sales and service functions to customers, often in the same call.
There is an emphasis on bringing the marketing and sales functions together more closely and a desire to attribute sales to marketing activity more reliably.
In all of these scenarios, the order will still need to be passed to an ERP system for fulfillment, financial postings, transfer of requirements, and invoicing.
If your project doesn't have any of these requirements, then it's perfectly valid to deploy order and contract management through SAP S/4HANA alone. If you need to take advantage of nativeSAP Customer Experience features later, you can always connectSAP Customer Experience applications to your SAP S/4HANA core.
Let's take a look at the order-to-cash process, as shown in this figure:

The inquiry and quotation documents are optional. The order is the document that captures committed customer demand in the system and provides the basis by which dependent processes and processing are triggered.
In SAP S/4HANA
The main features and functions available in SAP S/4HANA order and contract management are as follows:
Presales
This is the capability to support activities leading up to and helping to secure a sale, including lead and opportunity management.
Pricing
This is the core engine that allows businesses to represent their pricing model in SAP, including promotional discounts, contractual discounts, surcharges, and sales taxes.
Product Configuration
For make-to-order (MTO) businesses, this is the facility that allows each order to be specified with the precise set of requirements and options that the customer requested.
Availability Checking
For make-to-stock (MTS) businesses, this is the facility that performs a check to determine whether sufficient stock is available to satisfy a customer order or confirm when the required stock will be available based on a forecast.
Transfer of Requirements
This provides the link between sales and the supply chain by presenting confirmed customer orders to planning and forecasting tools, such as material requirements planning (MRP), to ensure the customer requirement is met.
Credit Management
This facility is used to manage the firm's exposure to risk from providing bad credit by managing the credit provided to customers and helping with the recovery of debt.
Delivery Management
This deals with the process of picking, packing, dispatching, and transporting goods to customers.
Finance Integration
This is the integration between order management and finance, including invoicing and G/L account posting.
Document Management
This is the process of generating physical and electronic documentation.
To help you understand some of the key differences between the SAP Customer Experience and SAP S/4HANA options here, this table provides a comparison of key features by product. (Note that SAP Customer Experience is denoted by SAP C/4HANA.)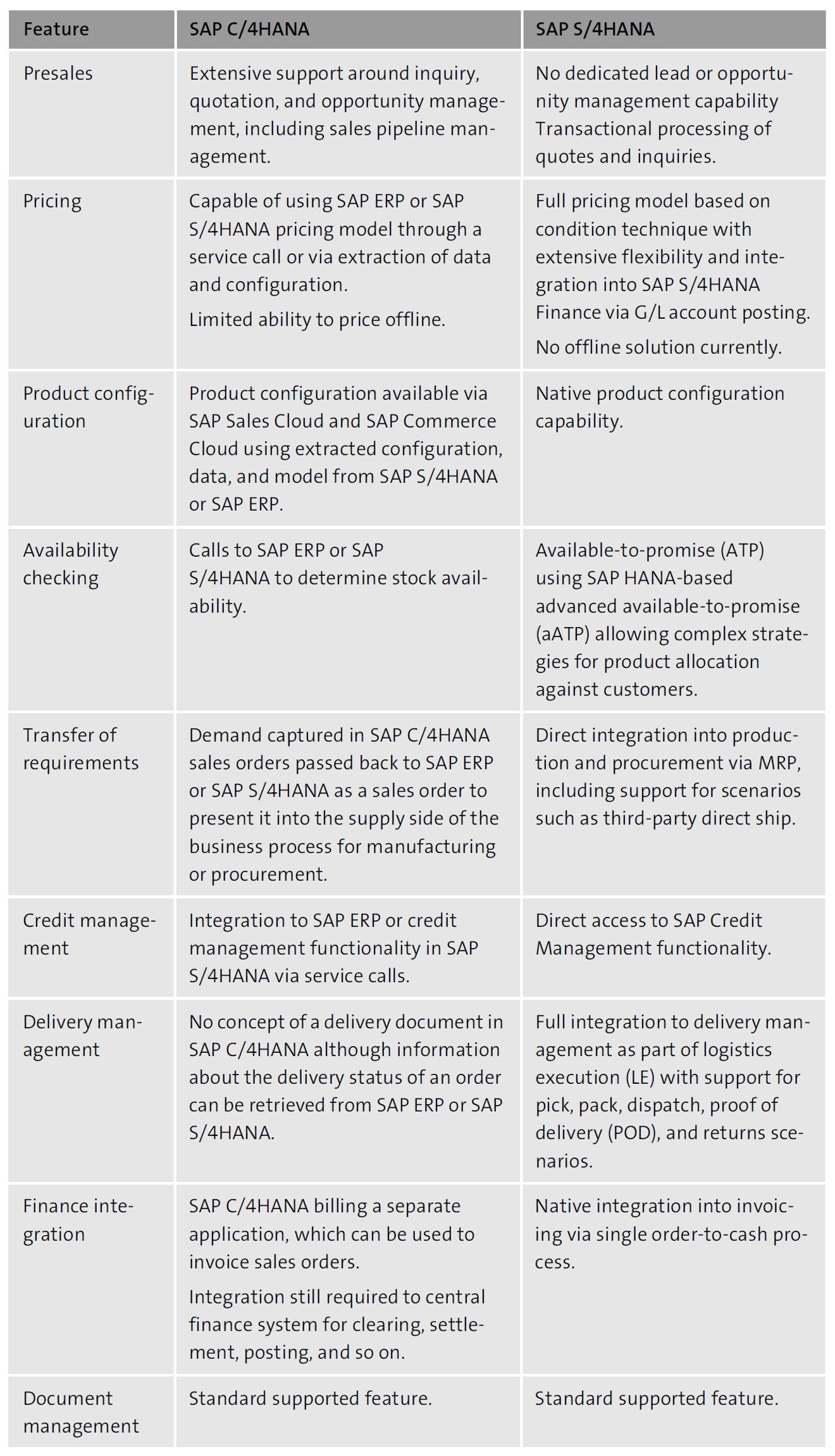 Conclusion
In this blog post, you took a look at order and contract management with SAP S/4HANA. You explored why SAP Customer Experience may be desirable for companies to utilize in this type of management, and how SAP S/4HANA differs. Which option makes the most sense for your business?
Editor's note: This post has been adapted from a section of the book SAP: An Introduction by Matthew Riches, Ben Robinson, Gareth Ryan, and Ian Vincent.