Digital transformation with SAP S/4HANA doesn't only impact production processes. Advanced human resources processes face the following challenges:
The increasing flexibility of business processes must entail more flexible working hours and working time models.

If business models change quickly, you'll also have to quickly adapt the goals of the individual employees to correspond the new strategic goals of the business.

In a global market for qualified employees, enterprises can no longer ignore digital media for recruitment.

Enterprises must strive to find and engage qualified employees. Enterprises need to know which skills individual employees have and which skills are missing in the enterprise to stay ahead of competitors in the digital world.

Furthermore, advanced compensation systems have to consider the increasing demands on employees.

Enterprises want to create a viable and innovative environment for their employees and managers. For this purpose, the software for human resources (HR) processes should be as intuitive as possible and provide for a compelling user experience.
The trend of outsourcing business processes to the cloud is particularly reflected in human resources. Increasing cost pressures and the options provided by digital learning platforms or online ratings make enterprises outsource their business processes to the cloud, especially in the HR area.
In SAP S/4HANA, cloud-based functions in SAP SuccessFactors can map the target architecture for HR. SAP S/4HANA maps HR functions and comprehensive core functions, such as talent management, recruiting, application management, onboarding, learning management systems, performance management, and succession management in the cloud. Standardized integration scenarios and a unified user interface, which is based on SAP Fiori, ensure the technical and functional integration of HR processes.
The figure below provides an overview of the functions provided by SAP S/4HANA and SAP SuccessFactors.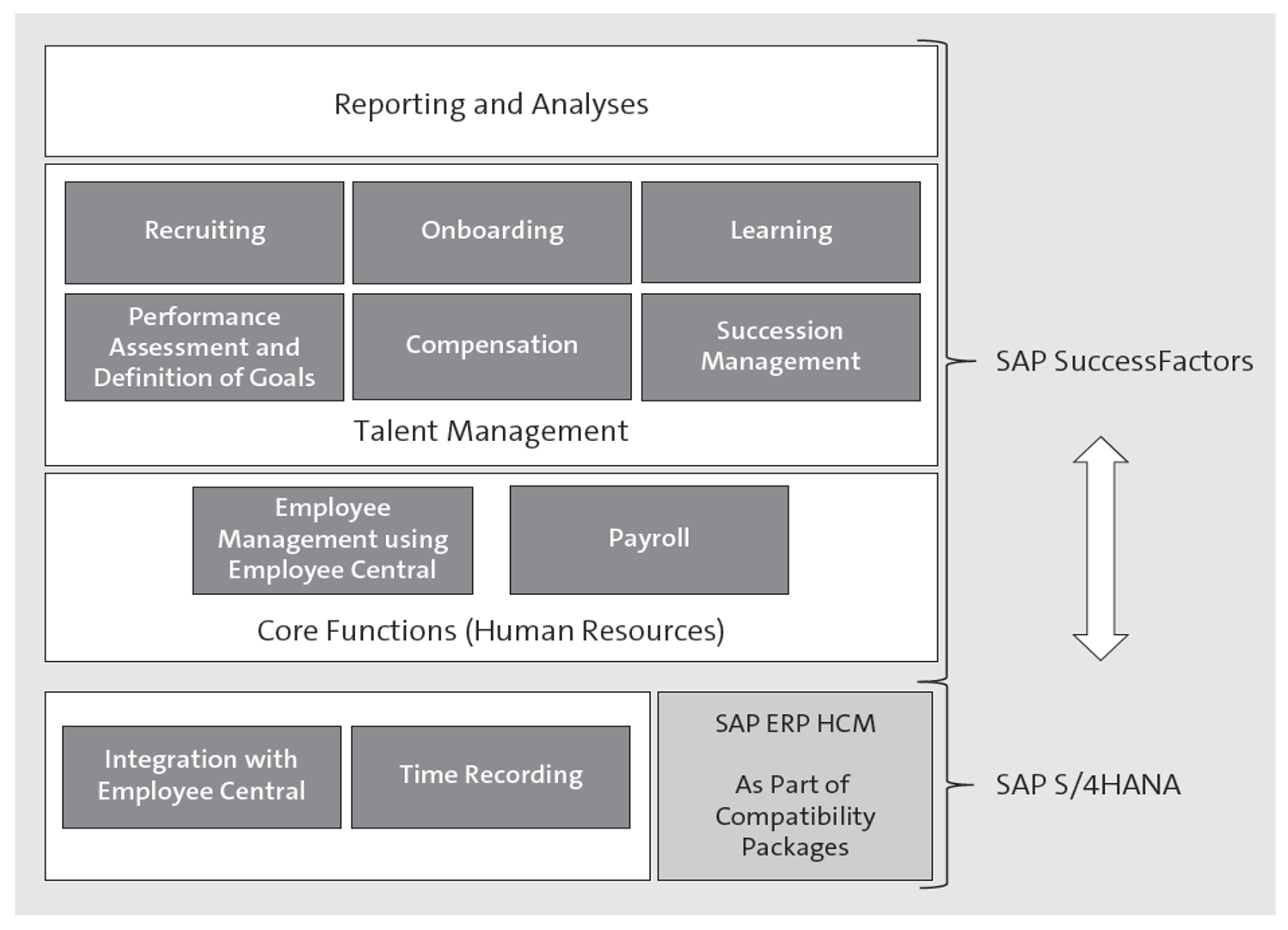 Human Resources Functions with SAP S/4HANA
The Time Recording SAP Fiori app enables you to enter times for specific activities to settle and invoice projects. You can also record times for tasks that are not related to projects—for example, for administration tasks, trainings, or travel. Managers can approve or reject time sheets that employees have submitted for approval.
Integrated with SAP SuccessFactors Employee Central, SAP S/4HANA provides access to manage employee master data. You'll be able to use the employee data required for carrying out processes such as project planning and project time recording to create customer invoices or to invoice and reimburse travel costs. Replicating employee data from SAP SuccessFactors Employee Central to SAP S/4HANA is based on standardized service application programming interfaces (APIs).
In SAP S/4HANA, the SAP S/4HANA compatibility packages provide familiar functions that you know from SAP ERP. After migrating to SAP S/4HANA, these functions are still available but are not the target architecture from a technological perspective.
For human resources in SAP S/4HANA, the following SAP ERP Human Capital Management (SAP ERP HCM) functions are available, for example:
Core HR functions (such as personnel administration, management of external employees, and organizational management)

Payroll

Talent management

Time and attendance management
In general, customers who already use SAP ERP HCM functions in their SAP ERP system (either installed together in one system or via a separate SAP ERP HCM system integrated with SAP ERP) can continue to use them after their migration to SAP S/4HANA. Please note the entries for SAP ERP HCM in the SAP S/4HANA simplification list. However, for SAP, the future of HR business processes is in the cloud. SAP SuccessFactors functions are the target architecture for human resources management in the future.
Gradual Migration with Compatibility Packages: The functions delivered with the compatibility packages, and thus SAP ERP HCM, allow you to migrate to the target architecture gradually.
Core Functions of SAP SuccessFactors
In principle, SAP SuccessFactors comprises the following components:
SAP SuccessFactors Recruiting
This component is used to recruit appropriate talents for the enterprise and to hire them quickly and efficiently.
SAP SuccessFactors Onboarding
Onboarding supports integrating newly hired staff quickly and efficiently. Here, among other things, the focus is on granting access to the resources and information required.
SAP SuccessFactors Learning
The aim of this module is to develop and improve the capabilities of employees and managers via additional training, as well as to reduce compliance risks.
SAP SuccessFactors Performance & Goals
Here, you can continually track and control employees' performance and adapt it to new strategic business goals as required. Continuous performance management allows for regular feedback for employees and for a focus on coaching.
SAP SuccessFactors Compensation
This component supports HR managers and employees in planning and distributing budgets, adapting compensation to business results, and defining a transparent wage policy. Performance-based comparisons of employees across the entire organization ensure that employees are paid fair salaries based on performance.
SAP SuccessFactors Succession & Development
These functions support HR managers in recruiting and promoting talent and in establishing successors for all important positions. HR managers will have access to an overview of the talent in the enterprise; can quickly identify vacancies and possible personnel gaps; and can provide for suitable replacements using the integrated tools, reports, and search functions, which can also accommodate external applicants.
Deployment Variants
The figure below illustrates the various options for how HR functions in SAP S/4HANA can be deployed:
Cloud Scenario
The first variant is to deploy all solutions in the cloud (1). The integration between SAP S/4HANA Cloud and SAP SuccessFactors allows you to run financial and logistics processes, together with the HR management functions, in the cloud.
Hybrid Scenario
The second variant is a hybrid scenario in which you run the financial and logistics processes in SAP S/4HANA, on-premise, and integrate these processes with the functions of SAP SuccessFactors in the cloud (2).
On-premise Scenario
The third variant is a strictly on-premise scenario. After migrating to SAP S/4HANA, you can continue to use traditional human capital management functions—either by installing SAP S/4HANA together with SAP ERP HCM (3a) or, alternatively, by connecting a separate SAP ERP HCM system (3b).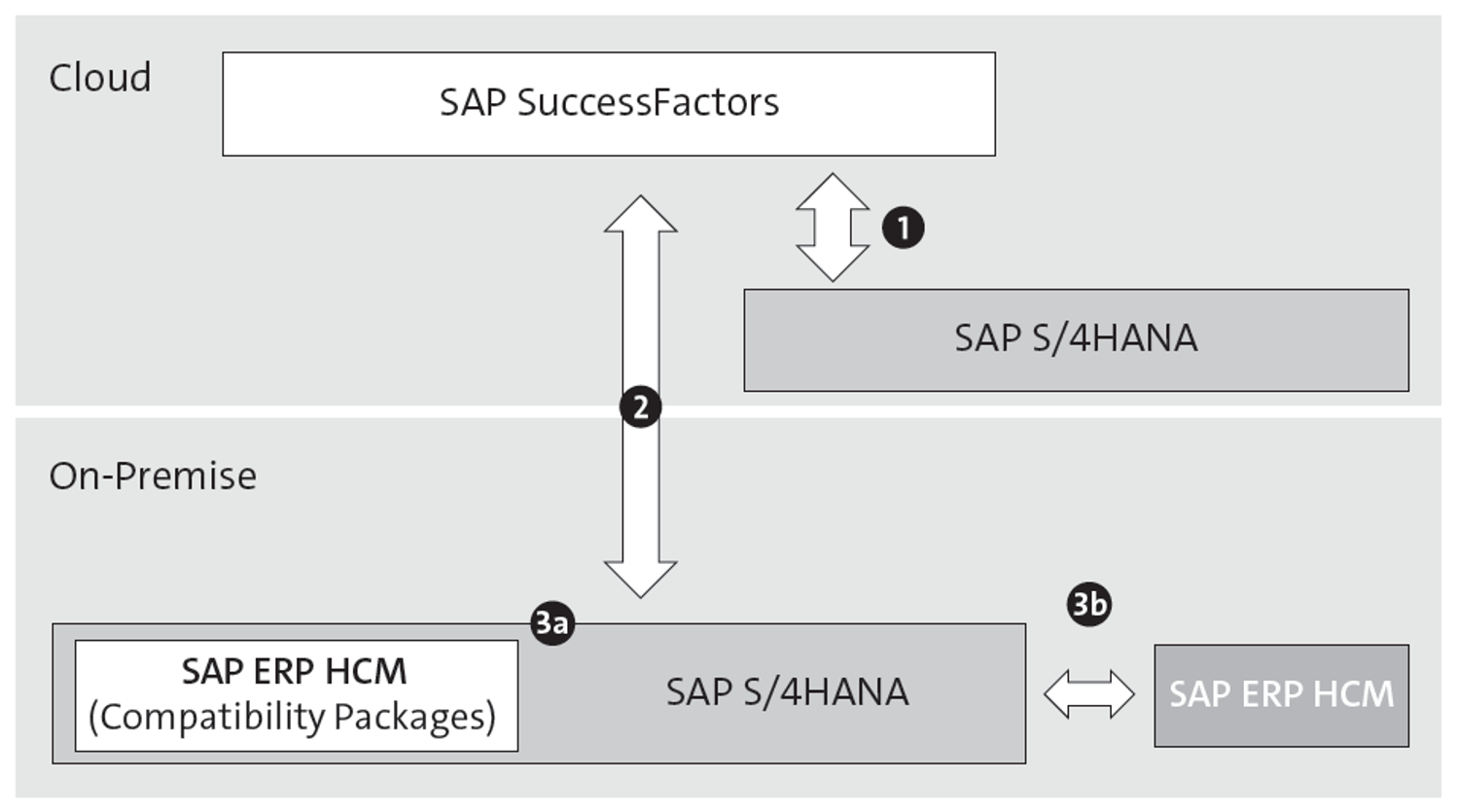 In early 2018, SAP announced another option for customers who want to continue to operate HR on premise. The plan is to provide a new on-premise solution for HR management by 2022. This solution is based on SAP ERP HCM and provides a comparable functional scope (except for the SAP ERecruiting application). It is supposed to be implemented in a separate or embedded instance and be closely integrated with SAP S/4HANA. As noted, the plan is for the solution to be available in 2022.
Additional Information
For additional general information on HR functions in SAP S/4HANA, go to http://s-prs.co/5279134.
For more information on SAP SuccessFactors, click here.
For more information on the new on-premise solution for HR management for SAP S/4HANA, go to http://s-prs.co/5279136 and http://s-prs.co/5279135.
Editor's note: This post has been adapted from a section of the book Migrating to SAP S/4HANA by Frank Densborn, Frank Finkbohner, Jochen Freudenberg, Martina Höft, Kim Mathäß, and Boris Rubarth.