In this post, we'll take a look at a powerful tool for making real-life decisions: the SAP S/4HANA trial systems provided by SAP.
These can be quickly implemented either in the cloud or in your own data center. The trial systems are preconfigured with SAP Best Practices content.
This post will introduce the trial systems for testing and other possible applications, which go far beyond the scope of simple, free trial systems. The preconfigured system is already customized, containing predefined company codes, organizational structures, sample data, and more. The system is based on SAP Activate and SAP Best Practices and helps you identify your requirements for the migration to SAP S/4HANA and your prerequisites.
The SAP S/4HANA Trial System
Both SAP customers and SAP partners can access the trial system, SAP S/4HANA's reference solution. The trial system contains SAP Best Practices, as well as corresponding sample data and scenarios.
You can configure the SAP S/4HANA trial system at www.sap.com/s4hanatrial.
The trial system for the on-premise version of SAP S/4HANA is provided in the SAP Cloud Appliance Library (hereafter referred to as the library) and thus in the (private) cloud. The library delivers preconfigured software systems in a cloud-based solution on demand. You can start and use these systems in your own cloud space for the library.
This cloud computing option allows you to lease PC infrastructure instead of purchasing your own hardware. The underlying scalable concept follows the infrastructure-as-a-service (IaaS) model. The library provides an online platform for managing your SAP systems, which can be hosted by any IaaS cloud provider (e.g., Amazon, Google, or Microsoft).
There are two options for exploring the world of SAP S/4HANA with the SAP S/4HANA trial system.
SAP S/4HANA Cloud Trial
This variant enables you to create a user with 14-day test access to a preconfigured SAP S/4HANA Cloud demo system. This public cloud variant, or SaaS model, behaves like an SAP S/4HANA Cloud system in the public cloud.
The system is shared by all users and is ready to use. You can execute demo scenarios using wizards.
You can use the system to become familiar with SAP S/4HANA Cloud's functions and the SAP Fiori user interface. However, you cannot change the configuration of this system and cannot run through migration scenarios because administrative functions are restricted. One advantage of this variant is that it is completely free because no hosting costs are incurred.
For this variant, you can use a 30-day test license to create a complete SAP S/4HANA on-premise system in the private cloud (which is hosted by a cloud provider). More appropriately, you instantiate rather than create the system. This system is an SAP S/4HANA appliance (hereafter referred to as an appliance).
The test license is free, but you'll have to pay hosting fees for the cloud provider you choose. Because this trial system is your system, you can view and change all functions (including customizing). You can also access the system via SAP GUI.
The appliance allows you to run an entire SAP S/4HANA on-premise landscape as a trial system in Amazon Web Services (AWS), Microsoft Azure, or Google Cloud Platform. You will need an account for the cloud provider. The figure below shows the appliance in the library.
6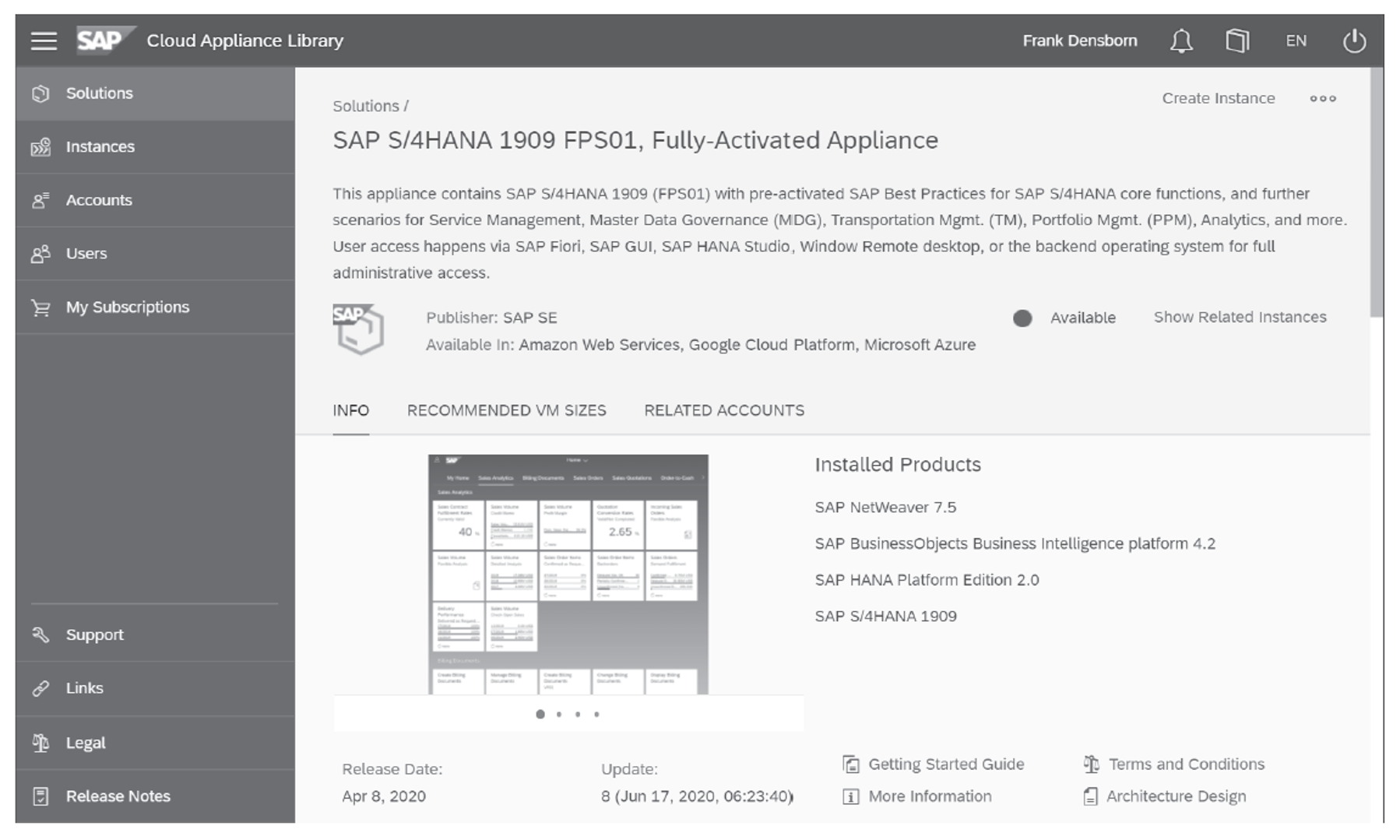 The benefits of using the library landscape are its flexibility and availability: you can define various sizes for the virtual systems (i.e., different memory and disk sizes) and thus adapt the landscape to your requirements. Furthermore, you can stop, start, and use your system as required.
Actual costs involve hourly fees for activated systems only (in addition to the low basic costs for each instance). If needed, you can deactivate a system and then (re)activate it later on.
This system is deployed within a few hours with the cloud approach, but you could, if you prefer, also implement this appliance on-premise in your own data center within one or two days. In addition to a trial system, this method also allows you to deploy a sandbox system for a proof of concept, for example, or as a development system in your future SAP S/4HANA landscape. The following section discusses these options in more detail.
SAP S/4HANA Fully Activated Appliance
A software appliance is a compressed system, similar to a large ZIP file, that you can easily extract to a common system. The software appliance contains all the settings and properties that were enabled when the original system was set up.
The software appliance behaves like a system copy of an SAP S/4HANA system, including ABAP code, SAP HANA database, SAP Best Practices, and technical SAP Fiori configuration. The SAP HANA database is bundled with the SAP S/4HANA software.
In addition, the appliance contains demo scenarios and sample data. You can therefore easily use it for sandbox systems, for proofs of concept, and for the fit-to-gap or fit-to-standard analyses provided by SAP Activate. The figure below illustrates the appliance's concept.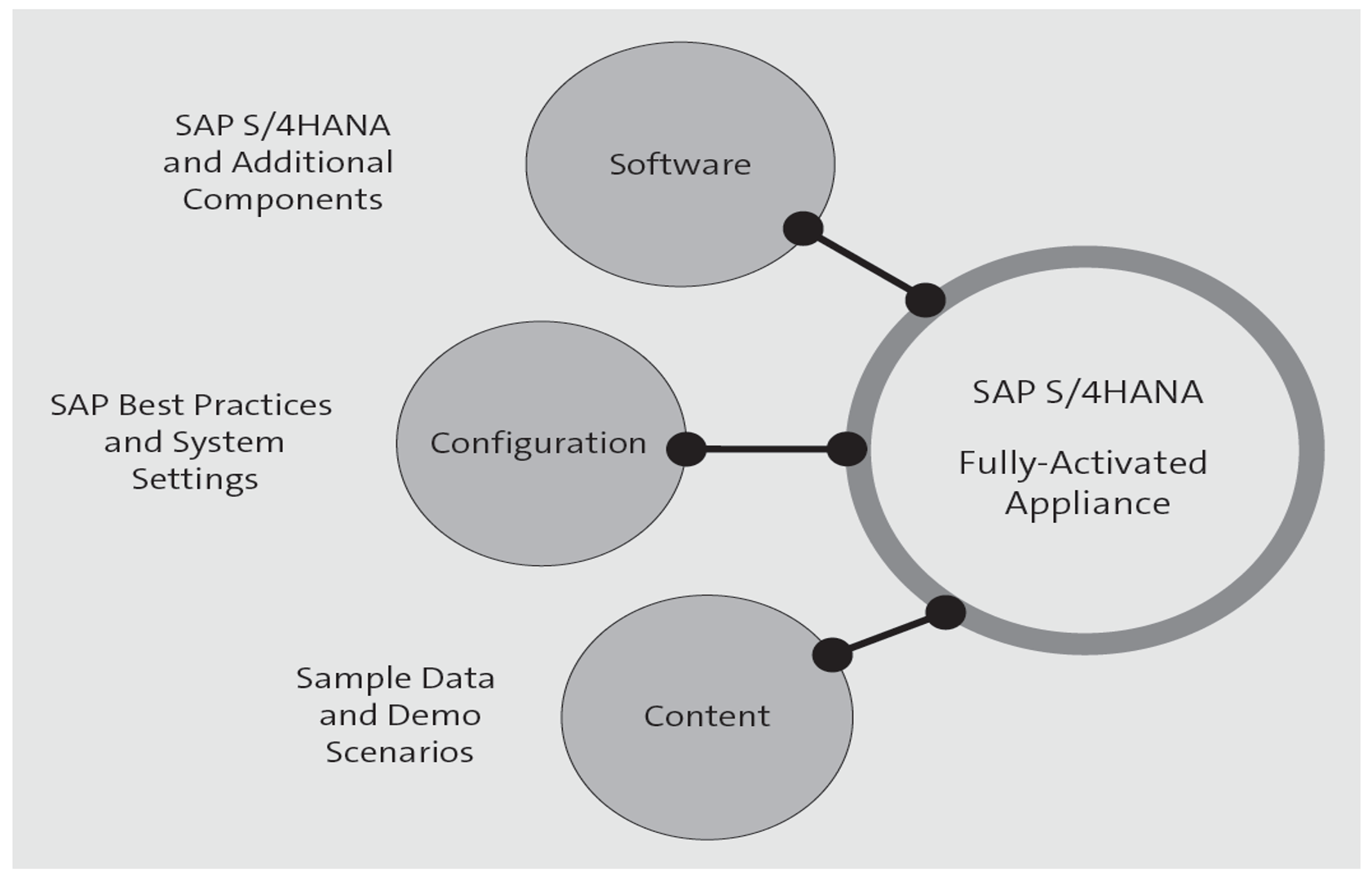 Customers and SAP partners can use the preconfigured appliance as a starting point. You can also continue using the appliance after the 30-day trial period if you purchase licenses for SAP S/4HANA and the SAP HANA database.
SAP Cloud Appliance Library Subscription: To use the appliance in the library beyond the testing period, you need an active library subscription, which you can purchase in the SAP Store at http://s-prs.de/v631633. This subscription isn't required if you install the trial system on your own hardware in your own data center.
There are two options for using the appliance.
SAP Cloud Appliance Library
The library allows you to use the appliance in a hosted cloud solution (IaaS). From creating your appliance instance to logging on to the system for the first time should only take one or two hours. Hosting will cost only a few dollars per hour when the system is active (during the so-called uptime or operating time). Some cloud providers give you a starting credit when creating your account, so you should check the hosting offerings of various cloud providers. This option includes a 30-day test license for the SAP S/4HANA system and library. After that period, you'll have to purchase a license for the SAP S/4HANA on-premise version and the library (via a subscription).
The library contains a detailed description of how to set up the solution, as well as blogs and forums via which you can get support. You'll also get information on using the appliance beyond the 30-day trial period.
On-premise Installation
You can also install the appliance on your own hardware easily. You'll only need hardware that is supported by the appliance and a Linux operating system. All other components are installed with the appliance. (The Linux version must meet SAP's requirements for a successful installation of a system copy.)
Thanks to the concept of the appliance, you'll be able to utilize your preconfigured system within two to three days. You can either download the installation files from the internet or order a Blu-ray disk with these files. The appliance is free, even if you order the disk. However, you'll need the corresponding SAP full or partial licenses.
Further Information on the Appliance in SAP Cloud Appliance Library and On-premise
SAP Note 2041140 contains further information on the system requirements for the on-premise installation and the order process.
The following deployment scenarios are available for the appliance:
Sandbox System
Sandbox systems may require more time for testing than the 30-day trial period. You might also want to keep the results of testing in the sandbox system, which makes a separate license for the product necessary. With the reference system, you can considerably reduce the initial effort required for setting up the system, and it's thus the ideal starting point for a sandbox system even if you use it beyond the 30-day trial period. You can start with the appliance and then customize the solution with your own master data, organizational structures, and so on according to SAP Best Practices. For this purpose, a hosting subscription for a cloud provider in the library is the best option because you don't have to deploy any hardware. If it's used for more than 30 days, you also need a library subscription, which was mentioned previously and is available in the SAP Store.
Proof of Concept
The appliance is an ideal proof-of-concept system because it's preconfigured and can be implemented easily. Because you'll be using a specific copy of the SAP S/4HANA system, you can customize the system as required and extend the solution scope to accelerate your proof of concept.
Development System
From a technical perspective, you can also run the appliance as a development system in the production landscape later on. However, SAP doesn't recommend this system for SAP S/4HANA landscapes, for the following reasons:
All languages are installed and enabled in the system. (This does not apply to your production system.)

Depending on your licenses, additional license costs might be incurred (e.g., for SAP Integrated Business Planning for Supply Chain and SAP Master Data Governance, which are part of the appliance). This is particularly required if the development system is copied to a quality assurance system or production system later on.
Appliance as a First Step to SAP S/4HANA: You can use the trial system and the appliance to get started with SAP S/4HANA. If you then decide to migrate to SAP S/4HANA, you can transfer the settings you made in the trial system to the production landscape.
Solution Scope of SAP S/4HANA Fully Activated Appliance
The appliance consists of four virtual machines bundled in one instance. The appliance comprises the following components:
SAP S/4HANA (ABAP backend including SAP HANA database and SAP Gateway as the frontend server for SAP Fiori)

SAP NetWeaver Application Server Java (SAP NetWeaver AS Java), with Adobe Document Services

SAP Best Practices (depending on the client, all SAP Best Practices that are available in SAP S/4HANA 1909 are already enabled)

SAP Fiori (with its extensibility interfaces and additional available fields)

Content for various scenarios in interactive demos
The following components are optional and are only available in the library (not in on-premise installations of the appliance):
SAP BusinessObjects Business Intelligence (with predefined reports)

Microsoft Remote Desktop (for easy access to frontend tools and SAP Fiori)

All localizations in reference clients
This figure provides an overview of the software components of the appliance.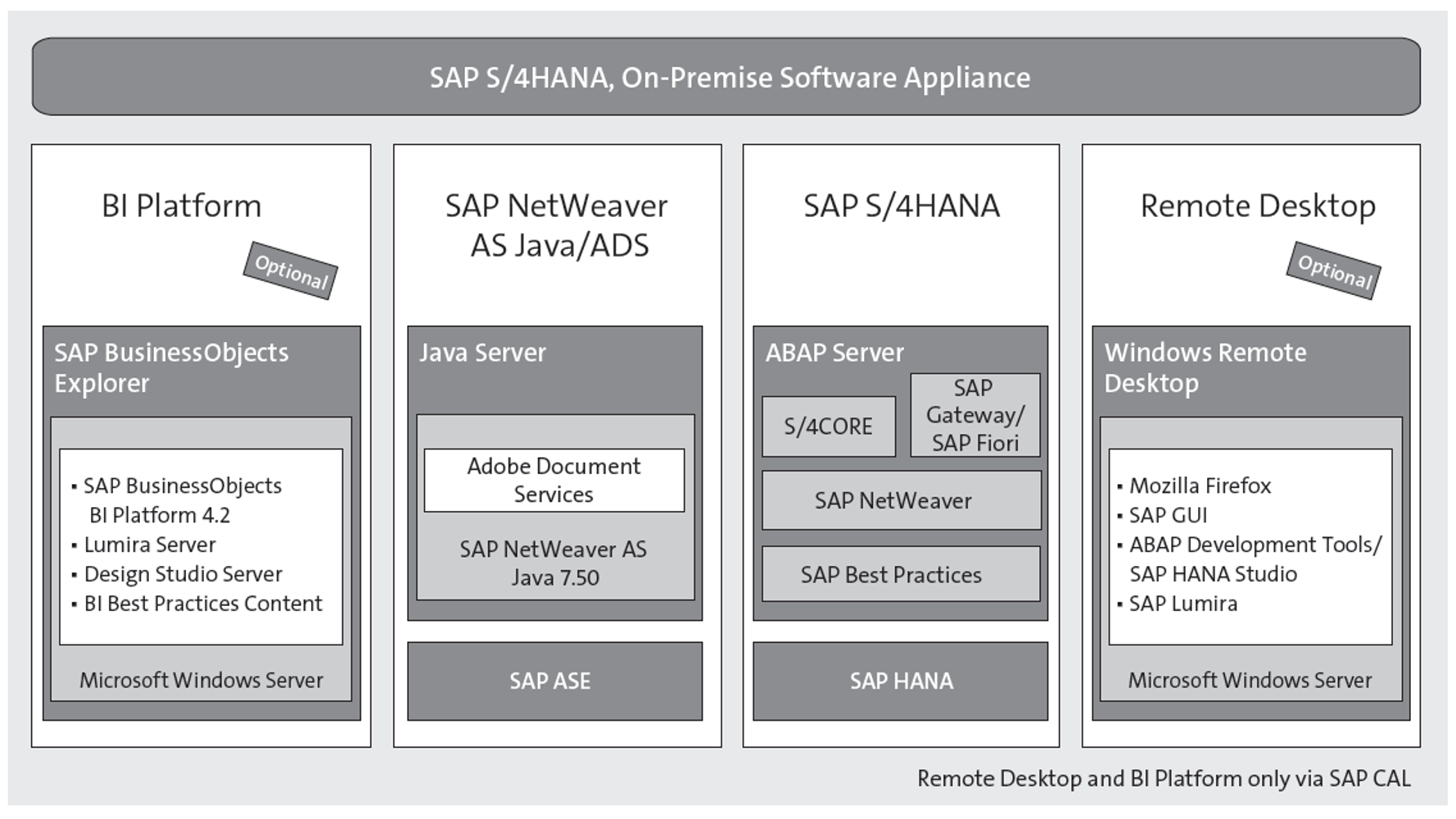 The appliance contains five preconfigured clients with different flavors of SAP Best Practices content:
Client 000
The master client is the default client of all SAP S/4HANA systems and is delivered by the appliance without any changes. You can use client 000 as the starting point for your activities if you want to implement SAP S/4HANA without SAP Best Practices, and it serves as a reference client for comparison of the predelivered customizing with the empty product.
Client 100
Client 100 is the trial client and includes the already activated tool, SAP Best Practices for SAP S/4HANA, and sample data, processes, and scenarios for the US and Germany. Client 100 also maps complete business processes.
This client serves as the starting point for exploring SAP S/4HANA. The system is already completely preconfigured and filled with data (master and transactional data), so you can start immediately and use a model company with company code 1710 for the US or company code 1010 for Germany.
Client 200
All technical activities for activating SAP Best Practices have been executed in this client, but SAP Best Practices has not been activated yet. Thus, you can carry out activating SAP Best Practices yourself using the scope that is relevant to you and possibly restrict it. You can also test the activation.
Client 200 is a preactivation client that already contains the SAP Fiori launchpad configuration (and is therefore ideal for comparisons if you want to activate SAP Fiori launchpad).
Client 300
This client is the default reference client for SAP Best Practices. Client 300 is a copy of the master client with activation of default SAP Best Practices for individual countries. You can view what the system looks like after you have implemented SAP Best Practices.
You can use client 300 as a reference because this client is not preconfigured. However, as a result, this client doesn't contain demo data. This is a so-called whitelist copy of client 000; that is, all configuration tables from client 000 are empty if they are not required for SAP Best Practices.
Client 400
Similar to client 300, client 400 is a reference system for SAP Best Practices. The difference is that all localizations are activated in the on-premise version of SAP S/4HANA and all configurations (including configurations that are not relevant to SAP Best Practices) are copied from the master client.
You can use this client for fit-to-gap or fit-to-standard workshops because it can be used not only for comparisons with the default content in SAP Best Practices but also for comparisons with the complete customizing of client 000.
You can then run a fit-to-gap or fit-to-standard analysis in the context of the SAP S/4HANA workshop. In this way, all parties involved in the SAP S/4HANA project will receive an overview of the implementation project and develop a migration strategy at an early stage. The idea is to adjust the default model company only if you can achieve a unique selling proposition for your enterprise by doing so. In all other cases, you should adhere or revert to the default settings instead of replicating your legacy system.
In general, you may have decided to deviate from the default settings in your legacy system when the necessary functions were not available in the SAP system. The goal of the fit-to-gap workshop is to understand the functions of the SAP S/4HANA system, validate the solution, and tailor it to your requirements using SAP Best Practices within the SAP S/4HANA system. Possible gaps should be determined and bridged, a completely different approach than the traditional implementation blueprint.
Summary
SAP S/4HANA trial systems help you to identify the requirements and prerequisites for your migration. This post explored the available trial systems available for SAP S/4HANA.
Editor's note: This post has been adapted from a section of the book Migrating to SAP S/4HANA by Frank Densborn, Frank Finkbohner, Jochen Freudenberg, Martina Höft, Kim Mathäß, and Boris Rubarth.