SAP and Amazon Web Services (AWS) offer different SAP business applications from the AWS cloud.
SAP approved and certified a broad range of its popular SAP solutions to deploy on AWS so that you can operate complete SAP software stacks in the AWS cloud.
Why Does Amazon Allow Utilization of AWS?
Amazon is the market leader in deploying infrastructures in the cloud. Amazon started this business because its infrastructure was only fully utilized during the Christmas and Easter seasons. When the infrastructure was not used to capacity during slower times of the year, Amazon provided these surpluses for a fee, and the cloud computing concept was born. Today, the enterprise works closely with SAP so you can obtain almost all SAP applications from the AWS cloud.
You can choose between Amazon data centers in ten regions and 26 availability zones and 51 content delivering edge locations. The below figure maps the distribution of the data centers.

Important AWS Definitions
Region
A region is an independent group of AWS services in a geographical area. Each region operates under local data privacy regulations and laws. You can choose the region where your data will be stored. This will not be changed by Amazon.
The distinction among regions allows you to design your web applications in such a way that they are located in the geographical region nearest to specific customers and meet legal or other regulatory requirements. Furthermore, each region contains two or more availability zones.
Availability Zones
Availability zones are locations within a region that are operated in isolation and are not affected by errors in other availability zones. They also provide cost-efficient connectivity and low network latency for the other availability zones in the same region.
Although there many reasons for using SAP on AWS, the most important reasons are described in the following:
Low costs: By operating SAP on AWS, you can save on infrastructure investment costs and on some operating costs. Later in this piece, you'll find a detailed analysis of cost savings if you operate SAP on AWS instead of on-premise.
Flexibility: AWS allows you to scale your SAP system infrastructure in both directions as needed. For example, you can make more resources available to your system for overnight batch jobs or month-end closings and thus increase scaling considerably.
Agility and speed: If you operate SAP on AWS, you can launch your SAP system within minutes without having to invest time for setting up SAP systems. This way you can avoid the entire internal process from ordering hardware to setting up the operating system.
Security: AWS provides a secure platform for your SAP applications that has passed various certifications and audits, meaning that the platform meets relevant requirements. You are responsible for supporting and managing the SAP systems that you operate on the platform so that they also fulfill these requirements.
No capacity planning: If you operate SAP on AWS, you normally do not have to perform capacity planning. Instead, you can add processing, storage, or network instances as required. You do not have to strategically plan this; you simply order what you require from Amazon.
Easy integration with data centers: Amazon Virtual Private Cloud (VPC) allows you to establish secure connections between AWS and your data center to ensure connection security for your data and applications.
Pros and Cons to Running SAP on AWS
In summary, you can see that using the AWS cloud provides many benefits. However, you should also know that these numerous benefits might also involve some challenges you have to overcome. These challenges primarily occur in the operating model (who is responsible for what tasks regarding IT operation) and in the security area. But the most important benefits for many enterprises are the cost benefits, which we'll look at next.
Based on what we've looked at so far, here's where things stand right now: AWS provides you with a public cloud service for SAP services. The AWS cloud is a certified platform and is, as a result, also theoretically suitable for SAP live systems. Scaling options enable you to also operate very large SAP systems in the AWS cloud.
In general, SAP provides official support for the live operation of SAP systems on the AWS cloud. However, there are challenges linked to operations in the cloud. The basic support SAP provides for SAP systems may be too general for some customers to use to overcome issues, including security, scope of service, and so on.
VMS AG, an SAP consulting firm, conducted a cost analysis of SAP on AWS. You can find this cost analysis on the Amazon website at http://awsmedia.s3.amazonaws.com/vms_en_tco_study_aws_205.pdf.
Because SAP systems vary greatly, the study centered around four profiles of typical SAP landscapes. The four profiles were the following:
Large ERP system (on-premise): A three-tier ERP system including a sandbox with 6,000 registered users and 3,000 active users per day. In this landscape profile, the ERP system was installed on-premise.
Small ERP system (on-premise): A three-tier ERP system with 300 registered users and 250 active users per day. In this landscape profile, the ERP system was installed on-premise.
Small ERP system (outsourced): A three-tier ERP system with 300 registered users with 250 active users per day. In this landscape profile, the ERP system was operated by an outsourcing provider.
SAP All-in-One (on-premise): Multiple three-tier ERP, BI, or CRM systems, with 100 registered users and 75 active users per day. In this landscape profile, the system was installed on-premise.
For each system landscape, the study compared the total costs of traditional hosting versus the total costs of hosting by AWS. Calculations were based on a five-year lifecycle and analyzed various cost elements for system operation. The table below shows the difference between the overall savings and the specific cost savings in the infrastructure elements, which are directly influenced by the use of AWS.
The total savings refer to the total costs that are incurred for operating the system, including SAP license costs, costs for SAP maintenance, and so on.

The overall savings range between 15% and 22%. For components provided by AWS, savings between 59% and 71% can be achieved. As you can see, the potential cost benefit of hosting SAP systems on the AWS cloud is significant. This cost benefit may lead enterprises to increasingly use AWS cloud to host SAP systems.
The costs were divided according to common cost models in the study. The study included the following cost elements:
Hardware and software investment: Costs for technical infrastructure, system software, and application software
Implementation: Costs for process design, organizational changes, technical setup, business setup, project management, testing
Ongoing costs for hardware and software: Costs for the technical infrastructure, system software, and application software
Operations: Typical operating costs for system operation and application operation
Continuous improvement processes: Costs for continuous, technical, and operational enhancements and rollouts
Upgrade projects: Costs for activities such as application upgrades and system upgrades
The study also breaks down potential cost savings according to these cost elements (see table below).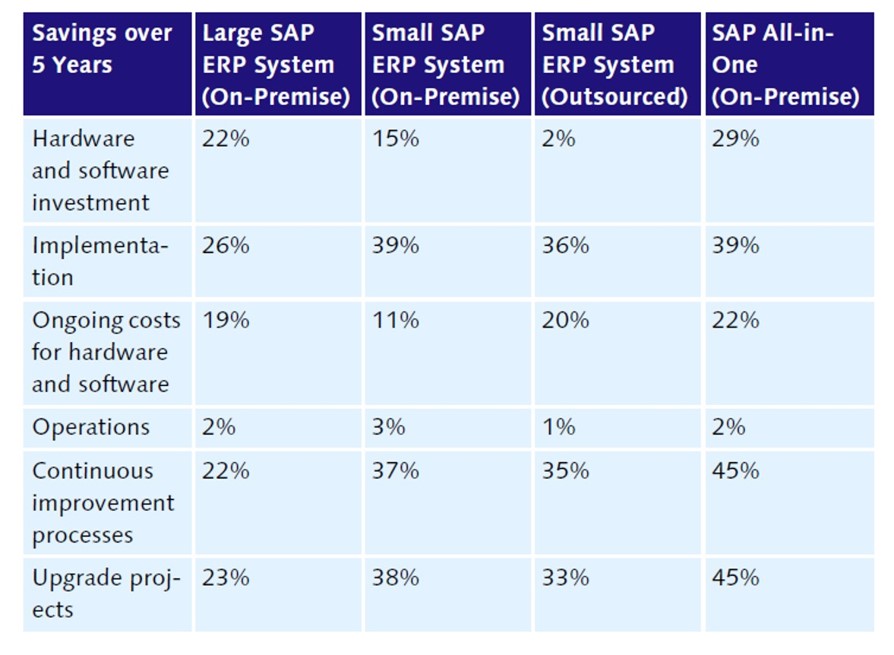 Conclusion
As you can see, operating an SAP system in the AWS cloud can provide major cost benefits, and operating your systems in the AWS cloud is, as a result, a legitimate option to consider. Make sure you take your unique business environment into account before making the jump, but if it seems like running SAP with AWS is the best choice for your business, you can feel confident in your decision. Learn more about SAP and the cloud here.
Editor's note: This post has been adapted from a section of the book Operating SAP in the Cloud: Landscapes and Infrastructures by André Bögelsack, Galina Baader, Loina Prifti, Ronny Zimmermann, and Helmut Krcmar.