SAP BRIM, previously known as SAP Hybris Billing, is a comprehensive solution for high-volume consumption businesses.
SAP BRIM enables various flexible consumption models. It is a modular solution designed to optimize the business lifecycle processes of design, sales, delivery, and billing, as depicted in the figure below, which illustrates the lifecycle of the SAP BRIM solution based on its business benefits.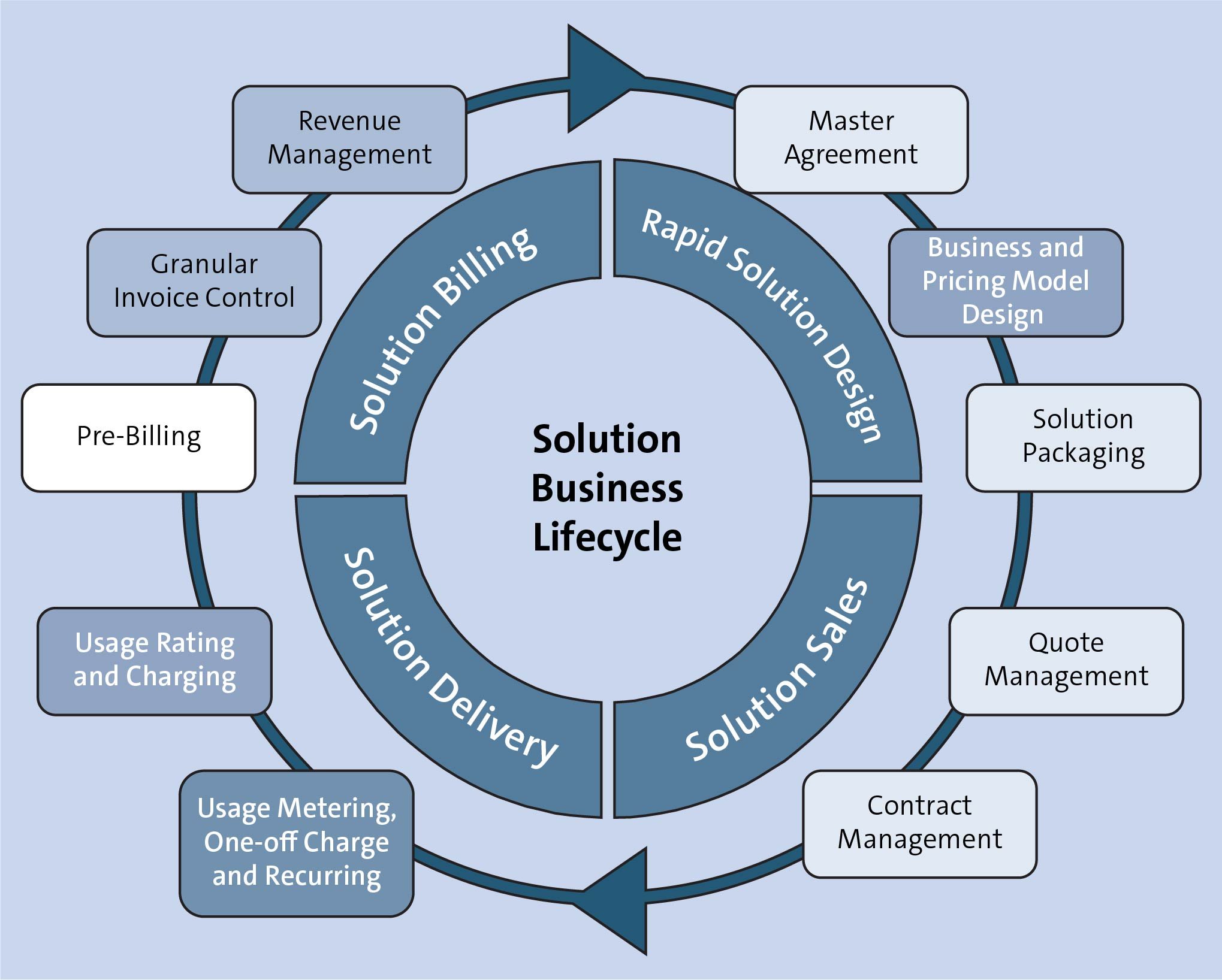 The first phase is design, in which SAP BRIM assists with the creation of a uniform design for a business and pricing model, along with the master agreement that will be used as the base for other downstream processes.
Once this is done, the next phase, solution sales, kicks in. In this phase, companies define how they will sell their products with the assistance of the contract management and/or quote management functionalities offered by SAP BRIM.
The third phase is solution delivery. In this phase, companies define the charging methodology for their portfolios. In other words, this is when the companies decide how and how much their customers will be charged based on the business models they pursue. For example, if a company follows an event-based model, it will define the business/transaction events that trigger charges for customers. If a company chooses a consumption-based model, it will calculate the tiers of consumption in which customers will be charged.
The final phase is solution billing. In this phase, SAP BRIM lets companies manage their billing and invoicing mechanisms for consumers based on what has been finalized in previous phases. Furthermore, SAP BRIM aids in the management of revenue recognition and management with various tools for revenue analysis.
SAP BRIM Components
The solution comprises four core components:
SAP BRIM, subscription order management
SAP Convergent Charging
SAP Convergent Invoicing
Contract Accounts Receivable and Payable
Together these components help in the management of business model design; perform order management; track usage metering and transaction pricing, billing, and invoice processing; manage receivables and payables, royalties, and commissions; and provide support for financial customer care.
SAP BRIM also offers peripheral solutions such as SAP Convergent Mediation by DigitalRoute, SAP Flexible Solution Billing, SAP Revenue Accounting and Reporting, and SAP Entitlement Management, which are implemented as needed per business requirements and complement the core SAP BRIM solution. His is a breakdown of the SAP BRIM components: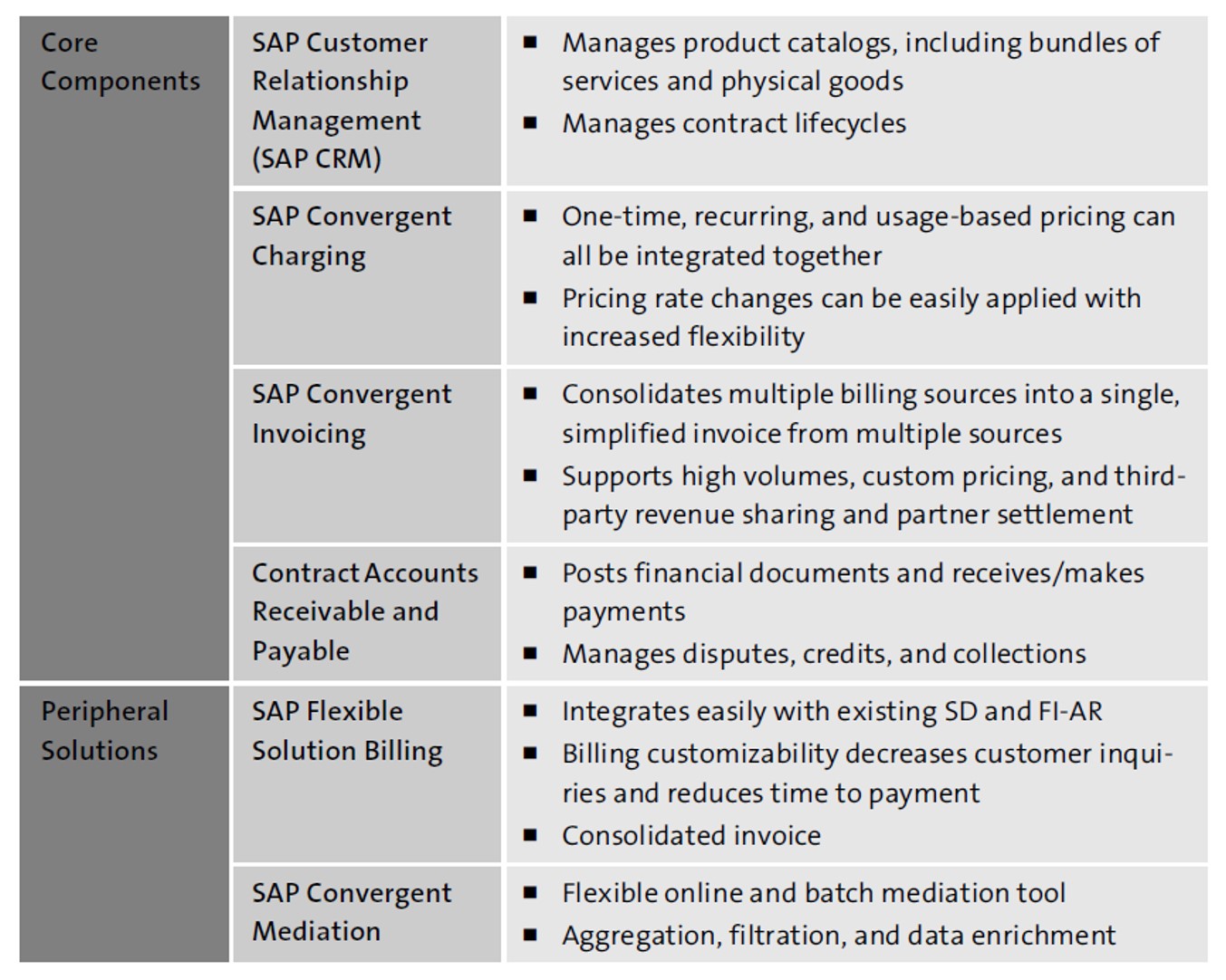 SAP BRIM solution components reside both as areas within SAP S/4HANA and as standalone modules that integrate with SAP S/4HANA.
The figure below illustrates how each core component of SAP BRIM resides within the end-to-end solution landscape. SAP BRIM, subscription order management and SAP Convergent Charging reside in different instances because they are standalone applications. This is denoted by (1) for SAP BRIM, subscription order management and (2) for SAP Convergent Charging. On the other hand, SAP Convergent Invoicing and FI-CA are part of the SAP S/4HANA solution and come out of the box with SAP S/4HANA. This is denoted in the diagram with (3), used for SAP S/4HANA, FI-CA, and SAP Convergent Invoicing.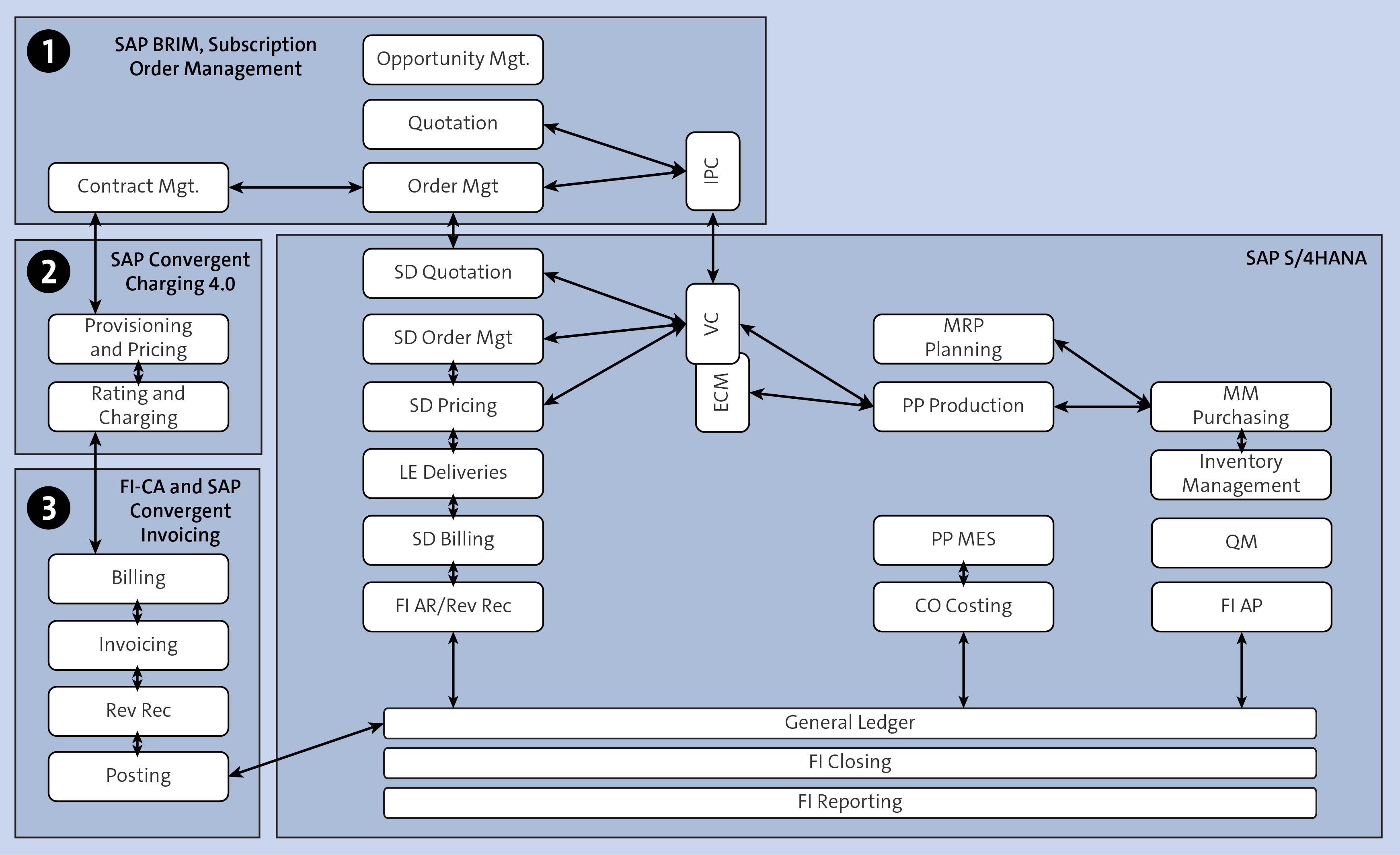 As part of the new architecture of SAP S/4HANA 1909, subscription order management is now part of the SAP S/4HANA solution, as seen below. This significantly reduces the complexity in the implementation and integration when companies implement SAP BRIM solution.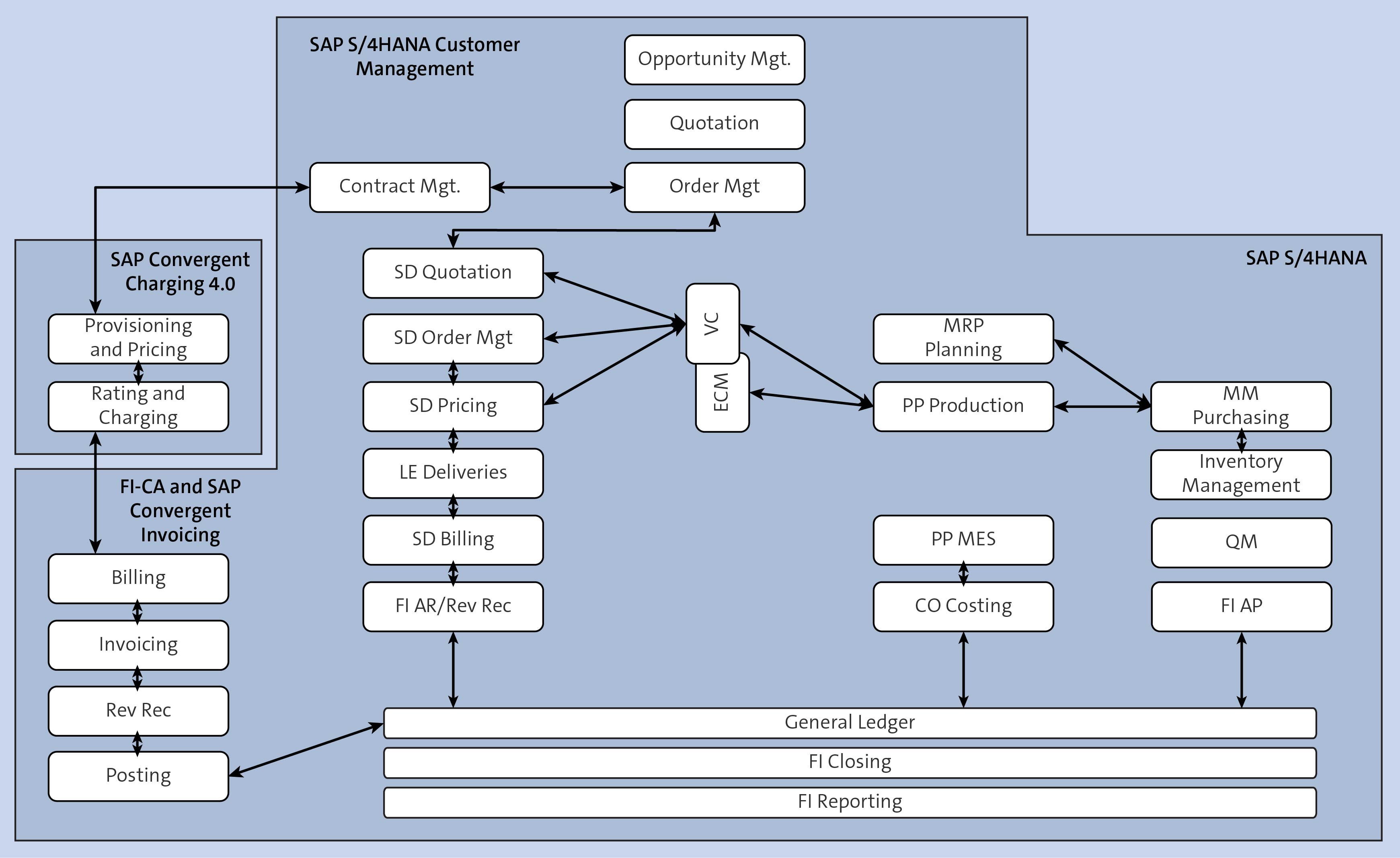 SAP BRIM, Subscription Order Management
SAP BRIM, subscription order management is an integral part of the end-to-end SAP BRIM solution. It is a business process developed in SAP for the purposes of addressing generation of fees for periodic usage of rights and the consumption of fees for the actual amount of measurable usage. It is built as an additional function relying on the SAP CRM backbone. As of SAP S/4HANA 1909, it has been folded into SAP S/4HANA.
Before 1909, SAP CRM acted as the frontend for companies to connect with their customers for the purpose of product/service selection. SAP CRM and SAP BRIM, subscription order management are the starting point for SAP BRIM as it manages contract lifecycles and product catalogs, including bundles of services and physical goods.
Once these activities are done, SAP BRIM, subscription order management creates orders that are then fulfilled by the core SAP ERP system. The order information is then passed to the next component, SAP Convergent Charging, for charging/rating defining and processing.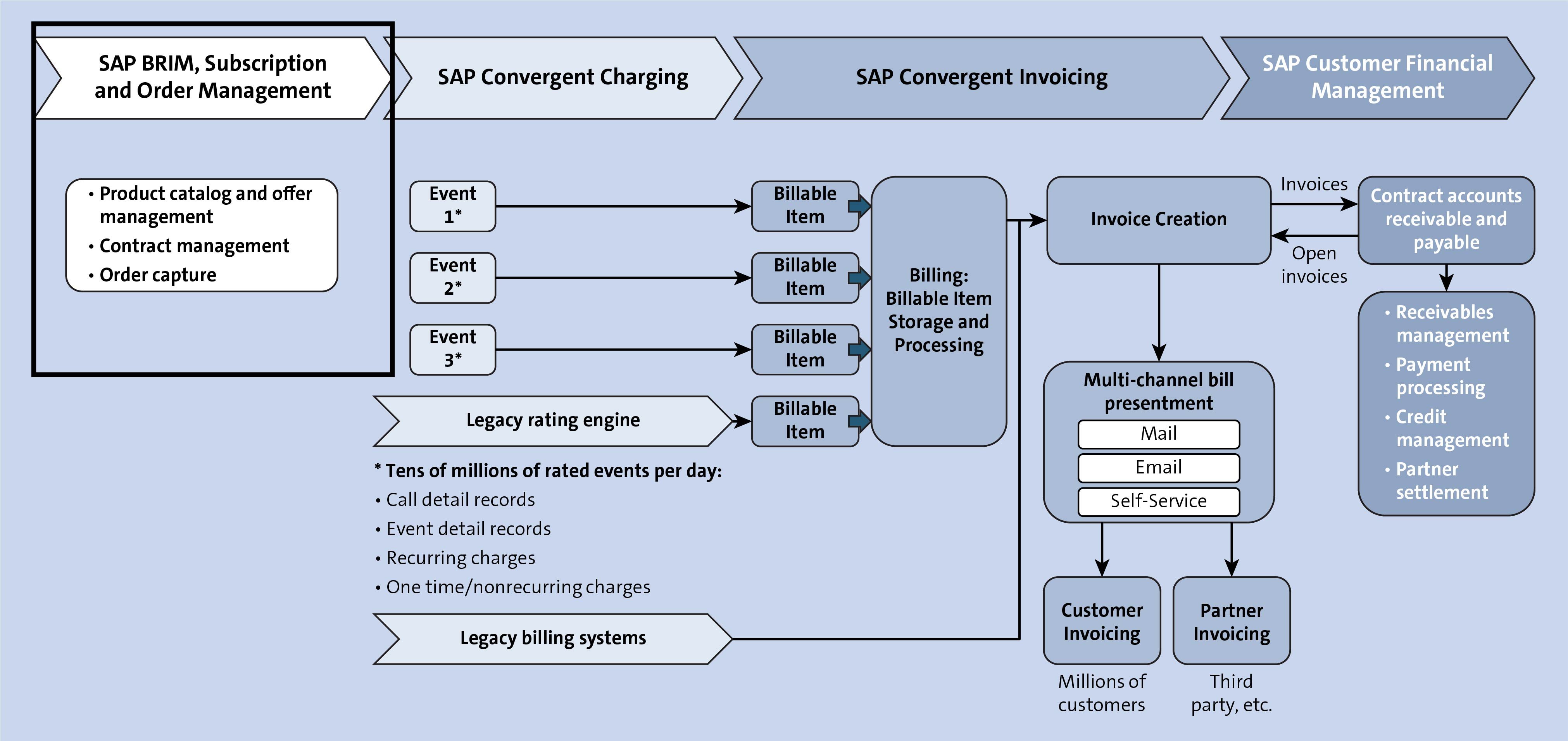 Equipped with the following specialized features, SAP BRIM, subscription order management
allows a company to effectively manage its customers by creating flexible
ways to meet its customers' needs:
Product catalog and offer management
Order capture
Order distribution
Contract management
Customer care
SAP Convergent Charging
SAP Convergent Charging is designed to deliver pricing flexibility when charging customers. In SAP Convergent Charging, a charge is a price generated from a rating and charging event that is charged to the customer (or subscriber). In other words, SAP Convergent Charging is a calculation engine tool used to determine the type of charges, such as recurring, one-time, and usage-based charges.
The figure below illustrates how SAP Convergent Charging fits into the SAP BRIM solution. There are two main components in SAP Convergent Charging: charging and rating. Charging is how SAP Convergent Charging determines which exact customer account will be charged against for a specific customer. On the other hand, rating focuses on the calculation mechanism that derives the total amount to be charged in the billing document.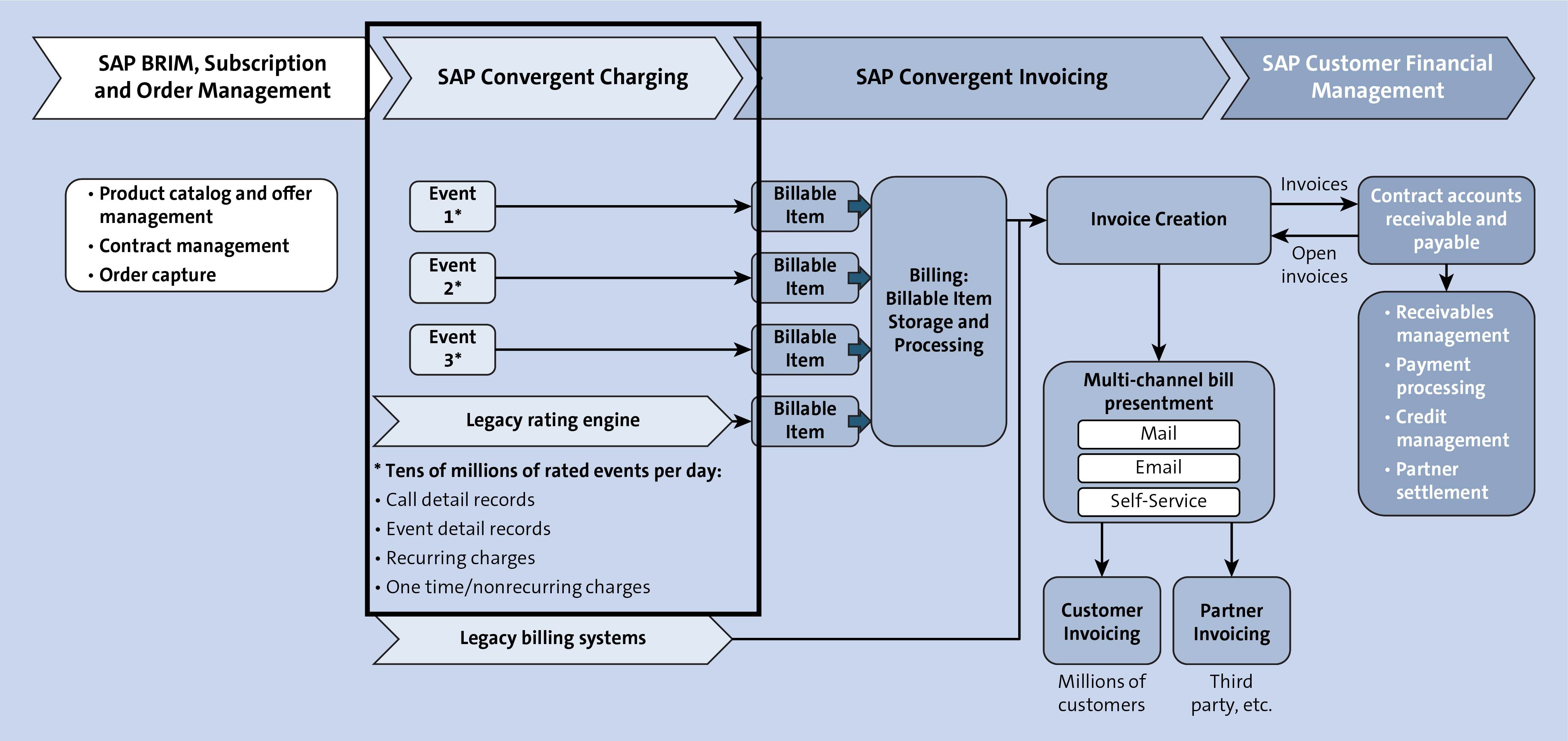 As part of the SAP BRIM solution, SAP Convergent Charging comes with an intuitive graphical user interface, which allows for visual programming (see below). This, in turn, virtually eliminates functional and technical limitations to developing pricing offers and revenue sharing plans for different types of services.

SAP Convergent Invoicing
SAP Convergent Invoicing's role in SAP BRIM is to consume the billable items once they are passed down from SAP Convergent Charging. Once these items reach SAP Convergent Invoicing, the application will handle the process of uploading consumption detail records, storage of billable items, aggregation of billable items, invoice creation, and invoicing the customer.
SAP Convergent Invoicing stores and manages rated consumption data records from the SAP Convergent Charging system (as shown below). The rated consumption data records are also known as billable items and undergo a billing and invoicing process as part of posting of receivables in FI-CA.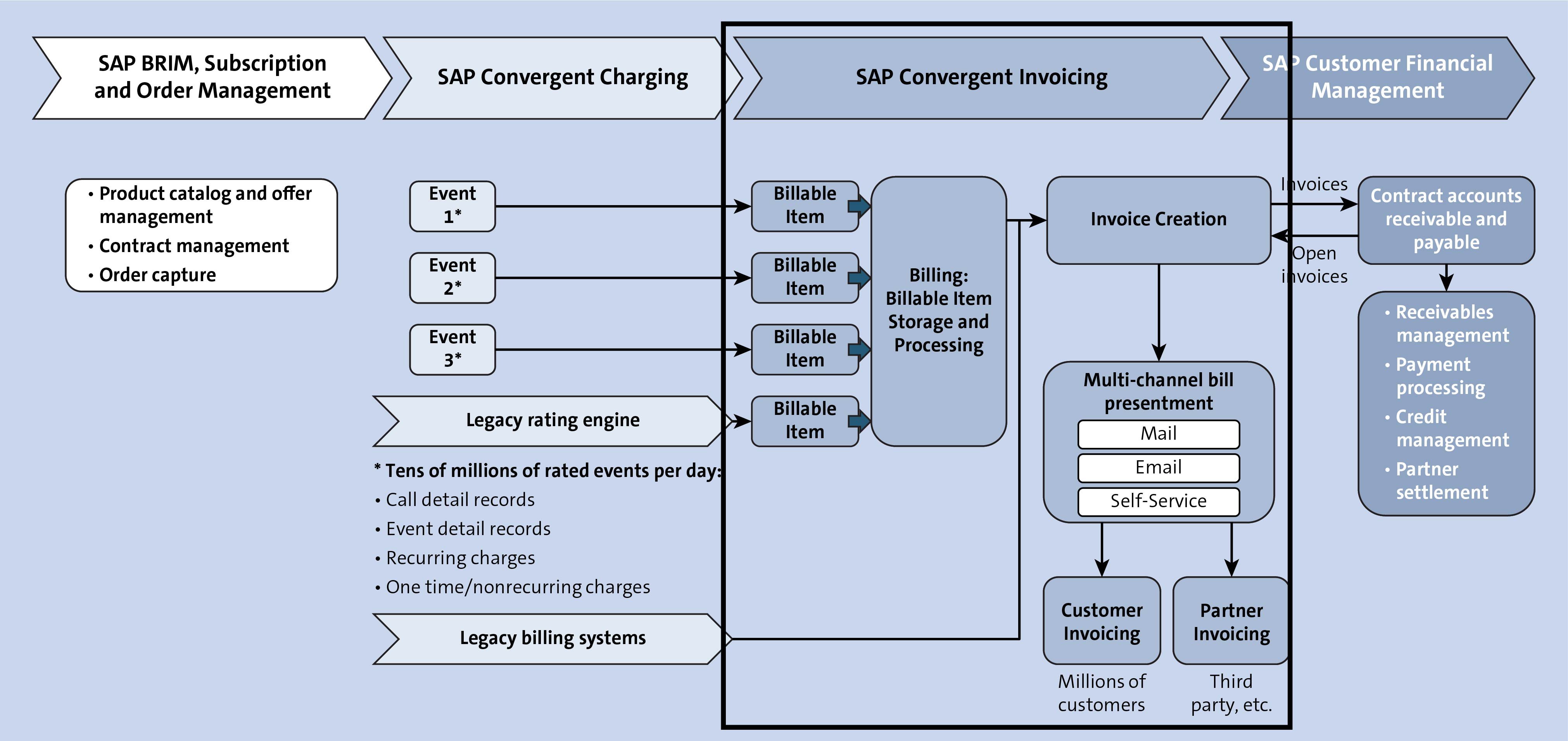 Unlike SAP BRIM, subscription order management and SAP Convergent Charging, which come as separate applications, SAP Convergent Invoicing is not a separate application and is a part of Contract Accounts Receivable and Payable, which is included as part of the core SAP S/4HANA portfolio. This means that SAP Convergent Invoicing is natively integrated with all SAP S/4HANA areas out of the box, especially SAP S/4HANA Cloud for contract accounting and invoicing.
Contract Accounts Receivables and Payables
Contract Accounts Receivable and Payable (FI-CA) is the last component of SAP BRIM. It is the financial backend that provides subledger accounting postings tailored to accommodate the requirements of industry sectors in which companies must interact with multiple customers (in this case, subscribers) and a large number of transactions.
As the financial backend of a robust solution in a dynamic business model, FI-CA also offers a wide range of functionalities. As shown in the next figure, FI-CA offers taxation, tax calculations, and country-specific processes, such as accounting principles, payment processing, collection management, partner settlement, and so on. Because of these requirements, FI-CA is highly automated after its initial setup and requires little intervention.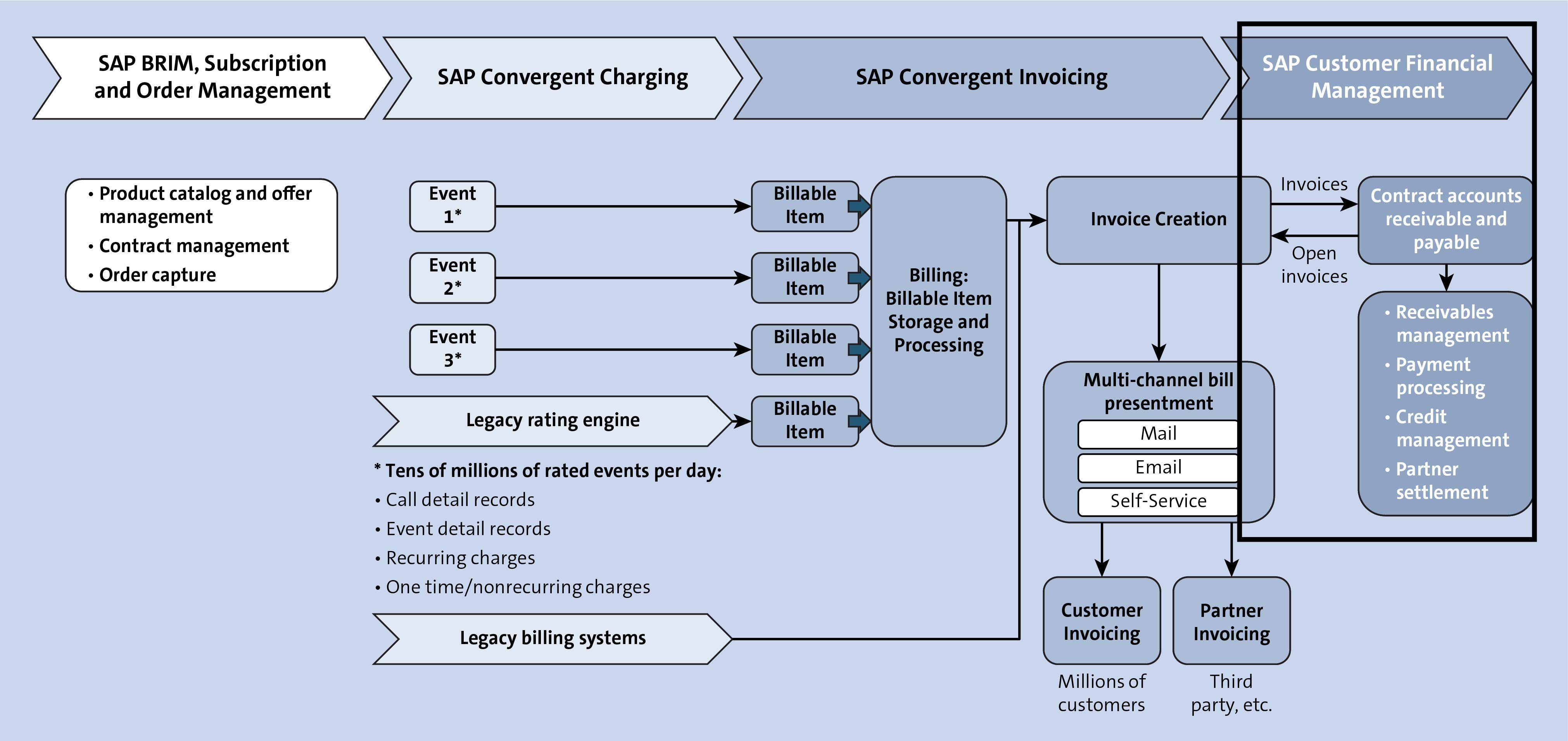 To summarize at a high level, we create orders in SAP BRIM, subscription order management, perform calculations in SAP Convergent Charging for an order based on usage, and get the final charge amounts in SAP Convergent Charging. Bills and invoices are sent to the customer using SAP Convergent Invoicing. Finally, in FI-CA we post the financial documents and receive/make payments. We also use FI-CA for dispute management, credit management, and collections.
Peripheral Solutions
For the most part, SAP BRIM's four core components within the core SAP ERP system is well-suited to meet most business requirements. However, in certain cases, companies have the option to create even more robust and flexible solutions by integrating with other peripheral solutions offered on the market. In the following sections, we discuss some of more popular peripheral solutions that can complement SAP BRIM.
SAP Convergent Mediation by DigitalRoute
SAP Convergent Mediation is an SAP partner product developed by DigitalRoute. Its role is to enable a standardized approach to data mediation. This means this solution first gathers data from multiple sources, then the data is then filtered and converted into a format that can be consumed by other SAP BRIM components.
The advantage of SAP Convergent Mediation is that even though it is developed by another party, it is pre-integrated into SAP BRIM and can be deployed quickly. The benefits that come with this solution include the reduction of multiple integration points required to manage data, reduction in infrastructure costs, and increased efficiency in data processing, which leads to higher scalability.
OpenText
OpenText is developed by the company of the same name. OpenText complements the SAP BRIM solution by extending the document management capabilities of all SAP modules. It enables businesses to have a comprehensive view of all scanned business documents and all related data across systems and applications. OpenText's advantage lays in its pre-integration with SAP modules and its ability to optimize and standardize document management through automation to ensure productivity and compliance.
Payment Gateways
Payment gateways is a generic term that refers to a set of applications offered by many vendors to provide portals for payment processing. These applications typically offer functionality for secured payment processing through major financial methods (credit cards, PayPal, checks, etc.), payment and personal data tokenization, and fraud monitoring,
SAP Customer Financial Management
SAP Customer Financial Management is a set of solutions created to streamline analyzing and optimizing financial processes. They provide solutions for cash management, investment and debt management, and financial risk management. In most cases, SAP Customer Financial Management is used in conjunction with SAP BRIM to measure, analyze, and control the risk of a business partner defaulting on financial obligations.
SAP Revenue Accounting and Reporting
SAP Revenue Accounting and Reporting (SAP RAR) lets businesses manage their revenue and income recognition cycles in compliance with various accounting policies. The solution comes with many accounting standards and rules preconfigured and automated (e.g., ASC 606 or IFRS 15). In addition, SAP RAR also provides a wide range of configurable reporting capabilities for cases in which the standard reports cannot meet a company's requirements.
SAP Entitlement Management
SAP Entitlement Management streamlines and automates the process of entitlement management for companies. The solution manages the entitlement lifecycle (i.e., manages what the customer is entitled to). This ensures transparency into what customers are entitled to for both the customer and the sales rep (alerts, reminders, etc.). This, in turn, increases customer satisfaction and provides more opportunities for upselling or cross-selling.
Conclusion
SAP BRIM is a powerful solution used in managing subscription and other recurring revenue sources. In this blog post, we explore the tools that make up SAP BRIM, as well as some peripheral solutions that can be used alongside SAP BRIM. Now you're ready to take your first steps to SAP BRIM.
Editor's note: This post has been adapted from a section of the book SAP Billing and Revenue Innovation Management: Functionality and Configuration by Maniprakash Balasubramanian, Chaitanaya Desai, Sheikna Kulam, Chun Wei Ooi, Rakesh Rajagopal, Clement Sanjivi, and Andreas Tan.