SAP Subscription Billing is a relatively new solution in comparison with SAP Billing and Revenue Innovation Management (SAP BRIM).
Though it supports traditional business use cases around the as-a-service model, it lacks the flexibility of SAP BRIM when working with client-specific requirements. You can customize the application based on the different configuration options provided by SAP to handle business use cases based on your requirements; however, to implement any feature that isn't supported out of the box, you need to rely on integrated applications or workarounds. Usually, SAP Convergent Mediation by DigitalRoute can be used with SAP Subscription Billing to handle such requirements. In addition, SAP Subscription Billing provides a quarterly update where new features are introduced to make the solution more robust and mature.
Because SAP Subscription Billing is built on SAP Business Technology Platform, it allows you to integrate with legacy or customized provisioning services or applications easily in your process flow for the activation of services through the order fulfillment or subscription creation. SAP Subscription Billing also provides you an option to monitor the order orchestration process from order creation to billing with different stages, and it provides option to handle errors and to reinitiate the process when errors are fixed.
The SAP Subscription Billing solution is designed for small- to mid-size subscription-driven clients to not only increase customer satisfaction but also to provide a business-friendly application to manage recurring and usage-driven revenue models. This automated solution simplifies both recurring and usage billing processes, thereby making it more efficient and transparent, which helps in reducing customer disputes. The solution is filled with preconfigured components to enable business users and IT configurators to create new and innovative business models based on industry-specific requirements. The application is easy to use and supports generating offers and services easily to manage usage, one-time, and subscription-based charges The SAP Subscription Billing application helps to streamline master data management, sales, billing, and payment processes.
In this post, we'll guide you through how to configure SAP Subscription Billing.
To set up the SAP Subscription Billing application with a client-specific use case, you need to start with business configuration first. To access the application, use your tenant URL along with your user credentials. Once you're logged in to the system, you can navigate to Master Data and Configuration > Business Configuration.
The application consists of different configuration options that must be set up prior to setting up any master data or transactional data. Let's discuss some of the core settings, such as markets, units of measure, and rate elements, to enable your application to function.
Markets
In SAP Subscription Billing, a market is defined as an entity that offers digital product and services and has various legally relevant attributes. Each subscription to a digital product is associated with a single market. A market represents the organizational unit that offers a product, setting the legal framework and reflecting various business-relevant attributes, including a reference to a sales organization and further aspects, such as currency, price type, and time zone. Note that it's not possible to delete an existing market or to change the ID, currency, time zone, or price type of a market once saved.
For our use case, you need to create a name for your business and business location (for example, "MARTEX_USA") where the products are managed and sold. To navigate in SAP Subscription Billing, navigate to Master Data and Configuration > Business Configuration > Markets.
As shown in the figure below, while setting up markets, select Currency and Price Type values in SAP Subscription Billing. Depending on the Price Type selected, either gross or net prices can be entered in the Products app. The default price type is Net.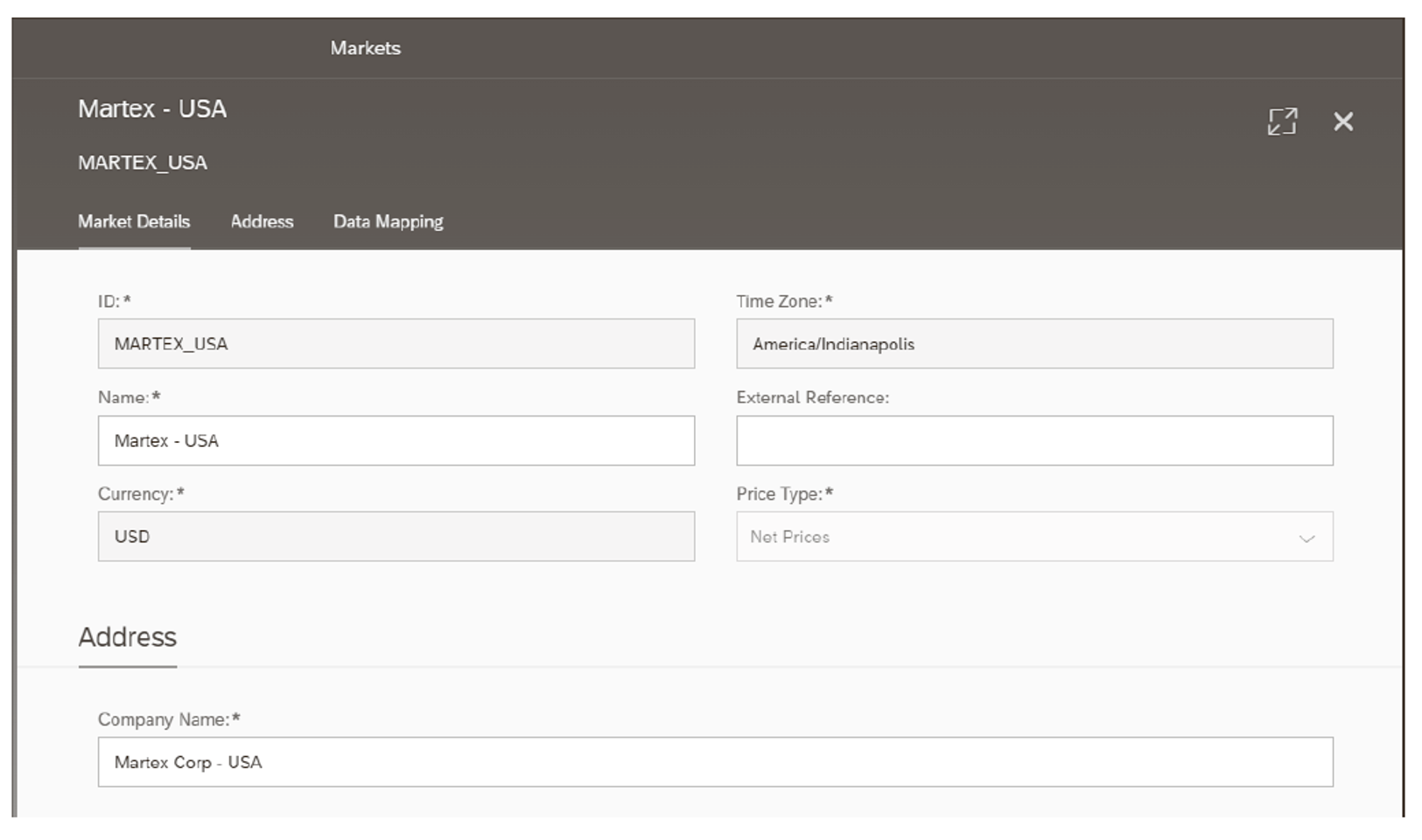 In addition, as shown below, there is also a Sales Area section for related information, such as Sales Organization, Distribution Channel, and Division, in markets.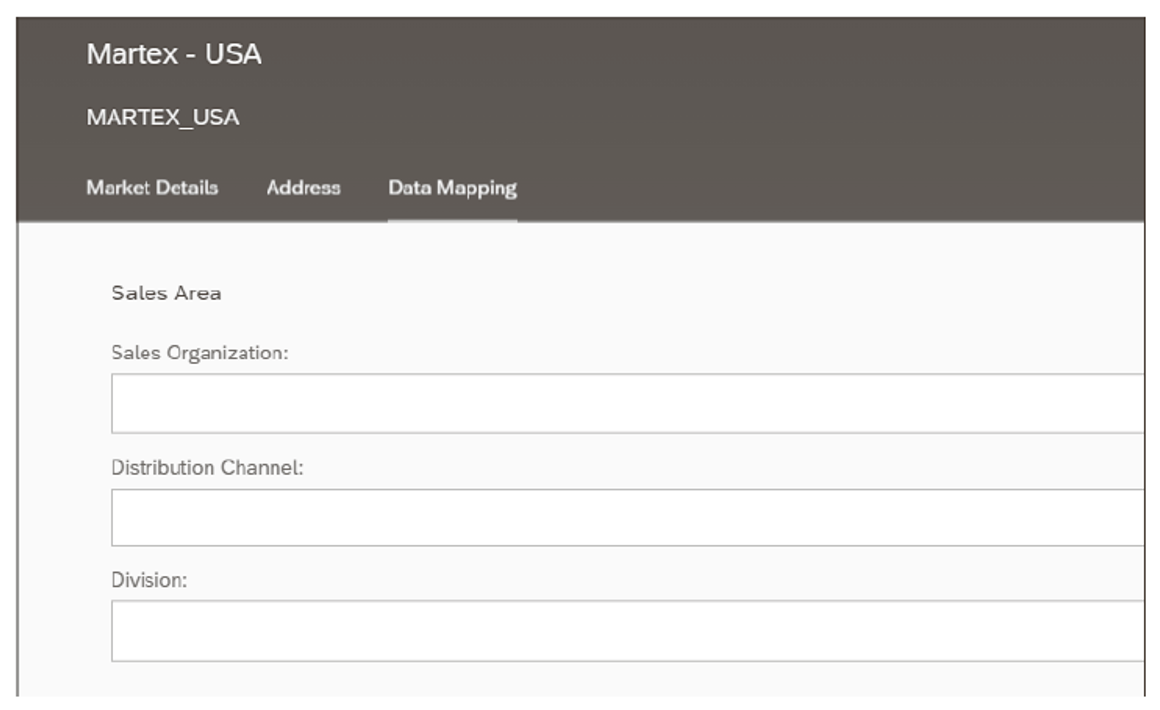 Units of Measure
In this section, you can maintain different units of measure that you'll need for your billing and pricing. The recommendation is to define Each (EA) for one-time charges and Each Per Period (EPP) for fixed recurring charges.
Rate Elements
Rate elements are used to define properties usually when setting up products and billing. SAP Subscription Billing offers three types of rate elements.
Recurring

Usage

One-time/initial fee
As part of our Martex use case, define a recurring rate element by entering "Martex Recurring Charge" in the Label field, as shown here.
The Data Source field for the rate element refers to the source of the quantity information that can be used to calculate the billing amount. Because fixed price will be used for this use case, select None. However, if you want to factor quantity while calculating amount, you would select the Data Source as Subscription. The Billing Type field is used to specify if the amount is to be charged to a customer or to be credited.
The preceding business configuration will allow you to start with the master data setup.
Editor's note: This post has been adapted from a section of the book SAP Billing and Revenue Innovation Management: Functionality and Configuration by Jyoti Prakash Pathak, Maniprakash Balasubramanian, Shovanjit Gangopadhyay, Clement Sanjivi, and Andreas Tan.