In this blog post, we'll teach you about the SAP Commissions solution and give an example scenario of when you might use it.
What exactly does SAP Commissions do? The official line is that SAP Commissions is a sales performance management tool. Perhaps you've heard it referred to as incentive compensation management, or just compensation management. But it really comes down to something with which you're probably already familiar: figuring out how much to pay each member of your company's workforce based on their performance.
Every company wants to have a fair way to reward its employees for the work they do. Of course, part of that is your base salary. That generally doesn't change from month to month. What's harder to calculate is variable pay. That includes commissions for sales people, bonuses, and other types of pay you may not be familiar with, such as draws and guarantees. We'll cover those a bit later. But for now, let's just say that variable pay includes any amount that changes, based on what the payee achieved.
Just to make this a bit easier to understand, following are some examples of variable pay that SAP Commissions might calculate:
Every month, all sales representatives receive a 5% commission on all sales they closed that month.

Every quarter, each sales manager receives a bonus of $5,000 if their team meets its quota.

Business development representatives make cold calls to qualify prospects. For each qualified prospect, the rep receives $200.

Customer service reps send out a "How did I do?" survey after each service call. Using a scale of 1-5 stars, each rep gets a $1,000 bonus if their average rating is 4 stars or above for the quarter.
In other words, SAP Commissions is about making sure your people are compensated fairly and consistently, while your finance team has visibility to the effect of this compensation on team performance. In the following sections, we'll introduce an example scenario. Then, we'll provide you an initial overview of the SAP Commissions solution.
Example Scenario
While SAP Commissions is used by companies in a wide range of industries, we'll use a fictional company to demonstrate various features. Of course, we want to make it fun, so let's pick a company that makes sporting goods. We'll call them Quality Outdoor Gear. This is a company based in the USA that makes all the gear a family needs to enjoy the outdoors at a reasonable price.
Until last year, compensation for the sales team was relatively easy to manage. A small team of sales representatives handled sales from the corporate office, and commissions and bonuses were calculated manually. At the time, all their sales were in the United States and Canada. Now that they're growing fast, their sales team has grown, and they would like to expand their compensation plans to accommodate different needs for various markets. They now anticipate expansion in markets such as Latin America, Australia, and Asia Pacific, and plan to expand their merchandise to include water sports and climbing gear in the next two years.
You play a role here as well! You're the head of the finance team, and as such, you need to make sure that the sales team is compensated fairly and consistently, while also keeping your payouts in check. You don't want the company to go broke because a bonus or commission plan got out of control, right? At the same time, you want the sales team to feel confident that they will be compensated for the work they do.
Now that we have an idea of what Quality Outdoor Gear does, we can come up with a scenario for compensating their sales team.
Let's take a look at what types of sales a single sales representative might see in a month. Gene Morris handles sales in the Western United States. The following table shows a simple list of sales transactions that represent a typical month.

Our first step is coming up with a set of goals. Following are a few examples of goals we might set for Gene and rest of the sales representatives:
Achieve a total sales quota of $50,000 per quarter

Sell at least $25,000 in ski gear in the first quarter of the year

Sell at least $30,000 in camping gear in the third quarter of the year

Sell at least 50 adult backpacking tents in April
A compensation plan allows us to align the goals of the company with the goals of the sales rep by rewarding them for performance in very broad areas (an across-the-board quota of $50,000 per quarter) to seasonal specialties (ski gear in winter, camping gear in summer) to very specific products and time periods (backpacking tents in April).
SAP Commissions Product Overview
Now that you have an idea of what sales performance management means, let's look at how you can use SAP Commissions to calculate results in the form of compensation payments for a team of payees.
The figure below shows the different components of a compensation plan and how each piece of information flows from one to the next.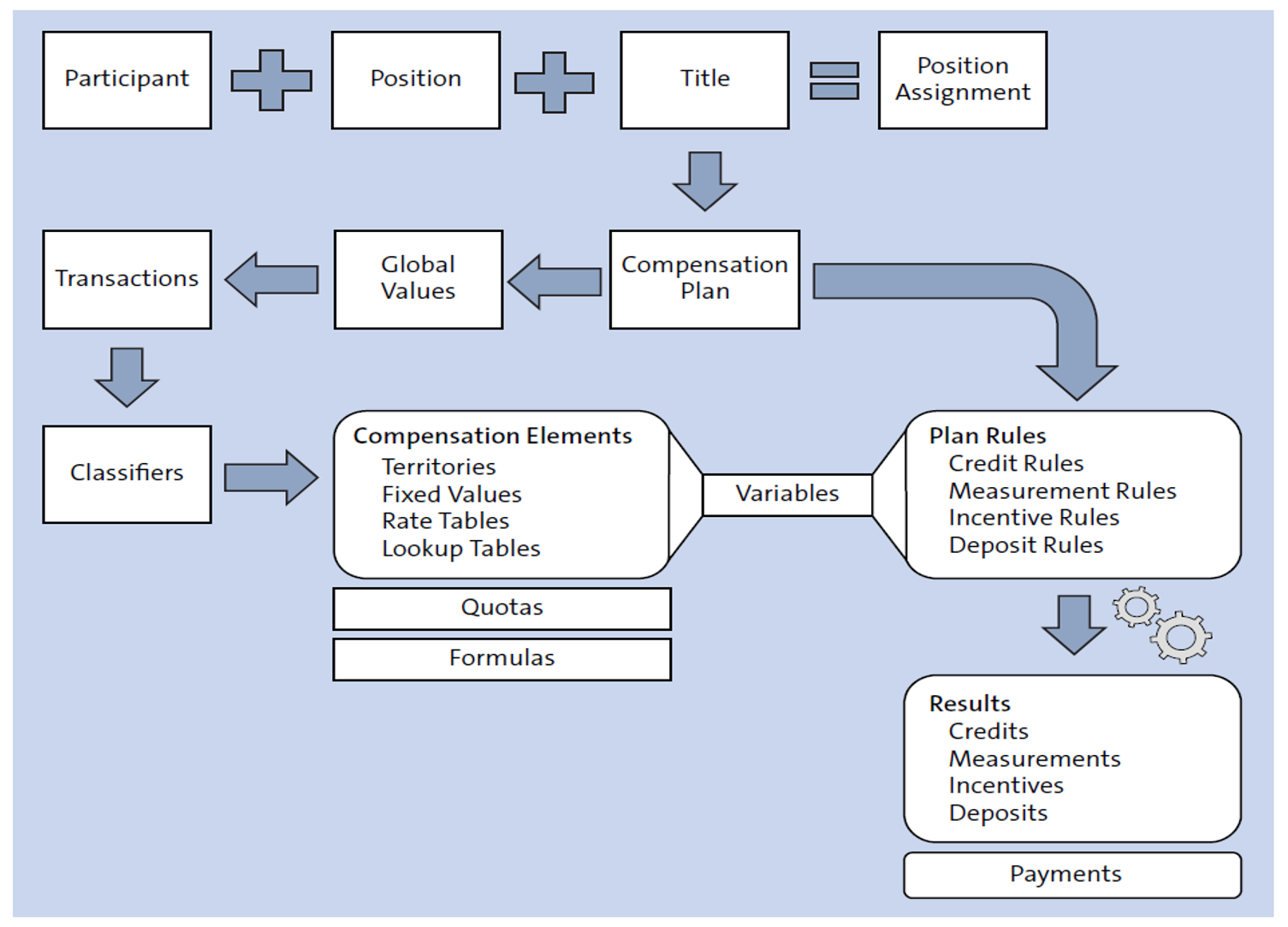 In the middle of everything is the compensation plan itself. For the sake of brevity, let's just refer to this as a plan. Every plan consists of a set of rules that execute the business logic needed to generate payments to the sales team.
As with anything that executes logic, the plan needs input. In SAP Commissions, this takes the form of organization data, transactions, global data, and compensation elements.
On a regular schedule, you'll take all the incoming transactions and calculate the amount of the payment for each payee. This is done by running the calculation. The calculation runs through the compensation plan for each payee and returns a set of results. The last of these results is the payment. This is the amount you'll be sending over to the payroll team.
Running the calculation isn't the end of the compensation process, however. SAP Commissions performs other functions that simplify communication with your payees.
Here are some of the capabilities beyond the creation of compensation plans:
Generate payee and manager dashboards

Communicate plan documents

Submit disputes and inquiries

Run models to predict the impact of sales or plan details on total compensation

Integrate with SAP and third-party applications
Editor's note: This post has been adapted from a section of the e-book Introducing Commissions Management with SAP by Lara C. Golden.