Configure, price, and quote (CPQ) systems can be an integral part of many organizations by helping sales teams create their own sales quotations and respond to customers' quotes.
In this blog post, we'll discuss the basic requirements of any CPQ system. We'll also cover SAP CPQ and its key capabilities.
What is SAP CPQ?
Formerly Callidus CPQ, SAP CPQ is SAP's cloud-based software-as-a-service (SaaS) offering specifically targeted to help sales teams perform complex product configurations and create and manage sales quotations. Previously, Variant Configuration in SAP ERP offered CPQ functionalities, but that solution lacks the powerful cloud-based capabilities offered by SAP CPQ. The quote creation process is quite complex and not user friendly in Variant Configuration in SAP ERP. With the acquisition of Callidus in 2018, SAP completed its SAP Customer Experience sales suite by providing a cloud-based quotation solution for both simple and configurable products. Callidus CPQ has been rebranded as SAP CPQ, which is an offering under SAP Sales Cloud.
In most organizations, sales is the backbone of the business since this activity directly drives revenue. If your sales teams underperform, sales will decrease exponentially. In the past, sales teams suffered from old, redundant systems and processes, which not only reduced their productivity but also affected customer satisfaction. Thus, having a robust solution that empowers your sales team to sell faster and better is important.
SAP CPQ can help your sales team respond to your customers' complex product quotation requests quickly and with optimized pricing and interactive proposals. SAP CPQ enhances their productivity by automating various processes while also providing intelligent guided selling features to increase sales.
The key challenges that SAP CPQ addresses include the following:
Complex product configurations

:

Keeping track of different product configurations and versions can be difficult for any sales rep. Without this knowledge managed through a CPQ solution, your sales reps won't be able to sell optimally.

Time-consuming quoting process

:

Without a proper CPQ solution, sales reps invest a huge amount of time in preparing quotes and not actually selling, resulting in low sales across the board.

Manual overhead

:

The sales team may need more time to respond to a quote because of manual overhead, whether for the approval of the quote, additional discounts, or a product comparison.

Human error

:

Sales reps engaged in a manual quoting process are always prone to error, which may result in customer dissatisfaction, broken deals, and loss of revenue.

Discounts and upselling

:

A sales rep heavily occupied in just getting a quote created for complex products will spend practically no time upselling. Also, these reps may avoid considering any additional discounts, which may result in rework. Thus, these reps miss good opportunities to win deals or increase sales.
Key Capabilities
SAP CPQ simplifies the complex quotation process and enables your sales representatives to sell efficiently. The figure below shows the key capabilities of SAP CPQ.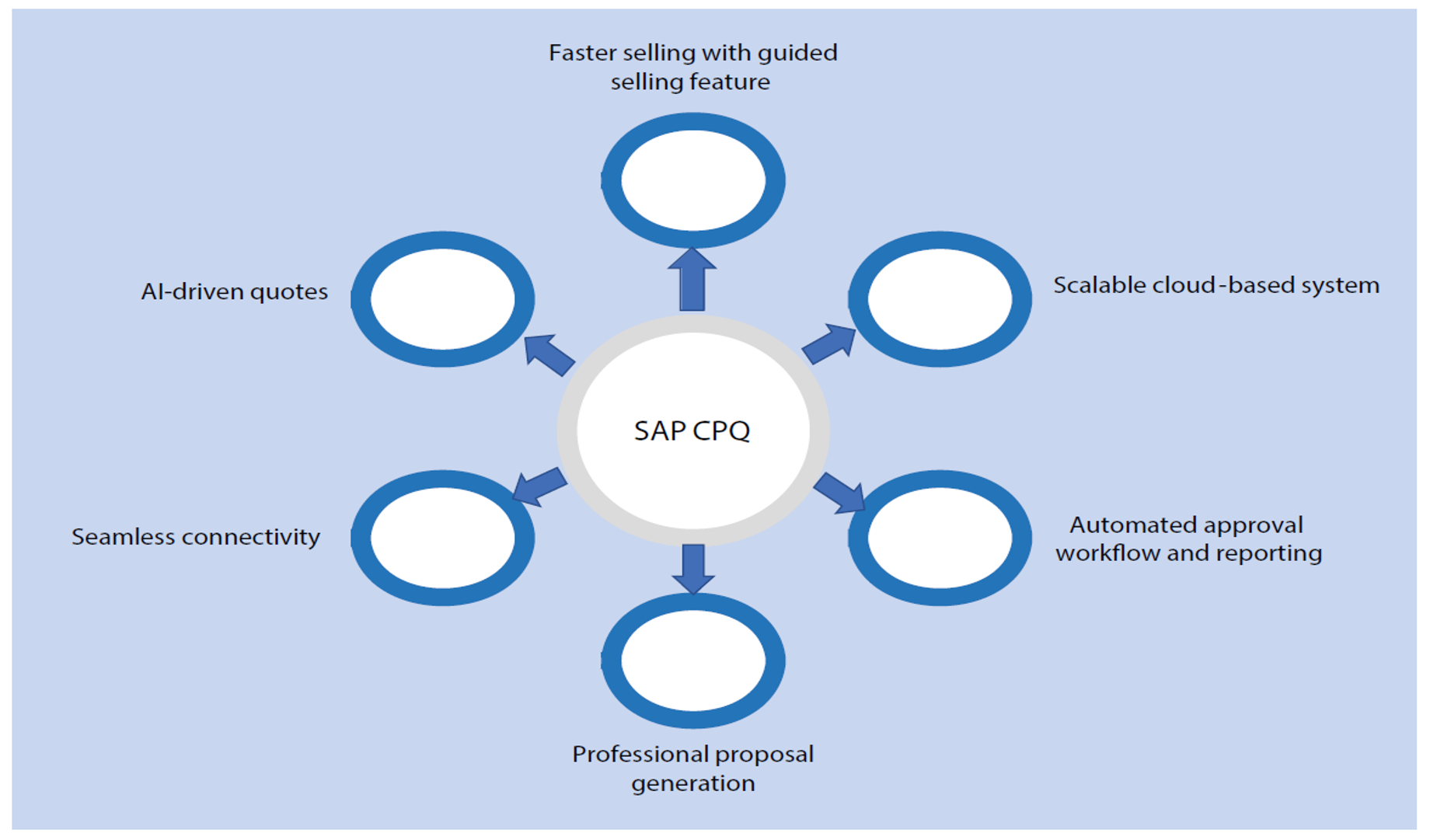 Let's look at each of these key capabilities in more detail:
Guided Selling
SAP CPQ enables your sales team to sell faster and better by reducing the overall sales cycle timeline. With this easy-to-configure solution to categorize complex products, business can go to market quickly. The solution provides your salesforce with a quick view of pricing without having to juggle multiple price sheets and can generate quotes of more than 10,000 lines in just a few seconds.
SAP CPQ also includes an intuitive guided selling feature that enables your sales team to upsell and cross-sell by recommending different product configurations, thus generating more revenue and increasing product reach to your customers.
SAP CPQ also prevents manual errors, which are otherwise inevitable in a fast-paced environment. Sales teams can also see all relevant discounts and margins easily for use during the quoting process. This accessibility instills confidence that your sales reps are submitting the right quotes to your customers, without any human errors.
Scalable Cloud-based System
SAP CPQ is a software-as-a-service (SaaS) offering and is thus available from any place, any device, any time. SAP CPQ enables your salesforce to always be responsive and productive. The user interface (UI) is rich and modern and provides intuitive out-of-the-box features. The embedded intelligent search algorithms help sales reps quickly narrow down the products of interest.
SAP CPQ is scalable because this solution is based on native cloud architecture, thus allowing it to integrate with other cloud-based applications. SAP CPQ also provides integration with SAP Contract Lifecycle Management (SAP CLM) to create sales agreements/contracts after a customer accepts a quote.
Automated Approval Workflow and Reporting
In the traditional world, getting an approval from a sales manager for a quote can take forever because all the validation steps must be repeated. SAP CPQ reduces the quote approval turnaround time drastically by making all the key information available in a single click, thus helping your sales reps quickly respond to your customers. Easy-to-set-up workflows reduce the workload for all parties involved in the sales cycle.
Automated pricing and analytics capabilities built into the solution can provide insight into the fastest selling products and calculate other key performance indicators (KPIs), thus making the business decision-making process simpler and faster.
Proposal Generation
SAP CPQ comes prebuilt with different options for generating quotes and proposals (.pdf, .doc, and .docx files) and also includes the option to customize quotes and proposals to meet your specific business needs. Thus, deploying and using the solution is easy.
Proposals can be quickly sent to your customers via the email integration or can be printed out and sent as physical copies. E-signature functionality is also available with SAP CPQ.
Seamless Integration
SAP CPQ comes with various prebuilt connectors to integrate the solution with both SAP and non-SAP systems, both on-premise and in the cloud. Whether native SAP applications like SAP ERP, SAP S/4HANA, SAP Customer Relationship Management (SAP CRM) or cloud-based offerings like SAP Customer Experience (like SAP Sales Cloud, etc.) or even non-SAP applications, an SAP CPQ system can easily connect and exchange data with these systems.
Artificial Intelligence-driven Quotes
Prebuilt artificial intelligent (AI) capabilities included in SAP CPQ can give your sales team that extra edge in their sales processes. SAP CPQ provides pricing-behavior intelligence, real-time predictive analysis, prescribed content recommendations, and guided selling powered by AI.
Editor's note: This post has been adapted from a section of the e-book Introducing SAP CPQ with SAP Customer Experience by Gaurang Dixit.