With SAP S/4HANA Logistics' Sourcing and Procurement LoB, it's possible to take advantage of the SAP Best Practices activation approach for customizing scheduling agreements. However, if you use the traditional customizing approach, this blog post can help.
Define Document Types
Scheduling agreements are defined and managed as documents in the system. It's possible to group these documents under different document types based on business requirements. First, you need to define document types and their attributes in customizing.
The tables below provide the SAP-standard settings; it's possible to define additional scheduling agreement document types depending on business requirements, via IMG (SPRO) > Materials Management > Purchasing > Scheduling Agreement > Define Document Types.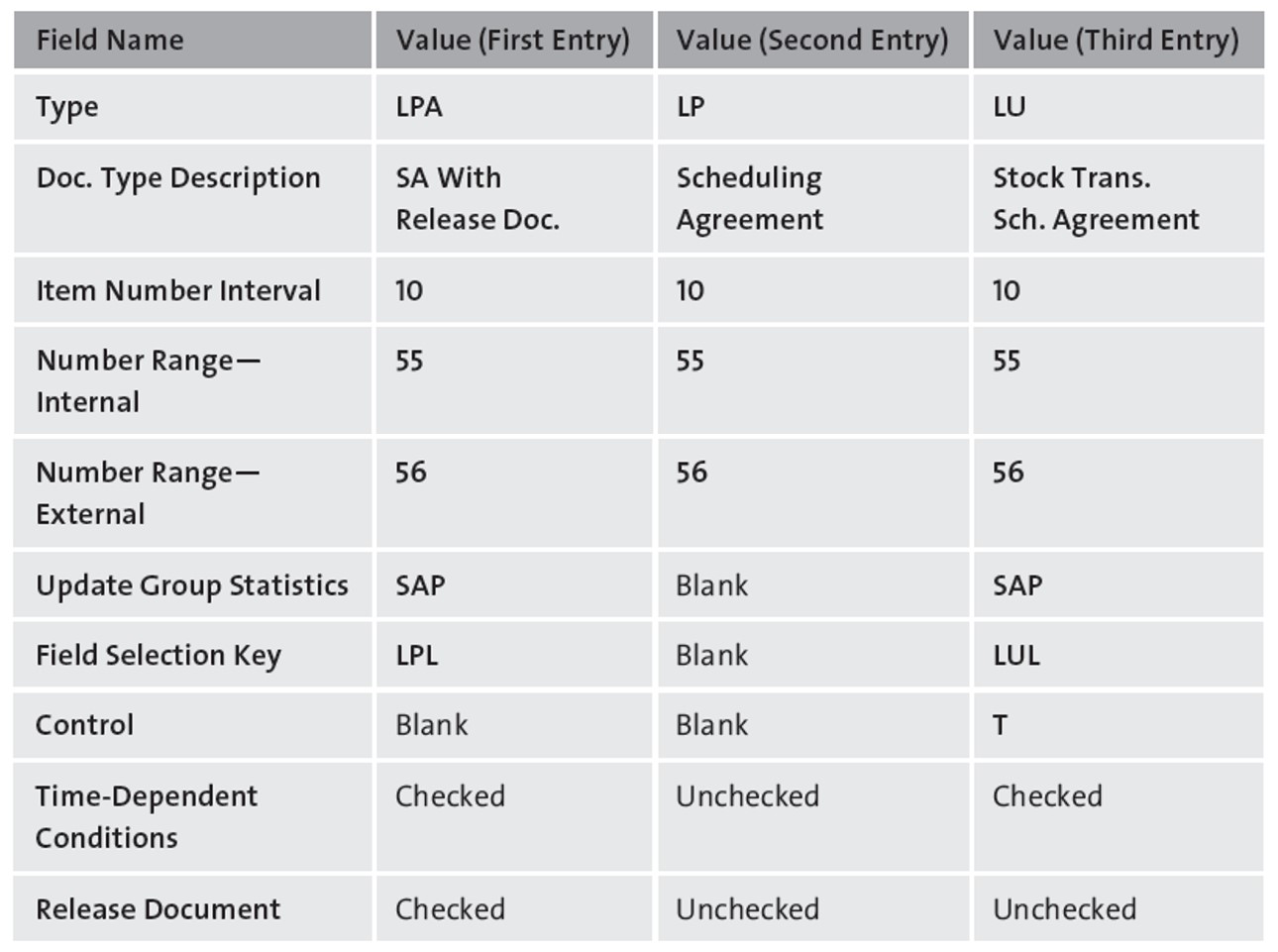 New number ranges may also be defined and used as required. This step generally is required if new document types are defined in the previous step. The menu path for creating number ranges is IMG (SPRO) > Materials Management > Purchasing > Scheduling Agreement > Define Number Ranges.
Allowed Item Categories
After defining the document types for scheduling agreements, select the line for the Doc Type and double-click Allowed Item Categories. On the Admissible Item Categories for Document Type screen, maintain the item category as listed in the next table. These item categories can be configured depending on business requirements. This configuration determines what item categories can be selected for a given document type by the user while creating the scheduling agreement.

Now, select the line for each Item Category and double-click Link purchase requisition- document type. On the Change View "Link purchase requisition-document type": Overview screen, define the allowed follow on documents.
Maintain Release Creation Profile
A release creation profile is used to determine the period in which releases (types of delivery schedule) are generated against a scheduling agreement and transmitted to the vendor. This also controls the creation periodicity of the releases; the aggregation of scheduled quantities, starting from the day after release creation; and the implementation of a tolerance check.
In this step, a release creation profile is maintained for scheduling agreements with a release document. This profile determines the release creation strategy and how backlog and immediate requirements are considered in the release creation. To maintain the release creation profile, navigate to IMG (SPRO) > Materials Management > Purchasing > Scheduling Agreement > Maintain Release Creation Profile for SA with Release Document.
The following criteria also can be set up in the profile:
Aggregation and release horizon: If and how delivery schedules are to be aggregated with the release creation
Release creation periodicity: The frequency with which SA releases are generated
Tolerance profile: For releases that need to be generated because of changed delivery schedules, a tolerance check is carried out
Last goods receipts: If and how last inbound deliveries and goods receipts are determined and outputted during the release creation
Internet release: If, during the release creation, Internet releases are to be generated
Printing with smart forms: Which additional information in SA releases is outputted if you use the print form ISAUTO_ESCR_FRC_JIT, based on smart forms
Criteria for dynamic stopping: On the basis of which criteria SA releases are subject to dynamic stopping
Conclusion
Those working with the traditional approach to customizing scheduling agreements in SAP know that defining types and categories, as well as maintaining release creation profiles, can be a struggle if you don't know what you're doing. The information above should prove useful as a refresher to those working in sourcing and introduction to those getting their start with SAP.
Editor's note: This post has been adapted from a section of the book Sourcing and Procurement with SAP S/4HANA by Justin Ashlock.