Data entry errors come in all shapes and sizes. Some errors have no accounting impact, which means they can be corrected simply long after the goods have been delivered and invoiced.
Other errors, such as incorrect customer or material impacts, have left accounting postings by the wayside that must be offset by new, corrective documents. One such document is a credit invoice. This post will share how to create one in an SAP S/4HANA system using a sample order.
First, go to Transaction VF01 (Create Billing Document), and enter the document number (i.e. "60000009") in the Document field, as shown here.

The document number must be the returns order and not the returns delivery. The CR billing document type to be created in this step is order-based. As a matter of fact, you can create the CR billing document with reference to the RE sales document before completing the returns delivery (unless your system is configured otherwise). This gives you extra flexibility to credit the customer first and deal with your own goods movements/inventory levels later.
Next, click on the Execute button or press (Enter) to go to the screen shown in the next figure.

Note that all fields are shaded. Only the Billing Date field in the header Detail tab is available for changing as required by your business circumstance.
Now click on the Save icon (first figure below), and look for the message that the document has been saved (second figure).

9

To check the document flow, go to Transaction VA03 (Display Sales Documents), enter the order number you're working with in the Order number field, and click on the Document Flow button. The completed flow with all entries appears, as shown in the next figure.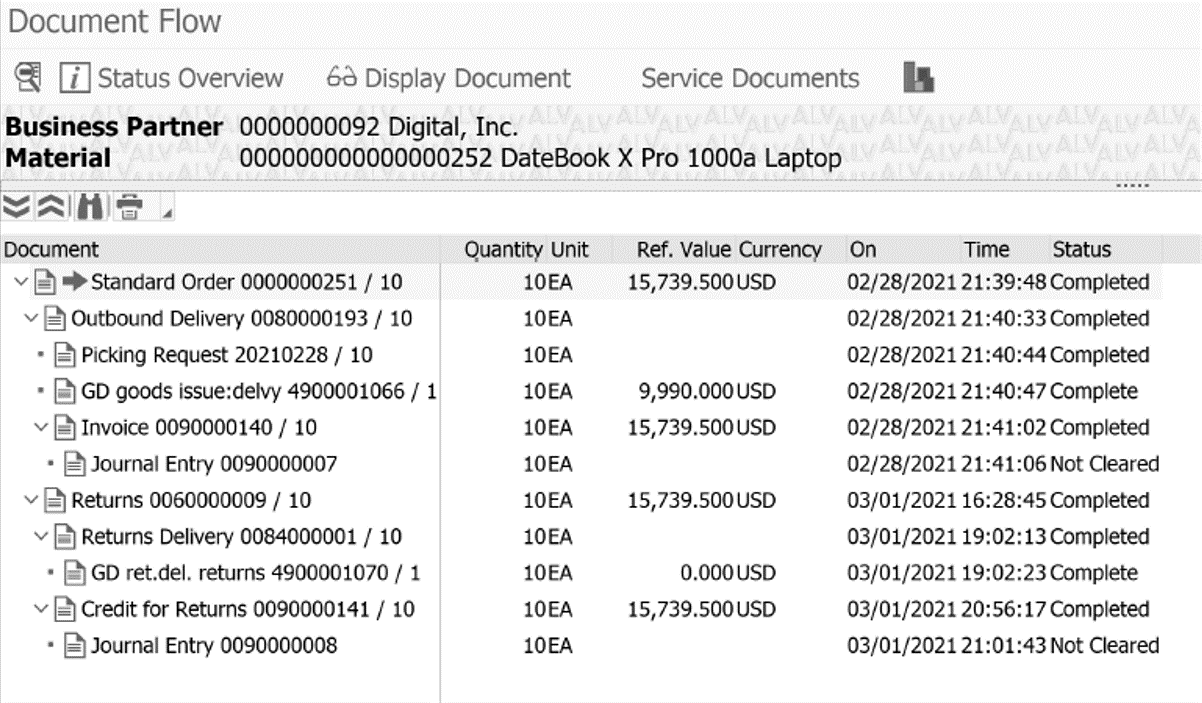 Notice the new documents at the bottom, the Credit for Returns, together with the associated accounting document, Journal Entry.
The five reversal documents back out the six original documents as follows:
Order level

:

Original standard order reversed by returns order.

Delivery level

:

Original outbound delivery reversed by returns delivery. GI reversed by goods returns. The original picking request doesn't require a reversal document.

Billing level

:

Original invoice reversed by credit for returns. Original journal entry reversed by new journal entry.
Note: The status for all documents is now Completed (or Complete), except for the two journal entries (or accounting documents), which are listed as Not Cleared. That is the job of the accounts receivable department. Your job in the sales and distribution order-to-cash role is now completed.
Editor's note: This post has been adapted from a section of the book Sales and Distribution with SAP S/4HANA: Business User Guide by James Olcott and Jon Simmonds.