Documents created in Document Management System (DMS) are referred to as document info records. A document info record is the master record in the SAP S/4HANA system.
It manages the originals and controls workflows. An original is the actual file information retained in the document info record. An original can be a Microsoft Word or Microsoft Excel file, a PDF document, a design drawing in 2D or 3D format, a website, or even a text file. The storage location of an original is also maintained in the document info record.
Document info records contain all the information as well as the control functions and features. In the SAP system, DMS uses a document info record to link the document to an SAP object, such as a material master or equipment.
The following sections will discuss the key terminologies of a document info record. It will also explain how to create a new document info record using document type LC1, including some of the tabs of a document info record, such as the Basic Data tab and Long Text tab.
Key Terminology
Before delving into document info record creation in the SAP S/4HANA system, let's first gain an understanding of the key concepts and terminologies that we'll use.
Document Types
A document type is three alphanumeric characters with number ranges (internal or external) that act as a distinguishing feature of the business process. The document type controls the major functions. An example of a document type is ZLC, which stores all documents related to letters of credit in the import procurement process. Similarly, document type ZBL stores all bill of lading–related documents, again for the import procurement process. These two document types facilitate the procurement function of an imports department in an organization. When creating, changing, or displaying a new document info record, it's mandatory to enter the relevant document type.
Document Part
A document part is defined as part of a document info record that is maintained as a separate document. This separation may be required if the original document is large and can be divided into relevant sections. For example, a large specification document has relevant information for many materials; the specification can be divided into separate parts for each material. As an example, an individual design or an engineering drawing of a product may have several complex parts, making it practical to divide them into document parts. A document info record can have up to 999 parts.
Document Version
A document version describes the version number of a document info record. This number is particularly important for keeping the document current in situations where modifications may have been made to specifications, engineering drawings, and so on. A document info record can have up to 99 versions. It's possible to maintain control functions for creating a new document info record version.
Document Statuses
All major activities and even controls in a document info record are undertaken and managed based on document statuses. Some examples of user-defined document statuses include In Process, Under Review, Released, Locked, and Archived.
Document Key
A document key consists of four elements:
Document number

Document type

Document part

Document version
Together, these four elements make up a document key, for example: 1000050/DRW/000/00.
Basic Data
Let's now create a new document info record. To create a new document info record, use Transaction CV01N, or follow the menu path Logistics > Central Functions > Document Management System > Document > Create.
The figure below shows the initial screen for maintaining a document info record. Enter the Document Type "LC1", which needs to be assigned at the time of document info record creation. There's no need to assign a document part number or version because the system automatically assigns the initial number to the document info record.
It's also possible to create a new document info record with reference to a previously created document info record by entering the relevant document info record's details in the Template section.
Press (Enter), and the screen shown in the next figure appears displaying the details for creating the document info record of document type LC1. The header shows the document type LC1. In the Document Data tab, enter a short Description of the document info record. This description is then searchable. Next, if Document Status was configured to be a mandatory field, it must be set as "IW". (If it were set as an optional field, there would be no need to provide a status.) The table below explains the fields in detail.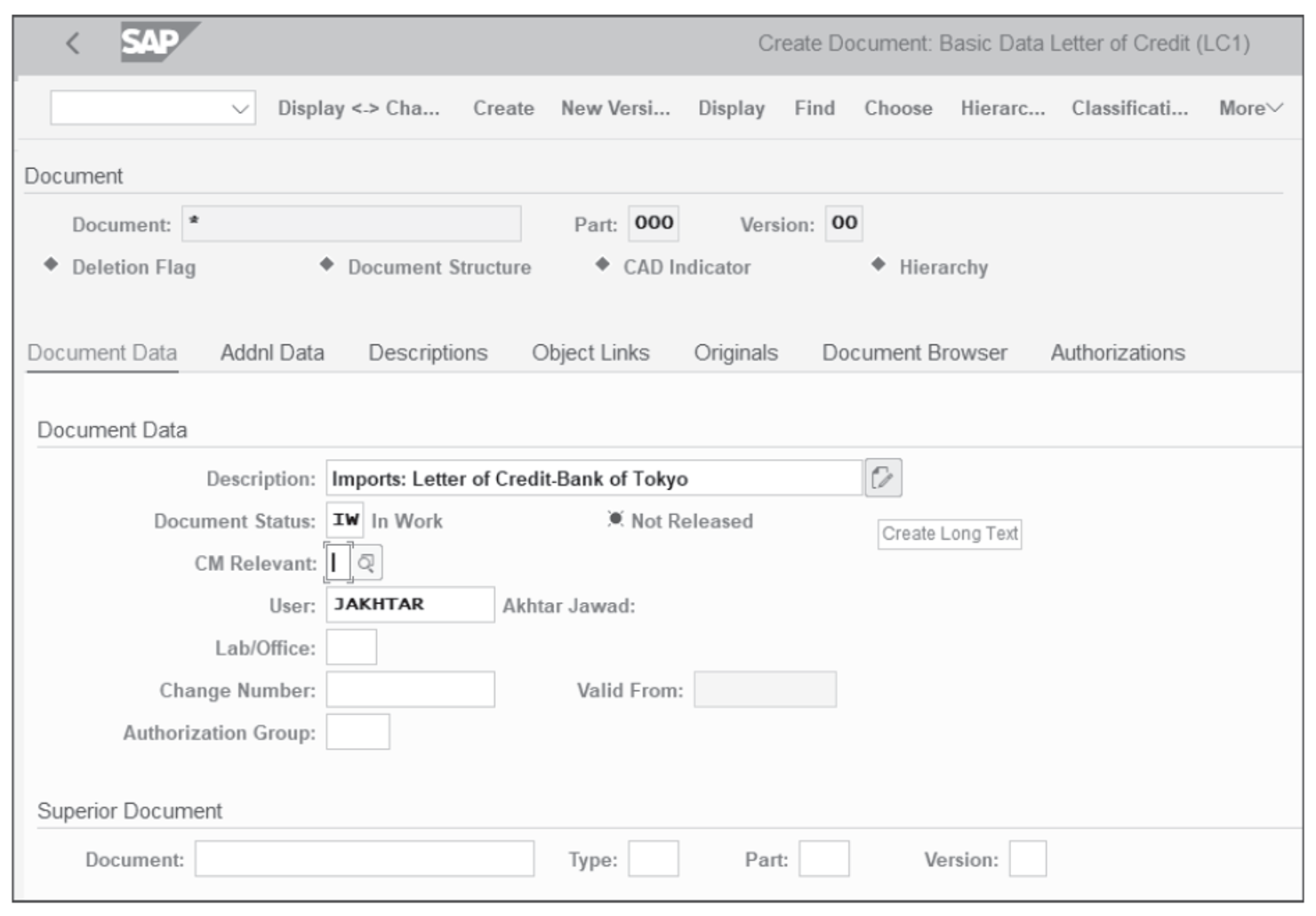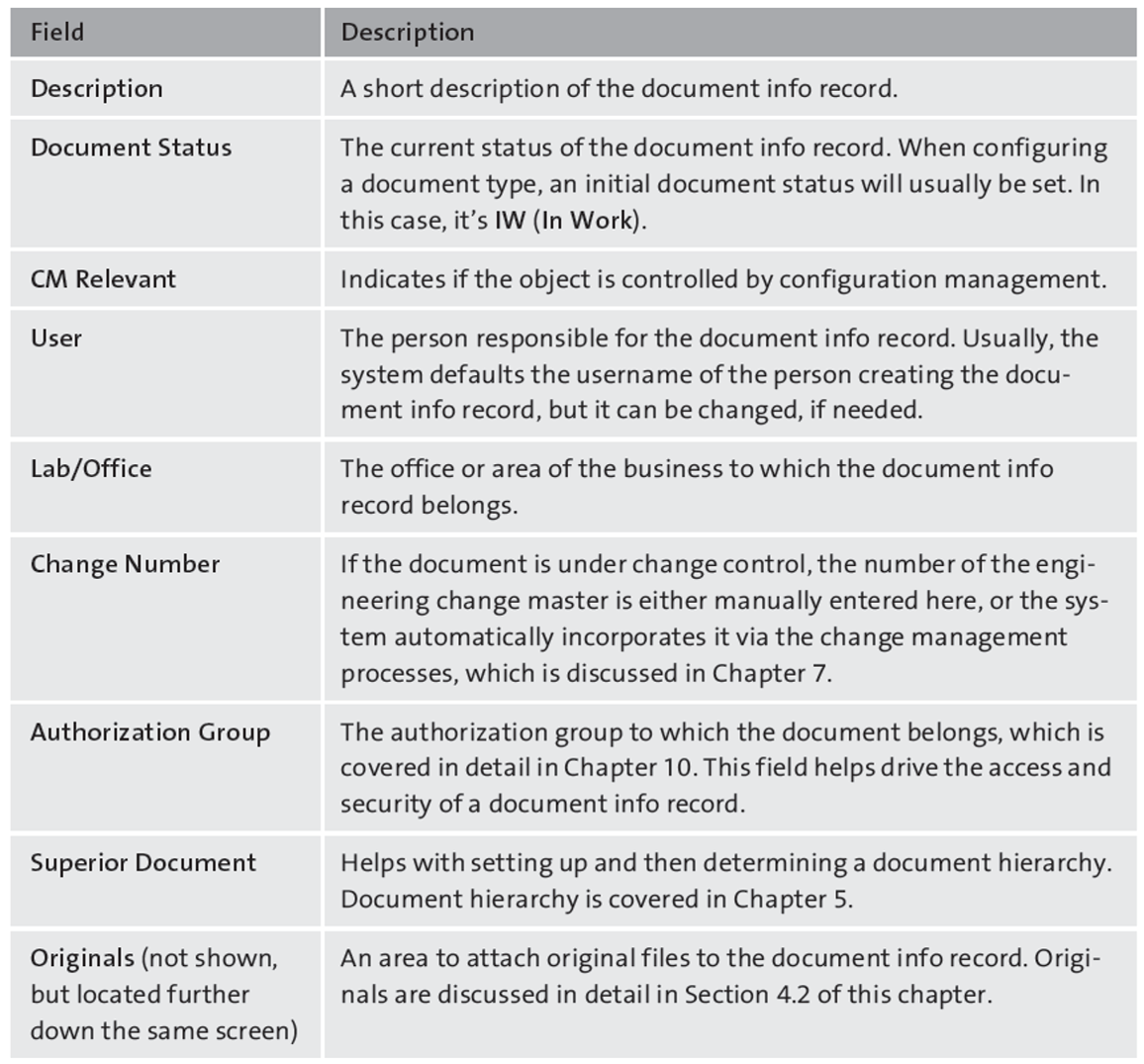 4
Long Text
DMS also offers a feature to incorporate long text of unlimited length that is then searchable by keywords. A user of any department of an organization can create a short (or long) description and store it in a document info record, which can then be used for search purposes. For example, the details of an entire inspection method can be incorporated in long text. Similarly, a summary of a presentation or an important management report, such as a board meeting, which otherwise wouldn't fit anywhere else, can be incorporated into long text for subsequent searches. DMS offers standard long text search capability without the need to implement or install any additional components. Additionally, with this standard functionality, no search engine installation (e.g., TREX) is needed.
From the screen shown in the previously shown figure, choose Create Long Text to open the screen shown in the next figure. In this example, first enter some text. Notice that standard word processing features and options available in Microsoft Office are also available here.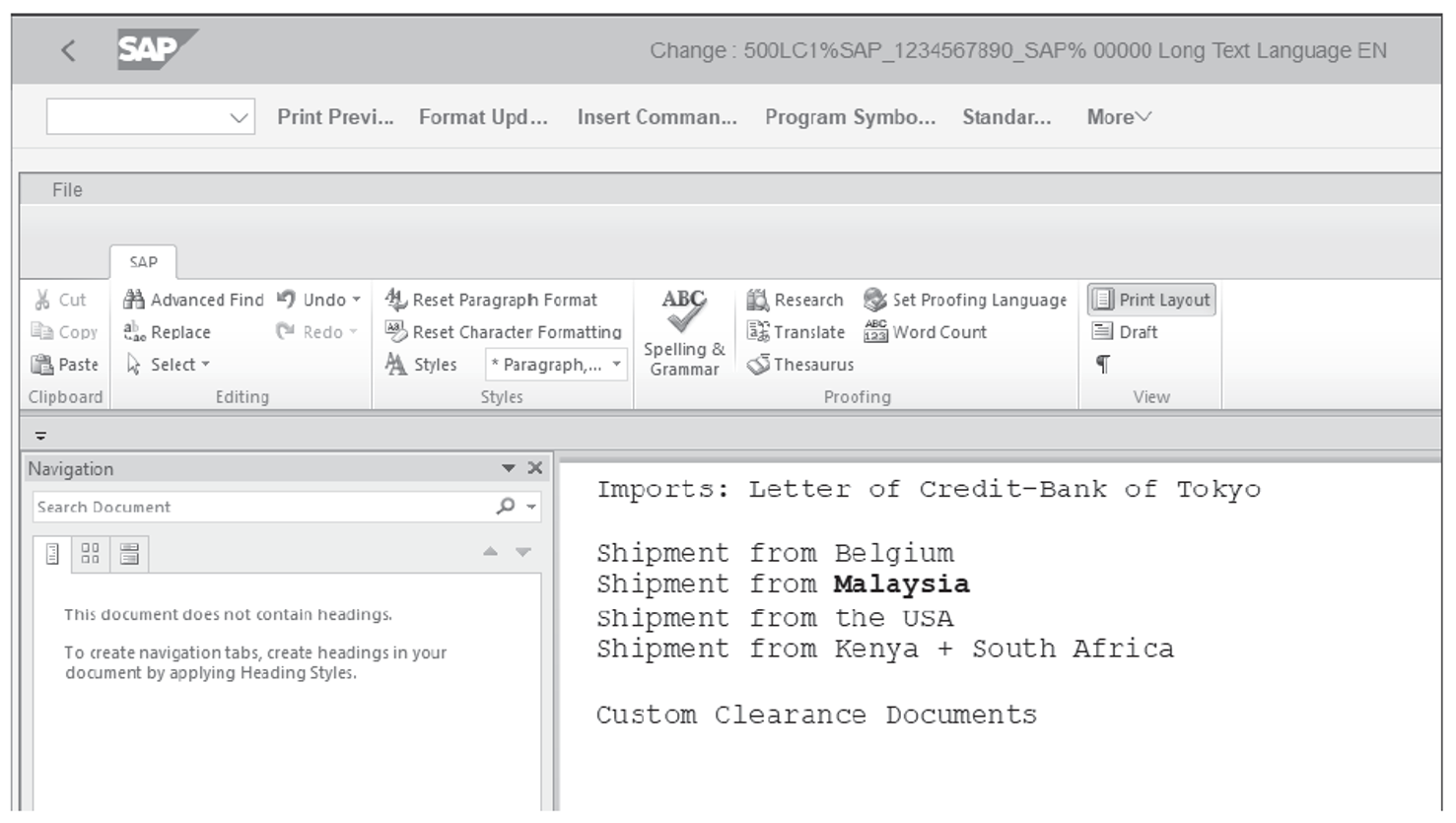 Tip: Clicking on Choose in the second figure above will also bring up the option to maintain long text for a document info record.
Document Statuses and Status Network
When a document info record is going through several rounds of review and approval processes, it's important that the document status be updated accordingly. For example, a new prototype of an engineering component may undergo the following document statuses before it's released for production process: Prototype → In Review → Reviewed → Released for Production → Obsolete/Locked → Archived.
Document statuses enable complete tracking and monitoring of the current state of a document info record. Additionally, document status is fully supported by respective business functions. For example, a Released status of the document info record requires you to provide a digital signature, as well as ensures that further changes to the document info record are no longer possible. Similarly, a document info record with the status of Locked is available, thereby ensuring no further inadvertent use of the document info record. Whenever a document status is changed, a complete change history is maintained.
The status network of a document info record ensures that a structured and logical sequence of document statuses be maintained. It requires a predefined flow of the document info record's statuses and acts as a document control function. For example, a Released status of a document info record can't again get the status In Review. Similarly, an Archived document status can't be given back the status Created as their status sequences are predefined in the status network.
The following figure (accessed by clicking Back in the screen shown earlier) shows the status network in which three sequential statuses associated with the document type "LC1" are shown in a visual form. To access a status network of a document info record, follow the menu path More > Extra > Status Network from the top menu bar located within the document info record.

Conclusion
Having hard-copy documents moving around an organization can cause delays, errors, and miscommunication. Scanning documents on receipt (e.g., invoices from vendors) is one way to reduce the time between approvals and payments to vendors. Knowledge of the DMS in SAP S/4HANA is paramount when advising clients on the best practices for purchasing and other areas where management of documents and digital assets can be an issue. In this post, we explored how to create a document info record in DMS.
Editor's note: This post has been adapted from a section of the book Document Management with SAP S/4HANA by Jawad Akhtar.