Editor's note: Recently, Mark Mergaerts, Bert Vanstechelman, and Nick Mahieu, SAP S/4HANA project experts from Expertum and co-authors of SAP S/4HANA System Conversion Guide, took part in our SAP PRESS Book Club and answered readers' questions.
We had so many questions that we weren't able to get to them all. Mark, Bert, and Nick were happy to answer the remaining questions. Read on to learn more about SAP S/4HANA system conversions.
Q: SAP seems to be preferring SAP S/4HANA Cloud. Do you think they're planning on dropping on-premise SAP S/4HANA in the future?
A: Several months ago, SAP announced that its newest innovations and capabilities will only be delivered in the SAP Public Cloud and the SAP Private Cloud using RISE with SAP. New innovations will not be available for on-premise or hosted SAP customers on hyperscalers such as Amazon, Microsoft Azure, or Google Cloud. SAP also announced that on-premise systems will be supported until 2030. SAP is moving to the cloud, and on-premise support will disappear, sooner or later. The question is not if but when. Unfortunately, this is a question that only SAP can fully answer.
Q: Are there any instances when a company should not do a brownfield project?
A: Customers who cannot convert due to the status of their existing system are rare. We have seen customers going greenfield because they used functionality that was no longer available due to the "principle of one". This is why the readiness check is such a crucial tool as it indicates whether used add-ons and activated business functions will still exist after the conversion, and what to do if they are not. Apart from functional or technical reasons, businesses might also go greenfield because their business has changed so much since they implemented SAP ERP that a reimplementation makes sense.
Q: Can the readiness check show us any customer applications that would fail due to SAP simplifications?
A: Yes, it will if you supply the readiness check with the outcome of the ABAP analysis from the ABAP Migration Cockpit! It will give you an overview of the ABAP programs which will fail and why. Problematic statements are highlighted with a link to the specific SAP Note. We wrote a complete chapter in our book on custom development, and we highly recommend the chapter for any developer involved in a conversion project.
Q: Where can I find the whole list of SAP S/4HANA and SAP Activate project steps prior to implementation? We'll be implementing the whole suite along with EWM.
A: The best source of information on project steps for SAP S/4HANA projects is the roadmapviewer: Roadmap Viewer (sap.com). There are roadmaps for all types of SAP implementations.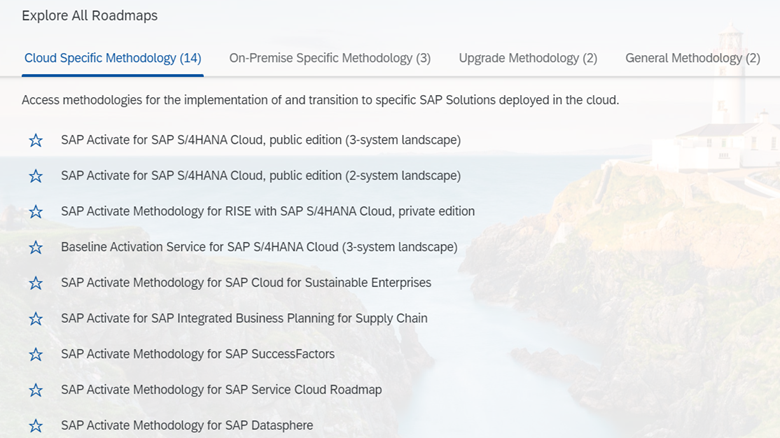 Q: What is the best SAP certification for a Basis administrator to take to help customers move to SAP S/4HANA?
A: We recommend these:
Q: What is the role of the functional business analyst in an SAP S/4HANA conversion project, in particular an FI functional analyst?
A: Financials and accounting are among the oldest and most used areas in the system. The impact of the conversion in finance and controlling is primarily due to the introduction of the Universal Journal and the "principle of one" as the single source of truth. The financial functional consultant will be responsible for the preparation, execution, and post-activities of the conversion. Most of these activities must be correctly executed for the conversion to be successful. For more details, check the Financials and Accounting chapter of our conversion guide.
Q: Using the migration cockpit for new implementations, what other approaches should we use besides staging and direct tables?
A: For new implementations you should use the migration cockpit only.
Q: How do SAP Signavio and LeanIX fit into an SAP S/4HANA conversion?
A: Both tools are part of SAP's strategy to boost the business transformation for companies in a more automated way. You will see in the coming months and years that SAP will come up with tools like the readiness check that supports business transformation based on facts and figures in the system. Both SAP Signavio and LeanIX will be key in realizing that ambition.
Q: When using the brownfield approach, do you have any recommendations on the CVI process? What are the important things to get right here?
A: A critical step in the migration to SAP S/4HANA is the conversion of customer, supplier, and contact person master data into business partners. The conversion is run via customer vendor integration (CVI). The conversion must be executed before the conversion to SAP S/4HANA. Business partners can also be used with SAP ERP. As such, we advise our customers to start the conversion as soon as possible.
Q: What would be the ideal way to handle archiving? Should it be done before the SAP S/4HANA migration or after? Are there any technical limitations to consider if we implement archiving after the migration? We're asking this because some ECC tables won't be available in the SAP S/4HANA system.
A: Archiving is not impacted by the conversion to SAP S/4HANA. Many SAP ERP tables are no longer available in SAP S/4HANA, but the data is migrated to consolidated tables. Our recommendation is to start with archiving as soon as possible. Smaller data sets result in higher performance, faster database backups (and restores), and reduction in the amount of memory needed for the SAP HANA database.
Q: What's the value of doing a brownfield implementation when it is cheaper to stay on SAP ECC?
A: The advantage of SAP S/4HANA is increased business value via the principle of one and simplification. At Expertum, we created SAP S/4HANA Study Packages that we use to assist our customers in developing a strategic roadmap based on valuable insights. This study is what you need to answer the question "What is the value of converting to SAP S/4HANA?"
Q: Is there any tool to identify third-party system integrations like WeighBridge?
A: The readiness check will give you some information on impacted interfaces only, but this can be a basis for finding out anything. Our expectation is that gradually this feature will become available with LeanIX and SAP Signavio.
Q: Can you suggest any best practices for converting cloud solutions like SAP SuccessFactors from SAP ECC to SAP S/4HANA?
A: In a conversion, SAP SuccessFactors is considered a satellite system, almost like a third-party system. The key attention point is integration. SAP S/4HANA's integration with SAP SuccessFactors is considered to be smoother, so you need to reflect on how this impacts the integration.
Q: Can you discuss the pros/cons of each of the major software implementation methodologies (waterfall, agile, wave, etc.) when moving to SAP S/4HANA?
A: At Expertum, we stopped developing our own implementation methodology and instead use the methodology that SAP has created, SAP Activate. The SAP Activate methodology plays a crucial role in enabling an agile implementation of SAP S/4HANA solutions by allowing enterprises to leverage a set of tools, templates, and best practices that are flexible and collaborative. If you want to be successful in implementing SAP solutions, then this is for sure one of the key success factors.
Q: What is the average time to convert a system to SAP S/4HANA? Is nZDT still being used?
A: This depends on the complexity and data size of the source system. The standard conversion tools come with several features to optimize downtime, such as the downtime optimized DMO or the downtime optimized data conversion. These options are sufficient for most customers. Downtime can be further reduced via the near-zero downtime technology (nZDT). At the time of writing our book, nZDT was only available via SAP Consulting. To our knowledge it still is.
Q: Has anyone leveraged RISE with SAP services for their migration to SAP S/4HANA?
A: The procedure to convert to SAP S/4HANA is the same whether the system is on-premise, on a hyperscale, or on RISE with SAP. We have seen many customers go to RISE with SAP during the conversion. SAP S/4HANA is built on top of the SAP HANA in-memory database which is only supported on certified hardware. If such hardware is not available, the conversion might be the opportunity to go to RISE with SAP, especially if the conversion involves a purchase of SAP S/4HANA licenses.
Q: We are not sure which way we'll be moving to SAP S/4HANA yet. Do I need an SAP S/4HANA license to do the readiness check and other preparational tasks?
A: An SAP S/4HANA license is not needed to use the verification tools such as the readiness check, simplification check, and the custom code migration cockpit. The custom code migration cockpit needs to be deployed on an SAP S/4HANA system, which needs to be available in your environment. If none is available, you can use one from the SAP Cloud Appliance Library (www.cal.sap.com) or use Custom Code Migration from SAP BTP if you have a subscription.
Q: Can you provide some information about the SAP NS2 cloud environment?
A: SAP NS2 is a cloud offering that adapts the regulations of strict industries such as governments and defense. It has an enhanced operating model to match federal United States regulations. For more information go to www.sapns2.com.
Q: How do you combine non-SAP ECC systems when you implement SAP S/4HANA? For example, BW, APO, GRC, etc.
A: The impact of the conversion of the SAP ERP system on the other satellite systems should not be underestimated. Inter-compatibility can be verified via SAP Note 2251604 - Version Interoperability between SAP S/4HANA On Premise Edition and SAP NetWeaver Systems. Systems that do not meet the minimum requirements need to be updated before the conversion of the SAP ERP system.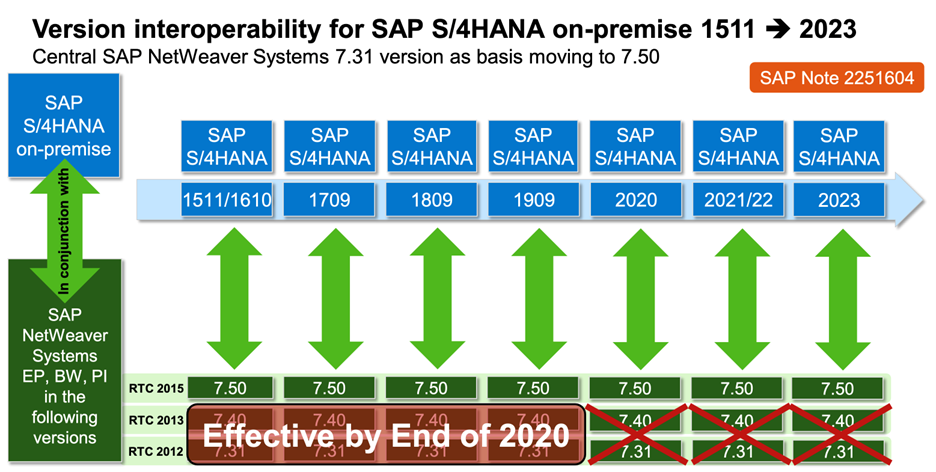 Q: On SAP Blogs, we see that QAS is created using the system copy of converted PRD system. Is this a good practice, as by doing this we will get business-critical data, HR data, and other financial data in QAS. What do you recommend for DEV and QAS conversion?
A: Several scenarios are possible. We dedicated a complete section of the book to the impact on the SAP landscape during migration. We have seen customers choosing all different scenarios. Our preference is to start with a conversion on the sandbox system. This system can then be used to study the impact of simplification, to adapt the custom code, and for user acceptance testing. In the next step, the development and acceptance systems are migrated. Converting the acceptance system makes sense. In most SAP landscapes, connections to external systems do not exist in the sandbox system and hence, need to be tested once the acceptance system is converted.
Q: How do you recommend the relevant custom (Z/Y) code to be selected for the ATC check, and what are the best tools for it?
A: You need to combine usage data with the ATC check. Adapting code that is no longer used makes no sense and is a waste of time. This can be done via the custom code migration cockpit, which is part of the ABAP ATC. The same tool can also be used to remove non-used custom code.
Q: Is the SAP Activate list in SAP Notes? If so, where can I find the complete list of notes to move from SAP ECC app in the Cloud to SAP S/4HANA?
A: All the notes that are applicable to your system will be listed via the simplification item check which is part of the readiness check.
Q: Is a system conversion a technical project or a business transformation?
A: This depends on your situation. Most systems can be converted and used (more or less) as they were in SAP ERP. This is not our preferred option. The true value of SAP S/4HANA is in its innovations and functionalities. We, therefore, recommend that our customers combine the system conversion with a business transformation to unleash the true potential of SAP S/4HANA.
Q: How do I convert tables like SOFFCONT1?
A: The conversion of SAP ERP data to the reduced dataset and tables of SAP S/4HANA is done automatically during the conversion with conversion tools.
Q: What are your suggestions for how a supply chain management student can learn SAP S/4HANA and gain expertise in it?
A: As a student it is far more important to get a very thorough understanding of the processes in supply chain management, as well as the key concepts. Once you join a company, the better you'll understand these, and it will be easier to get to know the SAP S/4HANA system and make the link between theory and reality. Furthermore, here are some good sources if you want to get initial experience on SAP:
LinkedIn Learning (they have a one-month free trial)

There are a lot of YouTube videos that cover basic training too