In embedded business planning environments, a model is created by assigning InfoProviders.
For those running their business planning with SAP Business Planning and Consolidation (SAP BPC), you must make sure the necessary InfoProviders have been created in SAP Business Warehouse (SAP BW) before creating your model.
You can display the previously created models or manage them by clicking the Models link under Modeling in the Administration tab, as shown below.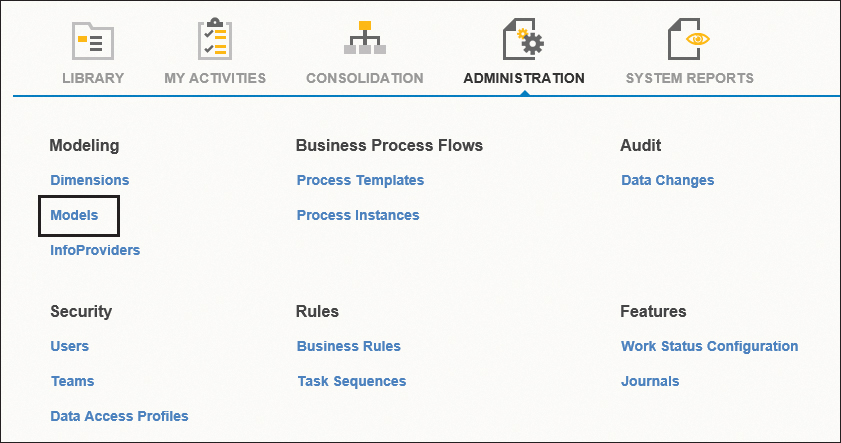 A sample model list is shown here:
The following describes the columns shown above:
ID: This technical name of the model can be defined up to 20 characters. Model IDs are always displayed with capital letters.
Description: This description of the model can be defined up to 60 characters.
Type: Models are categorized into two types as follows: Planning is used for planning, budgeting, and forecasting processes. In planning models, one or more InfoProviders can be assigned to define the model. Consolidation is used for consolidation processes. In consolidation models, one InfoProvider must be assigned for consolidation data, and one InfoProvider must be assigned for ownership data.
Status: There are two types of activation status for a model. Valid: The checkmark icon indicates that the model is valid and active. Invalid: The exclamation icon indicates that the model isn't active or is invalid.
You can access the details of a model by clicking on it in the Models screen, as shown below.

A sample model with the assigned InfoProviders is shown below. In our example, the InfoProvider ZBPC_IC01 has been assigned to the model OPEX_PLANNING.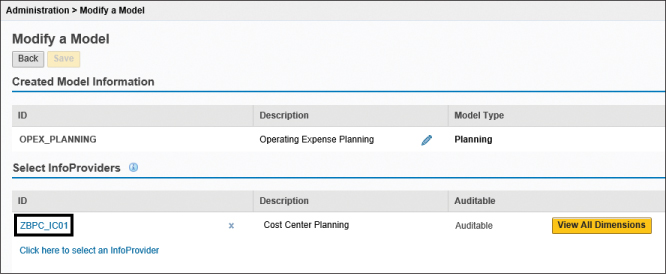 You can access the dimensions of the InfoProvider by clicking on it or by clicking the View All Dimensions button in the bottom-right corner.
A sample InfoProvider with its dimensions is shown below in which 24 items (data warehousing objects in SAP BW) have been assigned to the InfoProvider ZBPC_IC01. Some of the dimensions (SAP BW characteristics) are shown in the figure.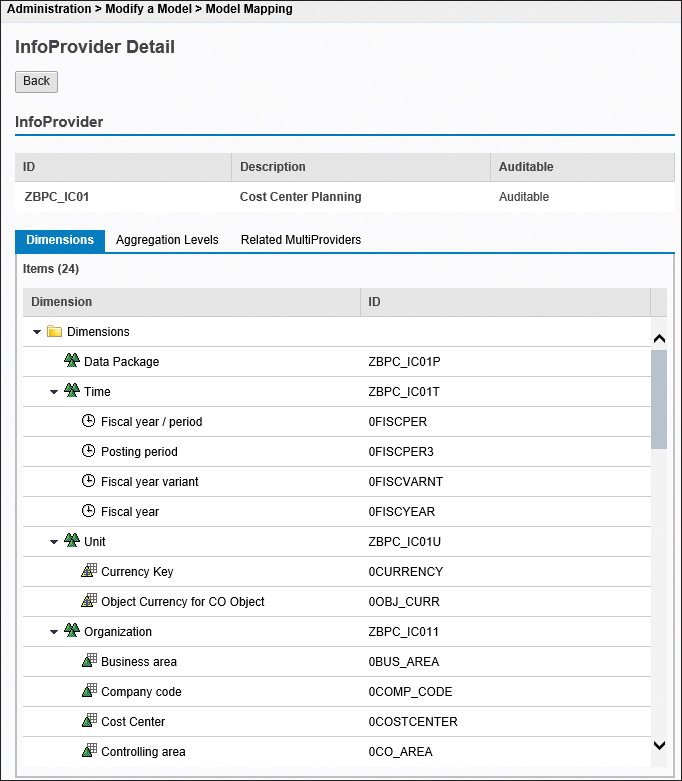 When analyzing the details of an InfoProvider, you can expand or collapse the folders or dimension groups to access the data warehousing object that you want to display.
When creating a model, three different types of InfoProviders are supported:
Real-time InfoCube: An InfoCube is a set of transactional data that comprises a set of InfoObjects to form meaning for reporting and analysis requirements. An InfoCube is designed with a fact table and dimension tables that are arrayed around the fact table in a star schema architecture. This architecture has advantages in reporting performance and in data updates by dynamically updating the old data from a single center. Real-time InfoCubes are a kind of InfoCube that is write-optimized for data entry in planning processes.
DataStore object: A DataStore object (DSO) is a data set that is designed in a flat table structure to store detailed data such as line item details (in the original document detail). In versions prior to 7x of SAP NetWeaver, the term operational DataStore was used instead of DataStore object to identify this concept.
VirtualProvider: VirtualProviders are a kind of InfoProvider that reads data from the data source to use for reporting and analysis. A VirtualProvider doesn't store any data and always reads live data from the data source.
Now you know how to see the InfoProviders and dimensions assigned to your SAP BPC models.
Editor's note: This post has been adapted from a section of the book Business Planning and Consolidation with SAP: Business User Guide by Onur Bekmezci.