Outside the SAP S/4HANA core, SAP offers four major products in the R&D area, which complement an organization's R&D functionality:
SAP Innovation Management

SAP Enterprise Portfolio and Project Management

SAP Product Lifecycle Management (SAP PLM)

SAP S/4HANA for product compliance
These products may require additional licenses beyond SAP S/4HANA. In the following sections, we'll discuss each product in turn.
SAP Innovation Management
SAP Innovation Management is powered by SAP HANA and is available separately either in the cloud or on-premise version. This product can be installed standalone or integrated with ERP systems such as SAP S/4HANA, with SAP Portfolio and Project Management, with SAP Jam, and with other software.
SAP Innovation Management has a user-friendly user interface (UI) for desktop or mobile. This product can be used during the idea-generation and conceptualization phases across the organization. SAP Innovation Management can help the companies to run campaigns for idea generation either globally or locally. It can also help R&D team to evaluate ideas, process those ideas and take the process further by adding the ideas to portfolios. These ideas can be further developed as a project and managed in SAP Portfolio and Project Management; they also can be managed in SAP Commercial Project Management.
The following are key features of SAP Innovation Management:
Pipeline (walls) of ideation and collection of ideas

Use of a stage-gating process to evaluate the most promising ideas for faster turnaround of ideas to concepts

Employee engagement in the innovation process and employee rewards

Collaboration with various stakeholders in the innovation process

Supporting URLs and attachments to substantiate or complement an idea

Similarity analysis

Expert finder community voting

Comments on and discussion of an idea
The business value of innovation management can be derived where innovation can be institutionalized and improve the quality of the innovation pipeline, as shown in the figure below. An organization can also leverage experts and its subject matter expert network through the expert finder.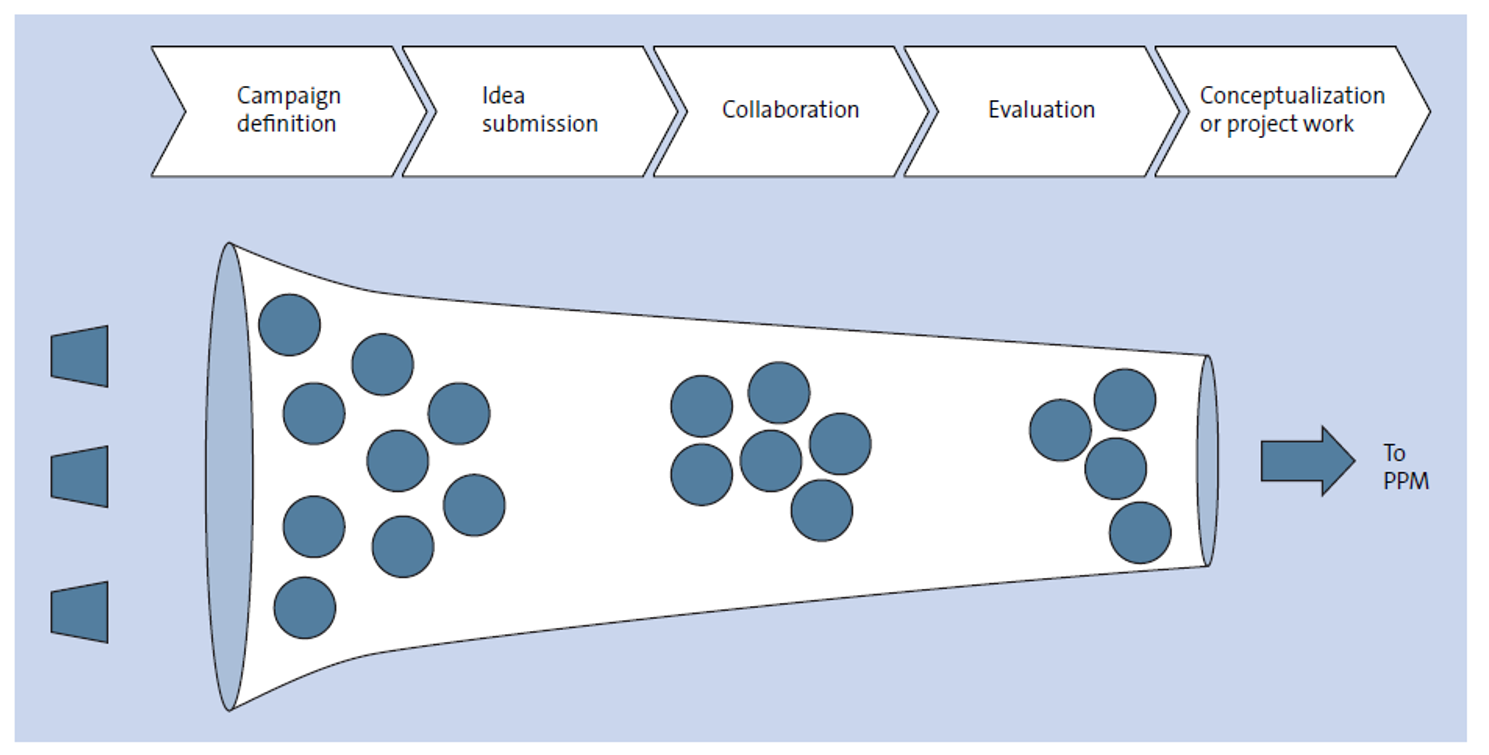 SAP Enterprise Portfolio and Project Management
SAP Enterprise Portfolio and Project Management is on-premise software that can be used standalone or integrated with an ERP system such as SAP S/4HANA. This product can also integrate with third-party (non-SAP) human resources (HR) and financial software through remote function calls (RFCs). It can be used to manage the portfolios of projects created after idea evaluation and conceptualization.
SAP Enterprise Portfolio and Project Management helps project managers achieve the following objectives:
Align portfolios with business goals and strategies.

Gain visibility into the entire portfolio and key performance indicators (KPIs).

Manage portfolios, including projects, programs, and services.

Effectively manage innovation projects using structuring, scheduling, and visualization. With SAP S/4HANA 2020, financial plans in commercial projects can be integrated with SAP Portfolio and Project Management, and planning for resource demands in these structures can be transferred to SAP Multiresource Scheduling and thereafter prepare forecasts for such resources.

Support different implementation models, such as Six Sigma, phase gate, critical path, and product and cycle time excellence (PACE).

Incorporate all HR resources and financial resources. As of release 2020, validity for team members for an assigned role in a commercial project team can be tracked. This ensures the correctness of team structure and the roles/responsibilities.

Perform resource management.

Track portfolio project details such as baseline, forecasted, and actual costs. The current release 2020 allows you to assign a change request to an active financial plan for better overview and control on deviation.

Perform a real-time what-if analysis to simulate various situations and changes. With release 2020, new planning sequences can be added to the forecast without altering the forecast rates for existing plan items.

Logging of risk items, their potential impact, risk response, object references, and activities can be tracked over time with different versions, as of release 2020.
With the launch of SAP S/4HANA 2020, there have been more flexibilities in the areas of related SAP Fiori apps. For examples, now all user-defined fields, corresponding object pages of project definition, work breakdown structure (WBS) elements, and network activities are available in project overview apps, and additional filtering criteria, such as project type, are available in project financial control apps. Two main apps in this area, Project Cost Report – Overview and Project Cost Report – Line Items, are now made available for tablets.
New as well is the integration of emails that were sent with reference to a commercial project with information such as the subject, sender, list of recipients, when sent, and so on, enabling the visibility of all follow-up actions in one place.
SAP Enterprise Portfolio and Project Management includes a few key packaged solutions, which we'll discuss in the following sections.
SAP Commercial Project Management
SAP Commercial Project Management can be used whenever R&D services are provided to clients as a service. As a tool that can be used to analyze investment alternatives and to track project budgets, milestones, and delivery, SAP Commercial Project Management facilitates the following:
Get real-time access to project data.

Generate project status reports using embedded analytics.

Accurately forecast quantity, cost, and revenue.

Unify financial management through the project lifecycle.

Accurately identify and track project issues.

Manage change requests, including approvals and rejections.
SAP Commercial Project Management allows organizations to monitor projects when provided to clients as a service. Collaboration features are provided to collaborate with suppliers of various inputs and services and to manage risk. The change management functionality is useful for project managers; it helps track all the changes coming to projects and to manage associated risks. The project finances can be monitored and tracked with various deliveries.
SAP Product Lifecycle Costing
SAP Product Lifecycle Costing is an on-premise product with a UI that has a similar look and feel to Microsoft Excel. This software is built on SAP HANA and can be used to cost products during the engineering phase, which is particularly useful for products created under the engineer-to-make principle.
Let's consider some useful SAP S/4HANA features for product engineering during R&D and the pilot stage:
Modern and real-time cost calculation engine powered by SAP HANA

Flexibility to handle calculations using manual overrides and recalculation

Target costing

Version and what-if simulation

Custom attributes and fields and formulas

Multiple costing sheet

Local master data and integration with Microsoft Excel

Time-dependent price and rates

Inbound integration with SAP ERP, Microsoft Excel, and other applications using application programming interfaces (APIs)

Export to Microsoft Excel and other applications using APIs

Pricing selection for components and activities

Support for multiple currencies

Support for overhead calculation

Analytics and reporting for various costs and comparison of different versions
The business value of this product lies in getting the right costing for new or engineered products. This will help an organization reduce product costs and reduce time to market for the new product.
SAP Product Lifecycle Management
In the current era in which the requirements and features of a product are determined by its customers, organizations need to use every opportunity to meet this demand by timely launching the products with the right quality and price. This is only achievable with the right controls in design review, release, and cross-functional definition. You also need tight integration with manufacturing and active collaboration with suppliers right from the inception, integrating customer service with adequate information on the product and enabling them with tracking of such products for support, return, and repair processes. SAP PLM allows companies to support all these functionalities to realize the best ideas into innovative and successful products in a timely manner with strategic objectives.
Following are the features in SAP PLM that can enable state-of-the-art processes for product release and lifecycle management:
A modern document management system integrates computerized development and production systems over the internet, avoiding data redundancy, maintaining data consistency, and minimizing the effort for data maintenance. Strict control on product liability and distribution can be enforced by the system to comply with local law and quality certification (e.g., ISO 9000 to 9006).

A common attachment service is provided as a backbone that can be flexibly used by any SAP Fiori app to attach documents in SAP S/4HANA.

A powerful classification feature uses characteristics representing specific properties to define all types of objects, to group similar objects in classes, and to search objects with similar or identical characteristics easily. Most of the master data and selected transactional data is supported for classification; however, customization can be done for other objects.

A tracking and approval mechanism changes various technical aspects of key objects in a product, such as bills of material (BOMs), recipes, materials, and design documents with history.

A powerful variant configuration option supports the offering, manufacturing, and maintenance of customizable products. This ensures a smooth and accurate specification and information exchange from the customer to sales, sales to planning and engineering, and engineering to production.
Product Compliance
This feature is primarily applicable for the industries where a chemical compliance for the products is needed according to local and global norms. It can support classifying products according to international dangerous goods regulations and creating safety data sheets and labels according to chemical regulations and requirements. With SAP S/4HANA for product compliance, customers can track and record the inventory of regulated substances in their warehouses that are purchased, imported, produced, sold, or exported.
SAP S/4HANA for product compliance can support an organization in the following aspects:
Identifies the compliance purpose and regulations that need to be followed for chemical and hazardous substances.

Determines the types of compliance information that is relevant for a compliance requirement and how the system propagates this flow of information to related transactions.

Assesses the readiness for marketing a product in compliance with the required chemical norms globally or for a specific region.

Integration with sales, delivery, and shipment processes for tracking dangerous goods and declaration. The integration of dangerous goods management into sales and delivery processing will help businesses check the compliance of relevant products early in the processes, such as sales quotation and sales order creation. If no suitable logistic is available to transport the classified good, sales items won't be processed further in the delivery.

Produces safety data sheets from the master data.

Supports various international and local requirements.

Product compliance functionalities, including the following:

SAP Fiori apps (Process Requests from Logistics app, Compliance Request from Logistics app) are available to provide different departments with compliance information based on requests. To manage prospective suppliers' requests for compliance information regarding products, monitor the status of those requests, and assess the compliance of a product purchased from a selected supplier, specific apps (Manage Suppliers Compliance – For Raw Materials app, Supplier Compliance for Raw Material app, Marketability Assessment – Supplier Raw Material app) are now available.

An adequate number of apps are now available to check the status on product compliance: Manage Basic Compliance Data – Unpackaged Products app, Unpackaged Product – Basic Compliance Data app, Unpackaged Product – Compliance Assessments app, Unpackaged Product – Material-Based Composition app, Unpackaged Product – Analytical Composition app, Unpackaged Product – Legal Composition app, Unpackaged Product – Physical-Chemical Properties app.

In compliance reporting, industry-specific phrases are used on safety data sheets or other documents due to commercial and legal requirements. The compliance apps used for these purposes are compatible with available phrases and the translations as part of the industry requirement. With the new SAP Fiori analytics app called Impact of Monitoring Lists, organizations will be able to monitor substances and analyze their impact on sales, suppliers, and production.

With the data protection and access control in the early and detail-design phases, restricted and authorized access to design documents, parts, or product structures will improve compliance with internal and external guidelines and regulations.
Editor's note: This post has been adapted from a section of the book SAP S/4HANA: An Introduction by Devraj Bardhan, Axel Baumgartl, Nga-Sze Choi, Mark Dudgeon, Piotr Górecki, Asidhara Lahiri, Bert Meijerink, Andrew Worsley-Tonks.