SAP Extended Warehouse Management (EWM) has been growing its set of functionalities with each new version that releases.
In our previous blog post, we explored some of the newer features incorporated in the latest version of embedded EWM in SAP S/4HANA 1909. In this post, we'll explore the new 2020 release.
Building on the strategic goal of simplifying the architecture of embedded EWM and its integration with other applications in SAP S/4HANA, SAP came up with many new features in three distinct areas:
Core warehousing processes

: Simplifications in processes such as serialization at plant level, global transport label number generation, packing proposals, enhancements in replenishment processes, synchronous goods receipt posting with MIGO, stock allocation, etc.

Integration with other SAP S/4HANA applications

: Provides synchronous transaction integration with applications such as production management, inventory management, quality management, transportation management; integration with decentralized EWM; etc.

Reporting and SAP Fiori functionalities

: New enhancements in the warehouse monitor to enable power users to perform more warehousing operations from a single cockpit. New SAP Fiori apps were added, and existing ones were enhanced, in order to provide a better user experience to warehouse application users.
New Features in Embedded EWM
The 2020 release of SAP S/4HANA was created by SAP to float more warehousing functionalities in embedded EWM, which can deliver advanced features both in terms of core processes, as well as on the front-end of the integration. This version of EWM in SAP S/4HANA tries to address some of the areas which were long being demanded by customers, both in regards to the improvement of existing functionalities, as well as making available advanced ones.
When choosing among the various versions of embedded EWM in SAP S/4HANA, clients must take a lot of parameters into account in terms of the functionalities they would need in their day-to-day business. Clients try to analyze and assess which functionalities in embedded EWM fulfill their business needs and whether upgrading to a new version of embedded EWM or moving to a new landscape of EWM will deliver business value to them. Embedded EWM, along with its newer features, provides a reduced cost of ownership since it simplifies many processes and functionalities, thus reducing the creation of redundant documents and synchronizing process completion at many places. The new innovations brought about in embedded EWM are done in such a manner that they are spread across both simple and advanced features of EWM, thus giving companies the peace of mind to make a move towards embedded EWM.
In the rest of this post we will look at new innovations which were much needed functionality enhancements in the three areas we listed above: core warehouse processes, integration of embedded EWM with other applications, and reporting and enhancements of SAP Fiori apps. Each of these features has been built either to address a functionality which was desired by clients using the product, or added to complement the existing features of the SAP S/4HANA core.
For more details on the simplification features of embedded EWM and other new SAP S/4HANA functionalities, see SAP's simplification list for the 2020 release.
Serial Number Harmonization
One functionality often desired by businesses was that they should be able to use the serial number functionality in embedded EWM in the same manner as it exists in inventory management. For example, serialization should be made available at the plant (party-entitled) level in embedded EWM so that the same warehouse code could be used with multiple serial number regimes in the case of a logical partition of a warehouse with separate serialization numbers. To enable such a functionality, SAP came up with a concept of serial number harmonization.
By using the harmonious serial number profiles between inventory management and EWM, you can ensure that there are no inconsistencies between the two applications within SAP S/4HANA. The harmonious serial number profile is defined at the party-entitled level in embedded EWM; thus, any postings with such a serialization level is posted against a plant back in SAP S/4HANA. A simple diagram depicting this is shown below: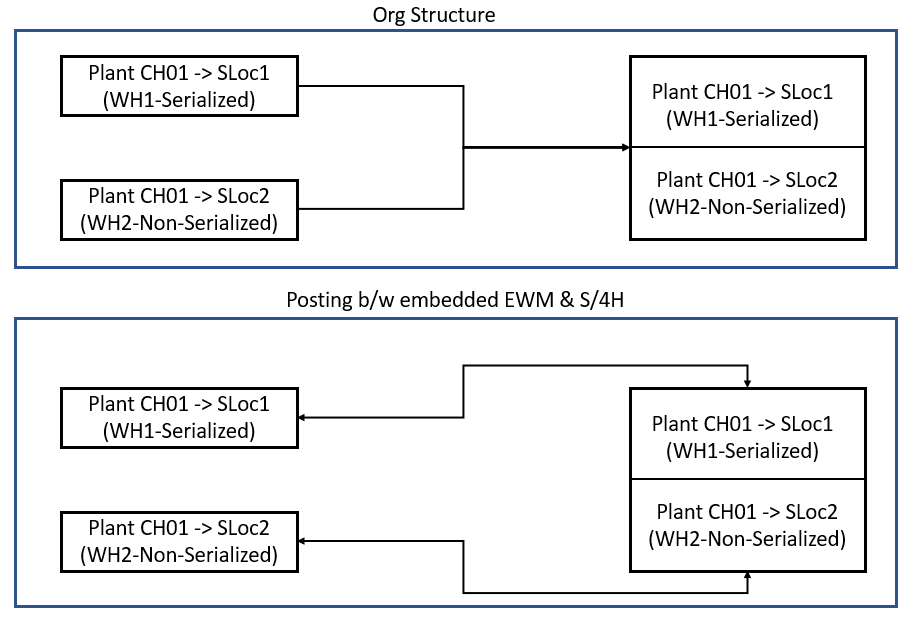 For more information on harmonious serial numbers in embedded EWM in SAP S/4HANA, you can read the SAP Portal.
Synchronous Goods Movement
The new innovations in SAP S/4HANA 2020 has enabled the synchronous posting of raw material consumption and final product receipt directly from transaction MIGO for both production and external procurement. In these synchronous postings, a fixed-bin assignment for the product is done from the picking perspective such as in case of consumption from the production supply area. This saves effort for the production and external procurement teams by directly performing the core processes of production and procurement without waiting for the warehouse teams to perform them and then confirm it back to production/procurement teams, if required. A few of the cases in which these new innovations are brought in embedded EWM in SAP S/4HANA are:
Production process posting

Post Goods Movement app

Reprocess Goods Movements app

Cancel Production Order Confirmation app

GR HU for Production Order app

Confirm Repetitive Manufacturing for Handling Units app

Post Consumption - Production app

External Procurement

Goods Receipt Purchase Order app
EWM Monitor
Several new innovations have been added to the EWM monitor by SAP; this enables users to perform various operations on warehouse stock from the warehouse monitor itself. This reduces the effort of warehouse workers and power users by switching to specific SAP Fiori apps and enables them to execute below operations using the EWM monitor:
Adjust delivery quantity for delivery item

Pre-allocation of stock so that the same can be used for goods issue for urgent production and sales operation

Stock transfer for JIT call

Work with wavs for JIT call

Repair serial number profile (in case there are issues due to sudden harmonization of serial number profiles)
SAP Fiori Apps
Many new innovations are added in SAP S/4HANA 2020 which have provided important and required features for customers performing stock operations. These SAP Fiori apps are part of incremental functionalities that SAP has been adding in each new SAP S/4HANA version for stock handling. A few of these new apps are:
Process Warehouse Tasks (Picking)

Process Warehouse Tasks (Putaway)

Process Warehouse Tasks (Internal Movement)
Advanced Shipping & Receiving
It has always been a desired functionality of those running SAP to harmonize the freight order and transportation unit features of transportation management and EWM. As part of the new, simplified integration in embedded transportation management and EWM in SAP S/4HANA 2020, SAP has provided advanced shipping and receiving features (FSP01). A basic flow of this simplified integration in advanced shipping and receiving is shown below: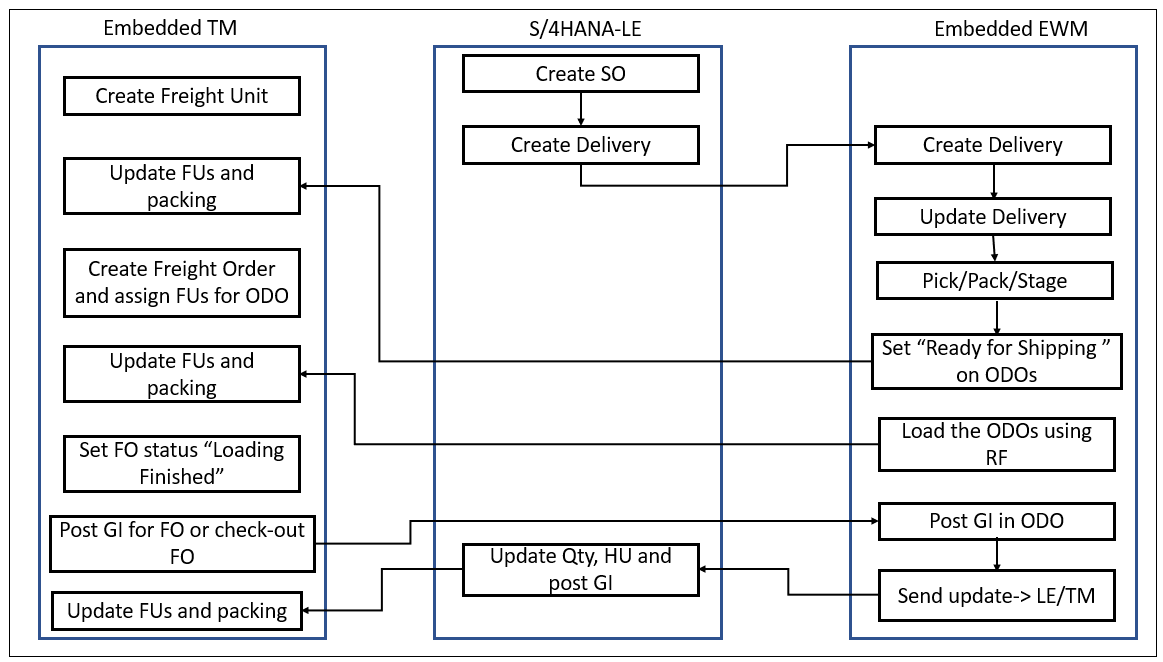 As you can see in the diagram, the functionality of the interplay between a freight order and transportation unit has been removed in the feature pack of SAP S/4HANA 2020. Using the user apps for advanced shipping and receiving, you can update the shipping status of the outbound delivery order, which in turn updated the freight units. Similarly, when freight units are planned on a freight order created in transportation management, and it's checked out, the deliveries linked to the freight unit are then updated both in EWM and, in turn, in Logistics Execution in SAP S/4HANA.
For more information on advanced shipping and receiving using SAP S/4HANA 2020 FPS1, refer to this blog post by Joerg Michaelis, VP and chief product owner of SAP Extended Warehouse Management.
Conclusion
With the latest versions of SAP S/4HANA, SAP has provided various warehousing solutions which suit the need of businesses ranging from small to large in terms of stock velocity. The blog post gave a brief overview of some of the newest innovations in various areas of embedded EWM in SAP S/4HANA 2020. As authors of SAP PRESS' book Warehouse Management with SAP S/4HANA, we'll continue to keep abreast of these and other new features and incorporate them into future versions of our book.