The Qualtrics EmployeeXM solution is an important element of SAP's solutions for people management to the extent that the offering has evolved from human capital management to HXM.
In this blog post, we'll discuss how SAP SuccessFactors, the intelligent enterprise, and Qualtrics fit into SAP's HXM solution portfolio.
SAP SuccessFactors
SAP SuccessFactors is the central part of SAP's HXM solution portfolio, covering all HR processes including the following:
Recruiting

Onboarding and offboarding

Core HR (SAP SuccessFactors Employee Central)

Performance and goals management

Compensation management

Time and attendance (including time tracking and time off)

Payroll (SAP SuccessFactors Employee Central Payroll)

Succession planning and career development

Training
However, the data managed within this solution is primarily operational HR data. A common mistake is to confuse the employee experience with the user experience (UX) and therefore focus only on making SAP SuccessFactors as easy and enjoyable to use as possible. However, most employees spend only a small fraction of their working time using SAP SuccessFactors (or any other HR system). Most of their experiences as employees come from interactions with line managers and colleagues, from the infrastructure, from the nature of their work, and from other sources. Therefore, a positive UX in SAP SuccessFactors is not enough to create a positive employee experience.
SAP SuccessFactors can support processes that make it easier for HR and business leaders to drive the employee experience, for instance, by making it easy to find development opportunities, by empowering employees and line managers, or by creating transparency around compensation. However, SAP SuccessFactors collects very little information on the five aspects of the Employee Experience Index. Sure, SAP SuccessFactors Goals & Performance can provide some insights, especially on the aspects of purpose and achievement, and the continuous performance management feature is an important feedback tool, but no comprehensive feedback loop is available to collect and analyze information about the employee experience. SAP SuccessFactors is primarily a solution to implement operational processes that have a strong impact on experience, but this solution lacks an experience measurement capability.
Vision for the Intelligent Enterprise
SAP offers solutions to cover end-to-end processes across the organization including, but not limited to, financials, customer relationship management (CRM), and supply chain management. Together with SAP's HR-related offerings, these processes form the Intelligent Suite, which contributes to the employee experience. With SAP Business Technology Platform (SAP BTP; formerly known as SAP Cloud Platform) serving as the technical foundation and with SAP Data Warehouse Cloud and SAP Analytics Cloud serving as business intelligence solutions, the Intelligent Suite enables organizations to become intelligent enterprises.
The intelligent enterprise, shown in the figure below, is a vision where processes across an organization and its stakeholder network are fully integrated and allow quick decision- making and continuous improvement based on data-driven insights. Over time, it became more and more apparent that the mostly operational data (O-data) that fed into SAP's increasingly strong analytics capability was missing a crucial element: experience data (X-data). Adding Qualtrics to the mix closes this gap.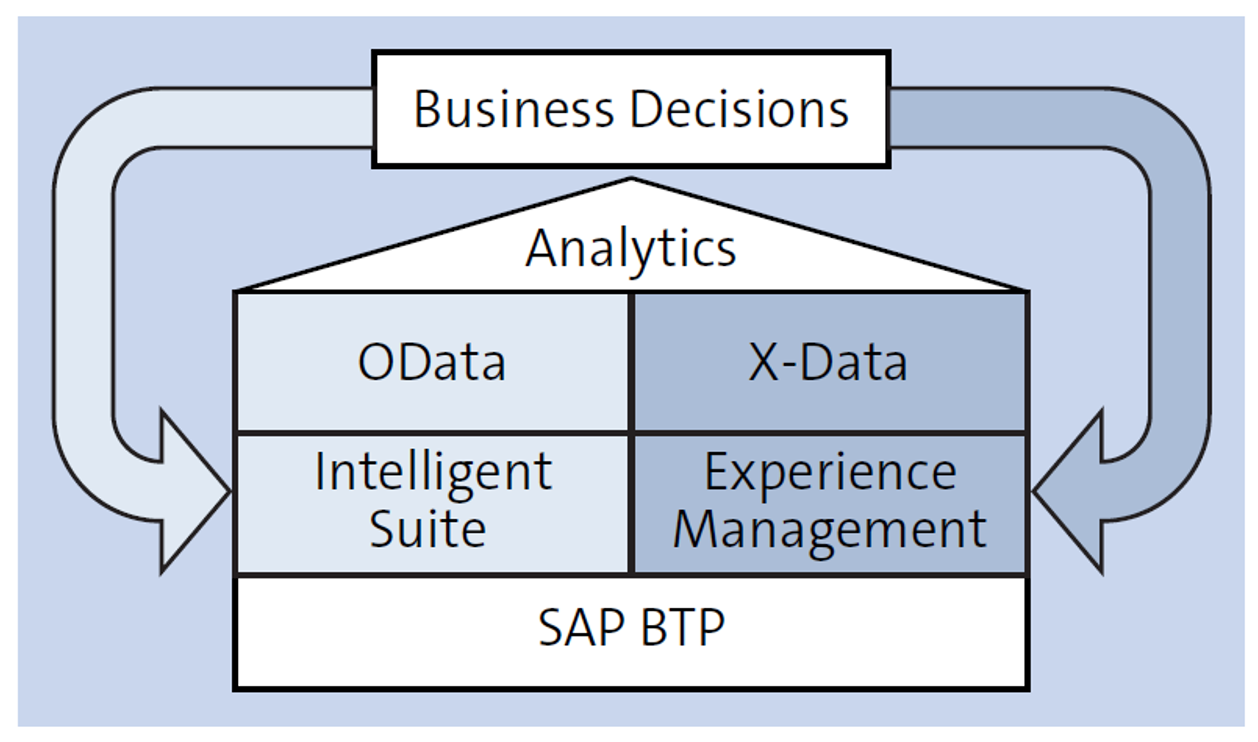 Qualtrics
As an experience management platform, Qualtrics covers primarily four areas:
Customer experience management

Product experience management

Brand experience management

EXM
Qualtrics holds a crucial place in SAP's overall offering and its vision of the intelligent enterprise.
HXM, as the workforce-focused part of this vision, depends on data and insights about the employee experience provided by Qualtrics EmployeeXM. Insights from O-data or X-data alone are less powerful than insights from the combined datasets. For instance, X-data can tell us how engaged the workforce is, and O-data can tell you the demographic structure of our workforce. Combining both can tell you which demographic groups have particularly low or high engagement, thus allowing you to identify and address underlying issues.
The easiest way to combine these datasets is to import O-data from SAP SuccessFactors into Qualtrics using the transpose to read "analytics and integrations" capabilities. With the existing tools, much more effort would be required doing it the other way around. However, to combine X-data with O-data, not just from HR, but from other processes like CRM or financial accounting, then SAP Analytics Cloud is probably the best choice for running analytics.
Editor's note: This post has been adapted from a section of the e-book Introducing Employee Experience Management (EXM) with Qualtrics and SAP SuccessFactors by Sven Ringling, Kristina Paljakka, and Robert Browton.