Since SAP launched SAP R/3 in 1992, it has tried to provide a technical solution to support financial consolidations. Technology has evolved since then, and SAP's underlying architecture has taken advantage of those technology innovations.
The figure below shows how these solutions have evolved from SAP R/3.
What used to be a month-end accounting process following the closing of the books is now something that can be run in near real time throughout the month.

In the following sections, we'll explore the evolution of consolidation with different SAP solutions, including each of their features and, for some, a look into their architecture. This will help you understand how we arrived at SAP S/4HANA group reporting, the most innovative consolidation solution yet.
Financial Accounting: Legal Consolidation
SAP's initial consolidation tool was a subcomponent of the overall Financial Accounting (FI) module supported as part of SAP R/3, officially launched in 1992. It gave companies the ability to consolidate their financial statements through the use of transaction codes but lacked any built-in web interface or business process functionality. It was maintained by the IT organization and required a deep knowledge of SAP R/3 to configure and use it. The core features included with Financial Accounting – Legal Consolidation (FI-LC) were as follows:
Visibility was provided into underlying financial transactions with the ability to aggregate trial balances from multiple companies.

The key dependency was that all companies in the group were on the common data platform; if not, significant integration and mapping to a single chart of accounts was required.



Enterprise Controlling: Consolidation System
When SAP introduced a complete architecture change from SAP R/3 to SAP ERP 6.0, Enterprise Controlling – Consolidation System (EC-CS) was also introduced as part of SAP ERP 6.0. Upon its release, there would be two common ways to consolidate financials, either using EC-CS or using a custom reporting solution on SAP Business Warehouse (SAP BW).
EC-CS allowed companies to consolidate multiple entities (i.e., company codes) directly within the ledger. EC-CS has similar features that exist in today's consolidation tools, but it was based on SAP BW technology rather than in-memory computing, which is used in SAP S/4HANA. Additionally, the tool wasn't as intuitive for business users. Instead, to configure and execute a consolidation in EC-CS, one had to have a deep understanding of transaction codes to make master data changes and to monitor consolidation tasks. While EC-CS did offer both a Data Monitor and Consolidation Monitor, they were GUI-based and not web-based tools as they are today.
To summarize, the following core features were included in EC-CS:
Accounting document principles and logs for transparency into transactions and reconciliation activities.

Process monitor to actively manage execution of the consolidation process, identifying those processes that aren't started, in progress, completed, and failed.

Automatic consolidation of investments and intercompany eliminations.



SAP
Strategic

Enterprise Management: Business Consolidation System

SAP released the SAP BW version of SAP Strategic Enterprise Management – Business Consolidation System (SEM-BCS) in 2002. SAP SEM offered customers the ability to perform comprehensive simulations and scenario analysis, saving valuable time and modeling effort in the process. BCS offered customers a breadth of flexibility in that it was customer definable with strong integration to SAP BW. For example, customers could define their own consolidation units whether they were entities or profit centers. This allowed for flexibility in performing management consolidations, something SAP Business Planning and Consolidation (SAP BPC) and Real-Time Consolidation (RTC) didn't offer. However, this new feature is part of SAP HANA Finance for group reporting as of release 1909, called matrix consolidations.

Other common features in SEM-BCS are as follows.
Data Collection
Online data entry, flexible uploads, or loads from an InfoProvider (either SAP BusinessObjects Business Intelligence [SAP BusinessObjects BI] or a connected SAP system) are allowed. Data isn't real time and must be interfaced or loaded to be consumed in consolidations.
Flexible Hierarchies
Hierarchies can be created for nearly any characteristic from financial master data to specific consolidation dimensions.
Versioning
Versioning allows execution of different consolidations for different types of data (actuals or budget) or to run different what-if scenarios and simulations.
Standard Consolidation Tasks
Currency translation intercompany eliminations, consolidation of investments, and balance carryforward can be run.
Reporting
SAP BusinessObjects BI reporting is used to analyze financial data with some preconfigured SAP BusinessObjects BI content.
SAP Business Planning and Consolidation
In 2007, SAP acquired OutlookSoft as a strategic acquisition to extend its depth beyond core enterprise resource planning (ERP) software and into the world of corporate performance management with a focus on planning, budgeting, forecasting, and consolidations. OutlookSoft's largest product was renamed SAP Business Planning and Consolidation (SAP BPC).
SAP BPC has been around for more than 10 years and remains, to this day, a very reliable product that was SAP's first attempt at a tool that could largely be managed by the business user. At the time of acquisition, OutlookSoft ran on a Microsoft platform, which meant very little maintenance and support. However, as the tool matured, SAP soon integrated SAP BPC with SAP NetWeaver, which allows the tool to run on SAP BW technology.
To date, there are multiple versions of SAP BPC, as follows.
SAP BPC 10.1, Version for SAP NetWeaver
Commonly referred to as classic SAP BPC, this version is an extension of existing SAP BPC software that can be used for both planning and consolidation solutions. Additionally, data must be loaded to the SAP BPC cube either from SAP BW or from external systems, such as flat files. And, finally, SAP BPC 10.1 uses both SAP BW and SAP BPC systems for security configuration as users are created in the SAP BW system and granted permissions for objects and data in SAP BPC.
SAP BPC 10.1, Version for SAP NetWeaver, Embedded on SAP HANA
SAP BPC 10.1, embedded, is for planning only, and the embedded consolidation tool is group reporting. As a result, there is no transfer of data to the SAP BPC cube, rather it uses the SAP BW system and its objects directly. On the security front, most features are configured in SAP BW directly.
SAP BPC Optimized for SAP S/4HANA
SAP BPC optimized for SAP S/4HANA eliminates data replication and leverages the real-time access to both transaction and master data in SAP S/4HANA. Additionally, it runs exclusively on the SAP S/4HANA Finance system and doesn't require a separate SAP BW system or replication of transactional or master data.
SAP BPC, Version for Microsoft
This business planning, reporting, and consolidation solution built on Microsoft SQL Server technology is designed to be flexible and maintained by the business versus being maintained, historically, by IT.
Before looking at the features, it's worth taking a peek at a high-level conceptual architecture feeding information from SAP ERP into SAP BW and then into SAP BPC. As you can see in the figure below, data is moved between SAP ERP, SAP BW, and SAP BPC, which is no longer the case when using group reporting.
Additionally, SAP BW and SAP BPC both have to be modeled to consume the information for use in consolidation and thus financial reporting. SAP BPC would have specific consolidation models defined to consume data from the source systems, in this case, SAP ERP, but you could also have flat files feeding SAP BPC as well.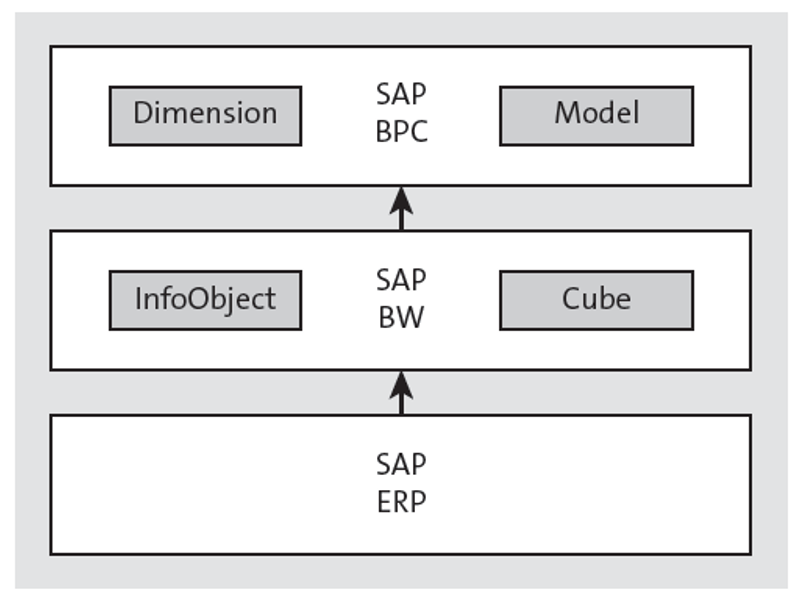 Standard SAP BPC 10.1 is a planning, consolidation, and reporting solution based on SAP BW technology that includes the following features:
Users:

SAP BPC is designed to be used and maintained by finance (business) users with

minimal maintenance required.

Data collection:

Integrations need to be built between SAP BW and SAP BPC through interfaces,

which means there is no real-time access to data.

Data modeling:

Modeling occurs through the web client instead of using SAP GUI.

Scripting:

Scripting is written with Script Logic only.

Standard consolidation tasks:

Currency translation, intercompany eliminations, consolidation of investments,

and balance carryforward can be run.

Reporting:

Enterprise Performance Management (EPM) is the Excel-based add-in used for executing

packages, data inputs, and reporting.
Real-Time Consolidation in SAP S/4HANA
In 2016, Real-Time Consolidation (RTC) was introduced as part of the 1610 SAP S/4HANA release. Prior to release of SAP S/4HANA, SAP didn't have a fully integrated planning and consolidation tool within the SAP HANA suite of tools. In summary, RTC was intended to be the next-generation consolidation tool that offered integration between SAP S/4HANA and SAP BPC by allowing direct access to the Universal Journal and leveraging the consolidation capabilities offered by SAP BPC.
The next figure illustrates the RTC architecture as part of the RTC release 1610 FSP 01. As you can see, RTC allows users to perform legal and management consolidations and contains two tables in the SAP HANA database: table ACDOCA, the Universal Journal, which contains all financial line item documents, and table ACDOCC, the consolidation journal, which is an extension of table ACDOCA. All planning and consolidations take place within SAP S/4HANA, and users can consume all information from SAP HANA via the frontend tools of SAP Fiori, SAP Analysis for Microsoft Office, Design Studio, and the SAP BPC web console.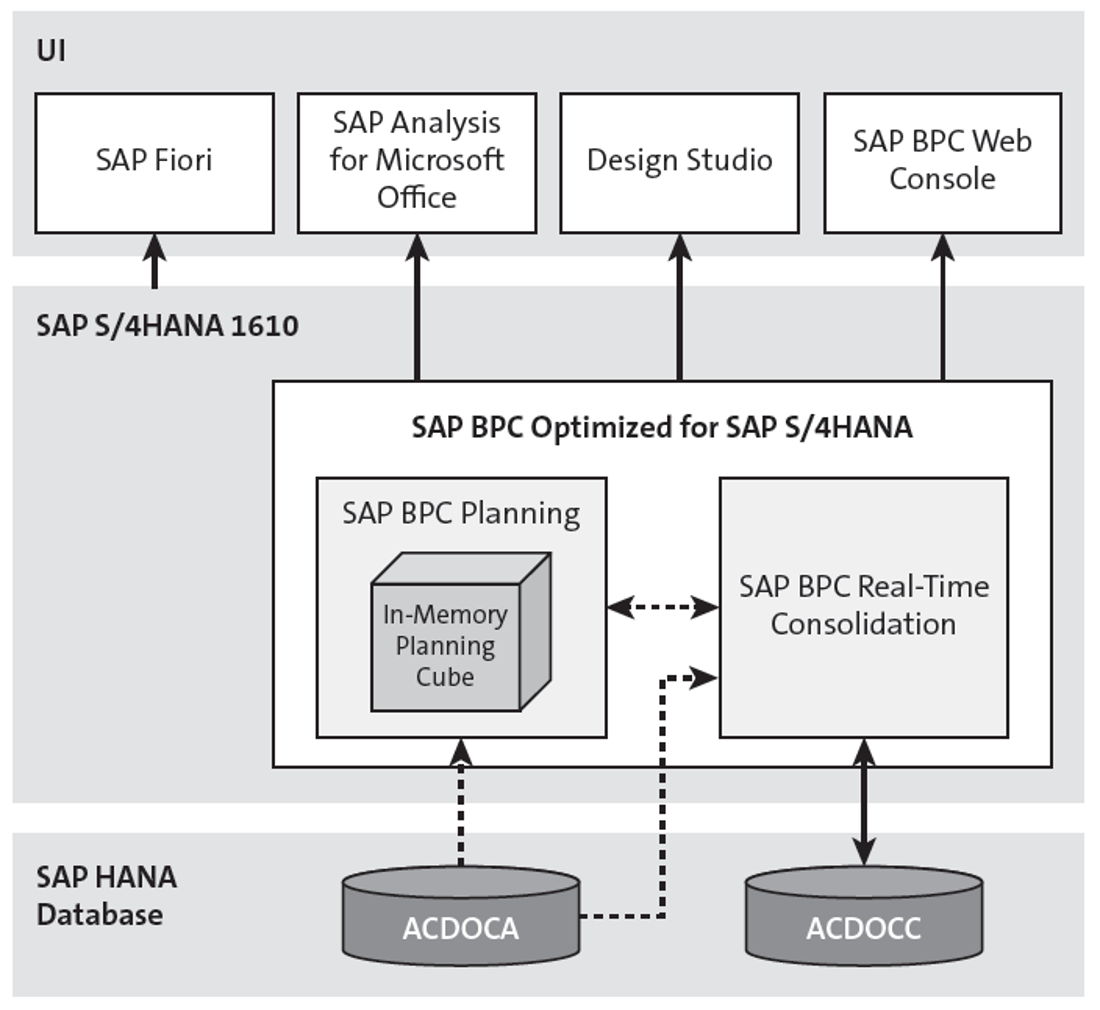 RTC includes the following features:
Integrated, common master data across RTC and SAP S/4HANA, eliminating the need to perform dual maintenance and addressing inconsistent data.

Requires use of group chart of accounts to facilitate aggregation of operational chart of accounts.

No longer needs to replicate and load data as the Universal Journal can be accessed in real time for consolidation.

Option to use SAP S/4HANA to perform currency translation in the Universal Journal prior to the consolidation process starting or executing within SAP BPC itself.

Ability to execute preliminary consolidation on actuals, supporting finance's desire to execute a continuous close throughout the month or simulate a certain business scenario.

Continued use of the web client to update business rules, Consolidation Monitor, and ownership structures.

Reporting performed in SAP Analysis for Microsoft Office, the newest version of the Excel add-in tool.
While RTC did offer SAP's first integrated consolidation solution supporting "real time" consolidations, it had some architectural challenges that required a change to the long-term solution that SAP would support on its road map:
Performance memory challenges were reoccurring with RTC due to the fact that the number of records could increase dramatically given the ability to map any field from table

ACDOCA

to table

ACDOCC

(the consolidation table). Additionally, the currency translation code wasn't optimized, requiring increased attention to the application of new SAP Notes.

Master data also faced some issues, including missing descriptions in the Consolidation Monitor and reverse sign functionality.

Only one key figure could be used in the consolidation model, and it can be a challenging concept for business users to understand that they can only use one group amount. Certainly, this could be mitigated, but it required some customization.
That long-term solution would be SAP S/4HANA Finance for group reporting.
Group Reporting with SAP S/4HANA
SAP S/4HANA Finance for group reporting version 1909 combines the best of all existing consolidation solutions into one solution that customers can deploy either on-premise or in the cloud. In a nutshell, this is the next-generation consolidation solution integrated in the SAP S/4HANA platform that offers native integration with accounting, planning, and reporting.
The following group reporting 1909 features are differentiators for the product.
Continuous Accounting
Efficient, tactical approach to managing the accounting cycle more strategically. With a simplified architecture and full data integration, group reporting supports accounting's goal of moving toward continuous accounting through the following:
A unified reporting framework for both local and group currencies.

Leverage of all the details of SAP S/4HANA where applicable.
Group Reporting Platform
Ability to report consolidated actuals in near or real time. Consolidated reporting of financials is made easy through a simplified group reporting platform that has the following:
The capability to consolidate actuals, plan, and different one-off simulations or what-if scenarios.

Full integration with SAP Analytics Cloud and application programming interfaces (APIs) to ingest or extract data.

Ability to run and execute all standard consolidation tasks, including currency translation, intercompany elimination, and investment consolidation.
Engineered for the Cloud
Capable of cloud portability and use on a cloud architecture. The next generation of consolidation solutions will be built on the cloud, but group reporting is architected in a way that can be supported on premise while also being cloud portable with the following:
Dedicated cloud releases that offer the latest product innovations to consumers quickly.

Integrated reporting capability with SAP Analytics Cloud and SAP Analysis for Microsoft Office.



Conclusion
As you have read, financial consolidation with SAP has a long and interesting past. This post took a look at this history, from the first financial consolidation tool in SAP R/3 to today's SAP S/4HANA Finance for group reporting.
Editor's note: This post has been adapted from a section of the book Group Reporting with SAP S/4HANA by Eric Ryan, Thiagu Bala, Satyendra Raghav, and Azharuddin Mohammed.