Scheduling candidates for interviews is a key component of the hiring process.
Once you've used SAP SuccessFactors to post jobs and source talent, the task of scheduling and managing interview dates and times can be very time-consuming and tedious, especially in organizations that conduct a lot of interviews.
In fact, the interview-scheduling task is often managed by a separate role within the organization or even outsourced because it can take so much time and back and forth. Having a recruiting system that helps you organize and schedule interviews can go a long way toward streamlining the recruiting process.
SAP SuccessFactors Recruiting offers three different options for scheduling interviews. There are no agreed-upon standard names for the three options, so we'll refer to them here as follows:
Basic interview scheduling
Interview scheduling with native calendar
Interview scheduling with Outlook integration
All three options have advantages and disadvantages, so we'll discuss the details of each in the next sections.
Basic Interview Scheduling
Basic interview scheduling in SAP SuccessFactors Recruiting allows you to record interview dates and times as well as send notifications to interviewers. It doesn't include built-in calendar functionality or integration to external calendars like Microsoft Outlook.
If using the basic interview scheduling option, you'll need to check interviewer and interviewee availability outside of SAP SuccessFactorsRecruiting. The benefits of using this option include integration to Interview Central, where your interviewers can record feedback on interviewees; defining a reusable interview panel; and sending standardized notifications to interviewers.
Prerequisite for using basic interview scheduling is to configure and permission the interviewAssessment feature in the JRDM XML for at least one candidate status and requisition operator.
When using basic interview scheduling, an Interviewers portlet will appear in the application, as shown in the figure below. The Interviewers portlet will appear in only those statuses for which the interviewAssessment feature is permissioned and to SAP SuccessFactors Recruiting operators that have been assigned interviewAssessment permission. This is where you record interview information.

Click Set up Interviewers to display a pop-up where you can define the interview team, along with dates and times for each interviewer, as shown in the following figure. Interviewers must exist in your SAP SuccessFactors system. In other words, you can't add interviewers outside of the system.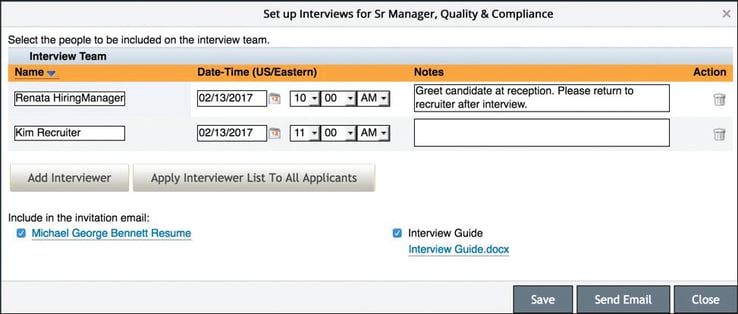 If desired, you can also include the candidate's résumé and the interview guide attached to the requisition in the email notification. These will be included as attachments in the email to interviewers. If you add information in the Notes section, these notes will be included in the email to interviewers as well.
The Apply Interviewer List To All Applicants button creates a default interview slate that will be proposed for all future interviews scheduled on this requisition. You can delete users from the proposed slate or add new interviewers, but this feature can help provide consistency and a shortcut when scheduling multiple interviews for a position.
Click Save to save the interview schedule without sending a notification. If you click Send Email, a summary email will be sent to all interviewers on the slate. The email lists the dates and times for each interviewer, the job description as defined on the requisition, the competencies defined on the requisition, the candidate's résumé if it exists, and the interview guide uploaded to the requisition.
Interview Scheduling with Native Calendar
One of the ways interview scheduling can be greatly simplified is by giving candidates the ability to self-schedule their own interview dates and times. This eliminates back and forth emails or phone tag between the candidate and scheduler. When recruiters spend less time on the phone scheduling, canceling, and rescheduling candidate interviews, they can focus on actual value-adding recruiting tasks such as sourcing.
Interview scheduling with native calendar functionality makes this possible. Candidates can review and select from open interview slots, and recruiters check interviewers' calendar availability prior to scheduling interviews.
You can schedule individual, panel, and back-to-back interviews, where one interviewer does the first part of the interview, and another interviewer does another part. Numerous standard notifications can be sent out to support the process as well, such as to remind interviewers of upcoming interviews.
Before using this option, you must turn on interview scheduling in Admin Center, map interview location picklists in Admin Center, configure the email triggers related to interview scheduling, permission the calendar for interviewers, and configure and permission the interviewAssessment feature in the JRDM XML for at least one candidate status and requisition operator.
When you enable interview scheduling, the Interviewers portlet on the application that was discussed for basic interview scheduling is no longer displayed. All interview setup information is managed on the interview Scheduling tab, as shown here: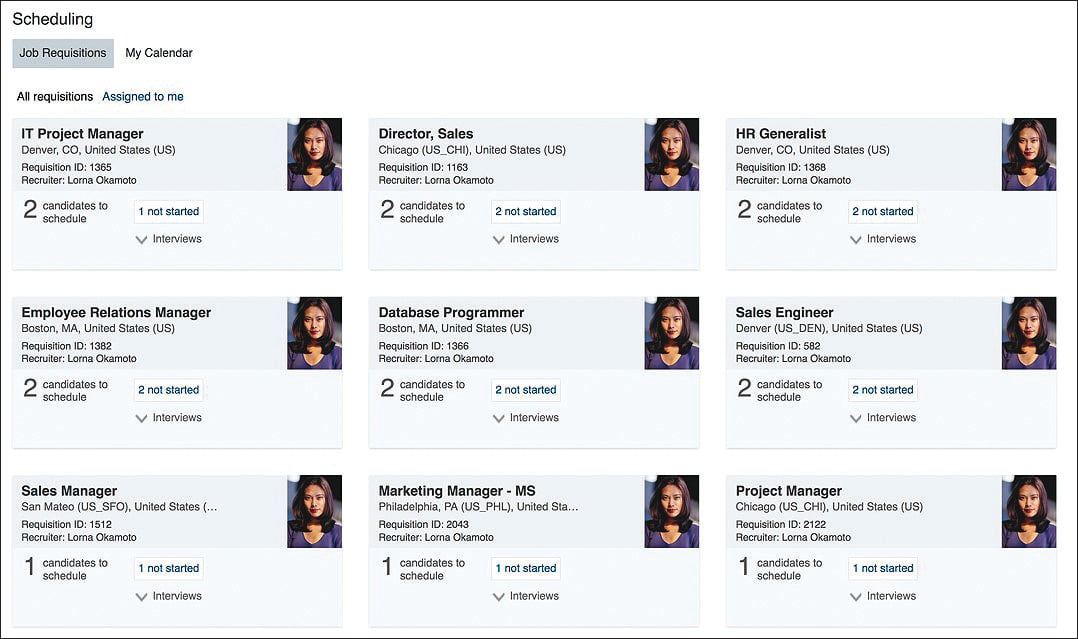 Interview scheduling with native calendar relies on interviewers entering their availability directly into the calendar in SAP SuccessFactors Recruiting. This option doesn't include integration to an external calendaring system, such as Microsoft Outlook, to look up interviewer availability or pull interview availability information into SAP SuccessFactors Recruiting.
For recruiters and schedulers to see an interviewer's availability on the native calendar, the interviewers need to maintain their availability from within SAP SuccessFactors Recruiting. They can do that by clicking on Interview Scheduling and then My Calendar.
From there, interviewers can click on the calendar or the Add Availability button to define times they are available for interviews. Maintaining this availability makes it possible for recruiters to easily schedule interviews with candidates without leaving the system and for candidates to select their own interview slots.
Interview Scheduling with Outlook Integration
Interview Scheduling with Outlook integration offers the same advantages as interview scheduling with native calendar but with the added benefit of integrating directly to the Microsoft Outlook calendar. You can book people and rooms into a user's Outlook calendar without having to leave SAP SuccessFactors Recruiting.
Interview Scheduling with Outlook integration supports Outlook Web App, Exchange 2010, Office 365, and it doesn't require professional services support to implement. Interviewers don't need to install anything for Outlook integration. They simply need to make sure that default level of access to their calendar is set to free busy time, which is the Exchange default.
Advantages
Using the Outlook integration within Interview Scheduling has several advantages:
Visibility into Outlook calendar information is possible without leaving SAP SuccessFactors Recruiting.
Predefined templates help standardize notifications.
Candidates can self-schedule interviews.
Meeting rooms and interviewers can be booked through the Outlook integration.
Professional services support isn't required to configure Outlook Interview Scheduling.
Functionality is actively being developed and enhanced by SAP SuccessFactors.
Disadvantages
Along with the many pros for using Outlook integration, there are also some drawbacks:
You can't refine potential interview dates until after you click Find Availability (default is to start with the current week).
Only one interview room can be booked for entire interview duration.
Only one interview can be booked per day per candidate.
The Outlook invitation sent to interviewers is based on a predefined letter template and can't be edited at the time of interview booking.
Interview rooms must be manually loaded and kept up to date in SAP SuccessFactors.
After an interview has been sent, you can't change the duration or the interviewers. If a change is necessary, the organizer must delete the candidate from that schedule and set up a new interview schedule. The candidate will be notified via email.
The final table provides an overview of the various scheduling options and what is supported in each.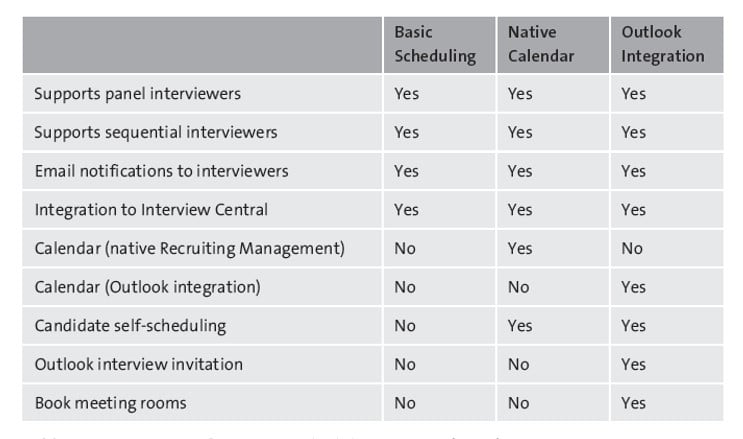 Conclusion
Scheduling interviews is only one part of the recruitment process, of course. SAP SuccessFactors Recruiting gives you three different options to choose from when it comes time to schedule meeting times with candidates. Each can help make the recruiting processes more efficient whether you're in charge of the scheduling process or outsource to a third party.
Editor's note: This post has been adapted from a section of the book SAP SuccessFactors Recruiting and Onboarding: The Comprehensive Guide by Amy Grubb and Kim Lessley.